06/01/08 10:44 - 53ºF - ID#44511
time or something
its certainly been a while since my last post. Time just seems to go by so fast. It seems like every day is garbage day again and people are rolling garbage cans to and from the street.
The houses are close on this street and the driveways are thunderous canyons of sound.

What else to say? Work is fine. It is not hard in a physical sense or hard in the sense that anyone actually has to deliver it seems. Maybe the only thing to complain about is that its not challenging. It is pretty sweet to be a nobody though, not have to return phone calls or emails or go to meetings.
I finally wormed my way into an electro-chemistry class. That shit is magic to me, mathe-frickin-magic.

Buffalo is a good place to visit, certainly better than Rochester. I think that last time I was around might have been New Year's. The next time I'll be through is two weekends from now, going to my cousins house near Erie.
I think at the very least I'll drive up Elmwood to see how its doing.





Permalink: time_or_something.html
Words: 186
<-- Earlier Entries
Author Info
kookcity2000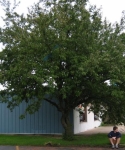 Date Cloud
Category Cloud
User must have at least 3 blogs in one category for categories list to show.
More Entries
My Fav Posts
This user has zero favorite blogs selected ;(