Category: pix
10/29/07 10:26 - ID#41873
Ooh, scary!
Happy Halloween from Photo Booth!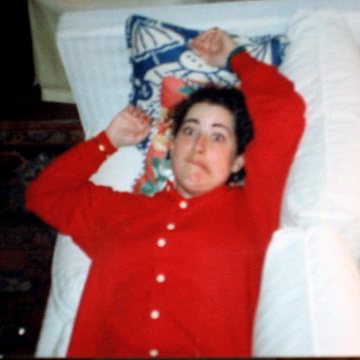 Permalink: Ooh_scary_.html
Words: 7
Category: pix
10/04/07 08:26 - ID#41498
bahahaha!
Ok, so my friend's wedding pictures (a few of which I posted a while ago) are online now. All 976 of them. And for the most part they are great. Some... not so much.
Here are a few-
Doing my job...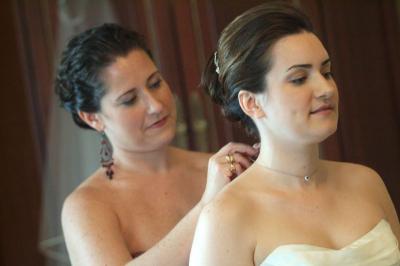 And this is the bride's cousin- totally on a whim she asked the band if they'd mind letting her sing a song- and she proceeded to belt out a rendition of "Summertime" that gave me goosebumps. This captures it pretty well.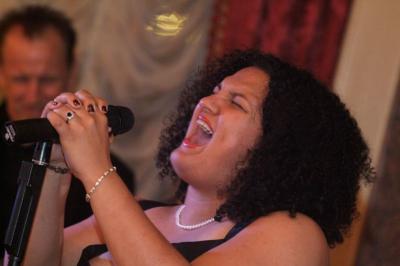 And this one....
hahaha it just makes me laugh. That must have been Some Great Story I was telling!!!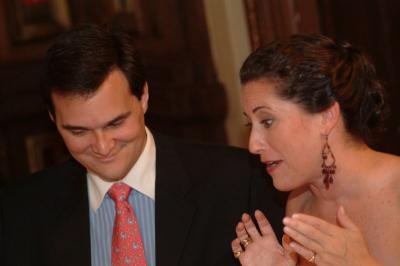 Permalink: bahahaha_.html
Words: 106
Category: pix
09/14/07 06:49 - ID#41099
showing off
So...
I went to get my mail this afternoon, and I had a package!!!
How exciting!
It was from my friend, whose wedding I was in back in July.
She sent me a cute glittery thank you note, and a framed picture. And then another unframed one (which got all glittery from the card) since she couldn't decide.
In any case, they're pix of me that I don't hate, so I'm posting them! So there! Glitter and all. (and since I don't have a scanner, they're pix of pix, so there are stupid flash reflections.)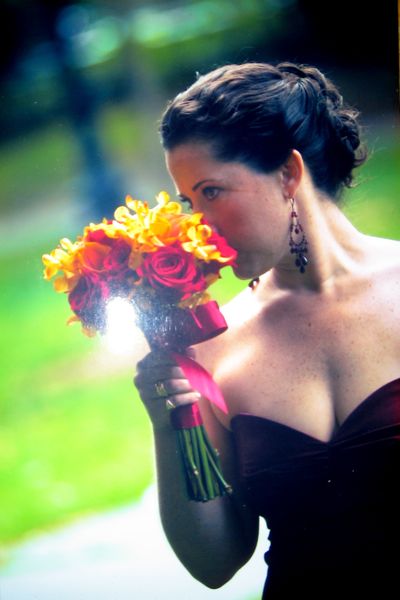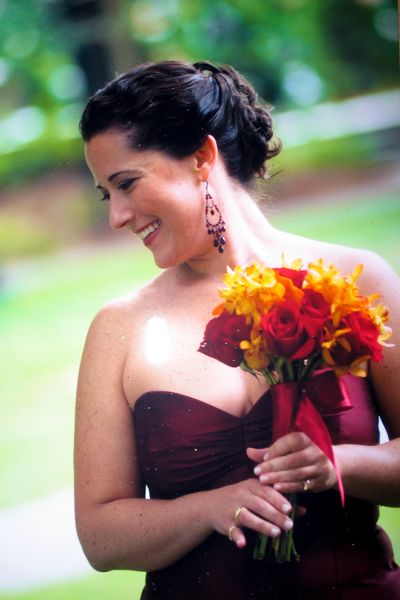 Permalink: showing_off.html
Words: 99
Category: pix
08/19/07 07:08 - ID#40625
my weekend...
So...
I've been spending a good bit of my time working with a dog rescue. Unfortunately, I have been asked not to post about it. But sometimes I do anyway. And this is one of those times.
So yesterday there was a meet-up, bbq type deal outside of Lockport. Lots of people, lots of dogs, lots of beer... it was a lot of fun. And I took a lot of pictures. (and
(e:ajay)
- you would be proud of me. I was very well-behaved. I promise.)
Here are a few.
An unexpected visitor. I'm not sure I would have had the nerve to hold it, I must say.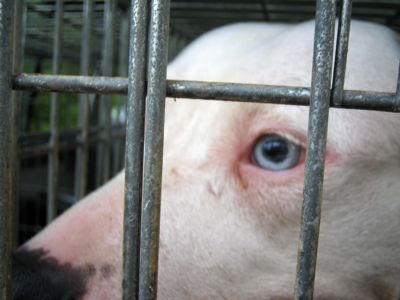 Blue eyes on dogs are amazing. (particularly THIS dog- the other eye is brown.)
My fave pic of the evening: a "vicious pit bull" giving kisses and more kisses as people laugh their heads off.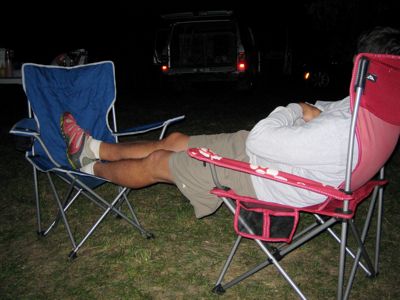 "I'm not sleeping! I swear" (snore, drool, snore)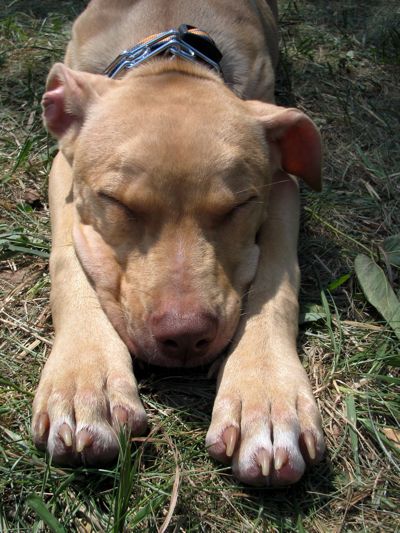 Ahhhh, to be a puppy.


Permalink: my_weekend_.html
Words: 166
Category: pix
08/17/07 09:06 - ID#40600
freaky weather!
So I can't decide if the sky tonight was simply gorgeous- or more like apocalyptic, with all this freaky wind. I kept half expecting the sky to just open up or something. I was driving home and couldn't help but try to take pictures from a moving car with my phone... And then I think I practically killed
(e:Libertad)
since he was riding around on his bike (I think also taking pictures) and I was not paying as much attention as I probably should have. But here are some of my pix- I can only imagine what someone with a better eye could have done...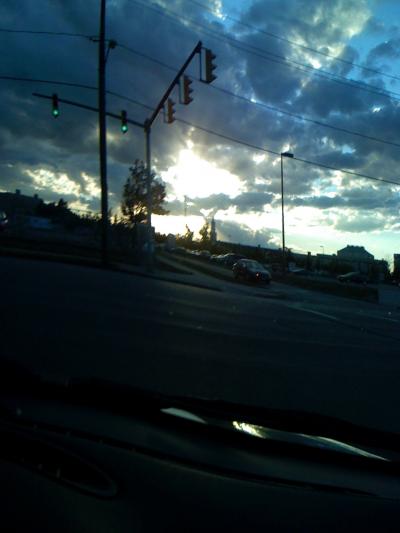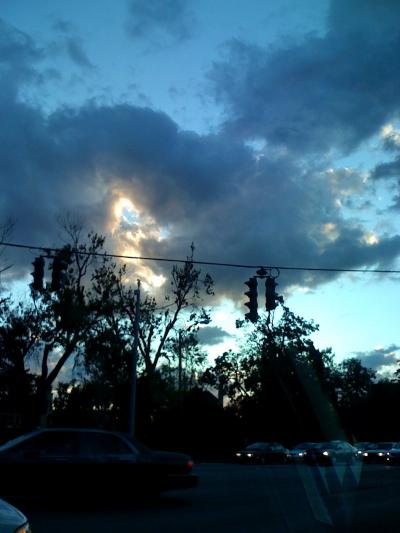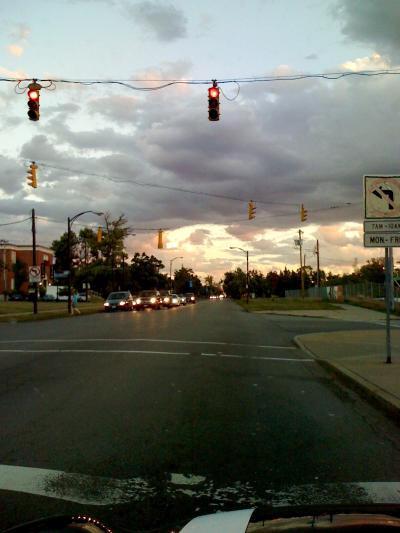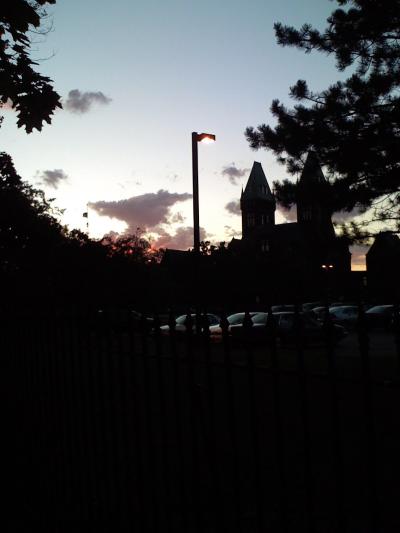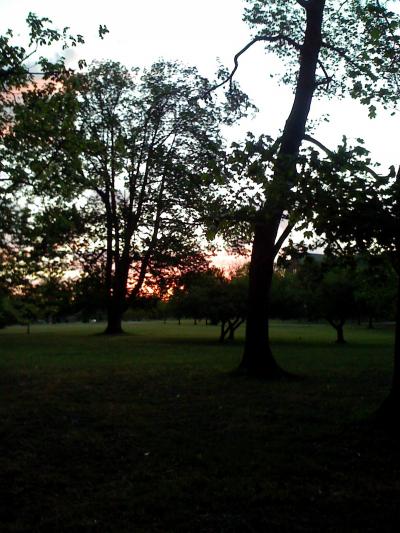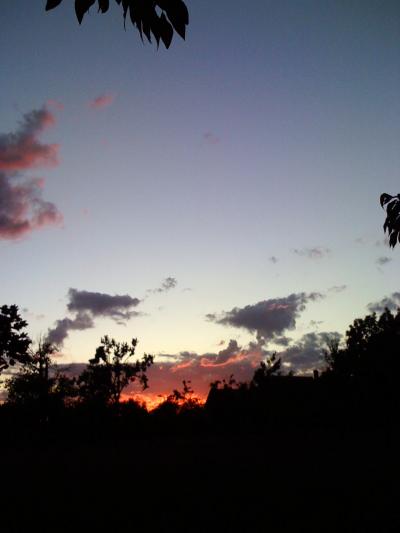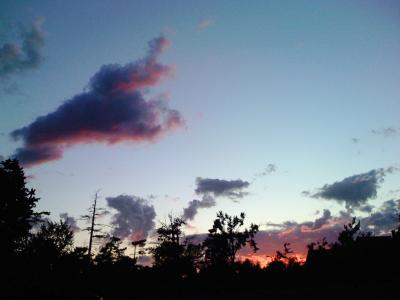 Permalink: freaky_weather_.html
Words: 120
Category: pix
07/24/07 11:42 - ID#40233
how times have changed...
I just got an email with a bunch of old ads. how scary!
And, I included a picture of the WORST SHOES EVER.
I don't care how comfortable they are- they should not be allowed in public. Crocs are bad enough (but I love 'em).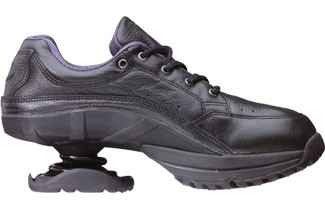 Ok, there are supposed to be a bunch more pix (the scary old ads), but for some reason they won't upload. And then I had to go before I got to figure it out, so my post is sort of incomplete.
To answer questions- I don't know when those shoes first came out, but I saw a guy at work yesterday wearing them, and they were just horrible, so I had to come home and look them up.
Anyway... I have some funny pix, if I can ever get them to work...


Permalink: how_times_have_changed_.html
Words: 139
Category: pix
05/29/07 12:26 - ID#39440
photo dump
A paul-style phone-purge gave these pix: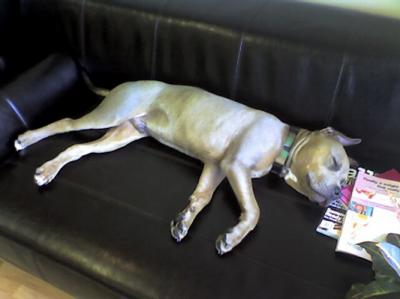 A SWEETHEART of a stray dog that wandered in while I was getting my hair cut. He was the sweetest thing ever. Fortunately when I went back later, his owner had come and found him. Apparently he cried tears of relief when he finally found him. :)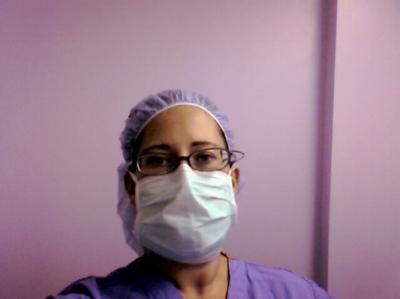 At work, lookin good!! haha. glasses and all. Ugh.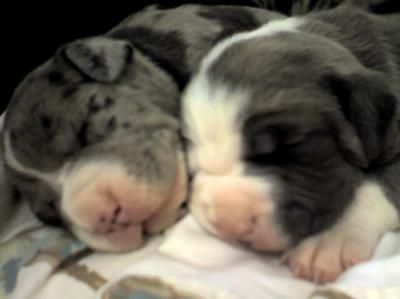 Cutest. things. ever.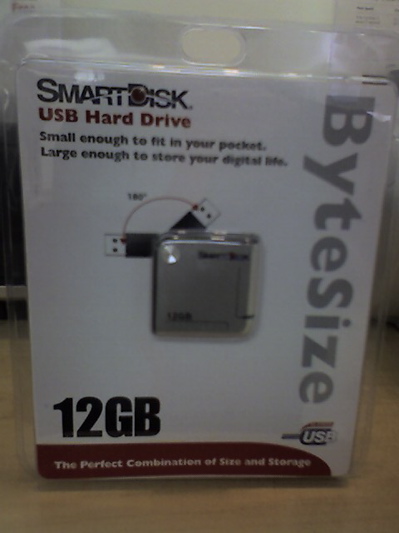 I can't believe this tiny thing is 12GB. I remember my first powerbook, with it's blazing fast 33mhz processor, and after I filled up the 20mb hard drive, I got a little external 100mb hard drive, which I was sure was more space than I could EVER use. Oh, how times have changed.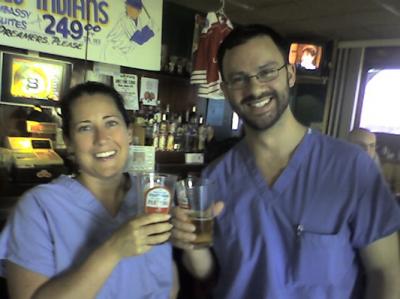 Drinking beer at the Malamute at about 930am on a wednesday, after a long night at work. KLASSY! I had to 'borrow' my glass though. It was like the old-style Canadian 'double label', and said "I'd rather be partying. Oh wait. I am partying."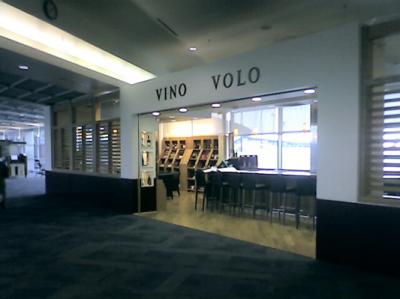 A wine tasting bar in the pittsburgh? philadelphia? (i forget) airport on my way to vacation. it was not open at 6am or whenever it was I was there. Good thinking.


Permalink: photo_dump.html
Words: 204
Category: pix
05/06/07 02:20 - ID#39176
vacation photos
Well, I don't feel like being productive, so here are some pix. See previous post for words.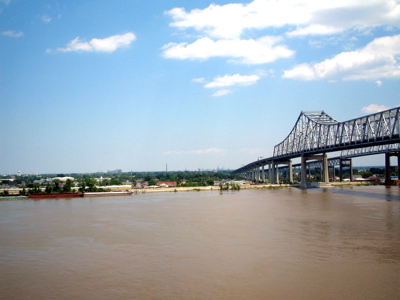 The mighty mississippi... Mmm, nice and brown.
Some pix of the ship [I kept calling it a boat and getting corrected]: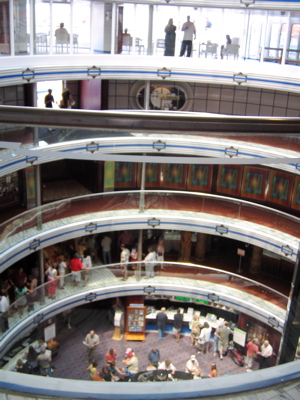 There's this atrium when we first walked in.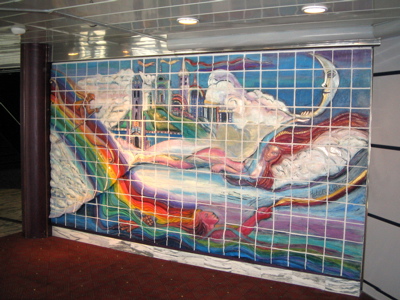 There were these cheesy tile mosaics all over the place.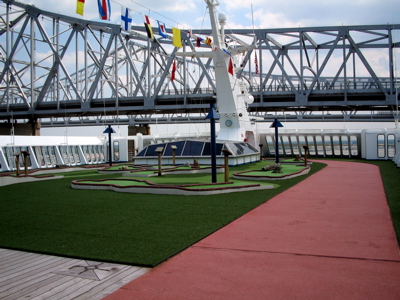 Mini-golf on the 'roof'. (we were still at the dock in New Orleans, so that's the Crescent City Connector in the background).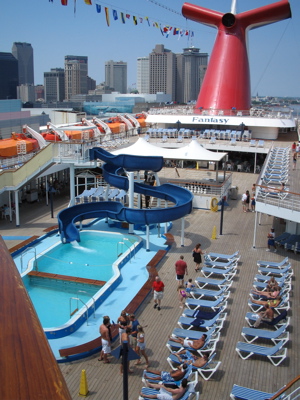 The main sun deck. Where we spent most of the daytime.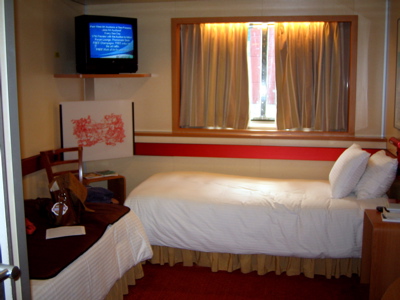 My little room. Those beds are super comfy.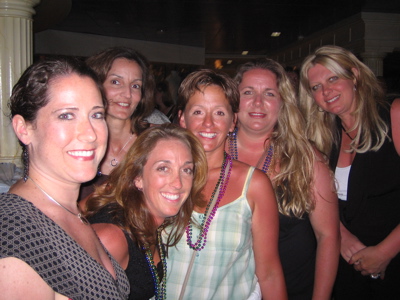 Me and my five adoptive moms.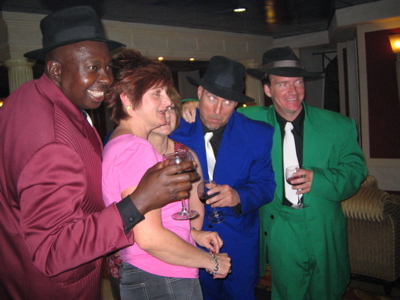 The guys we met. They brought those suits with them, for the Formal Night dinner. I think people thought they worked for Carnival, because random people just kept walking up to them to pose for pictures.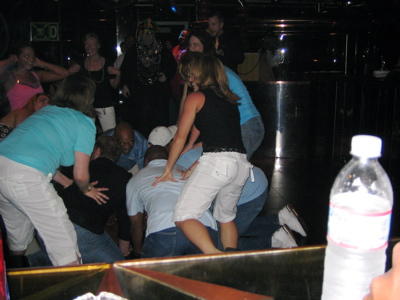 One night there was a "musical men" contest- like musical chairs- the girls got c-razy running around and jumping on the backs of these guys. (and as the number of people decreased, they went from sitting on their backs, like horses, to stradding them, and eventually the winner was the girl who could make the most body contact with the guy when time ran out.)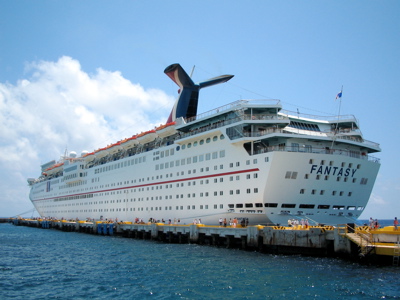 The ship in port in Costa Maya. It's freaking huge. And apparently it's considered small by cruise ship standards. "Only" holds 2000 passengers.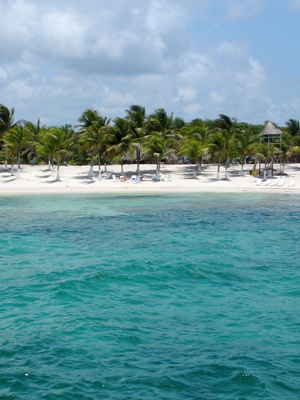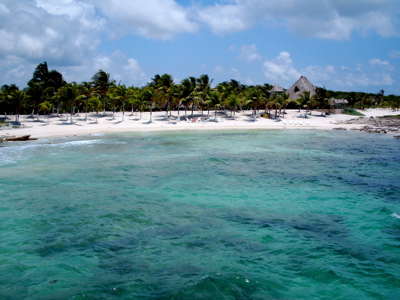 The beach right at the end of the cruise ship pier in Costa Maya.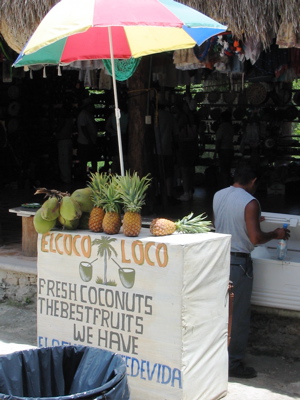 I wanted some of that pineapple so badly. They sell them roadside- 3 whole pineapples for $2. But even the guide warned us not to eat roadside food.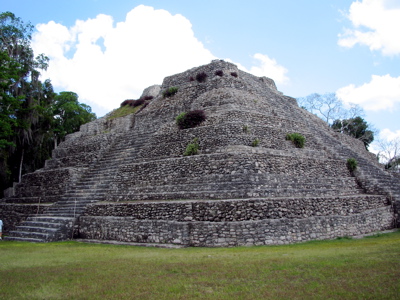 The first temple at Chacchoban. Sort of what I expected when I heard "Mayan ruins tour".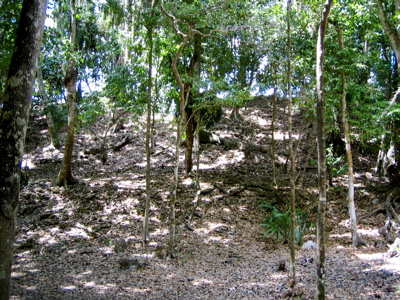 This big hill is apparently an un-excavated, un-restored temple in the city. The guide said that the Yucatan penninsula is totally flat, so ANY hill is a buried building until proven otherwise.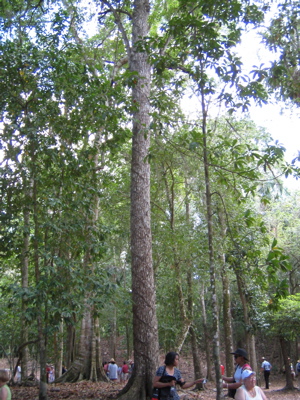 A gum tree. The X's in the bark are slashes made with a machete to harvest the sap, which is made into Chicle (gum), and used for stucco and building. We also saw clove trees (they smell so yummy) and a tree with really soft wood used for most of the handicrafts you buy in the tourist shops. They said they call it a "tourist tree". I figured for that reason. But no- it's called a tourist tree because its bark is red and peeling. And he pointed out some tree, and told us about all these great medicinal properties, and then, almost like an afterthought, added "and the dried leaves have the same properties as cannabis sativa". I was surprised people didn't run back to scavenge the leaves off the ground. ;)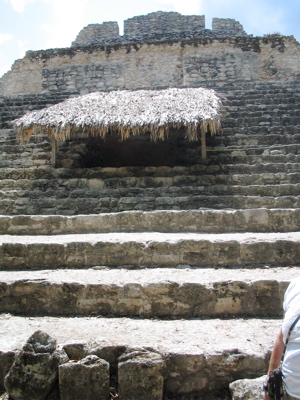 Another temple. The little thatched roof covers a hole they made to find an inner temple, with tombs in it. The tombs had to be sealed over, b/c there was a real-life 'curse of the mummy'. They said they would use cinnabar to preserve the dead bodies, almost like makeup, too- since it's a red paste. But I guess it's some mercury/sulfur compound, and over the years, being sealed in a small chamber with decomposing bodies- it formed some horrible toxic gas, and as soon as they opened the tomb, the explorers were killed.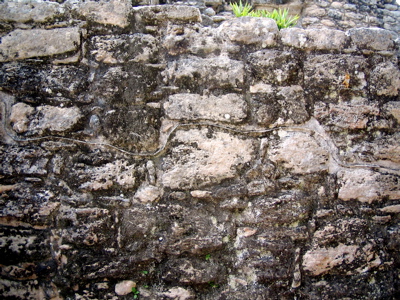 I don't know if it shows up, but they pointed out a fine line you can see in the stonework- the archaeologists make a visible joint to separate the stuff they found, and the stuff they reconstructed on top.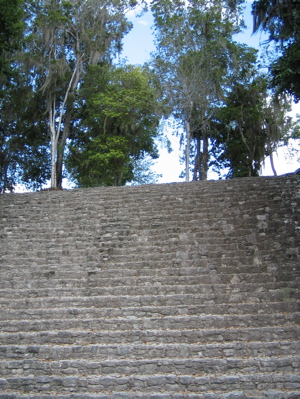 Some steps that lead to...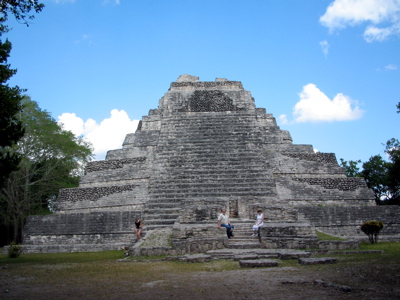 Another temple. Unfortunately the tourists clogged up most of my pictures.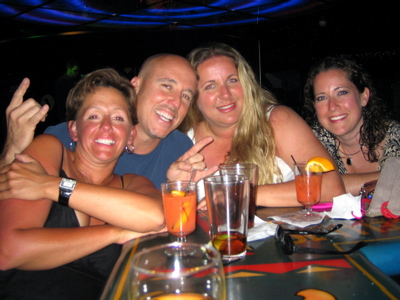 A night out.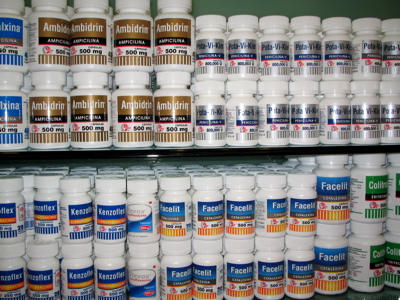 A drugstore in the little duty free shopping land at the pier in Cozumel. I am fucking astonished at what is sold over the counter! These bottles are mostly antibiotics, but they sell diuretics (usually used for heart failure) and even freaking injectable steroids! (steroids like cortisone, not weight-lifter steroids.) According to the sign they sold viagra and stuff too, but I didn't go looking for it.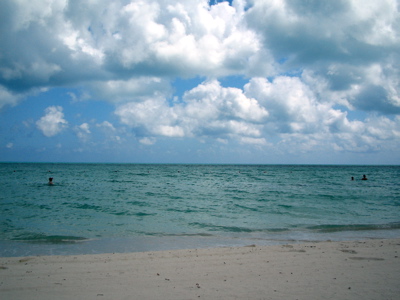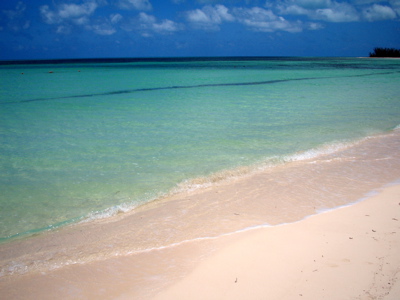 My day in cozumel... peaceful and beautiful on 'Passion Island'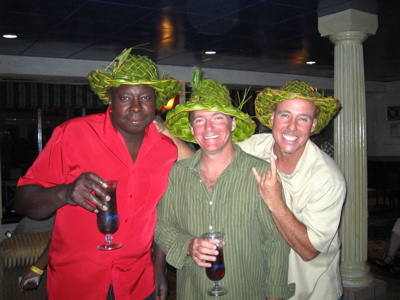 Then I got back and found everyone in these palm frond hats... They were pretty funny. The next morning they went to save a bunch of chairs on the deck, and even joked "well it was easy. I just put one of these hats down, and everyone knew to stay FAR away from THOSE idiots."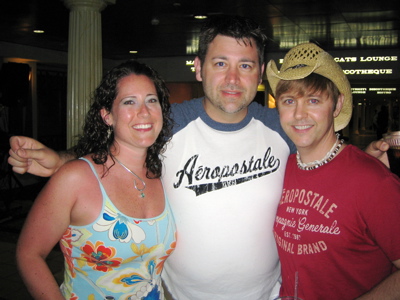 The guys I met with the B&B in Vermont.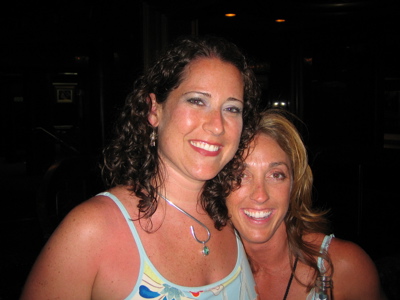 She is a gymnastics coach- probably 5'2"ish but a little powerhouse. All muscle. Very fun, too.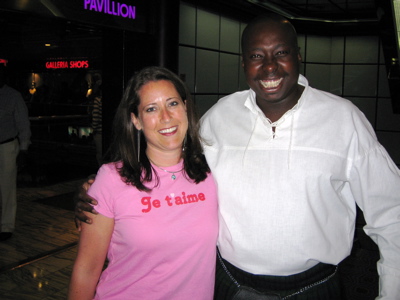 The last night. I straightened my hair and everything. And I ran into one of the guys on his way to dinner- wearing a kilt. This was at about 8pm.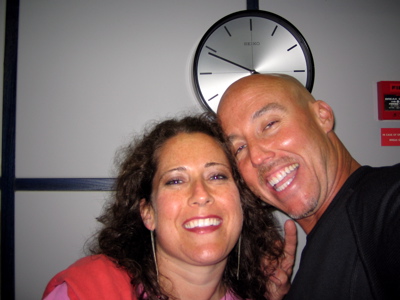 The same night, at about 4am (you can see the clock.) This is after about 6 birthday shots, and a few hours on the deck in the new orleans humidity. My hair is no longer straight. I really didn't think I was that drunk, but this picture sure looks otherwise...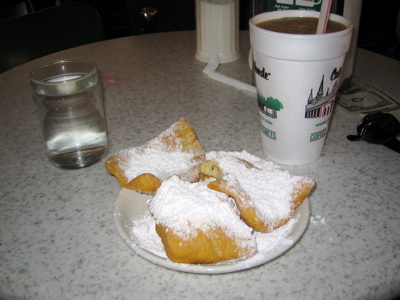 And finally, for Paul, one of my favorite New Orleans treats: beignets and frozen cafe au lait at Cafe du Monde.
---FIN---


Permalink: vacation_photos.html
Words: 921
Category: pix
04/16/07 08:02 - ID#38920
car humor?
Ok, I'm probably the only person in the world dorky enough to like this, but I just had to take my car in and saw this at the dealer and thought it was cute: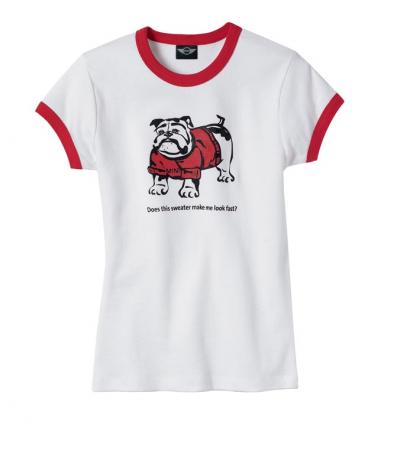 (and in case it's too small to read, it says 'does this sweater make me look fast?' And on the back it says 'unleash a MINI')


Permalink: car_humor_.html
Words: 63
Category: pix
02/11/07 10:25 - ID#38104
Who knew space is so pretty?!
My dad just sent this to me. Pretty cool. Especially since I still imagine "outer space" as just big and black with little white dots for stars/planets.
Hubble telescope's top ten greatest space photographs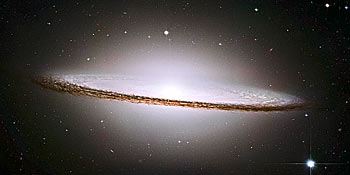 The Sombrero Galaxy - 28 million light years from Earth - was voted best picture taken by the Hubble telescope. The dimensions of the galaxy, officially called M104, are as spectacular as its appearance. It has 800 billion suns and is 50,000 light years across.
The Ant Nebula, a cloud of dust and gas whose technical name is Mz3, resembles an ant when observed using ground-based telescopes. The nebula lies within our galaxy between 3,000 and 6,000 light years from Earth.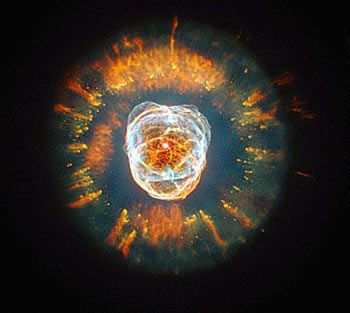 In third place is Nebula NGC 2392, called Eskimo because it looks like a face surrounded by a furry hood. The hood is, in fact, a ring of comet-shaped objects flying away from a dying star. Eskimo is 5,000 light years from Earth.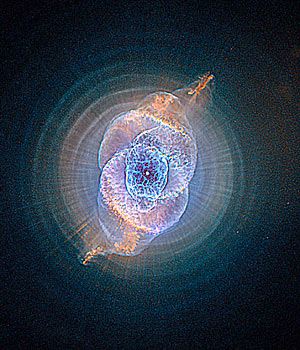 At four is the Cat's Eye Nebula, which looks like the eye of disembodied sorcerer Sauron from Lord of the Rin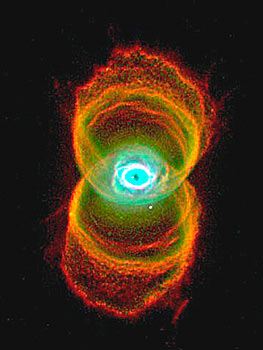 The Hourglass Nebula, 8,000 light years away, has a pinched-in-the-middle look because the winds that shape it are weaker at the centre.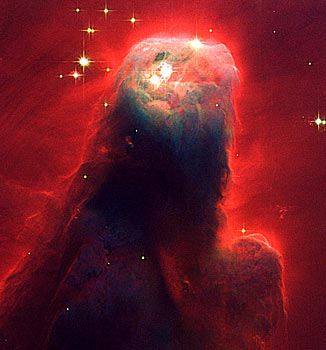 In sixth place is the Cone Nebula. The part pictured here is 2.5 light years in length (the equivalent of 23 million return trips to the Moon).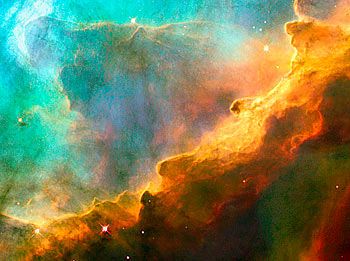 The Perfect Storm, a small region in the Swan Nebula, 5,500 light years away, described as 'a bubbly ocean of hydrogen and small amounts of oxygen, sulphur and other elements'.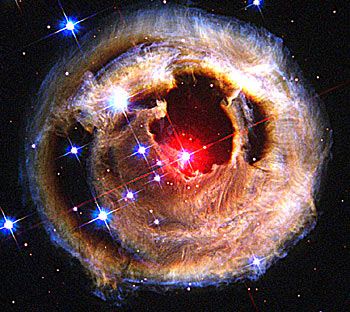 Starry Night, so named because it reminded astronomers of the Van Gogh painting. It is a halo of light around a star in the Milky Way.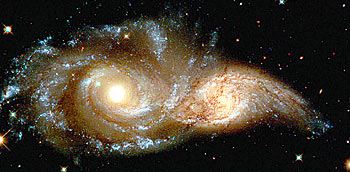 The glowering eyes from 114 million light years away are the swirling cores of two merging galaxies called NGC 2207 and IC 2163 in the distant Canis Major constellation.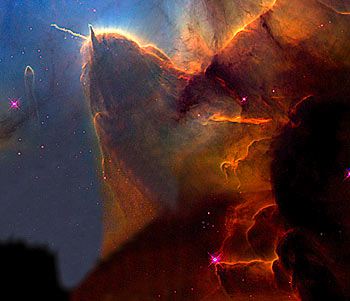 The Trifid Nebula. A 'stellar nursery', 9,000 light years from here, it is where new stars are being born.


Permalink: Who_knew_space_is_so_pretty_.html
Words: 338
<-- Earlier Entries