Category: food
08/16/07 11:08 - ID#40586
You can blame me if you gain 5lb...
Ok, so I just made these for a cookout this weekend: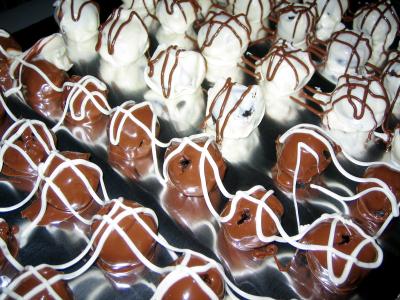 Oreo Truffles:
1pkg reduced fat oreos
1pkg reduced fat cream cheese
2 colors of chocolate [I used a bag of white chocolate chips and a bag of milk chocolate chips]
Blend oreos in the food processor (or blender) until they are powder
Mix in cream cheese
Roll into balls
Chill
Dip in melted chocolate
Drizzle with other color melted chocolate if you want to be fancy.
They're 'reduced fat', and I suppose gluten-free-
I think that means they're good for me. Health food, really.
doh. oreos are not gluten-free. I knew that. Thanks James. Sorry Matthew!


Permalink: You_can_blame_me_if_you_gain_5lb_.html
Words: 108
Category: food
04/25/07 12:18 - ID#39036
paul is a google master
First of all, last night at work was freaking crazy.
We took out FOUR appendixes (appendices?) between 11pm and 3am. Every time we finished the ER would call "we have another one".
But so before the shit hit the fan we decided we wanted sushi, and we decided to try Fuji Grill. So I googled it to try to find a website and hopefully the menu online. Well, they don't have a website. Lame.
But when I googled them,
(e:Paul)
's journal was in the top ten hits.
heh.


Permalink: paul_is_a_google_master.html
Words: 89
Category: food
05/04/06 10:20 - ID#23843
room service
This is just a mini-interlude post til I get home and have pix and stuff. (besides I'm having trouble posting anyway since Safari is suddenly crashing q5min.)

But I just wanted to say- room service is out of control. I mean we all know it's expensive, but yikes. I decided to treat myself to breakfast on my last morning. Now the hotel restaurant is a pretty fancy place, and the room service is off that menu so I guess it's extra pricey.
But I ended up going with an all-time fave breakfast indulgence- eggs benedict. For $12. I actually didn't think that was THAT bad, considering that's how much the continental breakfast cost.
Oh, but that doesn't include juice. So one glass of "fresh-squeezed" (they'd better not be lying) OJ for $5.
Plus 2.75 delivery fee. Plus tax. Plus 18% "service charge" brings it to $25.
And then the guy that drops it off needs a tip too? What's the "delivery fee"? What's the "service charge"?

craziness.

but delicious craziness. :)

See you all soon.
-J



Permalink: room_service.html
Words: 171
Category: food
04/12/06 11:40 - ID#23833
Alex's Awesome salad
So I ended my last mopey post saying I was going to go eat too much.
Well I decided instead to not be self-destructive, and to take advantage of all my fresh veggies before they go bad, and I made a ridiculous Salad Extravaganza.
I put in every single thing I love in a salad. (Even if they don't necessarily go well together.)
Featuring:

Spring Mix
baby carrots
cucumber
grape tomatoes
mushrooms
zesty sprouts (I love sprouts. Put 'em on a sandwich- mm mm good.)
green bell pepper (excellent source of vitamin C, better than oranges, as I "proved" in my 6th grade (Gold Medal Winning) Science Fair Project ;) )
radishes (love love love radishes. What an underrated veggie.)
an apple
craisins
crumbled gorgonzola
candied walnuts
good seasons italian dressing (makes me think of home.)
salt and pepper

I am in salad heaven.
Who said dieting is hard... I could melt away to nothing, happily, if I could have a salad like this every day- it's just keeping fresh veggies in stock, and washing/chopping/cleaning up that I don't motivate to do. Unfortunately it's just a lot easier to eat tim horton's at work, and hard to resist the pizza and wings that is always ordered when we're on call.

Slightly happier now,
-J



Permalink: Alex_s_Awesome_salad.html
Words: 214
Category: food
03/18/06 03:55 - ID#23812
grumble grumble
First, Happy Birthday Matthew!!

Next: so not only am I missing tonight's festivities, but I also can't go to this:

"Fine wine, intelligent discussion, shredded Cuban roast over couscous, homemade hummus, haydari [not sure what that one is], grilled eggplant puree, feta & melon, thai cucumbers, berry salad, and a roaring fire. All for just two hours of your time."

Damn work!

Have fun tonight peeps.
Take lots of pictures for me.

-J



Permalink: grumble_grumble.html
Words: 73
<-- Earlier Entries