Category: music
05/04/08 11:28 - ID#44229
Good show!!
So...
I saw The Police at HSBC last night. (as my dad said, better than seeing them at the station. ha-ha-ha). They were awesome.
It was a great birthday present in and of itself- but then on top of it, we were in a suite, and even a GIANT limo. And started with dinner at Papaya.
Unfortunately I was on call and had to work in the AM, so that put a damper on the drinking, but still.
The Police were my first "favorite band". I think I was in 4th grade when I heard Message In a Bottle, and I went out and bought Synchronicity (on tape). The went back and got a couple of their earlier albums. So I got in on it at the tail end (they disbanded in 84), but you can't really blame me, since I was 8.
So this tour is a pretty big deal. They went on tour in '07, as a 30th anniversary reunion thing. They hadn't played together in 24 years. They said last night the last time they played Buffalo was 1978. (though someone said that's wrong, they were here in 84. I dunno.)
But in any case, I think it's fair to say they're a pretty influential band in music history. I think I would equate seeing this concert with seeing maybe the Stones (except it's actually easier to see the Stones since they still play sometimes).
So I was just surprised when I mentioned at work, and no one seemed even vaguely interested. Who knows... maybe they're too old? But really... who doesn't still start singing "Roxanne" every time it comes on at a bar?!
But, who cares what they think. It was a great show. They only played a couple songs I didn't know. Sting still has a great voice, and Stewart Copeland, the drummer, is amazing.
So... happy birthday to me. It was great. :)
just to clarify- the limo was not on my behalf. The guy whose suite it is apparently gets limos often- whenever there's a big group and drinking is involved. I (and about 15 other people) just happened to luck out.
Unfortunately it was tough to get decent pix on my phone, but...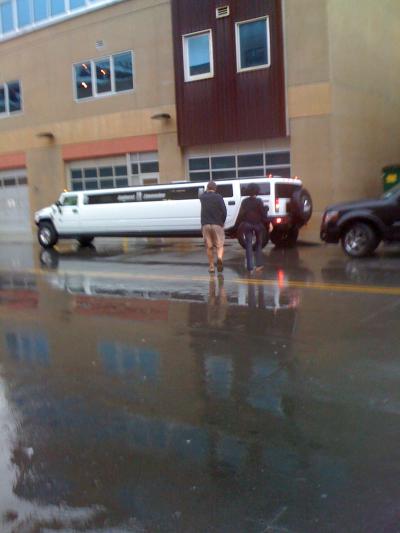 Our ridiculous limo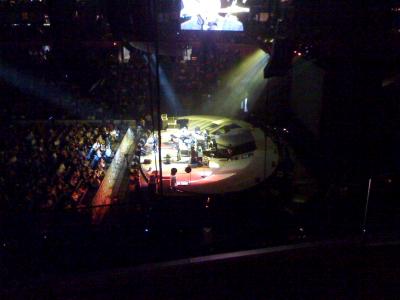 Elvis Costello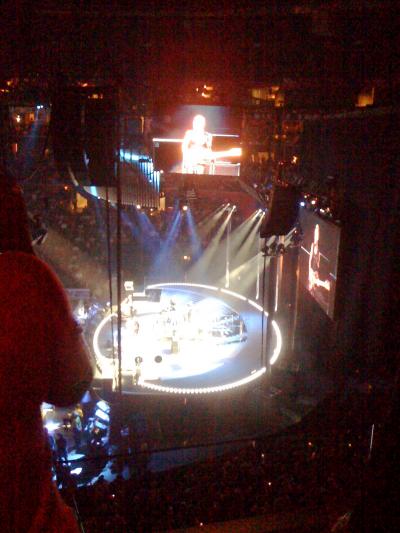 The Police


Permalink: Good_show_.html
Words: 377
Category: music
10/17/07 02:05 - ID#41690
best music find ever?!
Ok, I think this is worth bumping my previous post down a notch.
I just found the best podcast ever!!!
NPR's All songs considered
It's mostly cool indie stuff, including full live sets
here's a sample of recent episodes-
radiohead, neil young and others
Jose Gonzalez
Okkervil River
Iron and Wine
Robert Plant
Rilo Kiley
Bishop Allen
Louis Prima
the apples in stereo
the new pornographers
and of course, The National :)
Why did I not know about this before?? [maybe because I never listen to NPR?]

The website has even more- there's a whole column of live concerts you can just download.


Permalink: best_music_find_ever_.html
Words: 108
Category: music
03/31/07 07:07 - ID#38703
Chase rules.
Ok, so this week at work has been super crazy/busy/shitty, and it has put me in a terrible, sleep-deprived mood. Have barely slept since wed night, and had to miss jackdaw last night, and am missing roller derby tonight since my 2 hour day turned into 12-

but somehow now I don't care about that and feel like some sort of special VIP rockstar.

My brother in law always turns me on to cool new music, including The National, whose CD "Alligator" is one of my faves. They have a new album coming out in May, and are touring (will be in Toronto in June actually- anyone?).

But so the other day he sent me an email that said 'do you still like the national? Do you have this yet?' and attached was a folder full of songs. I figured it was like their first album "before they got big" or something obscure and random like that.

It took me a few days to get around to checking it out, and I just opened it-

And it's their new CD. Due to be released May 22. I have no idea how he got his hands on it, but it made my week.

Three cheers for Chase! Yay!

Unfortunately all the songs are too big to post as user sounds, so instead I've put up "baby we'll be fine", another fave, from Alligator.



Permalink: Chase_rules_.html
Words: 233
Category: music
03/19/07 06:37 - ID#38517
PS
I forgot!
I made a new mix.
Link over there --->
or here

Here's the song list:
The Chills - Peter, Bjorn and John
Between the moon and the ocean - the bon savants
nobody knows me at all - the weepies
fidelity - regina spektor
true affection - the blow
barely listening - pilot speed
dashboard - modest mouse
parade of punk rock t-shirts - maritime [my user song]
stacked crooked - the new pornographers
walking with a ghost - tegan and sara
southwest planes - the western states motel
love song no. 7 - CYHSY
old catherine's box - katamine
black flowers - yo la tengo
keep the car running - arcade fire
lightbulb - mezzanine owls
lady luck - can joann
shoulders and arms - tokyo police club
searching for the ghost - heartless bastards
they - jem
girl sailor - the shins
Enjoy!
Hope you all had a good weekend. :)


Permalink: PS.html
Words: 163
Category: music
11/13/06 10:08 - ID#23979
free cd
so my six-pack of magic hat had a coupon on it...
go to

to download a free cd.
you have to give them your email, etc, though in order for them to send you the link.
haven't listened to it yet, but it's what i would call hippie music- string cheese incident, umphrey's mcgee, etc.
not too much new here...
work work work, that's about it.
But I am now ATLS certified, so if you are ever in a mobile home and the propane tank explodes and sends you flying 15 feet into a wall, or you are ever a pregnant woman in a car crash, or if you get stabbed in the back and then fall through ice- just come to me. ;)
have been having a lot of conversations lately about... god who knows. sort of the meaning of life, religion, enlightenment... kind of wild stuff that I would usually sort of write off- but now it's got me thinking. Hmm. What IS it all about?? I think a big can of worms has been opened. I hope this is not a bad thing.
-J


Permalink: free_cd.html
Words: 190
Category: music
08/05/06 10:30 - ID#23918
top secret!
Ok, I'm a little torn between keeping this secret, and sharing with all you lovely peeps. And I've decided- it's way too cool to keep secret.
Check it out-

It's music... worth it... I promise... I just don't want to make it too google-able.


Permalink: top_secret_.html
Words: 48
Category: music
08/01/06 07:29 - ID#23915
new tunes! yay!
Ok, so I decided I was due for another massive music binge. Asked chase and ryan for some recs, as usual, and checked out some stuff recommended by my last.fm page...

browsed my friend's music server... did a little search... got a bunch of stuff I keep hearing about but haven't checked out-

So now I have to listen to-
Cut Chemist
J5
The Decemberists
Frou Frou
Mogwai
Pinback
The Raconteurs
Thom Yorke
The Unicorns
Wolf Parade

and:

Danger Doom.

I keep hearing about MF Doom/Danger Doom and how he kicks ass.

Well let me just say-
I concur.

As I type I am listening to The Mouse and the Mask. And I don't know if it's a "theme" album or what- but so far every single song has Adult Swim samples in it. And one had Homestar Runner!

How freaking cool is that.

And along those lines- athf and sealab and now available on itunes. fyi.

I will report back on the rest of these as I check 'em out.

Unfortunately they're all too big to use as usersounds, but here's ATHF on Gather: 0395368001154475362





Permalink: new_tunes_yay_.html
Words: 187
Category: music
06/13/06 11:33 - ID#23877
RAD!
Stay tuned peeps. I am working on The Best Mix In The World this week, and when it is ready I will share. It might even have to be a double disc, we'll see. Maybe I can .zip it and put it on gather? or
(e:twisted)
, how did you do that bittorrent thing for your
(e:valentine)
cd? (part of my inspiration to share, i will admit.)
haven't made a mix in a long time. but i have so much new awesome music lately i can't not do it.
yay. hopefully i won't be at work all freaking night again.
(but had a yum-yum-yum dinner/martini at cecelia's last night, and met
(e:cocoloco)
. It was awesome. Thanks
(e:mike)
/
(e:libertad)
)
-j


Permalink: RAD_.html
Words: 124
Category: music
05/05/06 09:07 - ID#23845
a new leaf...
Ok, so this whole bday thing hasn't bothered me at all, until a mini-freakout last night when I realized "holy crap my 20's are over in an hour and what do I have to show for it??"

so I went to bed.
And now it looks like a beautiful day. I think maybe I'll go walk through the cemetary- something I've never done but have always wanted to. Now just to figure out how to get in...

But anyway, I hope you all enjoyed the guadalcanal march, b/c I'm changing it up for a bit. Maybe I'll bring it back later. For myself, to allay any 'turning 30' doubts, I'm putting up "I am the greatest" by Cassius Clay. And for all of us too, since we're all the greatest. :)

See you all later. Still trying to figure out when/where.
-J

Oh yeah, and I went on a little late night itunes shopping spree-
Good new (to me) stuff:
Arctic monkeys (ok so I'm late jumping on that bandwagon, but I didn't think I liked them at first.)
Belle and Sebastian
The Hold Steady
Clap Your Hands and Say Yeah
and I'm trying to find Jens Lekman, but itunes doesn't have him



Permalink: a_new_leaf_.html
Words: 204
Category: music
04/06/06 10:38 - ID#23826
mmm, lint clot
So I felt like switching up my song... and was looking through itunes... I have SO much music I have never even listened to... I found so many things I wanted to put up... Decided on this b/c this guy is so insane that it's funny. Makes me feel better about my life. ;)

ooh... speaking of insane... maybe i should put up Wesley Willis. There's an idea... You'll have to stay tuned. So much to share with you all!

And I am still taking suggestions for vacation... please!

-J



Permalink: mmm_lint_clot.html
Words: 90
<-- Earlier Entries