Category: design
09/22/08 07:29 - 64ºF - ID#45760
Jason Talks About Design
That's right, I said it and even made a new journal category. That new show, Mad Men, had me thinking about design. I said I couldn't care any less about the design but upon further review, when you start thinking about how cool period shows like that are you DO like the design. So here I am.
Anyone who has been to my apartment knows I am not the most design oriented person in the world. I lump it in generally with style and fashion, which I think are some of the most trivial things we've ever invented, but for the first time today I thought about whether I would like my living space better if I made it look a certain way. Could this affect your mood?
There are other times I realize I appreciate design. For example I really love certain album covers, and I really love classic cars. Anyone remember the classic blue Aston Martin from the recent Bond movie? I think if I were to ever spend real money on an automobile I wouldn't get a run of the mill BMW or anything like that. I would get a classic car. When it comes to this stuff I love classic style.
One man definitely agrees with me - Ralph Lauren. I saw a program recently about his car collection, which is among the best in the world. A museum in Boston actually had an exhibit recently featuring a number of automobiles from his collection. Can you imagine walking into a gallery and seeing cars instead of paintings? What makes a work of art? I have a hard time arguing when you see some of these pieces.
Look at this Ferrari. Amazing. Photo by Michael Furman.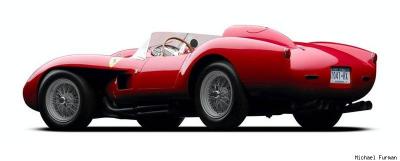 This won one a major competition. Photo by Martyn Goddard.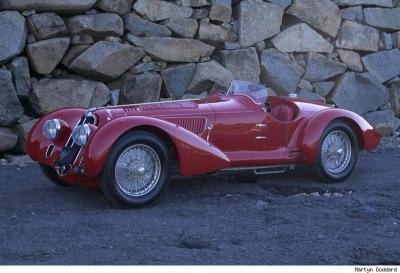 The thing that makes me absolutely love Ralph Lauren is that he isn't a guy who is interested in things that just look pretty. Nope, the Ferrari and the Alfa Romeo are one of a kind RACE cars that haul serious ass. They have a purpose to exist beyond aesthetics, which to him (and to me) is crucial. I can't even imagine the joy driving one of these beauties. Ralph claims that the belief in everything needing a purpose to exist is reflected in his clothes as well, but I'm not really in a position to verify that as I haven't yet bought any of his "real" men's wear.
I guess design isn't for metros and petty people, eh? I think I want to fix up my place, seeing as winter is coming and my ass will be inside a lot more.


Permalink: Jason_Talks_About_Design.html
Words: 447
Location: Buffalo, NY
Category: potpourri
09/11/08 08:02 - 74ºF - ID#45648
Elmwood Bicycle Accident
There is an ambulance outside, and two police cars. A fire truck came by and dropped someone off as well. A guy on a bike is wiping blood off of him. Please people, this isn't the burbs, watch out for the cyclists on the street.



Permalink: Elmwood_Bicycle_Accident.html
Words: 45
Location: Buffalo, NY
<-- Earlier Entries
Author Info
Category Cloud
My Fav Posts
This user has zero favorite blogs selected ;(