Category: music
07/20/07 06:10 - 69ºF - ID#40182
out of touch
So I go away for two weeks and TOTALLY miss out on a couple great bands because the tickets went on sale sold out before I got back! That is so wrong! I can usually count on my music buds to cover for me, but apparently nobody else cared about seeing Shout Out Louds or Tegan and Sara. How is that possible? I literally found out about SOL the day of the show, and tried to get same day tickets at the Rickshaw Stop (literally five blocks from my house) Wednesday night, but no luck. Meanwhile, a smattering of Tegan and Sara tickets are going for $90 on CL. Too rich for my blood. Oh well, at least I can catch their free in store set at Virgin on Saturday.

In other news, if a craigslist post mentions "I have some sexual preferences that some people may not be able to handle. I want sex several strange ways. Please be comfortable with such." And ends with "P.S.-- Please be an animal lover. If you are not, then I am not the man for you." That...doesn't....mean.......??? Nah!

Well, I'll find out soon enough. Wish me luck!



Permalink: out_of_touch.html
Words: 198
Location: San Francisco, CA
Category: music
07/11/07 06:08 - 82ºF - ID#40059
New Rave
First things first. Saw a recipe for Wheatless Apricot Cake in an

article about cooking with solar power and thought of
(e:Matthew)
. Could taste like crap, but sounds like it's hot enough there to bake one in record time. Keep it handy for those rolling blackouts.
Re: title. Took a break from unpacking to check out the band I'm going to see tonight. Since all research eventually leads to wikipedia, I learned they are "one of the isolated acts being referred to as

'New Rave.'" Which is a helluva lot catchier than HMV's description of 'acid-rave sci-fi punk-funk' (make up your fricken' minds already).
I'm pretty intrigued. Can't wait to see them.


Permalink: New_Rave.html
Words: 135
Location: San Francisco, CA
07/07/07 08:30 - 79ºF - ID#39994
Free, with dividends
All of my crap [inlink]twisted,36773[/inlink] arrived yesterday, and as expected, didn't all fit in my new place. I took advantage of having the storage pods for a day to stage the world's most impromptu yard sale. Did pretty well, considering.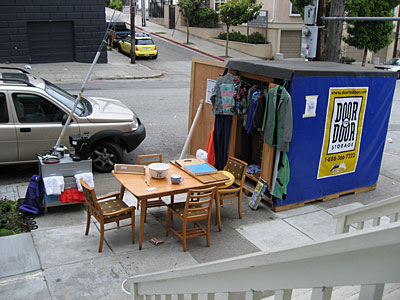 The best part about a yard sale is meeting the people who happen to want your stuff and telling them the odd story behind it. (I don't know about your stuff, but mine all seems to have a backstory.)
Anyway, finally closed up shop and just left the "free" box outside. After a decent interval, decided I'd better bring that in too since the neighborhood already looks derelict enough without my help. Found 3 items added to the box. Don't know why I should be surprised, but thought that was funny.
Guess I'll have to go to the San Francisco Really Really Free Market this month. Somebody must want this stuff!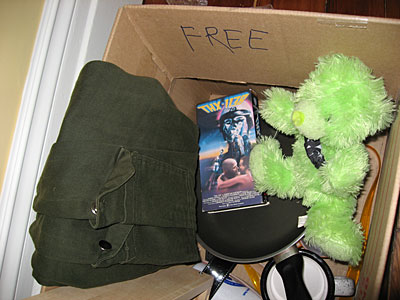 Permalink: Free_with_dividends.html
Words: 154
Location: San Francisco, CA
07/06/07 12:01 - 71ºF - ID#39937
week in review
Martha's Vineyard is beautiful.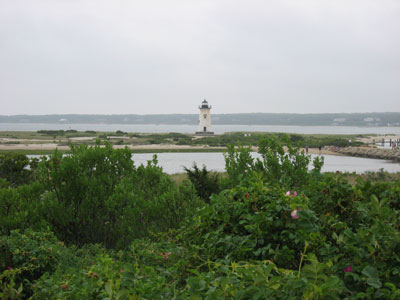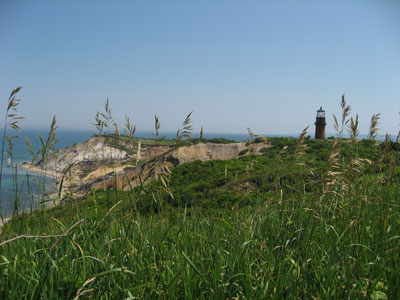 I got to bunk with my nephews for the week. Here's the fort my roommates made in our room.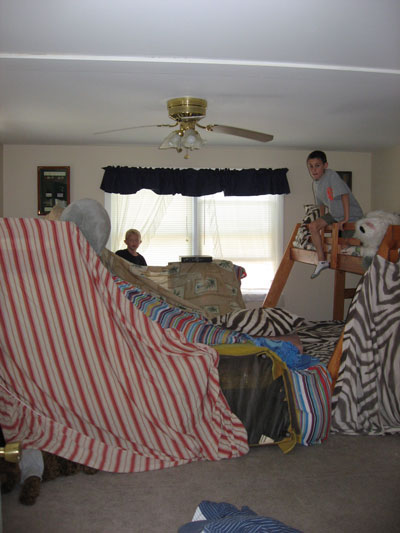 Boston is also still beautiful.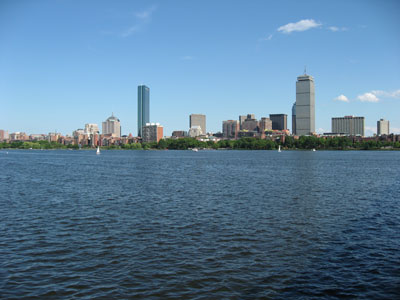 p.s. -- I have your jackets now. come and get them.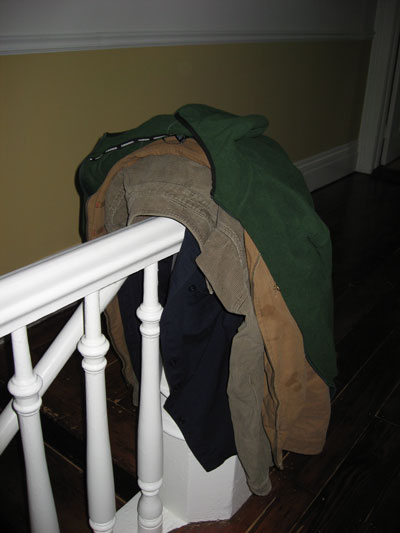 Permalink: week_in_review.html
Words: 50
Location: San Francisco, CA
Category: firefox
06/18/07 01:37 - 68ºF - ID#39710
add-offs
firefox sans add-ons, cache, cookies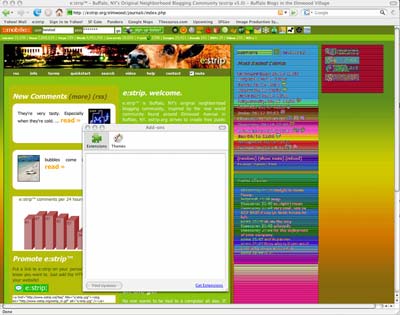 where's the damn veritcal hold add-on?


Permalink: add_offs.html
Words: 13
Location: San Francisco, CA
Category: food
06/16/07 02:31 - 78ºF - ID#39693
lychee season...
...is apparently in full swing. better get out here quick,
(e:paul)
, haha.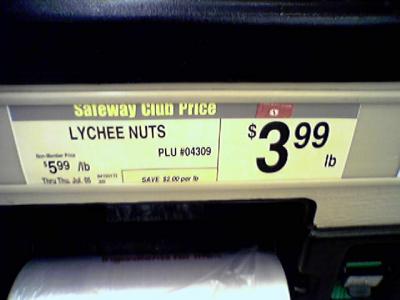 p.s. -- I disabled ALL my firefox add-ons but everything's still smutchfaced. Please don't make me uninstall all of them, sigh.


Permalink: lychee_season_.html
Words: 39
Location: San Francisco, CA
Category: estrip
06/15/07 09:40 - 73ºF - ID#39685
Psychedelia
This is so freakin' awesome.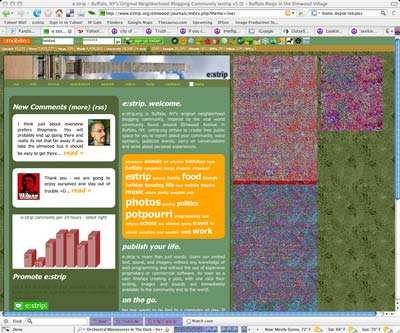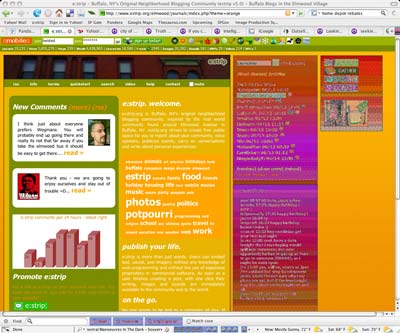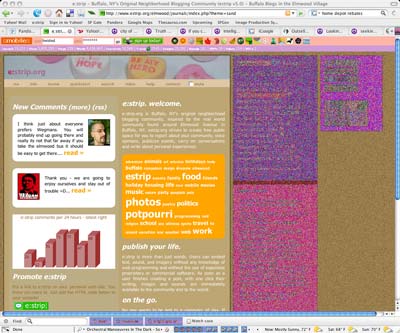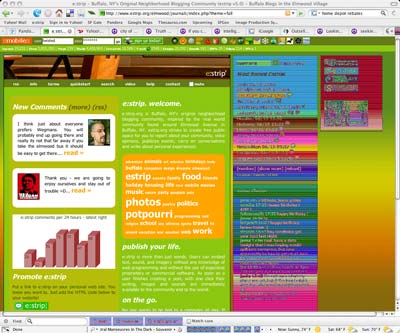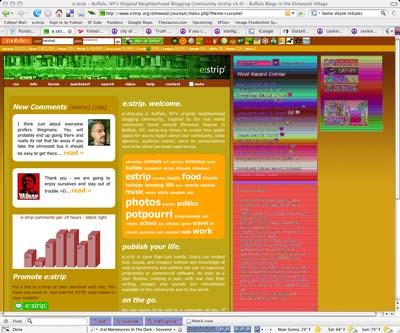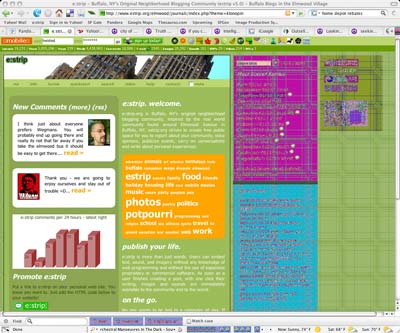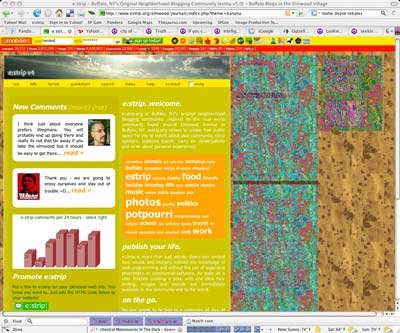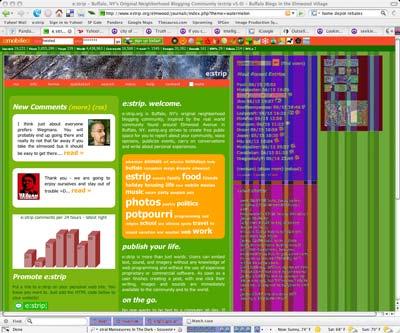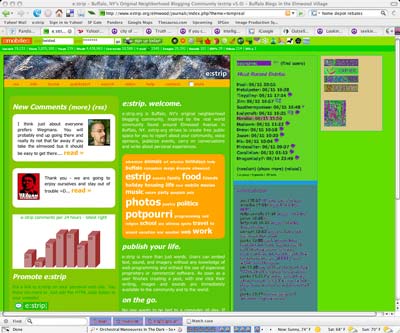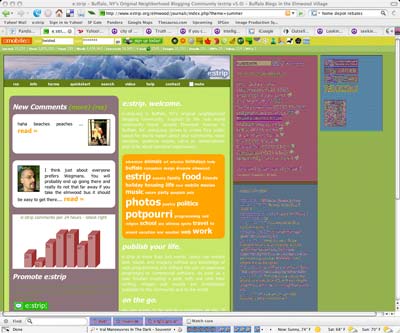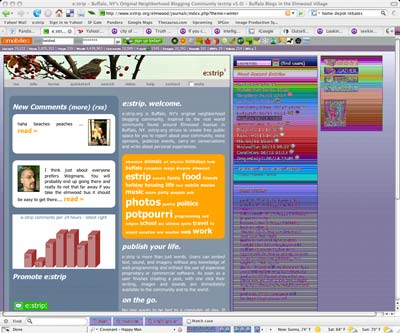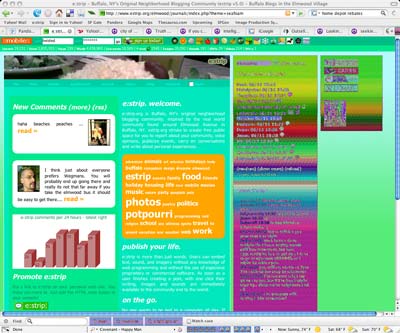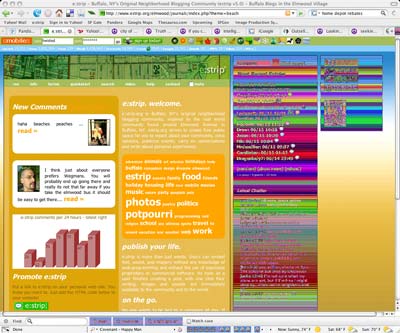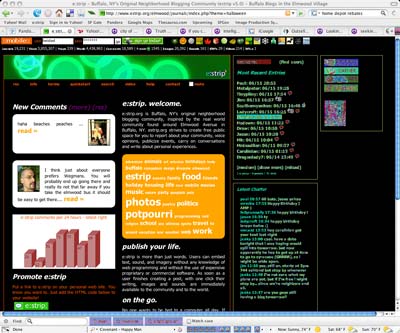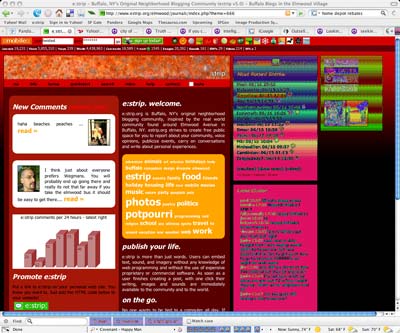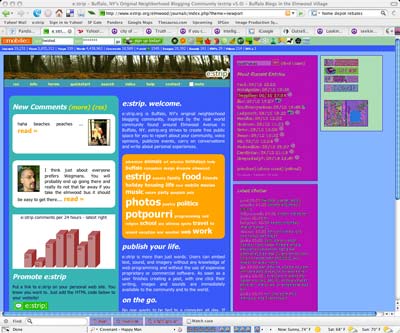 I've decided it's a feature, not a bug, haha.


Permalink: Psychedelia.html
Words: 45
Location: San Francisco, CA
Category: firefox
06/14/07 12:00 - 75ºF - ID#39656
firefix?
Anybody else see this in Firefox/Mac?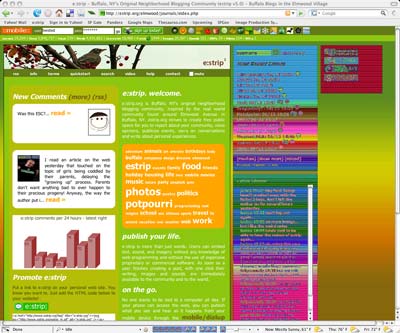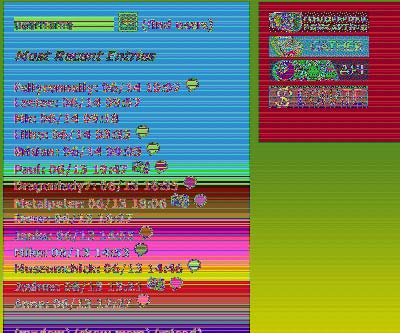 I started seeing it as soon as I moved my Mac upstairs. Then I remembered one of the last things I did downstairs was reset my display settings for thousands of colors. Set it back to millions and now I get this (which I did start seeing downstairs but hoped it was a temporary glitch).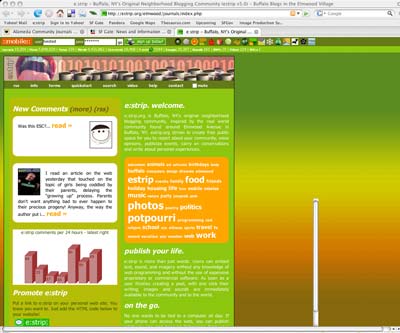 Ai yi yi. Guess I'll be using Safari. Which already crashed once on me this morning. Time to try Safari 3 beta.
Ok, time to get back to taking screenshots for my interview at 1pm. Between comcast taking 24 hours to get my internet hooked up, and the guys who helped move my sleep sofa a computer desk upstairs not showing up until 9:30pm last night, I'm a little behind. And somehow I don't think these firefox screenshots are going to help me get a job. ;-)


Permalink: firefix_.html
Words: 153
Location: San Francisco, CA
Category: real estate
06/12/07 01:41 - 85ºF - ID#39622
A lawyer, a comedian and a male model...
...all make offers to buy a unit in your building. Which one do you choose?

All of the above.

Ok, ok, he's just one guy. But he is a lawyer and a member of a local comedy troupe. He's not really a male model, but since he came directly to our initial meeting from trying a case in court, he was dressed to the nines and quickly gave credit to some sales guy at Nieman Marcus who has taken him under his fashion tutelage and thereby changed his look and his life. Closest thing to a male model I'll come to in this lifetime, haha.

The lawyer part came in handy when he wanted to move his stuff in early and my realtor advised me not to let him because I would be liable if anything happened to it since he didn't own the unit yet. He promptly wrote up a waiver for me. Although I was a little disappointed not to be referred to as the party of the second part, it sounded legal enough to me, so he moved his stuff in over the weekend. Maybe it's not so savvy to enter into a legal agreement wherein the party of the first part wrote it. But considering after next week we'll have irrevocably entwined our finances, seems only fair to advance him a little credit in the trust department. Even if he is a perfect stranger.

I would tell you about the improv bits he and his twin brother (also in the comedy troupe) pulled on me while moving his stuff in, but you really had to be there. Just what I need, a financial partner who can whip out a legal document as quickly as he can improv about not being able to make the down-payment after all since his grandmother miraculously recovered on her deathbed. ;-)




Permalink: A_lawyer_a_comedian_and_a_male_model_.html
Words: 310
Location: San Francisco, CA
Category: family
06/04/07 07:52 - 63ºF - ID#39528
Google Street View
For no apparent reason, my ex sent me this

(random steep incline in SF); preceded by this

(my block -- on garbage day, thank-you very much google!); followed by this

(story to follow).
I'm going to Martha's Vineyard in two weeks for a family reunion to celebrate my Dad's 70th birthday, which is tomorrow. Dad was supposed to be camping this week at Hunting Island

State Park. But before they could give the dining tent Jean gave him as a birthday present a trial run, some big weather system came in and started dropping 3 inches of rain on the area with no relief in sight. They wisely pulled the plug on camping and came home. I remember a time when that wasn't an option. Namely, when Dad took the youth group camping on Assateague Island

one seemingly fine June weekend. My brother and sister and I were way to young to be in the youth group, but we got to go anyway because Mom and Dad were going, so what else were we going to do? Well, turns out Hurricane Agnes struck that very weekend. I'll never forget breaking-down our camp flooded under 3 feet of water. It was fun! I guess you don't get to return a dozen teenagers early once you've said you'd take them camping for the weekend. Good to know.
Anyway, I'm really not sure why I'm telling you this, except that Dad and Jean are scheduled to take the grandkids on their annual
(e:twisted,36583)
camping trip immediately after our MV reunion. They'll be returning on the New Bedford ferry so they can check out Heifer International's Outlook Farm to learn about sustainable farming as a kickoff to the trip. We never got to do that when I was a kid! Although we did get to go crabbing and eat the fruit de mer of our labors. Damn! Those crabs were good!


Permalink: Google_Street_View.html
Words: 423
Location: San Francisco, CA
<-- Earlier Entries