Category: family
12/10/07 11:36 - ID#42467
Year in Review
Is it really that time already? I guess it is.
So many pictures, so few calendar months. In no particular order...
This is cute.
So is this!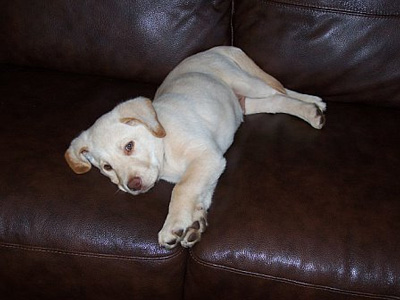 Teaching the art of Suduku...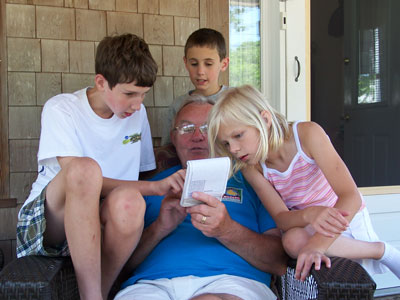 You know how all your friends are going to Disney World? Well, you're going to heifer.org and Sturbridge village. Get used to it!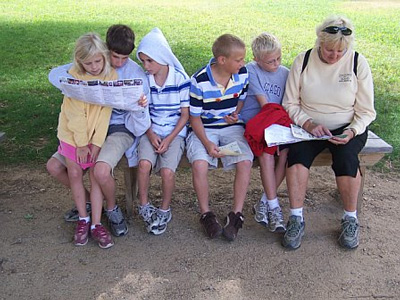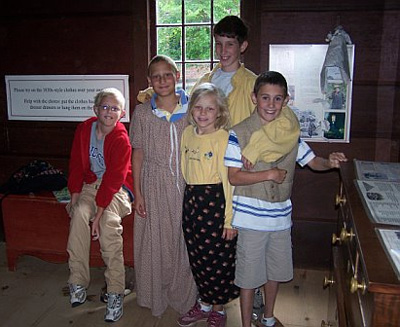 This kid needs a dog...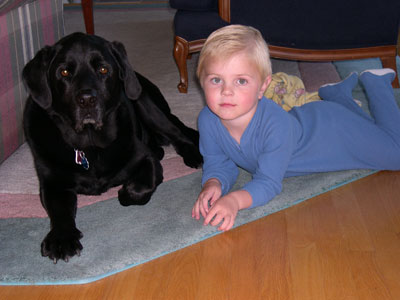 Obligatory scar shot (thanks Dad!)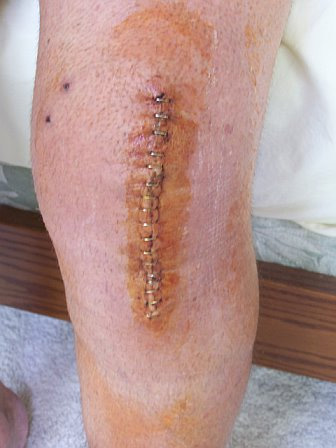 And what does this have to do with the family calendar? Oh who cares. Thanks again Dad...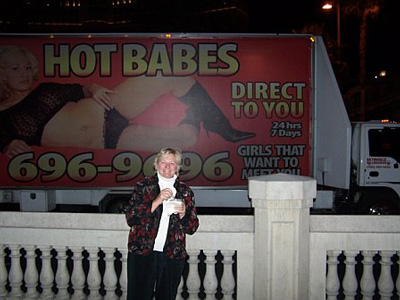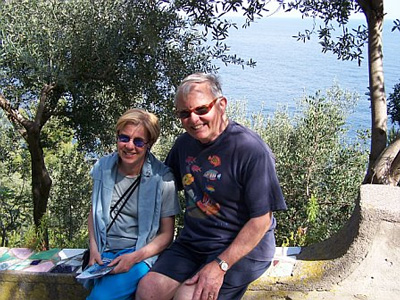 Permalink: Year_in_Review.html
Words: 101
Category: family
08/01/07 11:18 - ID#40348
My niece is a rock star
At least, she looks like one.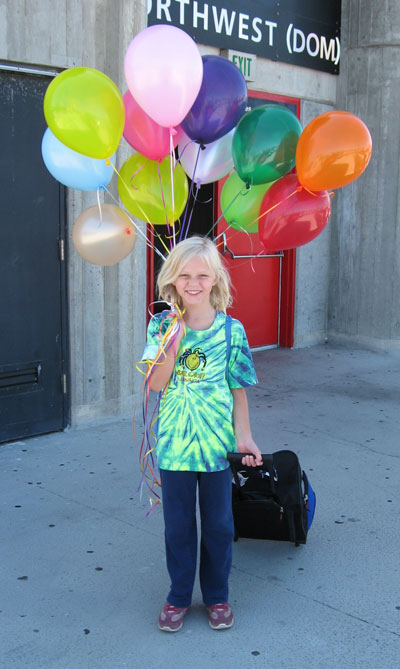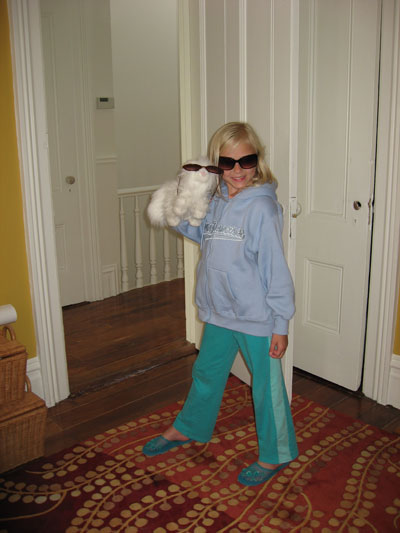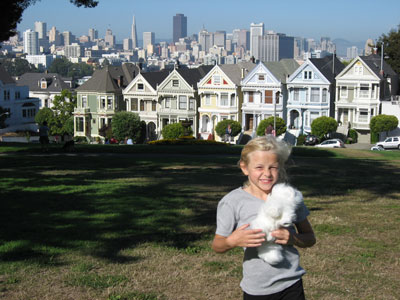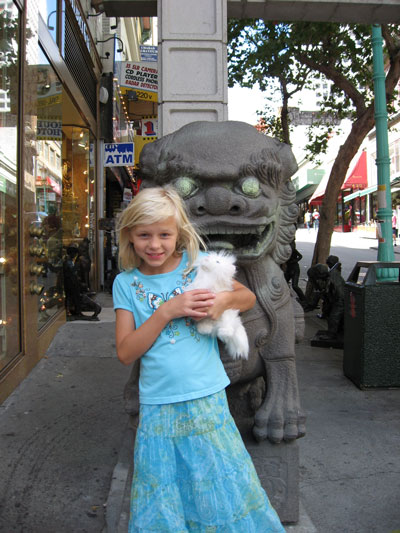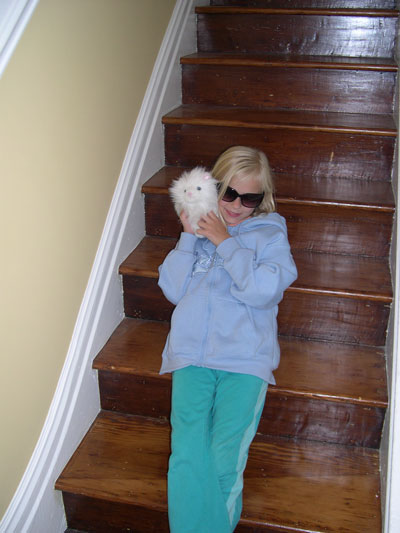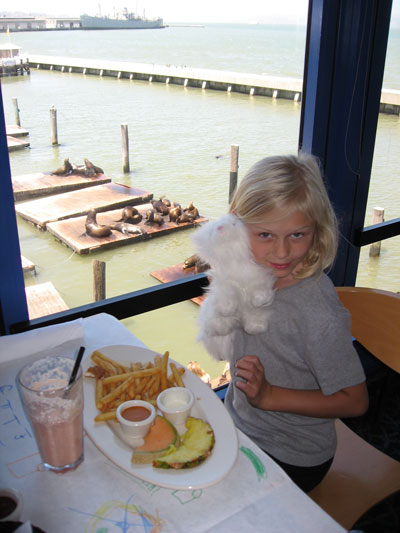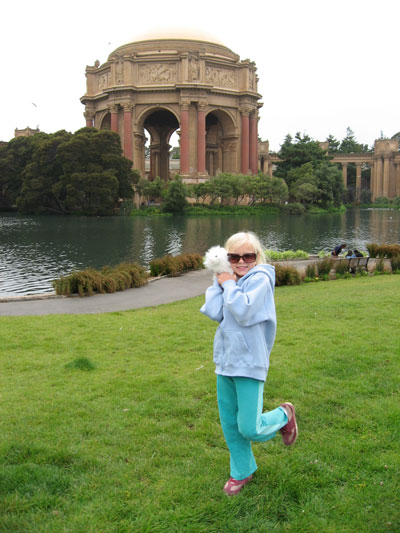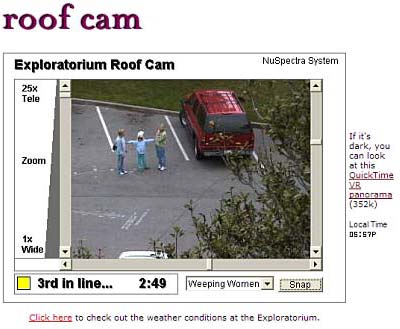 Snap shot from the Exploratorium

Roof Cam. That's my niece in the middle with her
(WIKIPEDIA - Webkinz)
Webkinz cat, Fluffy, on her head.
p.s. -- next time I'll know where to park my car so my estrip bumper sticker can be in the shot, haha.


Permalink: My_niece_is_a_rock_star.html
Words: 72
Category: family
06/04/07 07:52 - ID#39528
Google Street View
For no apparent reason, my ex sent me this

(random steep incline in SF); preceded by this

(my block -- on garbage day, thank-you very much google!); followed by this

(story to follow).
I'm going to Martha's Vineyard in two weeks for a family reunion to celebrate my Dad's 70th birthday, which is tomorrow. Dad was supposed to be camping this week at Hunting Island

State Park. But before they could give the dining tent Jean gave him as a birthday present a trial run, some big weather system came in and started dropping 3 inches of rain on the area with no relief in sight. They wisely pulled the plug on camping and came home. I remember a time when that wasn't an option. Namely, when Dad took the youth group camping on Assateague Island

one seemingly fine June weekend. My brother and sister and I were way to young to be in the youth group, but we got to go anyway because Mom and Dad were going, so what else were we going to do? Well, turns out Hurricane Agnes struck that very weekend. I'll never forget breaking-down our camp flooded under 3 feet of water. It was fun! I guess you don't get to return a dozen teenagers early once you've said you'd take them camping for the weekend. Good to know.
Anyway, I'm really not sure why I'm telling you this, except that Dad and Jean are scheduled to take the grandkids on their annual
(e:twisted,36583)
camping trip immediately after our MV reunion. They'll be returning on the New Bedford ferry so they can check out Heifer International's Outlook Farm to learn about sustainable farming as a kickoff to the trip. We never got to do that when I was a kid! Although we did get to go crabbing and eat the fruit de mer of our labors. Damn! Those crabs were good!


Permalink: Google_Street_View.html
Words: 423
Category: family
12/01/06 01:45 - ID#36790
Nuts
My Dad sent me this picture for the family calendar. Does it seem vaguely obscene to anyone else or is it just me?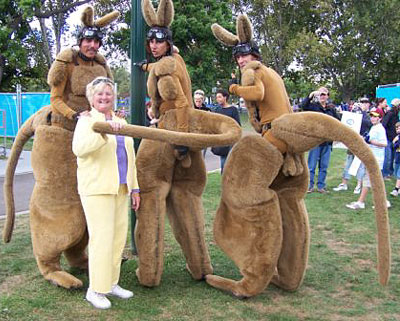 Permalink: Nuts.html
Words: 25
Category: family
08/24/06 11:04 - ID#36740
Traditions
OMG. My step-mother Jean is so organized.

Hello Everyone,

I would love your help with a project that may be fun for you also. I am compiling a pictorial recipe book. An outline is attached. It is meant to collect your favorite recipes that bring back memories of shared times with friends and family. Ideas for menus, great parties (for kids and adults), holiday traditions and decorations. Anything you would like to pass on to each other and future generations is what I am seeking. I hope to also include pictures and some bio info.


A Collection of Recipes, Family Fun Ideas, Decorations, and Holiday Traditions from Friends and Family
including pictures and a little history about the people, places and items submitted

Purpose: Produce a journal of family and friend's recipes and traditions to pass on to grand children and interested family members and friends.

Process: Most likely a two or three step process. First, collect the contents; second, do a draft and insert photos; third, have the first printing done by Christmas, 2006.

Timetable: August-September- collect information
October-November-design and production
Early December-finalize first printing and run off

Outline of Possible Ideas, Content:
Favorite Recipes with notation as to who submitted, who they are, a picture of the person or how or when the recipe is best used. Example: Lemon Meringue Pie- Mom Alden's recipe with a picture of her and how she used to make it for Sunday dinner, usually with Chicken Fricassee'. Include recipe for Chicken as well.

Holidays-
Family traditions, menus, recipes, decorations
Example: Alden Family Thanksgiving- Pop Alden wrote a humorous account of the Pilgrims and the first Thanksgiving along with a Blessing which I have. This will be included along with other memories of "Alden Thanksgivings", traditional menu and some favorite recipes.
Example: The description of the Wist/Olsen family tradition of a Danish Smorgasbord including the story of rice pudding and the nut.

Decorations: How to make something special-centerpiece, wreath, candles....anything unique.

Celebrations-
Celebrations worth remembering and sharing. Ideas, recipes, menus, decorations for Birthdays, Anniversaries, Super Bowl, 4th of July etc.

What I am asking for: Send or e-mail what you would like to share. Or, send your phone number and I will call you. I can scan and return photos, or accept them over e-mail. I will format everything. Things may be handwritten.

How to reach me:
email: so&so@blah.net
address: Misty Cove, SC
phone: 864.555.5555
cell (Verizon): 864.444.4444
(I love that she mentions the carrier so you know whether you get mobile-to-mobile minutes. I for one appreciate that.)




Permalink: Traditions.html
Words: 430
Category: family
05/01/06 12:09 - ID#36699
My Dad is still insane
Just in case you were wondering.
I mean, the relentless traveling since he retired is one thing. I'm talking just in the past 12 months or so: sailed to the Bahamas on a friend's sailboat Feb 05; 3 weeks in Austria/Germany Mar-April 05; 10-day family sailing trip in Antiqua June 05; camping with grandkids July 05; one month in China Sept. 05; road trip with German relatives to New York and Washington DC Oct. 05; Christmas in New York, Massachusetts, Maine and Tennessee (another road trip in the Jetta) Dec 05; 7 weeks in New Zealand/Australia Feb 06.
Is that over the top or what? I'm like, Dad! Did your doctor give you 12 months to live and your forgot to tell us?
If you think he's doing all that because he's rich and can afford to, you're wrong. I'm not even going to argue with you. Believe what you want, I don't give a shit.
So he gets back from NZ/Australia and goes directly into scheduled surgery to replace his hip. Something he's been putting off way too long. (We've been watching him contort himself to get up and down and around for the past 2 years. But as my brothers point out, it's hard to argue with someone who hobbles onto the tennis court looking like a lame old man but then whips your butt.)
In typical form, he gave us a matter-of-fact, blow-by-blow account of the procedure -- highlighted by his post-op dinner menu. Then -- and this was something new -- he sent us a picture of his scar. Now, I'm no doctor, but I'm pretty sure I know what part of him they had to open up to replace his hip, and I really didn't want to see a close-up of that part of him. But just to prove he really is entering his eccentric period, he wrote to say he saved the seven staples from his surgery after they were removed and will give each of us one of them. Gee thanks Dad! Just what I always wanted!
Well, I guess if the tooth fairy had to handle my baby teeth the least I can do is give him a shiny quarter for one of his staples. But do other peeps Dads do stuff like this?
Anyway, I thought Dad might finally enjoy some down time after the surgery, so I sent him a copy of "1,000 Places to See Before You Die"

(he's into morbid humor) -- figuring he would have to be an armchair traveler for a while. Wrong! They've already booked a 15-day trip to the Netherlands/Germany/Switzerland in July, and another camping trip with the grandkids before that.
I give up. When do I get to retire? lol.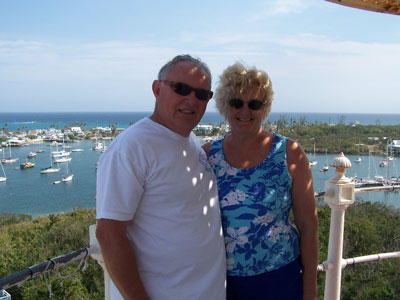 Dad & Jean, Bahamas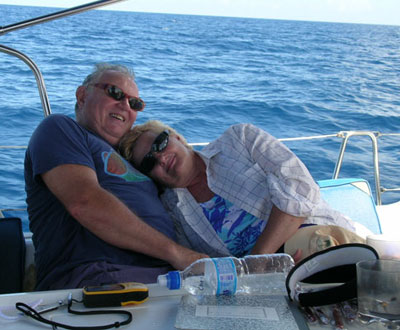 Dad & Jean, Antiqua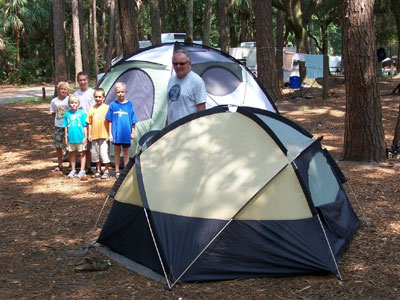 Camping with the grandkids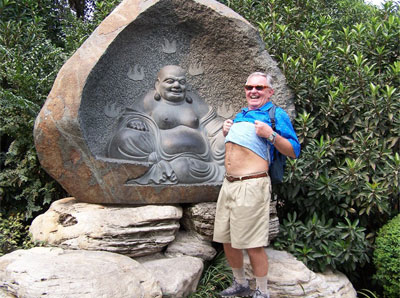 Comparing bellies with Budda.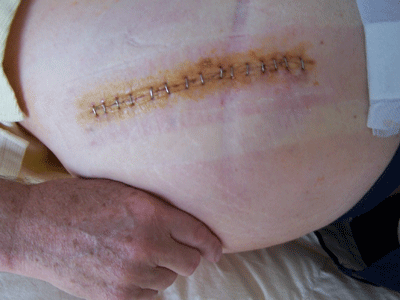 Dad's hip scar. Hey - if he doesn't want a picture of his butt on the internet he shouldn't send it to me!
p.s. - anybody want a staple? haha!


Permalink: My_Dad_is_still_insane.html
Words: 521
Category: family
01/19/06 10:15 - ID#36629
help
aunt lisa me and my mom need help with our itunes

tyler

please respond


I love getting emails like that.




Permalink: help.html
Words: 22
Category: family
07/09/05 09:21 - ID#36583
Camping, etc.
Here I thought I'd been to every campground on the Eastern Seaboard but somehow my family missed that [inlink]paul,3512[/inlink] one.
My Dad is continuing the tradition by taking 5 grandkids camping

on Hunting Island, SC

for 3 nights. And because no family camping trip would be complete without some extended quality time in the car, after he and Jean drive to Rehoboth Beach to pick up Tyler and Connor, they'll take the scenic route back with the kids (Norfolk, Cape Hatteras) with a bonus side trip to Ocracoke Island

requiring TWO ferry rides. I hope these kids know what they're in for.
Don't worry, he's going to swap the Jetta for my sister's car when he picks up her older two for the rest of the trip. I can't believe she's not letting Stephen go. She was just shy of two when we camped at Caledonia State Park.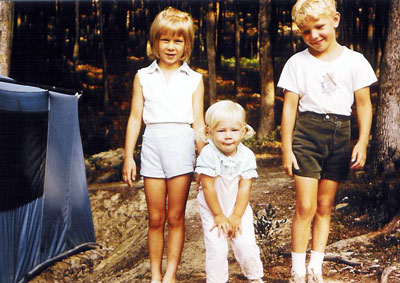 OMG. We had to be the geekiest-looking kids in the whole campground.
As long as I have you on the edge of your seat (haha), I ran across this pic of Dad rowing me and my brother around some island in the middle of the Long Island Sound. Here we are just setting out from City Island, NY

where my grandparents lived. I can't believe Mom let him do that. I guess
(e:Paul)
's right about rowing. Dad does look pretty buff here.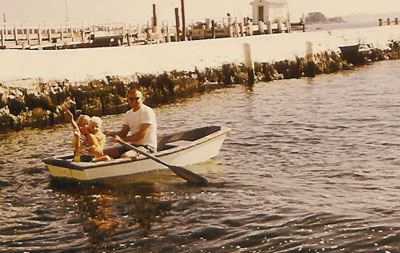 p.s. - if you want to camp with a bunch of naked people of all ages

go to Burning Man, while you still

can.
p.p.s. - As San Francisco police Sgt. "Carl T." helpfully explains

here, public nudity is perfectly legal as long as it's not lewd, intended to titillate, or annoying. Buffalo cops may have differing interpretations so think twice before you try it. Oh yeah, I love the way they include cup size in the quote attibutions on this article. Haha!


Permalink: Camping_etc_.html
Words: 404
Category: family
04/15/05 03:20 - ID#36559
extension
Here's a little story for tax day.

Maybe it's because I'm the oldest kid in my family but it never dawned on me I would have to do my own taxes some day, even though I started working in high school. Dad always did my taxes because he claimed me as a dependent. Well, I'll never forget the first year I mailed him my w2s after going to college and working in Boston for a year. He mailed them right back, untouched, no note, no nothing. I was stunned. Dad's pretty funny that way. He almost always has some succinct or witty comment to make, even if it's just to spruce up your lunchbag (could be why my brother stopped taking lunches in high school). But if he doesn't have anything to say, he doesn't feel compelled to explain himself. And really why should he?

Here's another Dad story while I'm at it. When I left for college, Dad equipped me with one of his old hammers and a screwdriver. He also took me out to the family car and showed me how to put on the spare tire. First he did it, then he had me to it. I didn't have a car at the time and wouldn't for years. But that experience came in very handy once I did.

p.s. - speaking of extensions, as long as this Oracle gig goes as planned I guess I can give myself a 3-month reprieve before I have to either start generating some regular income or take drastic measures. Maybe I'll lay out my plan for alamedalink here some day and see what you think. Otherwise I'll have to start a third blog to talk about it. That would be ironic.




Permalink: extension.html
Words: 292
Category: family
04/02/05 02:28 - ID#36550
april 1
Happy April 1st!
(At least, it's still april 1st here.)
I'll always think of April 1st as my niece's [inlink]twisted,171[/inlink] birthday. She's 6 today (as she very proudly told me on the phone).
She was too young to know we all missed her first birthday - we being my sister & brother-in-law (her parents), my Dad and I - because we were in Germany for my great Aunt and Uncle's 60th wedding anniversary. Dad and Jean are there again this year for their 65th wedding anniversary.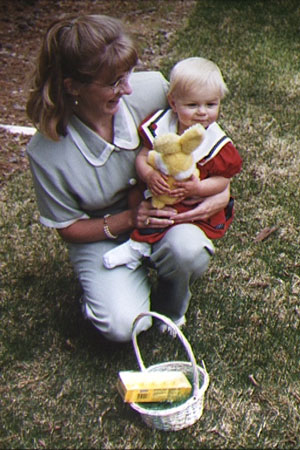 Catherine's first Easter



Missing Image ;(


Tante Anni and Onkel Hinrich on their 60th wedding anniversary

Pix from 65th wedding anniversary:

Be sure to check out the
Pissoir im Bahnhof
.


Permalink: april_1.html
Words: 130
<-- Earlier Entries