Category: holiday
10/31/04 11:38 - ID#36421
Everyday is Halloween
Ok, this doesn't look that different from what I ordinarily wear. Except for the skull mask, of course.

Getting down to the bottom of the candy barrel, then it's off to the Castro.


Permalink: Everyday_is_Halloween.html
Words: 35
Location: San Francisco, CA
Category: holiday
10/31/04 03:22 - ID#36420
tricked
My W. Nile exterminators [inlink]twisted,39[/inlink] are bailing on me. I really hate that.
Might downgrade my costume to generic mystical-style spook. My heart's not in it the same way. Better keep it simple.
I think it's very unlikely I'll have a
(e:peep2peep)
encounter tonight, but maybe I'll color a blue "e" on a Mylar balloon and attach it to myself as an
(e:estrip)
beacon. If any
(e:peeps)
see one bobbing in the crowd, that'd be me. It's always good to have at least one inexplicable component to your costume. Screw 'em if they can't deal with ambiguity.


Permalink: tricked.html
Words: 101
Location: San Francisco, CA
Category: family
10/31/04 02:32 - ID#36419
AARP
Dang. It's getting depressing talking to my Dad each week (Sunday ritual since college). His life is way more exciting than mine! This week alone he announced new plans to join friends on a sailing trip to the Bahamas in February (he was invited while they were playing tennis earlier in the week). This is the same couple he and my step-mother Jean went sailing with along the intra-coastal waterways a few months ago. AND he and Jean booked a 27-day trip to China in September '05. That's in addition to the family sailing trip to Antigua June '05. Cripes! When do I get to retire?




Permalink: AARP.html
Words: 106
Location: San Francisco, CA
10/31/04 01:00 - ID#36418
time is not on my side
good lord. how many watches do I have?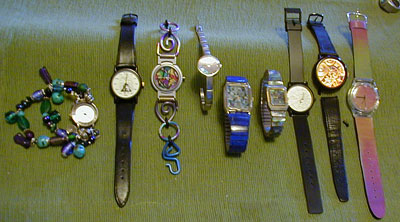 I don't even wear a watch any more. The two on the far left were gifts.
I also went through a ring-watch phase. Hey, they were originally $12/each, on sale 1/2 off. You can't even buy a watch battery for that!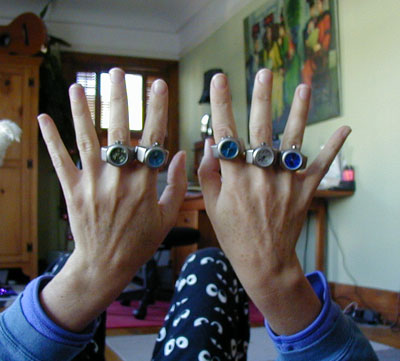 Here's a close-up of my favorite. The face looks like a motherboard, and it glows in the dark. How cool is that?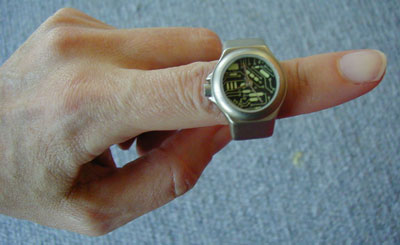 Speaking of cool, glowy shit,
(e:Soyeon)
if you're looking for a computer bag for your new powerbook [inlink]soyeon,137[/inlink] (congrats, btw), I seriously love the one I have. Chrome "Sputnick" in sleek silver

. I used to bike to work with mine almost every day. If you're looking for something to accommodate all your peripherals too, I've managed to cram a lot of stuff in it. But I always seem to need a separate bag for something, which is why I got this one too: eBags TechWeave

(I got it in Ocean Blue). eBags is also having 20% off for Halloween (sale ends tonight). They usually run specials around Christmas too.
Anyway, last year I took two laptops, an external firewire drive, a DV camera, a digital camera, and a shitload of cables (can't wait for a wireless world) home for Christmas. That was fun going through airline security. Then I was really screwed when I had to bring presents back too. ;)


Permalink: time_is_not_on_my_side.html
Words: 263
Location: San Francisco, CA
Category: holiday
10/31/04 12:45 - ID#36417
Halloween Haiku-ster
virtual or real?
Hallow'd rift when worlds collide
through the looking glass
Ok. Along with sketching, add poetry to the list of things I suck at. ;)
(e:haikuster)
I'll look for a bong-toting purple caterpillar [inlink]haikuster,30[/inlink] tomorrow night. Hopefully there won't be too many of them. Then again, it is the Castro.
Keep an eye out for Jambi the Genie from Pee Wee's Playhouse. I may be with two West Nile exterminators. That's Halloween for ya.


Permalink: Halloween_Haiku_ster.html
Words: 78
Location: San Francisco, CA
Category: holiday
10/30/04 08:50 - ID#36416
Mekka Lekka Hi, Mekka Hiney Ho
I think I'm going to be my favorite psychic personality for
Halloween
- Jambi the Genie from Pee Wee's Playhouse. My only production requirement is that at least 95% of the materials required have to come from my personal stash of fabric and crap. Here's what I've got for starters: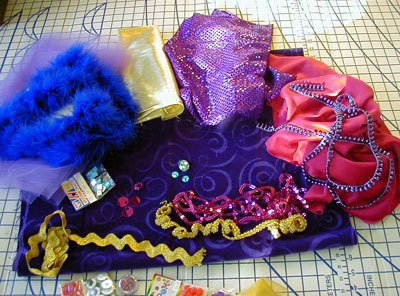 I even have a partial tube of green face cream. So if my test patch doesn't break out into hives today, I'm good to go.
Have fun at the party! Wish I could be there.


Permalink: Mekka_Lekka_Hi_Mekka_Hiney_Ho.html
Words: 88
Location: San Francisco, CA
10/29/04 12:28 - ID#36415
More Green
A few other tidbits about the SF Green Festival

--
Ride your bike and get $5 off admission
After-party Sat night includes:
Full bar, Organic Munchies
Free Bio-diesel shuttle service available from San Francisco Concourse
We are in need of:
- Office help with phones all next week
- Phone banking all day on Wednesday, Nov. 3
- Help Flyering at March on Wednesday, Nov. 3
- Help tabling at events over the next week.
Someone with a truck to help with pick-ups & drop-offs next week
(Especially transporting large bottles of water from Marin).
**Couches!! If you have a couch and you feel like lending it to the Green
Festival for the weekend, we would love you, and give you some complementary
passes in exchange.
- Artists? Help with painting/ decorations sometime over the next week.
- Volunteers to help prepare space for Woody Harrelson's "Further" bus at
Cell Space
- We can also use extra help with Festival set-up on Thursday and Friday.


Permalink: More_Green.html
Words: 168
Location: San Francisco, CA
10/28/04 05:50 - ID#36414
Immaterial girl
I tend to harbor the same sentiments [inlink]paul,2321[/inlink] as your student. Why potentially ruin a good thing over something as trivial as "real life?" ;)

Oh, and did I mention I'm actually a 93-year-old book-burning Cheney-lovin' ultra- conservative?




Permalink: Immaterial_girl.html
Words: 37
Location: San Francisco, CA
10/28/04 04:19 - ID#36413
SushiDisk
USB memory shaped like tuna, sea urchin and salmon roe sushi as well as seaweed rolls. It comes in 32MB and 128MB sizes. Wasabi not included.



Permalink: SushiDisk.html
Words: 52
Location: San Francisco, CA
10/27/04 05:35 - ID#36412
easy being green
Woo hoo! I got my first choice. Bike valet.
Hello Lisa,
Thank you for volunteering with the SF Green Festival, Nov. 6 & 7. It is a large event and the volunteers make it all possible, so your help is greatly appreciated. Please excuse us for the late response to your volunteer request. This message will provide you with the specific position and time of your shift(s). If there is a problem with the shift(s) that you have been assigned or if you are interested in working more shifts, then do not hestitate to contact us.

You have been scheduled to volunteer at the following time(s) and position(s):

City: SF
Task: Bike Valet
Day: Saturday
Shift: 1, 9:00am-1:30pm

Your shift time includes the 4 hour shift and 30 minutes for training. When you arrive you should report to the Volunteer Registration Desk in order to get signed in. Volunteer Registration is located at the Volunteer/ Exhibitor Entrance to the Festival on 7th St. Please bring along a copy of this email as confirmation of your volunteer shift.

There will be a Volunteer Orientation which will take place 6:30pm- 7:30pm on Thursday, Nov. 4, at the SF Concourse (8th & Brannan) upstairs in the Mezzanine. The orientation is not mandatory, but recommended as it will give a good overview of the SF Concourse, the Festival and its co-producers Global Exchange and Coop America.

There will also be important trainings for all Greening and Membership volunteers immediately following the orientation (7:30- 8pm). Although also not mandatory, if you are working with the Greening or Membership we ask that do your best to attend, as these positions require extra training in preparation for the event.

Thank you again for volunteering for the Greening Festival. You can check the website for more logsitics concerning directions, parking, etc..., and we look forward to seeing you at the event.

Carlos Martinez
Mike Fox
Volunteer Coordinators
volunteer@greenfestivals.org
(415) 255-9319

www.greenfestivals.org



Permalink: easy_being_green.html
Words: 331
Location: San Francisco, CA
<-- Earlier Entries