Category: friends
02/07/07 01:15 - ID#38049
How to Dismantle an Atomic Bomb
That's what I feel like I was asked to do tonight. I wish I was better at helping my friends work out their problems.



Permalink: How_to_Dismantle_an_Atomic_Bomb.html
Words: 24
Category: friends
03/23/06 11:15 - ID#36682
non sequiter
(...?...)

Today I was asked to vote for (my other friend Paul)'s band. Of course I did so immediately. You can tell from my usersound why.

So, this evening I poured myself a nice glass of wine. And when I returned to my "station" at the computer, I found another full glass already waiting there for me. That's the kind of day I've had.




Permalink: non_sequiter.html
Words: 64
Category: friends
02/26/05 04:49 - ID#36530
Memory Lane
So I saw my friend Andy (best music buddy[inlink]twisted,59[/inlink]ever) while I was in Boston earlier this week. It reminded me again how guilty I felt - and still feel I guess - about messing up "the balance" by leaving Boston after 20 years. Not just with Andy but with everybody. I guess anybody who leaves a relationship feels that to some degree.
Anyway, it was school vacation week so I met him and his kids at the Children's Museum on Tuesday. As we were getting our hands stamped I noticed he still had a fresh stamp from TT the Bear's Place

where it turns out he had gone to see Colin Meloy of The Decemberists the night before. Between mediating the older and younger kid's turns and dodging the hordes of other kids also on school break, we caught up on music.
I asked him who he went to TT's with and he said no one. He just went by himself. He's been going to shows on his own lately. As he put it, everybody goes to sleep, Daddy goes out, Daddy comes home, everybody's still asleep, works great!
Considering we started hanging out because we kept showing up at the same shows alone, it's ironic the night after I got back to SF I ended up going to see Mission of Burma

alone. I don't know what this all means, but it seemed worth noting.
I was also reminded that the last time I went to the Children's Museum was when my former company, ATG, had a Halloween party there. That was back in the dotcom heyday. I wish I'd had a place to blog then when life was interesting.
Probably the only other time I've been to the Children's Museum was when my Dad and brother drove up from South Carolina to visit me, also during school break. Somewhere I've got a great photo strip of my brother from one of those photo machines there (in black and white - that's how long ago this was). If I find it maybe I'll add it here later. (*see below.)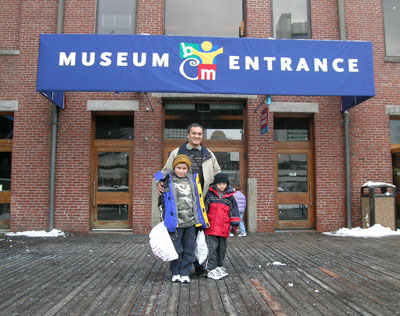 Andy, John and James in front of the Boston Children's Museum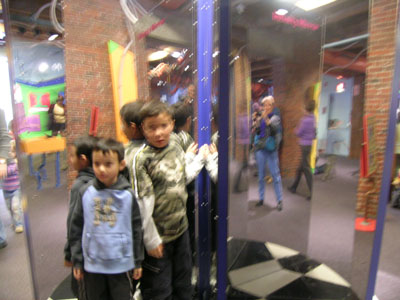 Blurry reflection of me taking a picture of them in the fun mirrors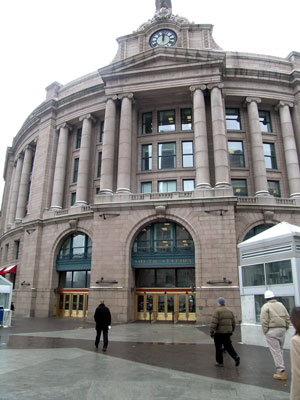 I took the T to South Station to get there. I used to take Amtrack to Baltimore from South Station back when travelling by train was cheaper than flying. God, I am so old.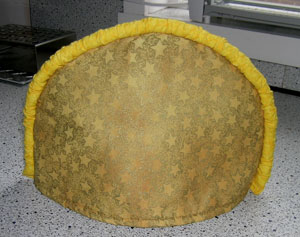 Oh, this is the tea cozy I made that Mark is so crazy about. I don't get it personally. This would have been a good follow up to the Valentine post I accidentally deleted about how gifting changes throughout a relationship. But you'll just have to forget about that! Whoever you are. Does anybody read my journal on east? Maybe I should just stick to west.
Note to self: in addition to not blogging when wasted[inlink]ajay,276[/inlink], it's probably best not to blog when still semi-delirious from the plague.
Later.
p.s. - I found it. The photo machine starting taking pictures before he could climb into the booth. That was funny.



Permalink: Memory_Lane.html
Words: 543
Category: friends
11/27/04 04:24 - ID#36457
52:52
Just talked to my ex for 52min52sec. Weird, huh? Thank god for free night & weekend minutes.
He got my bday package[inlink]twisted,71[/inlink] today. As part of my new "it doesn't have to be complicated and difficult in order to be good" policy, I took the easy way out and just bought him some stuff at my favorite store. He liked it.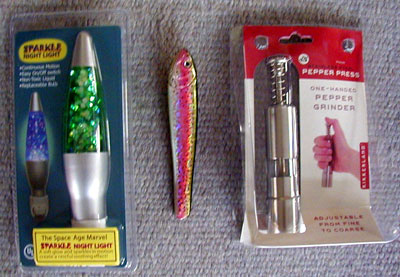 (Please tell me there's no phallic symbolism underlying these gift choices. Oh god.)
The lava lamp nightlight is already plugged in, and he says it looks cool. Also filled up the pepper grinder - still trying to figure out how to adjust the coarseness. Says he really likes the fish box cutter 'cause he likes to keep one on the counter and this one looks fun. So I guess I can chalk that all up as a success.
Other topics covered:
He ordered VOIP (voice over IP) from vonage

Adjusting the tension on my old sewing machine (which he has)
Bike lights, tea cozies (again), Thanksgiving
My favorite store in Cambridge no longer carries the glow-in-the-dark koosh ball earrings. Why on earth would you discontinue an item like that? Luckily my reconstitution efforts have been somewhat successful. I'm going to have to attach the earwire some other way though.
Darn, I forgot to remind him to make himself some crème brûlée with the blow torch I got him for his birthday last year. Why did I ever break up with a guy who might have made me crème brûlée ? I must have been out of my mind.
Last year was a 'milestone' birthday, so I did the card thing (tying the blowtorch in with his toaster fetish).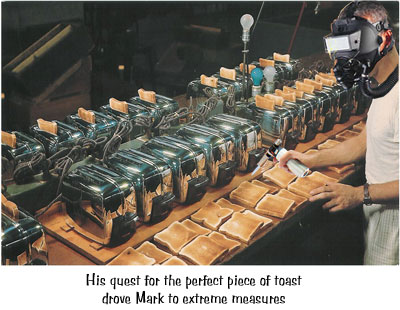 I don't know what it is with him, but he turned around and bought a mini-blowtorch for me the last time he was out here. I'll never figure him out, but I can't seem to stop trying.
Avengers

show was a lot of fun last night. The girl standing in front of me asked if I was Penelope's sister (the lead singer). She said I look just like her. I really couldn't tell you.


Permalink: 52_52.html
Words: 371
Category: friends
11/14/04 04:37 - ID#36442
how many martinis...
...before you start spilling your guts about things you aren't ready to spill yet? I would say five. I left after four. My friends already have enough ammunition on me.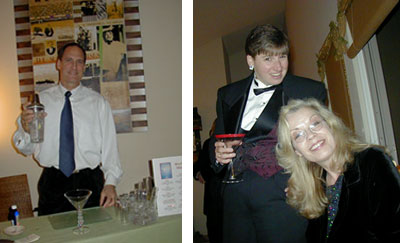 Norm mixing my 1st martini / Kathy and Candy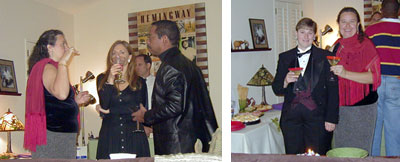 The beautiful people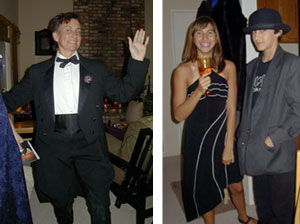 Mary, my dance partner for the evening / Sam & Justin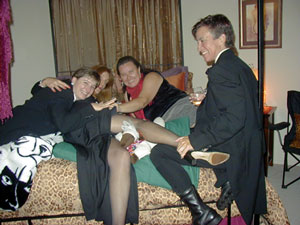 I could explain this, but some things are best left to the imagination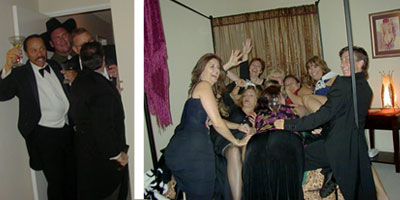 Yep. The party's in here guys.
bling close-up / self-portrait attempt
Earrings, wrap and boa scarf were big hits. Don't get much chance to wear those any more. I used to wear the earrings to work, and made that scarf for "Boa Fridays." Good times. I suppose I could still have"'Boa Fridays" but since I work at home alone, seems kind of pretentious.


Permalink: how_many_martinis_.html
Words: 139
Category: friends
11/12/04 12:39 - ID#36438
Out femme'd
Went to Brenda & Kathy's for Netflix night and they're already setting up for Thanksgiving. I think B's been watching too much HGTV again. Sucks to be the only straight chick in the group and still get out-femme'd.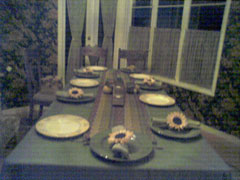 another low-res, low-light cell phone pic
Hey, I made those curtains for them though. That should count for something.
We didn't actually eat at the table tonight. We munched our portabella burgers in front of the tube like normal folk. Guess I don't have to feel too threatened.
Almost time to head into SF for Dogs Die In Hot Cars. Such a sad name. Hope they're good.


Permalink: Out_femme_d.html
Words: 107
<-- Earlier Entries