11/28/05 02:37 - ID#36617

city life
I had an hour to spare, so I walked

down to City Hall to get a copy of my deed. Living in the city is so convenient!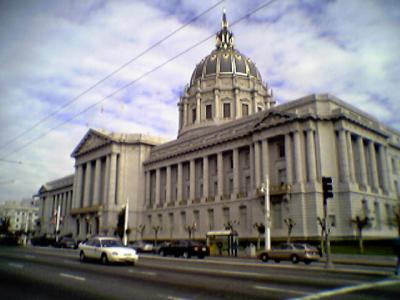 Permalink: city_life.html
Words: 59
Location: San Francisco, CA
11/23/05 08:39 - 28ºF - ID#36616
Object-Oriented Memory
This weird thing has started happening since I moved out of my last place. Now when I have to give my old address, I'm reverting to a really, really old previous address that starts with the same number. I've probably said "1022 Doris Court" about a million times over the past 3 years. But now, I start saying "1082..." which is the street address for my first apartment in Boston - 1082 Commonwealth Avenue. It's like my mind is seeking for a previous address (not current addresss) which starts with 10...and that's what comes out.
Or, I'm getting senile. That's entirely possible.
I don't think you can appreciate the significance of this without knowing just how far back 1082 goes. Here are all my addresses since then:
1082 Comm Ave.
7 Carol Ave.
89 W. Cedar St.
488 Columbus Ave.
81 Worcester St.
135 Winchester St.
279 Vinton St.
876 Fellsway
59 Forest St.
299 Fellsway West
143 Church St.
1809 Golden Gate Ave.
1257 Regent St.
1022 Doris Ct.
Yeah. I move a lot. But really - I've said "1082... I mean, 1022" 3 times. It's weird.
So
(e:Paul)
- when are you going to start REMEMBER Boston and REMEMBER San Francisco?


Permalink: Object_Oriented_Memory.html
Words: 182
Location: San Francisco, CA
<-- Earlier Entries