Category: firefox
06/18/07 01:37 - 68ºF - ID#39710
add-offs
firefox sans add-ons, cache, cookies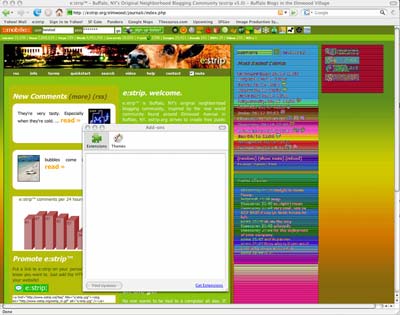 where's the damn veritcal hold add-on?


Permalink: add_offs.html
Words: 13
Location: San Francisco, CA
Category: food
06/16/07 02:31 - 78ºF - ID#39693
lychee season...
...is apparently in full swing. better get out here quick,
(e:paul)
, haha.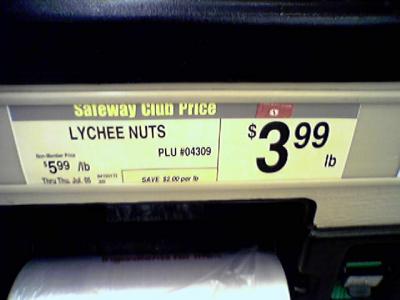 p.s. -- I disabled ALL my firefox add-ons but everything's still smutchfaced. Please don't make me uninstall all of them, sigh.


Permalink: lychee_season_.html
Words: 39
Location: San Francisco, CA
Category: estrip
06/15/07 09:40 - 73ºF - ID#39685
Psychedelia
This is so freakin' awesome.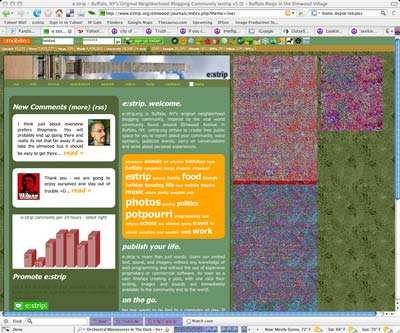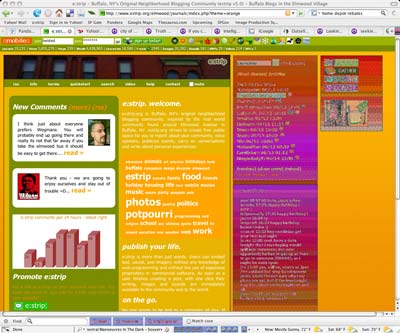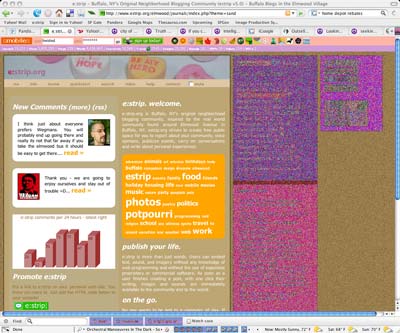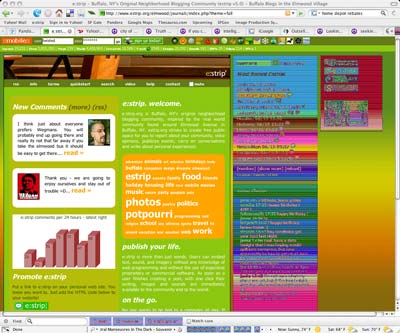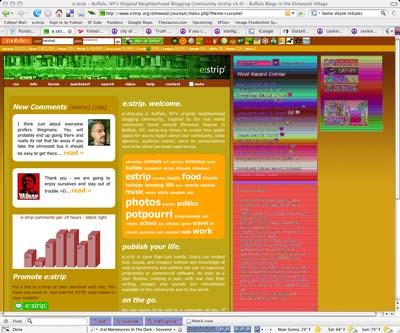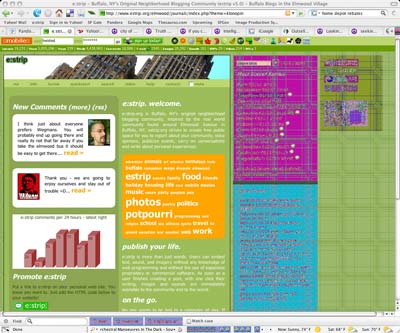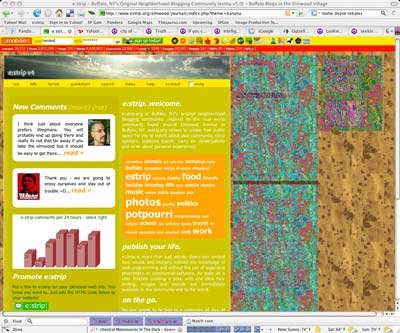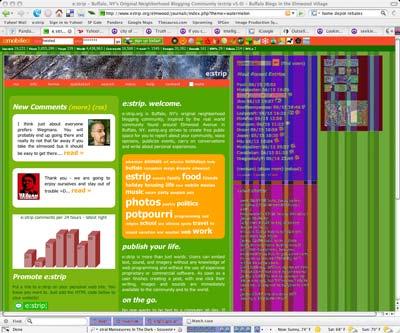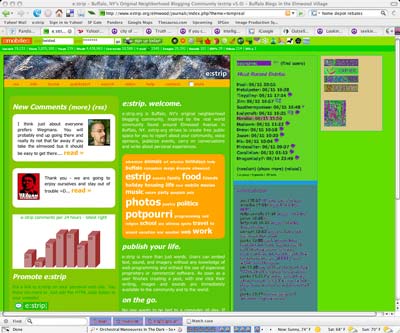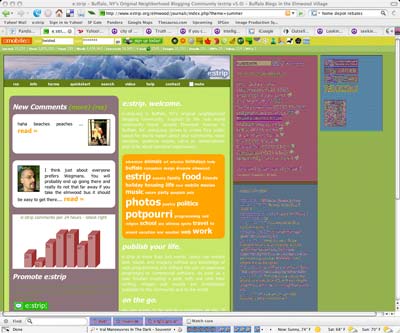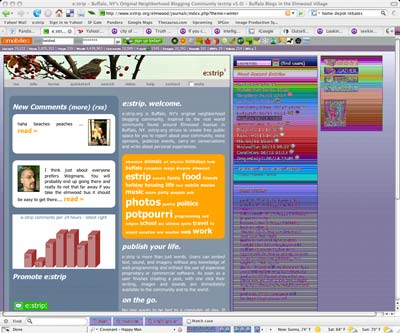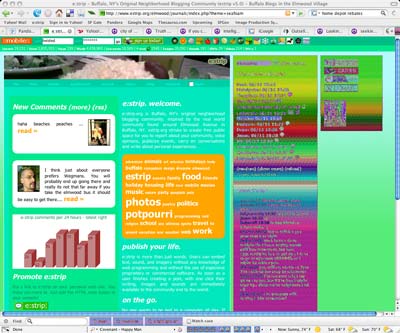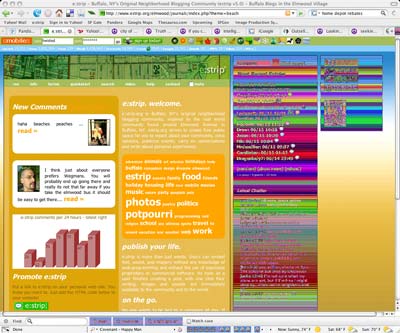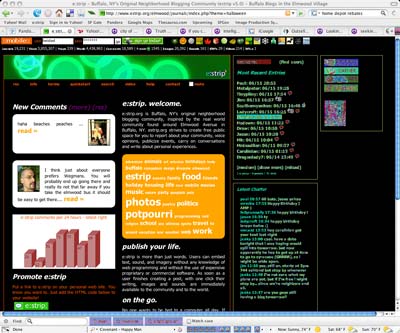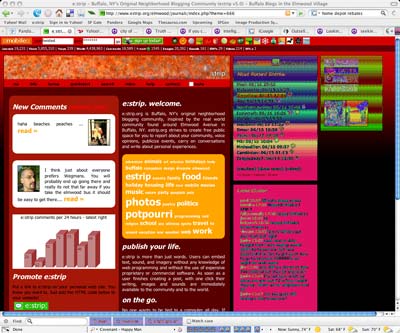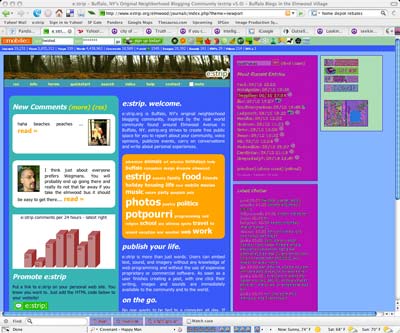 I've decided it's a feature, not a bug, haha.


Permalink: Psychedelia.html
Words: 45
Location: San Francisco, CA
Category: firefox
06/14/07 12:00 - 75ºF - ID#39656
firefix?
Anybody else see this in Firefox/Mac?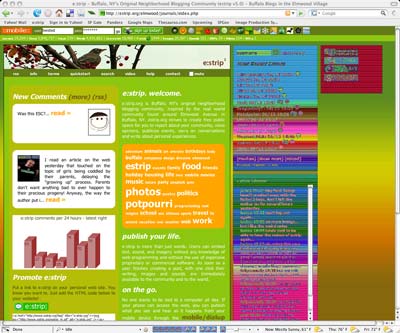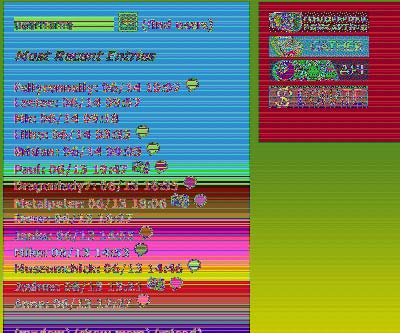 I started seeing it as soon as I moved my Mac upstairs. Then I remembered one of the last things I did downstairs was reset my display settings for thousands of colors. Set it back to millions and now I get this (which I did start seeing downstairs but hoped it was a temporary glitch).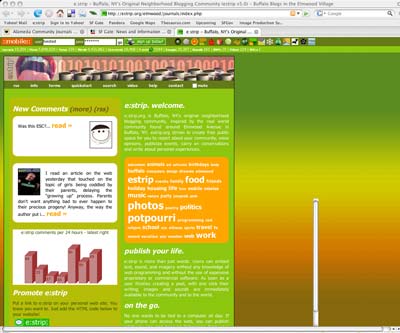 Ai yi yi. Guess I'll be using Safari. Which already crashed once on me this morning. Time to try Safari 3 beta.
Ok, time to get back to taking screenshots for my interview at 1pm. Between comcast taking 24 hours to get my internet hooked up, and the guys who helped move my sleep sofa a computer desk upstairs not showing up until 9:30pm last night, I'm a little behind. And somehow I don't think these firefox screenshots are going to help me get a job. ;-)


Permalink: firefix_.html
Words: 153
Location: San Francisco, CA
Category: real estate
06/12/07 01:41 - 85ºF - ID#39622
A lawyer, a comedian and a male model...
...all make offers to buy a unit in your building. Which one do you choose?

All of the above.

Ok, ok, he's just one guy. But he is a lawyer and a member of a local comedy troupe. He's not really a male model, but since he came directly to our initial meeting from trying a case in court, he was dressed to the nines and quickly gave credit to some sales guy at Nieman Marcus who has taken him under his fashion tutelage and thereby changed his look and his life. Closest thing to a male model I'll come to in this lifetime, haha.

The lawyer part came in handy when he wanted to move his stuff in early and my realtor advised me not to let him because I would be liable if anything happened to it since he didn't own the unit yet. He promptly wrote up a waiver for me. Although I was a little disappointed not to be referred to as the party of the second part, it sounded legal enough to me, so he moved his stuff in over the weekend. Maybe it's not so savvy to enter into a legal agreement wherein the party of the first part wrote it. But considering after next week we'll have irrevocably entwined our finances, seems only fair to advance him a little credit in the trust department. Even if he is a perfect stranger.

I would tell you about the improv bits he and his twin brother (also in the comedy troupe) pulled on me while moving his stuff in, but you really had to be there. Just what I need, a financial partner who can whip out a legal document as quickly as he can improv about not being able to make the down-payment after all since his grandmother miraculously recovered on her deathbed. ;-)




Permalink: A_lawyer_a_comedian_and_a_male_model_.html
Words: 310
Location: San Francisco, CA
Category: family
06/04/07 07:52 - 63ºF - ID#39528
Google Street View
For no apparent reason, my ex sent me this

(random steep incline in SF); preceded by this

(my block -- on garbage day, thank-you very much google!); followed by this

(story to follow).
I'm going to Martha's Vineyard in two weeks for a family reunion to celebrate my Dad's 70th birthday, which is tomorrow. Dad was supposed to be camping this week at Hunting Island

State Park. But before they could give the dining tent Jean gave him as a birthday present a trial run, some big weather system came in and started dropping 3 inches of rain on the area with no relief in sight. They wisely pulled the plug on camping and came home. I remember a time when that wasn't an option. Namely, when Dad took the youth group camping on Assateague Island

one seemingly fine June weekend. My brother and sister and I were way to young to be in the youth group, but we got to go anyway because Mom and Dad were going, so what else were we going to do? Well, turns out Hurricane Agnes struck that very weekend. I'll never forget breaking-down our camp flooded under 3 feet of water. It was fun! I guess you don't get to return a dozen teenagers early once you've said you'd take them camping for the weekend. Good to know.
Anyway, I'm really not sure why I'm telling you this, except that Dad and Jean are scheduled to take the grandkids on their annual
(e:twisted,36583)
camping trip immediately after our MV reunion. They'll be returning on the New Bedford ferry so they can check out Heifer International's Outlook Farm to learn about sustainable farming as a kickoff to the trip. We never got to do that when I was a kid! Although we did get to go crabbing and eat the fruit de mer of our labors. Damn! Those crabs were good!


Permalink: Google_Street_View.html
Words: 423
Location: San Francisco, CA
Category: real estate
05/31/07 07:24 - 79ºF - ID#39484
Seven
So, I got seven offers on my middle unit yesterday. First off, I should clarify something. This [inlink]twisted,39347[/inlink] isn't my renovated unit. (I still owe you pictures of that as soon as all the heavy equipment is out of there.) It's my same-old current unit dressed up for resale.
I know you've seen it a million times, but here it is again, only with fresh flowers from Trader Joe's and the farmer's market.
(e:Paul)
told me he learned from a TV show that people are more likely to buy a house with fresh flowers. Who am I to turn down advice like that? But if I hadn't gotten seven offers, HGTV would owe me $28, haha. Doesn't it just make you want to whip out your checkbook and make me an offer?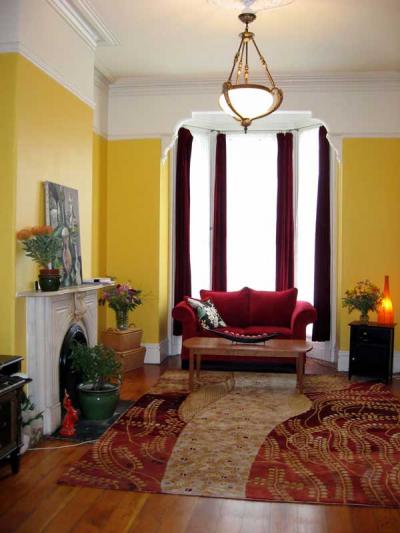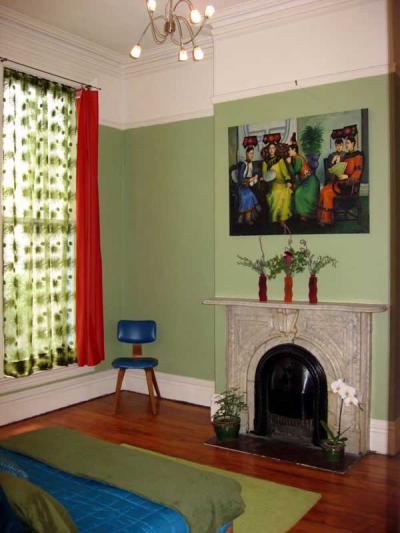 The old pics just had flowering plants from the wholesale flower mart, since I'm usually too cheap to buy cut flowers. I'd rather get them from my own renewable resource -- but my garden isn't quite mature enough for that yet. So on
(e:Paul)
's advice, I shelled out $28 for somebody else's flowers. They really looked good, and lasted almost two weeks! Might not be as much of an unsustainable deal as I originally thought. I'm still committed to growing my own, though.
So tonight I meet my intended buyer in person. This is like a craigslist date x 10,000...


Permalink: Seven.html
Words: 235
Location: San Francisco, CA
Category: life
05/29/07 04:56 - 70ºF - ID#39442
Mundaneness
(Time to change my userpic. I think Il Papa is giving me a holier-than-thou rep I really don't deserve.)

Did I mention I got a letter saying the bail money had been received, but if I didn't appear in court on the new date (rescheduled for today because Monday was a holiday), I could be thrown in jail? Didn't take me too long to realize it was meant for my ex-tenant. I resealed the envelope and expedited delivery to his forwarding address. Nice to know someone else is in more trouble than I am, haha.

Met two craigslist guys this week. I've been exchanging email with the first one a couple times a day since May 4. That's a long time to put off meeting someone who only lives 3 miles away, and it was entirely my fault. Partly I just didn't have time. But I also enjoyed the email banter, and the possibility there might be real connection if we met in person. Problem was, I had the feeling meeting in person would kill both those diversions. Eventually it got to the point where I started beating myself up thinking, don't I already have more than enough pen-pals, what the hell am I doing here? Although so what if I enjoy a little anonymous pen-pal action on the side -- whatever gets you through the day.

Oops. Ron just called to make sure I knew my unit was on the real estate brokers' open house tour today. Nope. Had half an hour to run around like a maniac and hide any incriminating evidence of mundane life like dirty dishes, laundry, toothbrush, sex toys, drug paraphernalia -- you know, the usual stuff. So I don't really have time to finish this right now OR change the userpic. Hopefully my life will get back to it's usual mundane self soon.




Permalink: Mundaneness.html
Words: 307
Location: San Francisco, CA
05/28/07 12:57 - 61ºF - ID#39429
Craziness
I know I say this all the time, but it's been a crazy week. Granted, there are plenty of boring weeks in my life, but I usually don't post about those. And it's not for lack of crazy things to do -- it's just I get so caught up in my head (or on the computer) that I don't get out there.
To wit:
I had to vacate my home for two hours on Saturday for the second-to-last open house. It's so weird to feel "homeless" while dozens of strangers parade through my house deciding if they want to by it. Which reminds me, offers are due on Wednesday. Special consideration to peeps if you're interested! Either way, you're probably going to have to hear about it.
In any case, this was a good opportunity to enjoy another spectacular club sandwich at the Acoustic Cafe and catch up on my SF Weekly. Just as I was cramming down another mouthful of savory goodness, I flipped the page to a blurb about this event happening at exactly the same moment:

Ok, I don't know how I might have participated at that particular event if I'd known about it, but golly gee whiz! I have to catch up on my local news before life passes me by. And you thought the cost of living in SF was too high. It all depends on where you look.


Permalink: Craziness.html
Words: 239
Location: San Francisco, CA
05/22/07 05:49 - 73ºF - ID#39378
location location location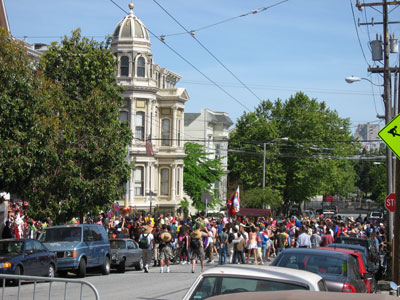 Bay to Breakers was the same day as my first Sunday open house. Sweet! (p.s. to
(e:j3sse)
, I caught Inki on camera...contact me for details.)
Had a free pass to Stinson this weekend. Can't believe this nirvana is only 23 miles from my house...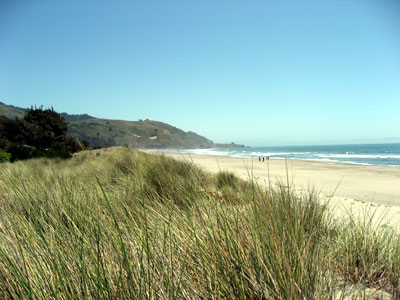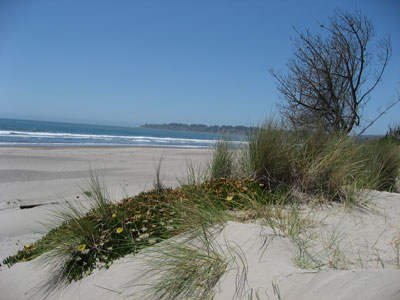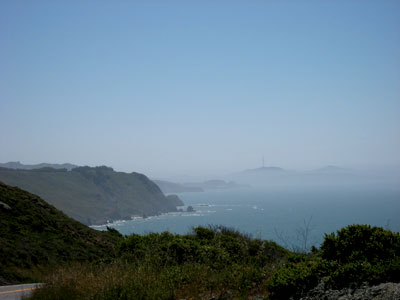 See that tower in the distance? That's Sutro Tower. A few peeps accompanied me up there not too long ago, although I guess I can't prove that now. But who cares. It's all good.


Permalink: location_location_location.html
Words: 89
Location: San Francisco, CA
<-- Earlier Entries