Category: birthdays
01/22/09 10:53 - ID#47494
Happy Birthday Paul!
Wow, it's been so long! Since I didn't get you a gift, here's an update.

For starters, my tenant gave notice and moved out last November. This was great news, but bad timing. It would have been crazy not to take advantage of the vacancy to pull out the wall-to-wall carpeting and refinish the floors, replace the kitchen cabinets, and tile the bathroom floor.

Only bad part is, I'm still deep in debt from my own renovation, and I already had plans to go "home" for Christmas before I knew about this. So naturally when the IKEA kitchen cabinet order turned out to lack certain key items the day before I flew east, it was hard to take care of everything before I left. But not taking care of it would have been worse, since the longer I'm paying for that unit without any income from it, the harder it is to pay off my old and new debts.

Anyway, I'm so sick of all this renovating now. It's like a second job, that apparently I'm not so good at. The scariest part was yesterday, when my contractor managed to leave two stove burners on (long story) while the floor guys were sanding and putting on the final coat of highly flammable finish. What are the odds? You can see my footprints on the floor finish since I had to get to the oven (9 hours later) to turn off the burners before the building exploded or we all passed out from the fumes.

Anyway! The good news is, now I'm planning to use the unit as a furnished vacation rental. So if anybody wants to visit me, they'll have their own, furnished apartment to stay in! This better be worth it . . .

Happy Birthday Paul! (And Happy Birthday to my brother Erik too!)



Permalink: Happy_Birthday_Paul_.html
Words: 302
Category: birthdays
12/11/06 04:10 - ID#36798
bdays
Wow! That looks like quite a [inlink]metalpeter,755[/inlink] birthday bash! I don't even remember what I did for my 30th. Too bad I didn't have a blog back then, haha.
Oh wait -- now I remember! Thanks to
(e:Jenks,130)
that is. Guess it's never too late to start documenting your life. As long as memory serves, that is.
Better get back to it, then.
I've had a hankering for lobster (my typical birthday dinner request) for a while, so I headed down to the wharf and decided to play tourist in my own town for a bit.
Most locals would say it's nuts to venture anywhere near a tourist area on a weekend, especially in the height of Christmas shopping season. But it was fun, and beautiful, and tasty. I'm not jaded enough not to appreciate that.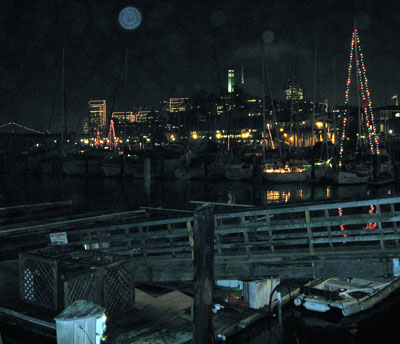 Only
(e:j3sse)
could probably decipher this pic, so I'll interpret for anyone else who may be interested. You can see Coit Tower lit up on the hill, with the pointy pyramid-shaped Transamerica tower to the right. The box-outlined buildings to the left get lit up every year like Christmas packages. And that's the start of the Western span of the Bay bridge on the far left. Boats decorated for the holidays along the pier in the foreground.
So for my birthday I found out I have a tree stump under my front sidewalk. You might think, so what? But turns out this tree stump was heaving the b'jesus out of the sidewalk, and lo and behold it's my responsibility to fix it before someone breaks their neck and sues me. Who knew? Anyway, I've been researching some options, thinking maybe I could take this opportunity to put in "permeable landscaping" (that's the term the SF Department of Public Works "Friends of the Urban Forest" uses, and yes, you do need a permit to do that, which doesn't seem that friendly to me).
Anyway, long story short, when the second round of upstairs demolition came along, I decided I'd better grab the opportunity to have four brawny guys haul away that damn concrete. I've been breaking it up and putting it in my garbage week by week. (You're not really supposed to do that, so don't tell anyone.) They made short work of it, and therein uncovered the root of the problem.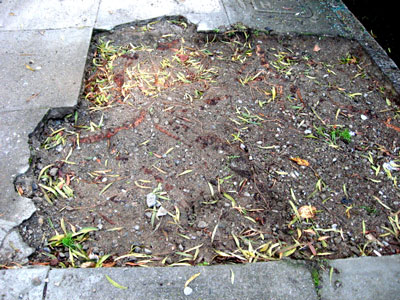 The tree stump. I hope it's not still growing, but recent events might indicate otherwise.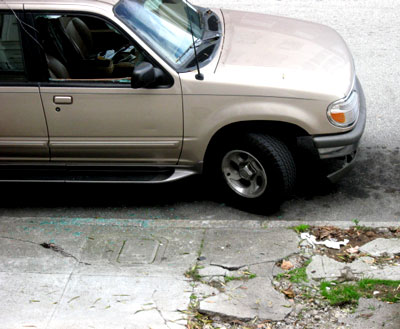 Here's a pic before the guys hauled away the concrete. Oh yeah, and a random car parked in front of my house with it's passenger window smashed in. Welcome to the 'hood!
p.s. to MMK -- Thanks for the birthday wishes! And for being a loyal reader all this time. ;-)
p.p.s. to
(e:Paul)
-- THANKS!


Permalink: bdays.html
Words: 472
Category: birthdays
04/02/06 08:50 - ID#36689
Happy 30th!!!
(somebody had to say it)
Faithful, sometimes fanatical Apple customers continue to push the boundaries of loyalty



A Silicon Valley fairy tale: Apple at 30 -- from upstart to Wall Street darling



The man behind the Mac



Apple has made a career out of thinking different -- and regularly charting new courses for the computer industry: Timeline



Permalink: Happy_30th_.html
Words: 109
<-- Earlier Entries