11/17/09 11:16 - 44ºF - ID#50328
Holiday Potluck Bonanza!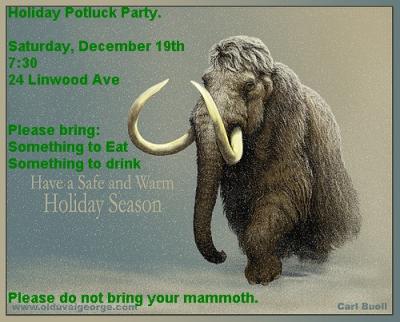 mark your calendars.
Thank you to Paul, Matthew, and Terry for being nice enough to host.
And thank you to you for being awesome.


Permalink: Holiday_Potluck_Bonanza_.html
Words: 27
Location: Buffalo, NY
11/02/09 12:17 - 49ºF - ID#50198
Obligatory Election Day Post
Hi everyone.

We have had three elections this year:
School Board
Primary
General
And each time I asked you guys for a few votes. So, here are the two I am asking you guys to cast.

1) Captain John Glascott for Sheriff. John, undoubtedly, has the experience necessary to run Erie County. He has run prisons, and even began his career as a corrections officer. The incumbent, Sheriff Tim Howard, is incompetent. He is under several different investigations by state and federal agencies. There have been several escapes from prison in the last month alone. Remember, because Tim Howard can not run a prison, Bucky Philips escaped while unsupervised and killed an officer. Tim Howard refused to let a woman with unpaid parking tickets in the holding center get her cancer medication.

2) Mark Polancarz for Comptroller. Mark has done a brilliant job over the last few years as our Comptroller. While the County Executive is trying to bypass county charter to cut human services, Mark is keeping him accountable. His opponent argues that Mark can't count. That Mark predicted a $10 Million budget shortfall and we ended up with a $10 Million surplus. What a crock. Mark examined the budget, told everyone there would be a shortfall, and the budget was adjusted. That is doing your job and doing it well. The opponent is being funded by Chris Collins to be a rubber stamp. We need Mark to keep him accountable.

If any of you live where there is a County Leg race, don't vote for Michele Iannello. So there, you can't say I never supported a Republican.



Permalink: Obligatory_Election_Day_Post.html
Words: 265
Location: Buffalo, NY
<-- Earlier Entries
Author Info
Date Cloud
More Entries
My Fav Posts
This user has zero favorite blogs selected ;(