Category: scajaquada
04/14/08 10:34 - 40ºF - ID#44012
weird preoccupation
I am totally fascinated by the Scajaquada Creek. It empties into the Black Rock Canal at Squaw Island; if you were an insane person with a canoe [and no sense of smell] going upstream along the creek

, you'd pass through Black Rock and North Buffalo before reaching the reflecting pool at the Historic Society and Hoyt Lake at Delaware Park. This is all very familiar due to the eponymous expressway and bike path. Were you to go upriver from Hoyt Lake you'd pass under Delaware Ave and into Forest Lawn Cemetery. The creek ends in a culvert at Main St near Delavan, but um, there's nothing on the other side.
That's when it gets fascinating. Between 1921 and 1937 the Scajaquada Creek was buried in an enormous 3.5 mile long tunnel from Main St & Delavan Ave all the way out to Cheektowaga, where it emerges at Pine Ridge Rd near Walden Ave. The city has been built up so densely since then that looking at satellite photos it's extremely difficult to tell where the creek goes. Current government maps don't show the river at all, or show it as a straight line between the two points. There's very little mention of the project

or the tunnel

anywhere online. For all intents and purposes, there is a 3.5 mile section of the creek that just doesn't exist anymore.

If you continued upstream, you'd be outside for less than two miles before you found yourself underneath the Galleria Mall. USGS lists the creek's source as some subdivision in Lancaster, 13 miles east of the Niagara River.
In researching the creek, I dug up a scan of a 1901 USGS map of the Buffalo area and pastede it onto Google Earth, which is fascinating in its own right

[18.7M]. [Use Google Earth's opacity slider to time-warp 107 years.]
It's going to be tough to keep myself from urban-spelunking it this summer. Gross.
- Z
ps for those of you who give a shit: the creek goes underneath the Canisius athletic complex, and underneath Florida St. It then turns south underneath a footpath, underneath the Kensington Expressway, and along the path to Fillmore Ave. From there it goes between an industrial complex and a railroad before continuing along the appropriately-named Scajaquada Street. At Bailey Avenue, it no longer follows the street, instead going behind a row of backyards, crossing Genesee St at Kearns Ave. It flows underneath Schiller Park and Villa Maria College before emerging again at Pine Ridge Road.


Permalink: weird_preoccupation.html
Words: 442
Location: Buffalo, NY
Category: wrestling
04/13/08 12:55 - 39ºF - ID#43999
the sports report
So basically amateur pro wrestling is fun as hell. I had a blast but I think I ended up rooting for the wrong people most of the time. We had to leave early for a party, but we stayed long enough to see
(e:dragonlady7)
's former coworker Pepper Parks - who had some really good moves and knew how to work the crowd - get smacked around by 'Mastiff' Will Christensen, who mostly glowered and blew his nose on people. There were a couple really lopsided matches in the first half ... I was totally impressed by Gabe Saint but he lost to Stargazer, who as far as I can tell spent his entire time in the ring getting pounded. Dunn & Marcos were pretty evenly matched with Rhythm & Booze, but R&B's dirty tricks were totally lame, and Marcos had these weird Miami-teal pants which I could not abide. I think R&B won, but D&M's ring girl [?], whose name I did not catch, and who is way foxy, totally stole the show. After R&B brought her into the ring by her hair [i mean seriously come on people] she took a flying leap off D&M's shoulders and took them both out. Somebody get her number, she's derby material.
There were some improvised halftime theatrics wherein Blackjack [I'm not sure whether he's Good or Bad but he's a totally nice guy out of the ring] vowed to "manage" the Suicidal Saucies at the next QCRG bout and Colonel Johnny Kayfabe "took over" the Nickel City Knockouts -
SEE YOU MAY THIRD NORTH TONAWANDA!!!
- but later on Blackjack sort of said yeah um I don't actually know anything about roller derby and the Knockouts said that's ok we're not even playing on the third.
NWA Empire

- their next match is on June 21.
- Z


Permalink: the_sports_report.html
Words: 303
Location: Buffalo, NY
Category: entertainment
04/12/08 08:26 - 39ºF - ID#43992

dinner
Dinner tonight was a George Foreman weenie I bought at the Wheatfield VFD on Amateur Pro Wrestling Nite. Details to follow.

- Z



Permalink: dinner.html
Words: 23
Location: Buffalo, NY
Category: roller derby
04/06/08 07:41 - 56ºF - ID#43929
madness...? this is derby!
Last night's game was a big success, though I have to admit that from the AV Club's bench, things looked a little bit different.
'Baby' Joe Mesi made his formal announcement of candidacy for the State Senate yesterday afternoon

... but the Tonawanda native's first public appearance as a candidate was at the rink [and he's already got his tickets for Hell on Wheels!] Chatting with Stonewall, he told her 'be careful! This is a dangerous sport.' Um ... but that's different than punching each other in the face until somebody falls down?
NWA Empire

- another Niagara County institution - sent a delegation of amateur pro wrestlers to the game to promote their Second Anniversary Showdown next Saturday down at the VFD. They gave away a couple tickets and invited the roller girls to come out. Hell yes!
WFTDA celebrities from the Gotham Girls

Ginger Snap

and Hambone

came out to guest-ref & geek out. They were just awesome people, very supportive and helpful, and we are all richer for having had them.
Six of the Albany All Stars

showed some derby love from alll the way across the state. We gave them hats. I wish we could make it to the Albany-Syracuse game on the 26th but we've got that lesbian shotgun wedding in London.
Hatchet Man brought his pipe & drum corps to bring out the ladies ... but I can't for the life of me remember their name. Hatchet Man proceeded to coach the Dollies in his wool kilt, which could not possibly have been comfortable.
Oh yes and also there was a game. The Knockouts led the whole game, but the Dollies rallied in the third for an exciting finish. In the end, the Knockouts held to their lead, 95-76[ish]. The Knockouts had two injuries that stopped the game, but luckily neither of them turned out to be serious. Sour Grapes was sent to the hospital in the first period but they couldn't find anything wrong so they sent her back [she did not return to the game, but wishes she could have]. Mia Mauler got laid out flat on her back and probably got a concussion, but swears she's ok. Red Fox of the Dollies finished the game with cracked a rib, and that is not good.
A good time was had by all. See you at the VFD next Saturday.
- Z


Permalink: madness_this_is_derby_.html
Words: 428
Location: Buffalo, NY
Category: work
04/03/08 11:29 - 48ºF - ID#43889
crazy busy!
My aunt called me up yesterday, as she is wont to do when she has computer problems. I told her that I was working [it was about 4:45] but I'd be over once I was done. She told me she was impressed with my self-control, and that she'd sort of figured that working at home meant I could take it easy. Meanwhile I'm thinking yeah ... I could probably be billing 50 hours a week, if I were interested in
working
50 hours a week. Which explains the dearth of
(e:strip)
ness.
Anyway, a screenshot from my client's current website, for your amusement.

Secretly I hope beyond hope that there's a guy in Member Services who is maybe just a little bit Willy Wonka and who maybe refers to their customers as Memblers on those days when he's mixed a scoop of regular in with the decaf ...
- Z


Permalink: crazy_busy_.html
Words: 145
Location: Buffalo, NY
Category: travel
03/25/08 10:17 - 36ºF - ID#43791
travelin shoes was the only shoes i had
So my passport is in the mail and I'm headed to London for a lesbian shotgun wedding. We're basically flush right now but I'm finding that London is a bit
cha-chingg
.
Flights from Toronto are $400 round trip, which I think is crazy cheap. I am a man of great legs, so I had a peek at first-class: holy crappo! Yeah, we're flying coach.
But now there's this whole lodging thing. We're going to be there about a week, and hotels are either $300 a night, or way out in a bog or something.
(e:dragonlady7)
suggested staying at a hostel, which is really not that bad, they don't usually steal your stuff and she only knows one person who was sexually assaulted at one, but it's ok because it was by someone she knew. And I'm like: ehmmm. B&Bs start around $100 a night, which we could swing ... but how do you find a good one?
Anyone been to London? You know where's a good place to stay?
- Z


Permalink: travelin_shoes_was_the_only_shoes_i_had.html
Words: 170
Location: Buffalo, NY
Category: food
03/22/08 11:17 - 27ºF - ID#43763
my crazy saturday night
How come whenever I go grocery shopping it always becomes an adventure?
Thing one. OK, so at Wegmans you can buy fresh herbs either in a little tiny tray that is exactly what you need, or a humongo bundle that you could never possibly eat all of. But here's the thing: they cost the same. I am a person who would buy the small tray just so I don't have a half pound of ancient parsley going gelatinous in the bottom of my veggie drawer. But this is really foolish.
$1.29: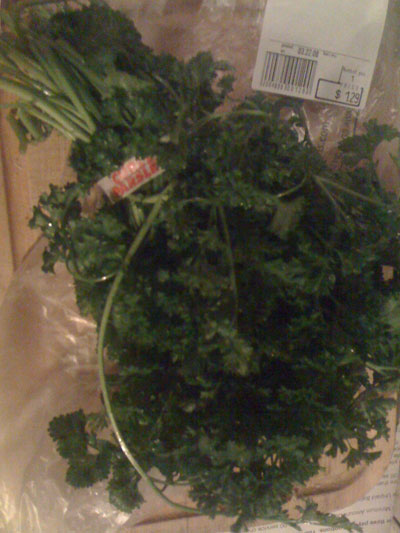 $1.29: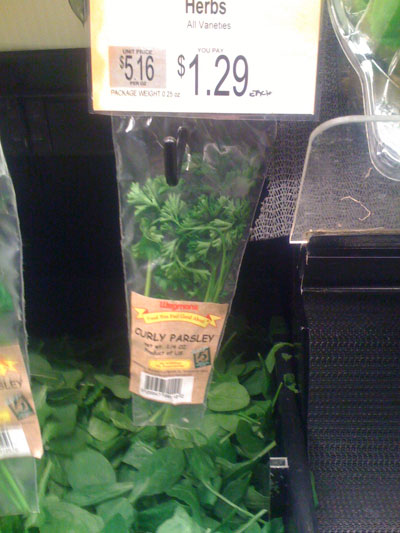 Thing two. Maybe in New Jersey, Zubaz are coming back.
(e:hodown,43480)
But in Buffalo they never left.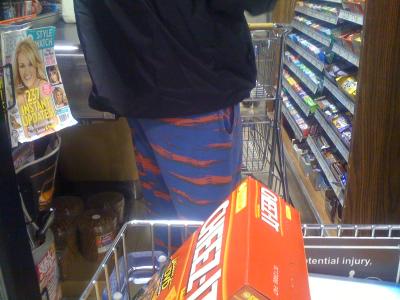 Thing three. That is a box of Indiana Jones Cheez-Its in my cart.
Thing four. Speaking of Harrison Ford:
- Z


Permalink: my_crazy_saturday_night.html
Words: 137
Location: Buffalo, NY
Category: work
03/20/08 11:11 - 29ºF - ID#43739
@_@
So this week I finally went from the ranks of the nearly-employed to the ranks of the telecommuting. That is, I still sit around the house in my underwear, only now I get paid for it. [cha-chingg!]
I thought once I'd gotten into a routine where I had to wake up early and do stuff all day, that I'd be less likely to start going all buggy. Not so! Whenever I got bored with something I could go putter somewhere else. But now I sit in my living room all day staring at Flash Player. I think this kind of shit is hilarious.


My only social interaction spends 23 hours a day sleeping and one hour a day climbing the curtains. I haven't left the house since Tuesday nad it's really freeking me out.
- Z


Permalink: _.html
Words: 145
Location: Buffalo, NY
Category: food
03/15/08 04:53 - 36ºF - ID#43680
the e:zobar miracle diet
After a comprehensive nationwide study of nearly 50,000 postmenopausal women, lasting eight years and costing over $400M, the National Institutes of Health determined that
it doesn't fucking matter what you eat,
and promptly buried the results.

Particpants cut back their fat calories from 37% to 29%, increased fruit, vegetable, and grain intake by 25%, and cut back an average of 360 calories per day for eight full years, and were closely monitored to ensure that they remained on the diet. Results? Weight loss in the healthy eaters was only about 1.5lb, and furthermore did not reduce their risk of cardiovascular disease, breast cancer, or colorectal cancer. And so I present to you:
THE (e:zobar) MIRACLE DIET!
When you are not hungry, do not eat. When you become hungry, think about what you want to eat, and then eat it. When you are full, stop eating and go on with the rest of your life. That's it!
The
(e:zobar)
Miracle Diet has the best food of any diet plan out there, because it's exactly what you want! You will never mindlessly stuff your face with Low-Fat Kardboard Krisps just to stave off hunger between unappetizing and inadequate frozen meals or Nutrient Shakes! You'll have all kinds of free time, since you won't have to spend it calculating calories or counting cards! You'll feel like a person in charge of his life, and not like a pathetic fatso with no willpower! And when compared with the best long-term diet that the NIH has ever devised, it's only about 1.5lb less effective.
People say that's easy for you to say, Mr. BMI 17. Maybe you don't realize this, but my weight has caused me problems for my whole life. People who are not dieticians regularly use social gatherings as opportunities to tell me I need to go on a diet. People judge me by the food I eat. People will tell my close relations that my weight is a reflection of their poor character.
That's fucking bullshit!
i say. I am a healthy individual, I can eat what I want, and I do. Food is a wonderful thing, and you should enjoy it.
- Z


Permalink: the_e_zobar_miracle_diet.html
Words: 364
Location: Buffalo, NY
Category: petty anarchy
03/10/08 01:13 - 26ºF - ID#43603
practicing in the mirror
I think passport photos are specifically designed to make everyone look like terrorists, in order to keep the customs agents on their toes. I've been practicing my passport photos in the mirror.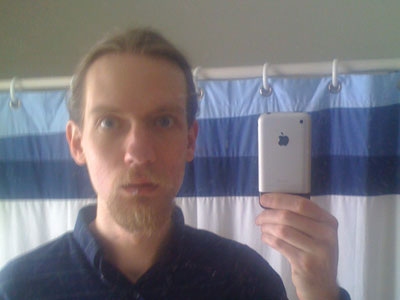 Personally, I think Pixel Dave over here in the right margin is more accurate than anything you'd ever get out of a disinterested minimum-wage photo clerk at Walgreen's, but sadly I think Condoleezza Rice would beg to differ.
And for those of you who are wondering about my real life, I have managed to land a freelance gig for the next month or so with a company that would like to hire me full-time when it becomes feasible. For fellow job-seekers: when buttering up potential future employers, ad-hoc beer requisition is key to your success.
- Z


Permalink: practicing_in_the_mirror.html
Words: 131
Location: Buffalo, NY
<-- Earlier Entries
Author Info
Category Cloud
My Fav Posts
This user has zero favorite blogs selected ;(