Category: green
11/17/06 04:00 - ID#36785
Grass is greener...
(New usersound in honor of the English Beat show last night.)
I saw this

on laughing squid and had to check it out:
One-Day Interactive Installations of Grass Couches Across San Francisco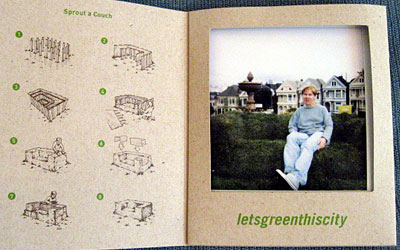 I walked up to the one in Alamo Square park and even let them take my picture. I should have brought Pookie along. He's so photogenic!
In case you're wondering, they used Ikea couches for the base and covered them in sod. Although they include instructions for sprouting your own from scratch on the photo frame. I remember that article from
readymade
magazine. Although I think I'd wait until the installation is over to see if I could get a display model cheap, haha.
p.s. -- English Beat were great last night! I can't believe I couldn't get anyone to come with me. Ok, maybe I should have asked more than one person, but still. Oh well, it's fun to go stag every once in a while.
p.p.s. -- speaking of grass, (omg, I can't believe I just said that), the opening band (local reggae favorite Native Elements) had the crowd singing along with their tribute to

proposition 215. How can you not love this town? Come to think of it, maybe the
letsgreenthiscity.com
folks should consider some cross-pollination for their couches, haha.
UPDATE:
Ha! Josiah (Mr. Coffee) just sent me this pic of him on the grass couch at Civic Center. Small world!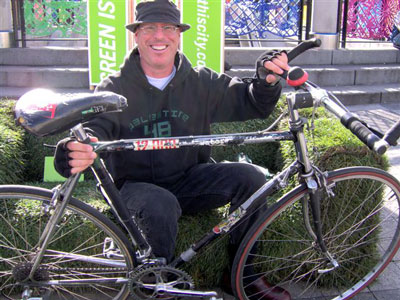 Does anybody in SF actually have a day job?


Permalink: Grass_is_greener_.html
Words: 277
Category: green
08/04/06 11:57 - ID#36731
live from the greek theatre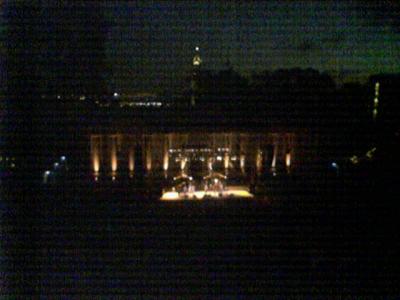 Ok, so my cell pic looks as craptastic on the big screen as it did on my little cell screen. Only difference is, now I can't look up and see the original. That really is the UC Berkeley's Bell Tower, and the lights of the Bay bridge in the background.
Anyway, in looking online for a photo to do it justice, I found this interesting article:

Ok, maybe it's only interesting to me, so I'll include the gist of it here (with the better pic) and save you trouble of clicking.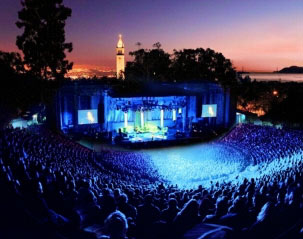 UC-Berkeley's Greek Theatre is the home to a great summer concert series, and when musical acts ranging from Radiohead to Mark Knopfler and Emmylou Harris to Death Cab for Cutie take the stage this summer at the Greek, they'll be playing at the first major music venue to commit to offsetting the carbon emissions of the whole concert season. Clif Bar, Inc. has partnered with Another Planet Entertainment to purchase carbon credits and to implement a whole range of environmentally-conscious practices at the outdoor amphitheatre:
"
In partnership with NativeEnergy, Clif Bar is purchasing enough renewable energy credits or "green tags" to help build new wind turbines that will offset all of the carbon dioxide (CO2) produced during the 2006 Greek Theatre concert season, which runs June through October. The carbon emissions associated with the 8,500-seat Greek Theatre result from all of the electricity used to power and light the venue.
Clif Bar's purchase of renewable wind energy credits is equivalent to offsetting 88 tons of CO2 emissions, or the amount of carbon dioxide created by 176,000 miles of car travel. Electricity produced from clean, renewable wind energy displaces energy that otherwise would have to come from burning fossil fuels such as oil or coal, which create CO2, the leading cause of global warming.
"We're excited about joining with Clif Bar to spread environmental messages to a diverse audience, in a fun and approachable setting," said Gregg Perloff, C.E.O of Another Planet Entertainment. "The music industry can be a very positive force for the planet.
"
In addition to the carbon offset purchase, the Greek will also feature printed materials made from recycled paper with soy-based inks, biodegradable utensils and wine cups for concertgoers and artists, and an Organic Cafe with organic food choices. Recycling stations with educational materials will be located throughout the venue. Clif Bar will sell NativeEnergy Cool Tags at its booth so concertgoers can offset their travel to and from concerts.
p.s. - I should probably mention who I was there to see. Bloc Party, with Broken Social Scene. Tonight is The Contractions, and Monday is The Editors.


Permalink: live_from_the_greek_theatre.html
Words: 456
<-- Earlier Entries