Category: category?
03/07/22 08:48 - ID#60883
Greetings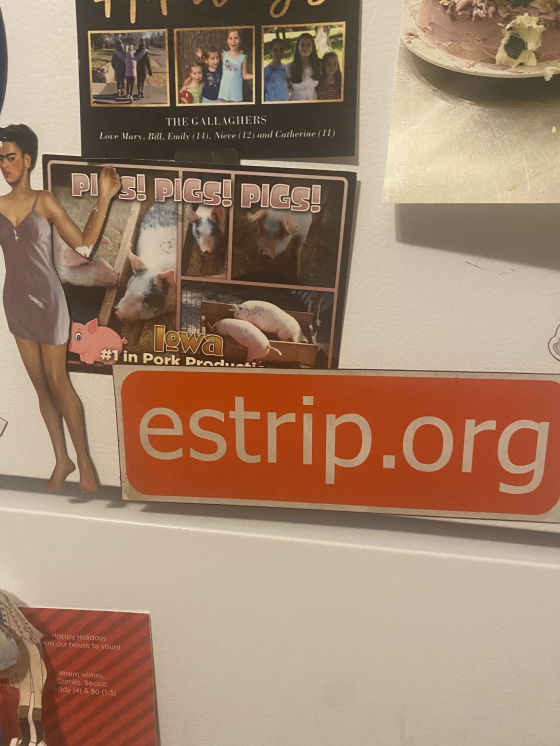 My kids found my estrip magnet and put it on the fridge. It gets a lot of questions from visitors. I hope everyone is well. Glad to see this site is still alive!


Permalink: Greetings.html
Words: 43
Location: Buffalo, NY
Last Modified: 03/07/22 08:48
Category: food
05/12/13 04:29 - ID#57659
Mother's Day Brunch
I spent the better part of 8 hours cooking for Mother's Day. But I think it turned out pretty good.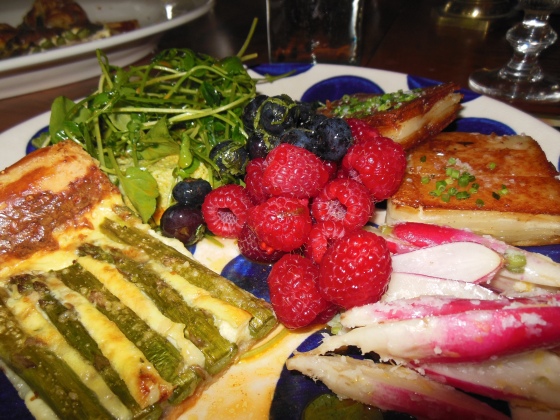 I made an Asparagus Tart, Sweet Pea Flan with Carrot Vinaigrette. Potatoes Pave, French Breakfast Radishes with lemon zest and assorted berries.


Permalink: Mother_s_Day_Brunch.html
Words: 42
Location: Buffalo, NY
Last Modified: 05/12/13 04:29
11/24/12 09:16 - ID#56931
Hello Estrip
I miss the whole format of blogging. I'm just going to put it out there... Boston Sucks! It's expensive like NY but much of what makes NY special is missing here. I miss Buffalo, didn't make a ton of close friends while I was there but I had fun. It's affordable for normal people. There are much worse places to live... Yes I've been drinking!




Permalink: Hello_Estrip.html
Words: 65
Location: Buffalo, NY
Last Modified: 11/24/12 09:16
09/17/11 05:51 - ID#55164
Free Energy
I noticed this electric car charging station today at the new Whole Foods in Wellesley. It seems crazy to me that they have it there free of charge for anyone with an electric car to use. Could you imagine a gas pump at a grocery store giving away gas to anyone who parked there?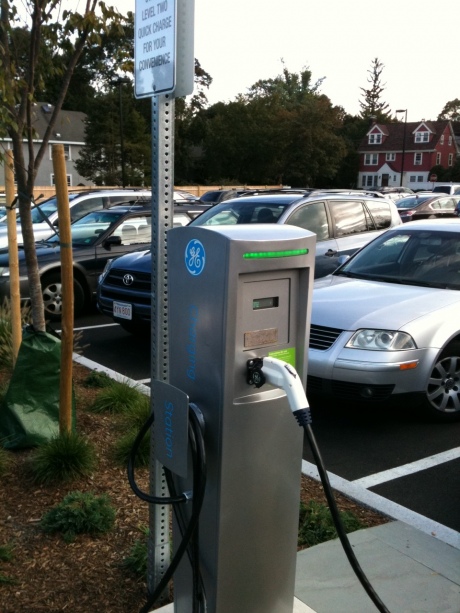 I really wonder if electric cars will ever take off. It seems unlikely to me. Who wants to deal with charging their car all the time? I forget to charge my phone constantly. It also doesn't seem anymore environmentally friendly than gas powered vehicles to me considering almost 70% of the electricity in the US comes from either burning coal or natural gas. I wonder when the Fuel Cell cars will come to market?


Permalink: Free_Energy.html
Words: 129
Location: Buffalo, NY
Last Modified: 09/17/11 05:51
Category: food
09/09/11 11:00 - ID#55127
I will be sad when the tomatoes are gone
We went to the Copley Square farmer's market today after work. There is an amazing stand that's part Sienna Farms and part Sofra, which is an amazing middle eastern bakery in Cambridge. They have some of the most amazing produce; french breakfast radishes, fat heavy eggplants, skinny curvy eggplants, potatoes and chard of all different colors, beautiful pepper and leaks, and chicken of the woods mushrooms which I have seen in the wild but never for sale. I was blown away with the selection. They also had some amazing heirloom tomatoes. It looks like it's getting toward the end of the tomato season. Time to get your fill now!
So far this year we have made two tomato pies, grouper with a tomato vinaigrette, and countless salads and pastas and sanwiches. But tonight was our first caprese of the year. It's cliche and all, but I don't really care. It's really delicious when the tomatoes are at their prime.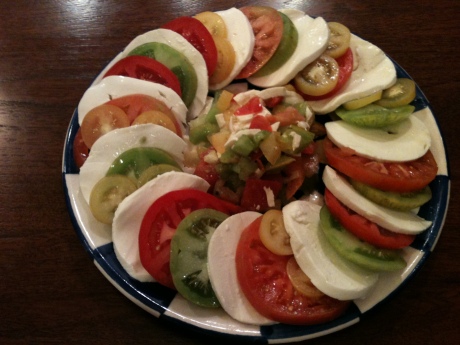 Permalink: I_will_be_sad_when_the_tomatoes_are_gone.html
Words: 161
Location: Buffalo, NY
Last Modified: 09/09/11 11:00
Category: boston
07/18/11 12:25 - ID#54729
Fresh Start
It would be tough to know this since I haven't posted much about it here. But my family and I moved to Boston yesterday/today. Not only did we want to be closer to my wife's family, but I needed some fresh career opportunities as well. As much as I enjoyed my 4 years in Buffalo I always knew that it wouldn't be where I settled. As of right now I can't say that Boston will be either, but for the first time in my life I feel like I'm settled. I'm excited to explore this city and raise our daughter here. I'm happy that she will grow up near her grandparents like I did.

I'm pretty excited to start my new job next week. I will be working at a very large research hospital that I probably shouldn't name but I will say that its right next to Harvard Medical School(for those that are familiar with the area). I hope my foot in the door there will lead to bigger and better things.

I will miss many things about Buffalo. My life's biggest milestones happened there. Pretty strange considering I didn't live there between the ages of 3 months and 28 years. I met some great people that I will miss, and am happy that I took the most important ones with me.




Permalink: Fresh_Start.html
Words: 222
Location: Buffalo, NY
Last Modified: 07/18/11 12:25
Category: cooking
06/24/11 09:48 - ID#54570
Books on cooking
I have been baking a hell of a lot of bread lately. My brother gave me a book called Ratio by Michael Ruhlman. It's all about the the different ratios used in cooking. The bread ratio is 5:3 Flour, water. Apparently the amount of yeast is negotiable. Less gives a slower rise and more gives a quick rise but you lose some complexity in the flavor. Obviously salt is needed too but not the important part of the ratio. It's a very useful book for making bread, cookies, and pies off the cuff. I have always liked creating non-baked dishes without a recipe, but this book is allowing me to do way more in terms of baking.

I wish I had taken pictures of the bread I made last night. There was a recommendation to bake the bread in a dutch oven. This is supposed to trap all the moisture that the bread releases. It was super easy and worked perfectly. According to the book, professional baking ovens have a feature that allow you to inject moisture. He recommends compensating for this deficiency in home ovens by placing a cast iron skillet on the rack when you preheat it and then pour water into the hot pan when you start baking. I have noticed a huge difference in the texture of the crust when I do this. I have been getting some of the crustiest bread I have ever made.

While I love the texture I think the taste may need some improvements. There is a sourness that fresh bakery bread has that mine just doesn't. I want to try making a starter and letting it grow in my fridge for a while. Although that might be a little hardcore for home baking I just want to see if that would make a difference.

I have also been cooking quite a bit out of the Spice cookbook by Ana Sortun. She is the Chef/Owner of Oleana and Sofra in Boston. It is a Mediterranean/Middle Eastern cookbook with her own twist. There are some really amazing recipes in this book. So many different ingredients I had never even heard of. My biggest problem is finding some of them. I do end up cooking a lot of vegetarian dished these days due to a couple of food poisoning incidents with my wife. I am 100% for eating vegetarian as long as it isn't that faux meat shit. Tofurky and smart dogs aren't food. I would definitely recommend this book for the Turkish Cheese Pancakes, Eggplant Souffle, and Flatbread with Za'atar alone. But the Crispy Chicken under a brick is the finest chicken dish I have ever made.



Permalink: Books_on_cooking.html
Words: 445
Location: Buffalo, NY
Last Modified: 06/24/11 09:48
04/19/11 09:35 - ID#54094
Fuck You Buffalo Rising!
This morning I read a "restaurant review" in Buffalo Rising about Left Bank.

It was a typical fluff piece that they write for all of their advertisers. I felt the need to comment because it was so poorly written and just screamed of being edited to death. Right after I found the original much more honest review on the author's blog here:

and posted it to Buffalo Rising's comments. Both of my comments were promptly erased and my login is now denied!
Buffalo Rising is such shit really. They are worried only about advertising dollars. When I worked at a restaurant and served BR's reviewer I was told to comp the whole bill. Not only did we know we were being reviewed we gave them the fucking meal for free! They aren't reviewing anything. They are advertising.
Not that it's really much different at the Buffalo News, although at least they don't get the meal comped. But every chef in Buffalo knows what Janice Okun looks like. Not much of a surprise that everyone gets high marks. Although I don't necessarily agree with these two all the time

at least they follow ethical standards. Neither of which BR or the News adhere to.


Permalink: Fuck_You_Buffalo_Rising_.html
Words: 215
Location: Buffalo, NY
Last Modified: 04/19/11 09:35
Category: food
04/18/11 10:32 - ID#54083
Spar's Chocolate Bacon
A couple of weeks ago I was Spar's Sausage on Amherst St. and noticed a large jar of chocolate covered bacon on the counter. I had to try it considering my love of both.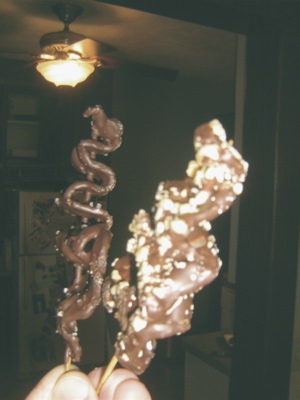 As much as I love everything about Spar's, really everything they make is absolutely great. The bacon was one of the most foul things I have ever eaten. I have had bacon as a dessert before ie. (candied bacon, caramel corn with bits of rendered bacon) and loved it. But this stuff was totally inedible. The second piece ended up in the trash.


Permalink: Spar_s_Chocolate_Bacon.html
Words: 99
Location: Buffalo, NY
Last Modified: 04/18/11 10:32
Category: cooking
04/18/11 10:25 - ID#54082
Paella
I love watching the cooking shows on PBS Saturdays. I know I should probably be productive but I learn so much by watching these guys. It also usually inspires me as to what I'm going to cook that week.
One of my favorites is "Avec Eric" which is Eric Ripert's cooking show. He usually has a couple of segments one usually is him either with a farmer, cultivator or artisan of some sort and the other he cooks something. Frequently his preparations use expensive ingredients, which most cooking shows do, and last week was no exception. On this particular episode he made Paella. I had never made it prior to last week and never realized how easy it is. It is however pretty freaking expensive given the price of seafood and saffron, but totally worth it for a special occasion.
I more or less followed his recipe but deviated a little bit.

I didn't use authentic bomba rice, not only because I haven't a clue as to where to procure that in Buffalo but because frankly I doubt I would notice a difference from any quality short grain rice that is available to me anyway. If I made it again I would definitely not even bother with the saffron at all. I don't really see what people love about saffron. It has a strange plastic taste to me. Considering the cost I don't really see any reason to use it ever again. I also think it would taste a little better if I had used homemade chicken stock, but I can't be bothered to boil chicken bones constantly.
I would like to make it for a large group and think it would be so much cooler if it were cooked over and open flame. Totally a dinner for company you want to impress with your cooking skills. Anyway here is the final result: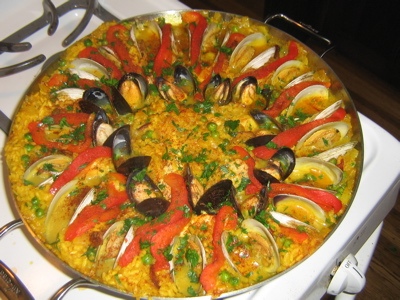 Permalink: Paella.html
Words: 320
Location: Buffalo, NY
Last Modified: 04/18/11 10:25
<-- Earlier Entries