05/24/08 01:12 - 58ºF - ID#44440
Trip Pictures (Part one)
Well it has been a long few days adjusting back to eastern standard time, starting class and working full time. It was a fun trip and nice to see
(e:ladycroft)
,
(e:lizabeth)
, and
(e:john)
. I was a little worried about how meeting up might work with only one of us having a phone. But despite our lateness at Zagreb airport to meet
(e:ladycroft)
it went pretty smoothly. Anyway I'll let the pictures do the talking.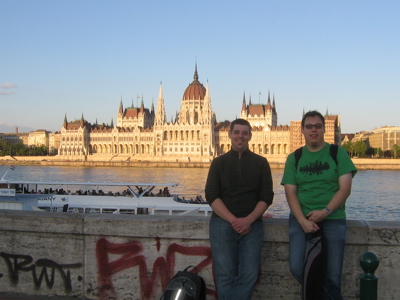 On the Danube across from the parliament building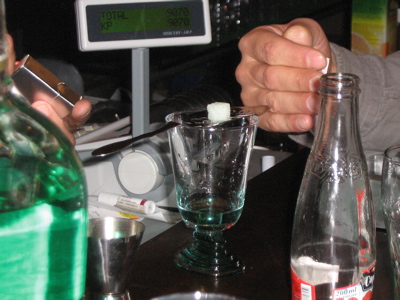 Oh absinthe, the headaches you create.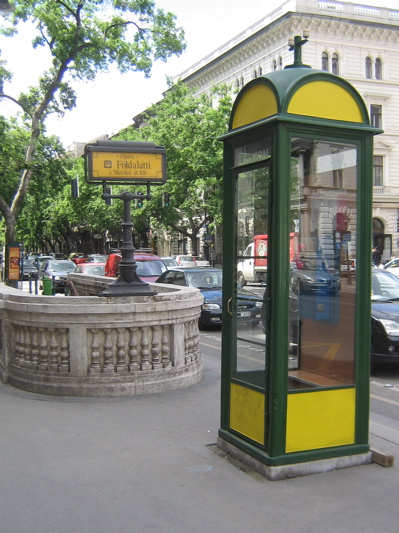 Phone box and Metro station, Budapest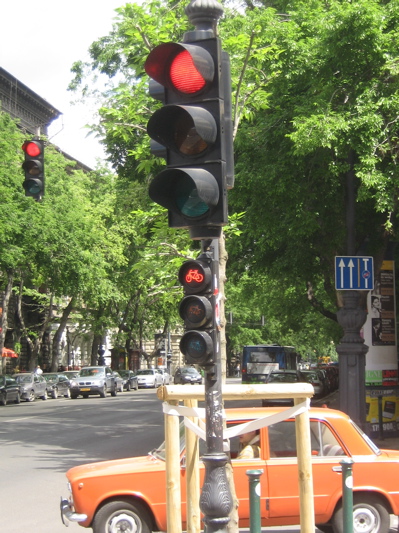 I love the separate traffic lights for bikers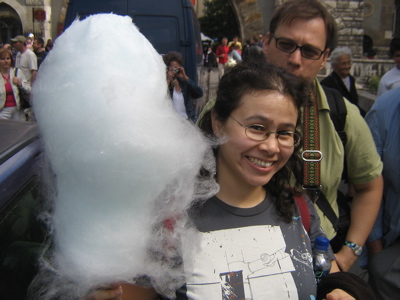 (e:lizabeth)
with cotton candy the size of her head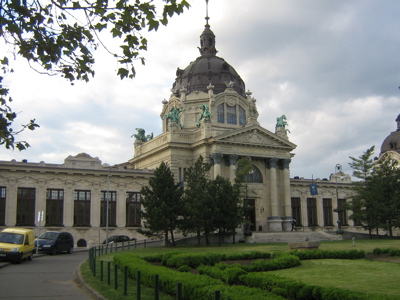 Szechenyi Thermal Baths at the city park, Budapest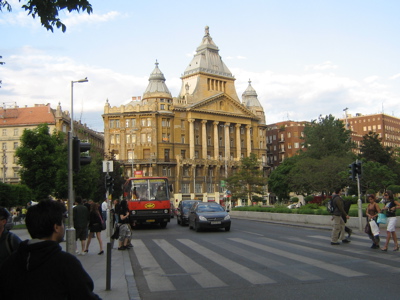 I have no idea what this building is, I just thought it looked cool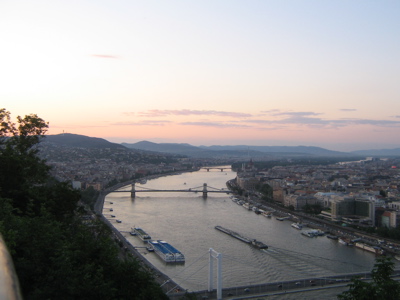 view of the Danube from the Citadella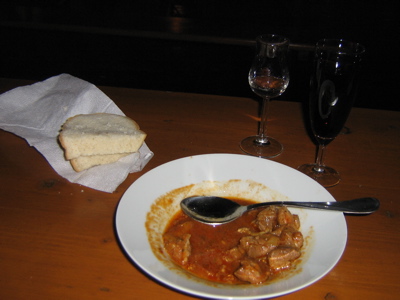 Whats left of my gulyas leves. I was told by the guy who served this to us that Hungarians take a shot of Palinka( which is a fruit brandy) after they eat gulyas leves.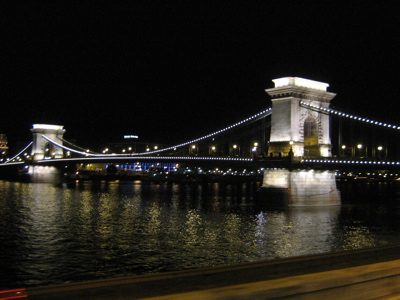 Chain Bridge at night, Budapest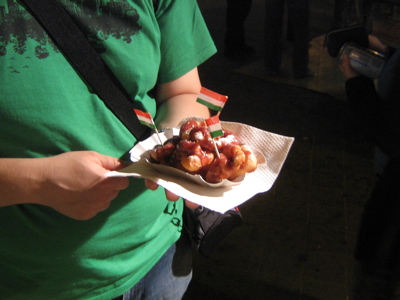 mmmm meggy minifank!! Which is mini doughnuts with sour cherry sauce.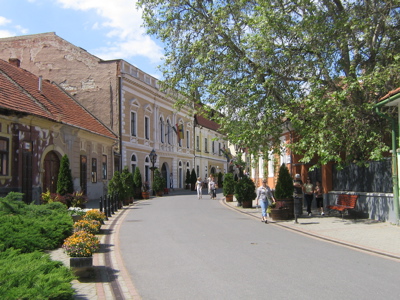 The streets of Tokaj in Northeastern Hungary. Home of the world famous dessert wine Tokaji. And to think I used to hate dessert wine.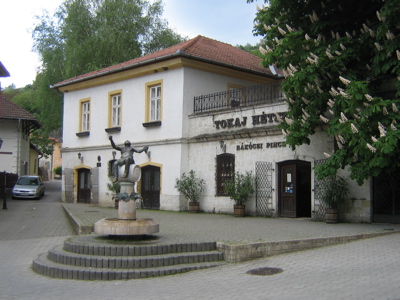 Rakoczi Pince, Tokaj. This is the largest and most famous wine cellar in Tokaj. They store and age wines from the Hetszolo Vineyards.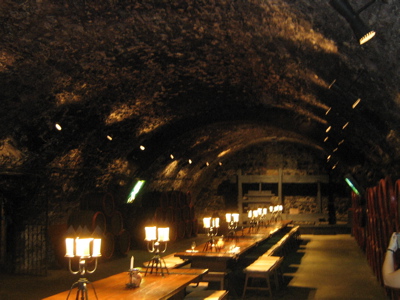 The tasting room at Rakoczi Pince, Tokaj. This is where we sampled some really awesome wines.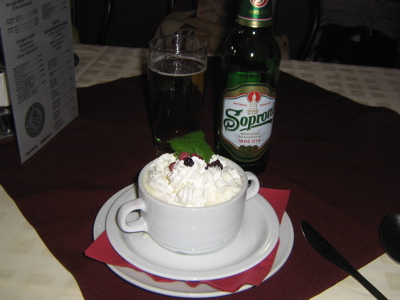 Gyomolcsleves, don't ask me to pronounce this, Hungarians couldn't understand me when I tried. It's a cold fruit soup that is served in the summer. It varied everywhere we tried it. Its basically a creamy soup made with sour cream and pretty much any kind of fruit can be added. Towards the end of summer when sour cherries are in season they are used more often than the pears we encountered frequently. This one also had whipped cream, black currents and blueberries. One place we had an awesome one(I don't have a pic), but is was a lime and peach cream soup with mint sorbet, absolutely delicious.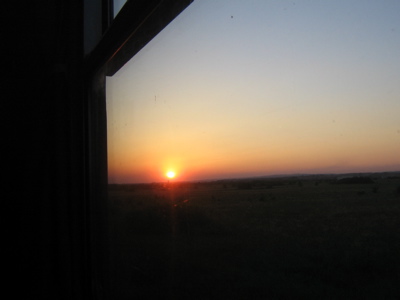 Train ride to Zagreb, to meet with
(e:ladycroft)


Permalink: Trip_Pictures_Part_one_.html
Words: 407
Location: Buffalo, NY
05/09/08 05:30 - 58ºF - ID#44287
Things I've learned in Budapest
So I haven't been here all that long, 8 hours including a 1 hour nap. But I have managed to learn a few things so far.
- Cigarettes come in packs of 19
- Do all of your shopping before 6pm
- Saying cheers in Magyar is really fucking difficult
- Don't go into clubs with hot women you meet on the street (not that I have experienced it, Lonely Planet warns of this, and there was a warning posted at our hostel)
- Orange soda officially kicks ass in all of the European countries Ive been to.
- Apparently chocolate and red wine make a fantastic sauce for lamb
- Camembert Cheese is a very popular menu item here.
For 8 hours I would say this is enough. Im currently dead tired and forcing myself to stay awake so I'm not up at 4am. Hopefully I will post some pictures of the
(e:trek)
soon.


Permalink: Things_I_ve_learned_in_Budapest.html
Words: 152
Location: Buffalo, NY
<-- Earlier Entries