Category: cooking
06/24/11 09:48 - ID#54570
Books on cooking
I have been baking a hell of a lot of bread lately. My brother gave me a book called Ratio by Michael Ruhlman. It's all about the the different ratios used in cooking. The bread ratio is 5:3 Flour, water. Apparently the amount of yeast is negotiable. Less gives a slower rise and more gives a quick rise but you lose some complexity in the flavor. Obviously salt is needed too but not the important part of the ratio. It's a very useful book for making bread, cookies, and pies off the cuff. I have always liked creating non-baked dishes without a recipe, but this book is allowing me to do way more in terms of baking.

I wish I had taken pictures of the bread I made last night. There was a recommendation to bake the bread in a dutch oven. This is supposed to trap all the moisture that the bread releases. It was super easy and worked perfectly. According to the book, professional baking ovens have a feature that allow you to inject moisture. He recommends compensating for this deficiency in home ovens by placing a cast iron skillet on the rack when you preheat it and then pour water into the hot pan when you start baking. I have noticed a huge difference in the texture of the crust when I do this. I have been getting some of the crustiest bread I have ever made.

While I love the texture I think the taste may need some improvements. There is a sourness that fresh bakery bread has that mine just doesn't. I want to try making a starter and letting it grow in my fridge for a while. Although that might be a little hardcore for home baking I just want to see if that would make a difference.

I have also been cooking quite a bit out of the Spice cookbook by Ana Sortun. She is the Chef/Owner of Oleana and Sofra in Boston. It is a Mediterranean/Middle Eastern cookbook with her own twist. There are some really amazing recipes in this book. So many different ingredients I had never even heard of. My biggest problem is finding some of them. I do end up cooking a lot of vegetarian dished these days due to a couple of food poisoning incidents with my wife. I am 100% for eating vegetarian as long as it isn't that faux meat shit. Tofurky and smart dogs aren't food. I would definitely recommend this book for the Turkish Cheese Pancakes, Eggplant Souffle, and Flatbread with Za'atar alone. But the Crispy Chicken under a brick is the finest chicken dish I have ever made.



Permalink: Books_on_cooking.html
Words: 445
Last Modified: 06/24/11 09:48
Category: cooking
04/18/11 10:25 - ID#54082
Paella
I love watching the cooking shows on PBS Saturdays. I know I should probably be productive but I learn so much by watching these guys. It also usually inspires me as to what I'm going to cook that week.
One of my favorites is "Avec Eric" which is Eric Ripert's cooking show. He usually has a couple of segments one usually is him either with a farmer, cultivator or artisan of some sort and the other he cooks something. Frequently his preparations use expensive ingredients, which most cooking shows do, and last week was no exception. On this particular episode he made Paella. I had never made it prior to last week and never realized how easy it is. It is however pretty freaking expensive given the price of seafood and saffron, but totally worth it for a special occasion.
I more or less followed his recipe but deviated a little bit.

I didn't use authentic bomba rice, not only because I haven't a clue as to where to procure that in Buffalo but because frankly I doubt I would notice a difference from any quality short grain rice that is available to me anyway. If I made it again I would definitely not even bother with the saffron at all. I don't really see what people love about saffron. It has a strange plastic taste to me. Considering the cost I don't really see any reason to use it ever again. I also think it would taste a little better if I had used homemade chicken stock, but I can't be bothered to boil chicken bones constantly.
I would like to make it for a large group and think it would be so much cooler if it were cooked over and open flame. Totally a dinner for company you want to impress with your cooking skills. Anyway here is the final result: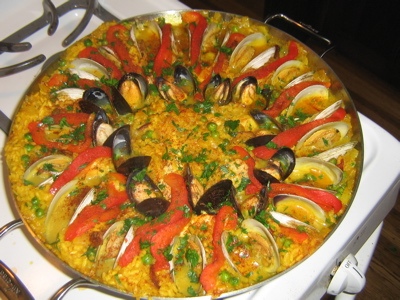 Permalink: Paella.html
Words: 320
Last Modified: 04/18/11 10:25
<-- Earlier Entries
Author Info
Date Cloud
Category Cloud
My Fav Posts
This user has zero favorite blogs selected ;(