03/19/05 02:42 - ID#21854
Disney pictures tease
hey guys, I don't have all of my Disney World pictures on my computer yet but here is one that I thought was incredibly goofy and fun that I hope you enjoy of me and Matt with winnie the pooh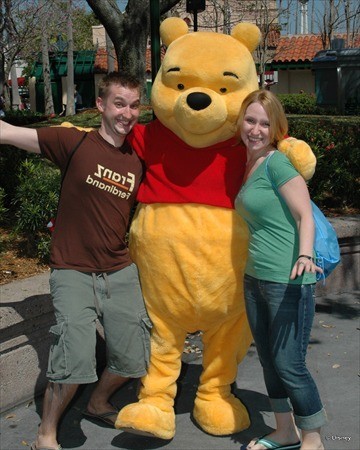 I can't wait to show you all the rest, I used like 4 rolls of film and matt used a memory stick of like 140 pics on his digital. Of course most of them were from the fist few days when we were in awe of everything so it looks like we wore the same clothes all week. Mike I owe you a postcard, I found it in my suitcase when i realized I had not mailed it, it will be there soon. MK your present should be arriving at your house soon because I don't have your apartment address. Jill I think I am going to have to ask you about your present, hopefully I will see you online sometime this week so I can get that sent to you asap. I know jen also has a b-day coming up, I perused some john lennon stuff at the UK pavillion at epcot but decided she probably had 90% of that stuff anyway. I think I have a few ideas for her though...does she even read e-strip now that I think about it? Okay well back to work, more on the incredible time we had at Disney later.


Permalink: Disney_pictures_tease.html
Words: 238
Location: Buffalo, NY
03/06/05 04:56 - ID#21853
Subrent
My goal for the summer is to subrent/sublet or even apartment sit in Buffalo. I need to come home for a few months and de-city-fy myself while not living with my parents. I can't stand my job any longer and I am home/kitty sick. I know this is probably my last summer of freedom before I have to settle down and keep a real job and apartment so that I am not homeless, therefore I know that I must take advantage of this fact by quitting the job I hate and living on my own but yet still being in Buffalo. I have enough saved up to rent/sublet an apartment in Buffalo for the summer May-sept and just need a place to do so. If anyone knows anyone that will not be staying in their apartment for the summer months, ask them if they would mind if a very clean, non smoking or drinking 20 something pays them to live there in their absence. I have a few offers but nothing I am jumping up and down over, so if you know someone please let me know. Also if you know anyone hiring for the summer I could use a job during that time as well, I have great credentials. I have enough saved to not work, but it will be easier for me in the long run to work over summer even though I know just how hard finding a summer job in Buffalo really is.
I missed MK's recital yesterday *sniff* but I hope she got my message of good luck that I left on her phone. I haven't heard about it yet but I am sure she was amazing. I really wish I could have been there. I also heard that Jen and her mom are having a joint grad party which sounds like mucho fun. Jen and her mom throw great parties... martimis aside. I have been incredibly kitty sick this week. I miss my brother and my kitties and my friends so much. Maybe its because I usually go home for all my breaks so I never really go away for more than 2 months without coming back for a hit of home but now I know I won't be home until May because of Disney. Must not think about it now or I will get teary, sad how you never know what you have till you can't have it.
Matt and I leave for Disney late Tuesday night, technically early wed morning. We are super excited. Yesterday I went out and spent a cool hundred dollars on summer clothes to wear. That in its self was exciting, shopping is so fun, I am so glad I have a boyfriend who loves to shop too it makes it so much easier and more fun. We went to the mall in cambridge, and down newbury streetand around copley square, it was the first time all year I havent worked on saturday and it was a beautiful day. Today, I am alone at work and it is horribly ugly, I think we are supposed to get another few feet of snow which makes me so excited to get out of here for a while and work on being tan and warm. I wish everyone was coming with us, it would be really cool to meet up with all of my favorite people in a tropical location. We must do the cruise next year guys, it will be a memory to last a lifetime.
Okay must get back to work/ studying for midterms, my love to everyone in Buffalo, I miss you tons!



Permalink: Subrent.html
Words: 606
Location: Buffalo, NY
<-- Earlier Entries
Author Info
Date Cloud
Category Cloud
User must have at least 3 blogs in one category for categories list to show.
More Entries
My Fav Posts
This user has zero favorite blogs selected ;(