Category: tech
11/12/07 03:29 - 53ºF - ID#42097
bad luck

In the course of the past two weeks, I've had some misshaps. My computer has died (all files gone and unrecoverable). I lost my USB drive in the library today with my school files. Some were saved in another place, some not. My attendance files for the TA class are gone, though I saved most of the paper records for it. My TV stopped working. My DVD player no longer works.

I guess I wasn't suited for a world of techology, heh.



Permalink: bad_luck.html
Words: 82
Location: Buffalo, NY
Category: dating
11/07/07 10:26 - 36ºF - ID#42024
my phone call from Bill Clinton
I received a message on my answering machine from Bill Clinton the other day, endorsing a candidate for Erie County Executive. Heh. Unfortunately, I forgot all about registering to vote in Albany.

Anyway, I had a great time visiting Aaron this past weekend! I got to meet his sister and her husband. We all went out for coffee, and I thought it went really well. Later, his mom made us Spaghetti and Cheesecake for dinner. I just really enjoyed all the time I got to spend with Aaron. I'll have to post some pictures up soon.





Permalink: my_phone_call_from_Bill_Clinton.html
Words: 96
Location: Buffalo, NY
Category: dating
11/02/07 12:58 - 47ºF - ID#41941
heartbreak even
I was thinking about the link that
(e:joshua)
posted on dating.
With Aaron, I would say that I fit under number 2. I keep my distance at times because I somehow expect him to change. He told me recently that he loved me, but I keep expecting some kind of catch. That always seems to always be the case. I've gotten to the point where I just don't trust well that things could work out with anyone. It's not fair in the slightest, because he's such a terrific person, and so good to me, and I am feeling the same way about him.
Anyway, enough of that. I'm leaving in a few minutes to visit Aaron for the weekend, so that will be nice.
-Jess


Permalink: heartbreak_even.html
Words: 125
Location: Buffalo, NY
Category: life
10/27/07 03:45 - 57ºF - ID#41837
before halloween
I hope that the estrip party will go great! I wish I could be there. Post lots of pictures! *grins*

I'm moving on Monday. There was an unexpected opening in one of the on-campus apartments in Empire Commons. It's closer to everything, and somewhat less expensive than what I'm paying now. I don't have a lease on my current apartment. So i think that should be a good change. My dad offered to come up and help me move.

I don't really have any fun plans for Halloween. To be honest, I don't really know anyone here too well yet. I mean, there's people in my classes that I talk to when I'm around school- but I haven't been out with them outside of school. I'm kind of shy around people I don't know well, so it's hard for me to go up to people sometimes.

I am going to Brockport to see Aaron next Friday. I'm so excited!




Permalink: before_halloween.html
Words: 159
Location: Buffalo, NY
Category: life
10/24/07 10:29 - 49ºF - ID#41776
i write on a rainy october day
I just read on yahoo news that the winds in California aren't supposed to be as severe today, so hopefully the fires won't spread as fast as they were yesterday. I feel so bad for everyone having to deal with this. I hope everything will be okay for anyone here who might be affected by it.

Thanks so much to everyone with the cooking advice! That was awesome and much appreciated. It's funny... I tried to cook chicken-flavored rice a roni the other day and butchered it. It tasted like barbeque-a-roni.

I'm mostly doing pretty good. School is going well and things at my job are fine, though, it's stressful keeping up with everything. I've been battling a bunch of respiratory infections. I think because my immune system is kind of down from being on prednisone. Maybe I should take more Vitamin C or something.

I've been reading a lot of Charles Bukowski lately. It's really easy to get into a Bukowski mindset. I'd like to try reading some of his fiction, too.

I hope all of you will have a great day!
-Jess



Permalink: i_write_on_a_rainy_october_day.html
Words: 184
Location: Buffalo, NY
Category: cooking
10/17/07 09:06 - 59ºF - ID#41683
since we've had some food posts lately..
I have a confession: I can't really cook. Or I do cook, but not well, at any rate.

What's the best way I can learn to make real (simple( meals? Do you know of any good books/websites to help me get started?

I should mention my apartment has a stove and microwave, but no oven.








Permalink: since_we_ve_had_some_food_posts_lately_.html
Words: 56
Location: Buffalo, NY
Category: photos
10/16/07 12:50 - 61ºF - ID#41673
over goldengrove unleaving...
I'm really enjoying the beautiful weather lately. It's great going outside in the sunshine and walking through the leaves.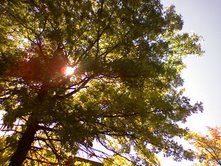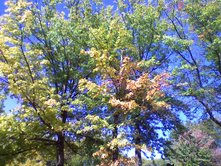 Fall always reminds me of this poem, for some reason:
"Spring and Fall to a young child" by Gerard Manley Hopkins
M�RGAR�T, �re you gr�eving
Over Goldengrove unleaving?
Le�ves, l�ke the things of man, you
With your fresh thoughts care for, can you?
�h! �s the heart grows older
It will come to such sights colder
By and by, nor spare a sigh
Though worlds of wanwood leafmeal lie;
And yet you w�ll weep and know why.
Now no matter, child, the name:
S�rrow's spr�ngs �re the same.
Nor mouth had, no nor mind, expressed
What heart heard of, ghost guessed:
It �s the blight man was born for,
It is Margaret you mourn for.


Permalink: over_goldengrove_unleaving_.html
Words: 161
Location: Buffalo, NY
Category: music
10/11/07 05:15 - 58ºF - ID#41604
dylan concert
I had a great time at the concert with Aaron. I liked Amos Lee, and Dylan was good (though his voice was in bad shape). The best act of the three was definitely Elvis Costello. He sounded incredible, and was great at interacting with the audience. I loved his versions of Red Shoes, Veronica, Oliver's Army, and I Can't Stand Up for Falling Down.
Here is a picture of Elvis playing (though it's hard to see him):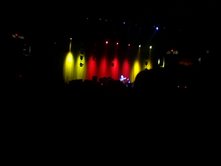 The best part of last weekend was getting to see Aaron.
Here's a picture of us (definitely not a good picture of me, but it's a good one of Aaron):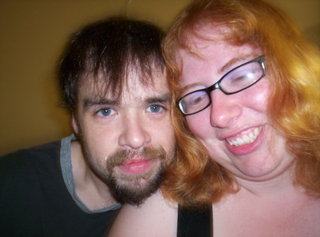 Permalink: dylan_concert.html
Words: 112
Location: Buffalo, NY
Category: news
10/06/07 11:42 - 75ºF - ID#41516
pirate treasure found in Cape Cod


Permalink: pirate_treasure_found_in_Cape_Cod.html
Words: 27
Location: Buffalo, NY
Category: albany
10/03/07 09:46 - 68ºF - ID#41471
things I like about Albany
I realize I've been kind of a downer lately, so without further ado...
Top 10 things I like about living in Albany (hope it was okay if I did a top 10 list,
(e:drew)
):
1. Albany has an interesting blend of history and culture.
2. The countryside is really pretty, and its near the Adirondacks and Catskills.
3. I'm close to the cities I've always wanted to see- NYC, Boston, Montreal. I'm also near New England, which I also hope to travel around.
4. There's lot of museums and cultural events going on.
5. It's really convenient to be in the state capital.
6. I'm very grateful to have a steady job and insurance here.
7. Although my classes have been stressful, I really enjoy the class conversations. My professors are very good, too. I feel stimulated and motivated.
8. It is nice to get to some of my cousins from my dad's family who live here better.
9. There are some great diners here, and uncommon Grounds is good for my java fix (thanks
(e:James)
).
10. I have my very own apartment (I always shared my living space with other people).


Permalink: things_I_like_about_Albany.html
Words: 182
Location: Buffalo, NY
<-- Earlier Entries
Author Info
Date Cloud
More Entries
My Fav Posts
This user has zero favorite blogs selected ;(