Category: life
10/31/09 03:55 - ID#50173
congratulations!
I wanted to wish
(e:ladycroft)
and
(e:rory)
many congratulations! That's so wonderful that you are married now, and I hope you'll continue to have an amazing life together.
I hope that you
(e:strip)
folks are having a fun Halloween so far. I'm not getting dressed up; just heading to a party that some friends are having in a little bit. I hope to make an actual update sometime soon. I've missed everyone here. Life just got really crazy, but it's better now.
Happy Halloween!
Jess


Permalink: congratulations_.html
Words: 88
Category: life
09/07/08 12:04 - ID#45599
google transit
Something interesting that I just found out is that Google now has a site where you can get transit directions for most cities:

So if you are lost without a car and have web browser capabilities on your cell phone, you might be able to find a way to get home.
I've been doing okay. Some days, better than others. I have been back in Albany for a couple of weeks now. My classes have been interesting, and my job is doing well. II hope all of you are having a great time in Buffalo!


Permalink: google_transit.html
Words: 100
Category: life
06/08/08 12:12 - ID#44582
summer and babies
It's been a good weekend so far. Yesterday, I ended up dropping off some things at Buff State (long, long story). At any rate, I was able to get a ride up there with my parents. We ended up going to the Galleria, and we had dinner at this restaurant called Jack Astor's. It was a chain restaurant, but I liked it. Today, I went out with my friend and her daughter (she's about a year old) to the local Ribs festival out in Celeron. (I don't eat pork products, but I received confirmation from various sources for their rib excellence).

I really enjoy spending time with that particular friend and her daughter. I can talk to her about things that I normally wouldn't feel comfortable speaking about with other friends. I like being around her little girl a lot. It's fun watching her constantly learn new words and new ways of doing things. We take her daughter out shopping or to the park a lot.

I've been realizing more and more over the past year of how much I want to be a parent. Not now, but someday, I would love that. I don't know if I can have children. Women with lupus can definitely have children, but I have a relatively severe form of it.

It is kind of cool to be Aunt Jessi to all my friends kids, though! You get to have all the fun without doing very much of the work.






Permalink: summer_and_babies.html
Words: 246
Category: life
05/21/08 12:37 - ID#44405
(just go ahead now)...
It's been a little awhile since I've updated.
So here's what's been going on:
1. The semester ended last week. I was able to get a 3.9 this time, which helped.
2.A few weeks ago, I went with some friends to the albany tulip festival. We listened to the Spin Doctors play. The music wasn't the greatest (except for two princes, lol) but the festival was really fun!
Here are some photos that I took:

3.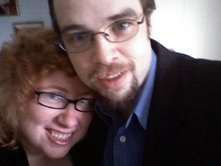 Last Saturday, I packed up my stuff and headed out for Rochester. After I got there, A. and I went to the same amazing brewery that we did on New Years Eve. They have wonderful Irish beer. The next day, we stopped at Letchworth State Park on the way home. I'll have to post some of the waterfall photos soon. I love it there. It's definitely one of the gems of western new york. Then A. took me back to Jimmytown, and we ended up going to dinner with my dad and sister.
4. It's good being back with the family for awhile.


Permalink: _just_go_ahead_now_.html
Words: 185
Category: life
04/07/08 02:40 - ID#43935
the first sounds
After work today, I sat outside under the trees, listening to podcasts and eating lunch. It felt so great to be out in the warm weather and fresh air. I've been feeling happy in general lately.
One of the podcasts I was listening to (NPR Science Friday) is about some of the first recorded sounds, some created by french scientists before Edison developed phonographic technology. Some of those first sounds are actually on this website (

).
There are actually photoautograms sounds from 1857 on it. It's not very discernible, but I still find it interesting. The first guy who really developed this kind of technology was a french scientist. He wasn't interested really in the idea of records. Mostly, he just wanted to translate sound into a record on paper. I guess that was where he and Edison differed.
Oh, and I went with a friend lately to a good Indian restaurant downtown (Gandhi's). I wasn't sure if that was the one
(e:James)
had suggested to me, but I liked it. They made excellent Naan(?) bread and a chicken dish that I can't remember the name of.


Permalink: the_first_sounds.html
Words: 190
Category: life
02/03/08 07:37 - ID#43162
football and politics
I guess I have to go with
(e:lilho)
about the whole superbowl thing. I don't really have anything against it, it's just that I'm not a football watcher in general. I never got into sports much. If I do watch sports, it will be hockey, and that's only because people in Buffalo got me into the Sabres. Either way, though, I hope it's an exciting game for anyone watching it.
I hope
(e:James)
won't be too appalled that I forgot to register to vote for the primary on tuesday. I'm registered in Buffalo, but I forgot to register when I moved here. I promise I will register soon!


Permalink: football_and_politics.html
Words: 110
Category: life
01/18/08 03:29 - ID#42938
solving the puzzle


Permalink: solving_the_puzzle.html
Words: 22
Category: life
11/26/07 12:14 - ID#42279
what's been going on
I bought a new computer a few days ago! My last computer hadn't been working for the past few months. This new computer isn't fancy, but I really like it so far. It was only $400. It's a laptop that runs on a windows visita model, and it seems easy to use for the most part. I really miss having microsoft office. T. gave me a copy of it last year, and it worked well. He also gave me hundreds of music files whch became lost when my computer crashed. I downloaded open office, which looks promising but still is kind of confusing to me as far as knowing which programs to open up documents with.

A quick recap on what's been going on lately:

A week and a half ago, Mary (one of my best friends) came up to visit me from Jamestown. I really enjoyed having her stay with me for a few days. We ended up going to see some cool art exhibits- one on chinese silk paintings, and another on kirigami. Her dad came up the final day she was here to go to a conference, and he ended up taking us out to dinner at this great restaurant called the Macaroni Factory. I had never been to it before, but it was this fun Italian place. I loved their Eggplant Parm.

On that Friday, I went to a great party that some friends in my program were having. Good company, and equally good rum and cokes.

I spent the next couple of days working on papers for school. Then, I went back home on weds. to Jimmytown for thanksgiving. On Thursday, we went to Northwest PA to visit my grandfather, Aunt and Cousin for thanksgiving. We had dinner at this one restaurant there. I enjoyed it. My grandfather was talking about meeting Jimmy Stewart and Jack Parr during the war- it made for interesting stories.

My parents decided to give me a ride back to Albany today, and we stopped for a little while near brockport to see A. I could only see him for an hour. It's hard to be so far away from him, and not getting to see him as much as I would like... but when I do, it's worth it. Even if its only an hour- it will be the best hour I've had in a long time. Fortunately, I will get to see him again in only a few weeks:).

I'm back to the grind. There's so much work to be done to wrap the semester up over the next few weeks. Right now, I'm trying to grade the remainder of my student's term papers- but no luck. With all due respect to my student's, a lot of their papers were not very readable. It scares me a little that college students do not know that you have to cite sources in a paper, or use a bibliography. It bothers me that I'm supposed to give all of these students a B- or above, considering that. The class average was 64% for the midterm, so the paper was supposed to balance that out somehow. *shrugs*







Permalink: what_s_been_going_on.html
Words: 524
Category: life
11/22/07 04:30 - ID#42240
thanksgiving
I'm thankful for many things, but I wanted to say thank you to all of you on estrip today. I'm really glad that I joined this site a year and a half ago. You've made me think, you've made me laugh, and you've really given me so good advice and helped me through some rough times. Even though I don't know most of you well, I wish I did.

Happy Thanksgiving,
Jess



Permalink: thanksgiving.html
Words: 72
Category: life
10/27/07 03:45 - ID#41837
before halloween
I hope that the estrip party will go great! I wish I could be there. Post lots of pictures! *grins*

I'm moving on Monday. There was an unexpected opening in one of the on-campus apartments in Empire Commons. It's closer to everything, and somewhat less expensive than what I'm paying now. I don't have a lease on my current apartment. So i think that should be a good change. My dad offered to come up and help me move.

I don't really have any fun plans for Halloween. To be honest, I don't really know anyone here too well yet. I mean, there's people in my classes that I talk to when I'm around school- but I haven't been out with them outside of school. I'm kind of shy around people I don't know well, so it's hard for me to go up to people sometimes.

I am going to Brockport to see Aaron next Friday. I'm so excited!




Permalink: before_halloween.html
Words: 159
<-- Earlier Entries
Author Info
Date Cloud
My Fav Posts
This user has zero favorite blogs selected ;(