Category: sad state of affairs
01/09/06 07:13 - ID#24465
Never Speak of it Again.
Please for the love of God, never say:
What's the happs?
When you should say:
What's happening?
PLEASE FOR THE LOVE OF GOD
Currently if you search for "What's the happs?" on
(GOOGLE - "What's the happs")
, you only get 400 pages. 100 of which are on MySpace. I'm betting it will be in the millions in six months.
If I catch anyone around here saying it, you will be first against the wall.
LATE UPDATE:
Seriously, and just to reinforce: of the pages that contain this phrase, 9000 pages spell
what's
as
whats
, and only 400 spell it as
what's
. Don't make me hurt you. I'm itching... it seems suddenly there aren't enough dead trendy people in the world.
EVEN LATER UPDATE:
I blame Rupert Murdoch of News Corp. Think about it. That man owns the two worst cesspools on the planet: Bill O'Reilly and MySpace. I would say it's hurting the children, but to be honest I don't care about children. It is hurting me, though. That I'm sure of, and I'm offering up the proof on this very page.
What kind of world am I living in that I am forced to deal with this? I think this proves that I'm not solipsistic, because were that the case I would make these facts flee from my mind in terror, instead of the reverse.
(Paul has informed me that I am exempt from the site Terms of Services and can threaten any and all with death. FYI.)
LATE UPDATE #3
This is my enforcer.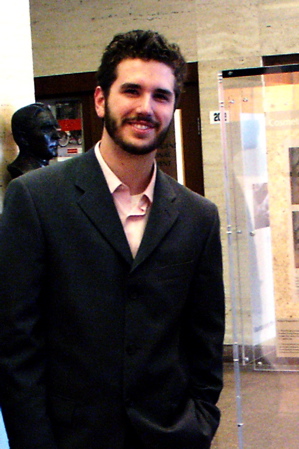 This is the man who will show up at your door if you displease me. His name is Mike... and sure, he
looks
friendly, but it's a clever ruse. He knows karate and is not afraid to use it, so mind your 'what's' and 'happenings'.


Permalink: Never_Speak_of_it_Again_.html
Words: 296
<-- Earlier Entries