Category: buffalo
05/16/08 12:54 - 57ºF - ID#44363
TiTS SuCKS
Warning: Rant below. Stop reading now if you wish to avoid bad vibes about Buffalo, or if you are supersensitive about your taste in music and I am about to insult said taste.
---
All winter long, I have eagerly awaited the Thursday in The Square lineup for Summer 2008. Ice? Snow? Sleet? Icy wind off the lake? It matters not, because Buffalo has a fantastic summer concert series -- for free! -- with beer!! -- and really good acts!!! -- that make my Thursday evenings in June, July, and August a lot of fun.
Last year, there were some truly fantastic shows. Sam Roberts Band was great. The Old 97s, with frontman Rhett Miller dancing with girls from the audience, a total blast. Violent Femmes played to a huge crowd. Dropkick Murphys were pretty good. And there were some pleasant surprises like up-and-coming Grace Potter and the Nocturnals.
I have been anticipating this year's lineup with bated breath. And finally, it's here! And... it SUCKS!!
http://www.buffaloplace.com/ereport/graphics/sponsor/THURSDAYATTHESQUARE.pdf
MAYBE the Gin Blossoms won't be terrible. And I guess it's sort of nice to have Jakob Dylan. But my GOODNESS, what of the rest of these lame acts?
"Galactic kicks off the 2008 season on May 29th with their unique blend of hip-hop, electronica, latin, rock, blues and jazz."
?????
"June 5th will bring straightforward, "almost earnest rock" with The Disco Biscuits."
I'm almost not falling asleep yet.
"Colorado natives Yonder Mountain String Band make their return to Buffalo on June 12th. This quartet is heralded for their "untraditional" bass/mandolin/banjo/guitar line-up and love of bluegrass music."

I heard good things about their show last year, but can't we get some fresh blood in the lineup?
"Grammy Award winning David Sanborn will bring his Grammy Award pop-jazz fusion to the Queen City on June 19th. If you don't already know this 22-solo album smooth jazz musician, we're sure you will leave Lafayette Square a fan."
Guess again!
"Syracuse native Martin Sexton will headline Thursday at the Square on June 26th. Influenced by the magical sounds of the 70's, the Boston Globe says Sexton is "ripe with... raw, expansive talent.""
I'm ripe with raw, expansive irritation. And we're almost into July already. Oh my. This is getting frustrating.
"Kick off the 4th of July weekend with the son of iconic folk rock musician and lead vocalist of The Wallflowers, Jakob Dylan & The Gold Mountain Rebels."

I probably will, but you gotta love when they use a singer's parent's reputation to justify his importance.

"Revered guitarist and founder of The Fabulous Thunderbirds, Jimmie Vaughan rocks the stage of Lafayette Square on July 10th."
Revered, eh? Guess I'm not the only person in Buffalo with a shrine to Jimmie Vaughan in my living room. I'll be sure to keep a constant vigil until I get the opportunity to genuflect in front of his actual corporeal manifestation on July 10.
Somebody kill me... (so I can die and go be with Jimmy Vaughan for eternity.)
"July 17th will be an amazing evening with percussion master of the infamous Grateful Dead, Mickey Hart Band featuring Steve Kimock and George Porter Jr. Hart has composed numerous scores, soundtracks and themes for movies and television and written four books documenting his life."
Those four books should go a long way as credentials for this once-revered (!!!) now washed-up acid-addled jam-band. Surely he must put on a great concert if he wrote four books! Ugh.
"Alternative rockers famous for the 90's hit, "Hey Jealousy," Gin Blossoms will take the stage on July 24th. We think fans will "Follow Them Down" in droves to Lafayette Square."
Yes, but only because there are no other half-decent acts lined up for TiTS this summer. Hey, I'm jealous of cities that attract good bands!
"Canadian folk rockers, Spirit of the West, will play Thursday at the Square on July 31st. This outfit hit the scene in the 1980's before becoming one of Canada's most successful alternative rock bands of the 1990's."
Most successful, eh? What did you say their name was again? I'll need another Blue Light, please.
"Zappa Plays Zappa on August 7th. Need we say more?!"
Um, no. No, you needn't.
"Bass player and vocalist of the improvisational rock band Phish, Mike Gordon will take the stage on August 14th. Gordon has written 17 Phish original songs and 22 Phish tracks."
He's also eaten 2,342 pints of Phish Food ice cream. Ergo, he will put on a Phistastic concert! Wheeeeeeeeeeeeeeeeeeeeeeeeee!
"Post-grunge rockers, Saliva, will make their way to Lafayette Square on August 21st. Their single, "Ladies & Gentlemen" made it to #2 on Billboard's U.S. Mainstream rock charts and has been used by Sony in commercials for PlayStation 3 as well as the theme for NFL Network's NFL Total Access show."
Arrive early to catch opening acts 'Expectorate' and 'Hocking Loogie'!

"Modern rock icons, Candlebox, will play Lafayette Square on August 28th. Their self-titled debut album went platinum four times and the hit "Far Behind" reached the pop Top 20 Chart."

Um... icons? I suppose I do own Candlebox's entire catalog, which I acquired for $6.52 from the CD bargain bin at the almost-dead New World Record. But then again, not everyone has a homemade Candlebox tribute jacket made from black stonewashed denim. Oh, and did I mention, Candlebox's drummer is a retread from 'Ugly Kid Joe'? The talent pool runs deep, my friends. Can you believe these guys have a "Best of" album? Is it an EP?
Candlebox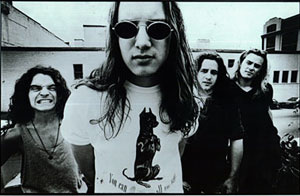 "Big Head Todd and the Monsters will close the season on September 4th. These indie/alternative rockers are known for their powerful live performances and their 1993 album, Sister Sweetly."
Fifteen years later, we shall enjoy their indie/alternative stylings in Buffalo, New York -- which is just about right: 15 years behind the times.
Thursday evenings in downtown Buffalo should be a great time -- in principle. For some reason, this year I think for once I'm actually looking forward to the moment at which the concert engineers flip the switch to Petula Clark's "Downtown". Or maybe I'll just stay at home and listen to some DECENT music.
It's not that I don't love Buffalo. I'm just disappointed by it.
This concludes my rant.


Permalink: TiTS_SuCKS.html
Words: 1051
<-- Earlier Entries
Author Info
Date Cloud
My Fav Posts
This user has zero favorite blogs selected ;(