Category: food
11/15/07 10:11 - 41ºF - ID#42153
888 Main
Yesterday Ami and I checked out 888 Main, the new restaurant/bar on Main between Allen and Virginia. It's just a few doors south of Hyatt's art supply store. It was a spur-of-the-moment kind of thing, stopped by for a beer after work and stayed for a pizza. Lo, and it was good, my peeps. I definitely recommend it. Dan, the bartender (and owner-operator?) told us about using premium-quality ingredients for the pizza, etc. I don't doubt it because it was the tastiest Buffalo-city-style pizza I've had in Buffalo. If you don't know what I mean, it's that not-quite-deep-dish, way-too-thick-for-New-York-City-style-thin-crust pizza that seems to dominate around here. If Buffalo itself is somewhere between New York and Chicago, so is its local pizza. Anyway, I digress. We had a hot-sausage white pizza and it was delicious -- a perfectly baked, crispy-edged pie with sliced sausage, peppers, and onions. It tasted fine with a cold PBR on tap. Other tap beers included Hefe Weissen, Anchor Steam, Southern Tier IPA, Otter Creek Stovepipe Porter, and a few others. The decor is stylish, tall ceilings and a big blood-red wall behind the bar, and the tables looked potentially cozy. Ami took a couple of camera-phone pix: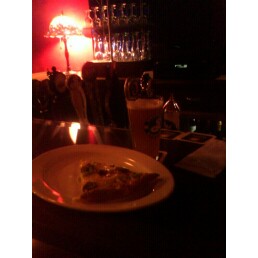 A little slice of 888 Main
The whole shebang (drooling...)
Tried to go back tonight with
(e:chica)
for after-work beers and snacks but to no avail. Doors were closed and locked at 5:50 p.m. Hmmm. But I'd guess this is an anomaly. I was disappointed because there are a bunch of other pizzas I want to try, and there are appetizers that sounded tempting, plus I think they do a couple of pasta dishes or something. I liked the stylish-but-not-over-the-top bar, low lighting, and good-noshes-at-good-prices vibe of the place. Plus Dan was playing some mix tape his gf made that had a pleasantly odd mix of tunes.
Only problem is that the facade does really identify the place very well, and there are no sidewalk signs or anything either. Look for the Southern Tier neon bar light in the window. For now it's dinner-only, but we were told that if it catches on with people at the medical campus that lunch was a possibility.
Oh, and apparently mine was the very first credit card transaction that the bartender processed (ever!), so that was kinda cool I guess. If you go, post and let us know how it was for you...


Permalink: 888_Main.html
Words: 403
<-- Earlier Entries
Author Info
Date Cloud
My Fav Posts
This user has zero favorite blogs selected ;(