06/30/06 04:19 - 73ºF - ID#24414
So rainy & Sad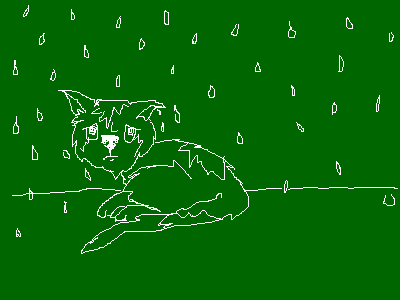 My cat Little Bear has been missing for several days now....
He's a cute little thing, even if he's timid beyond belief....
That's what worries me, he's probably so very scared, and now, so very wet too.
It's like that scene from Oliver & Co. (one of the greatest Disney Movies ever) when nobody wanted Oliver & he had to wander in the rain all alone, I cry every time....
My poor kitty, I hope he finds his way home....


Permalink: So_rainy_amp_Sad.html
Words: 81
Location: Buffalo, NY
06/22/06 02:35 - 77ºF - ID#24413
Here you go Pauly-Paul
1. How did you find out about/why did you become of estrip?
(e:mike)
convinced me to join....as his brother was the mastermind
2. How "out" are you about having a publicly accessible online journal. Do your friends know? Does your family know? Do your co-workers know? Does your boss know? Do you use your real name? Do you use your real photo?
All my friends know....most of them have journals themself, my family doesn't really know, I don't think that they'd really be interested. I generally prefer that my coworkers and boss know as little about me as possible so they do not know.....
I use real photos
3. How many epeeps have you met real life?
Loads
4. How has estrip changed the way that you meet people, on and/or off line?
I have met lots of people that i otherwise might not have.....I also find myself more interested in meeting
(e:strip)
folk, as I can put a face to the name......
5. How has estrip affected you love life?
Not much, other than some unfortunate pictures....
Oh, and I was introduced to my boyfriend by someone I met while advertising for
(e:strip)
......
6. How many of your friends have joined estrip because of your influence?
I'd like to say lots, but I think none is more accurate
7. Are you from Buffalo/do you live in Buffalo?
born & bred
Equipment:
1. What type of hardware or software purchases have you made as a result of using estrip?
None, I'm lucky I can turn on a computer
2. Have you used the mobile version of estrip? Why or why not?
Nope, to advanced for me
Lifestyle:
1. In what way has estrip changed your Internet surfings habits? Describe the amount of time you spend on estrip, when you use it and about how long?
(E:strip)
gives me something to do while I'm at work.....I mean other than actually working. I usually read everyon's journals and occasionally update
1a. How many journals do you usually read per day?
I usually read everyone's journal at least twice a week
2. In what ways has estrip changed the way you perceive your local community?
In a lot of ways it has made this area seem smaller, because I'm always spotting
(e:strip)
pers, but in other ways it seems bigger because new people are always popping up
3. How has journaling about your life affected the way you spend your free time?
It hasn't really affected my Free Time, my Work Time is definitely less productive
4. Has estrip changed your living situation in any way?
Sadly, No
5. Do you find that you mediate/document more of your experiences now that you share them with others?
Yeah, I'd say that I def. keep an eye out for funny events.
6. Has publishing on estrip affected the way that write?
Writing in an online journal is completely different from writing say, a letter or something.. so , no.
7. Do you have other online journals? If so, with what service and has estrip affected your usage of that journal?
Nope
8. Have you ever gotten in trouble for using estrip at work?
I am stealth like a fox....
9. If you have stopped using estrip, why?
I continue, even if I don't post as often as I used to.


Permalink: Here_you_go_Pauly_Paul.html
Words: 548
Location: Buffalo, NY
<-- Earlier Entries
Author Info
Date Cloud
Category Cloud
User must have at least 3 blogs in one category for categories list to show.
More Entries
My Fav Posts
This user has zero favorite blogs selected ;(