Category: food
07/15/08 09:28 - ID#45030
The fruits of my labor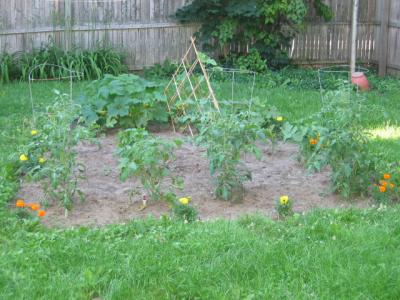 Full shot of the garden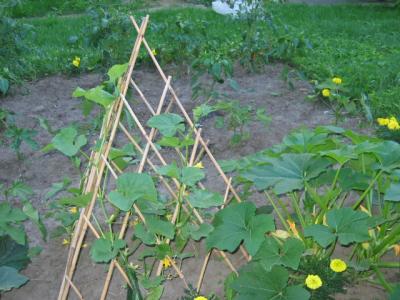 Cucumbers vining on the trellis.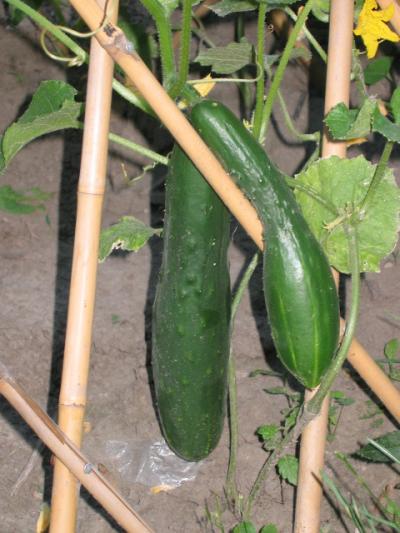 Cucumbers ready to pick!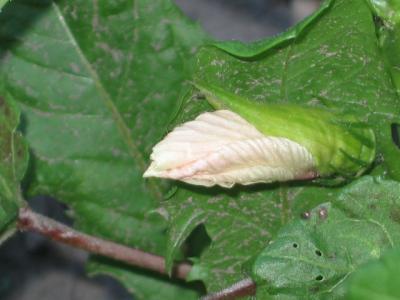 Okra blossom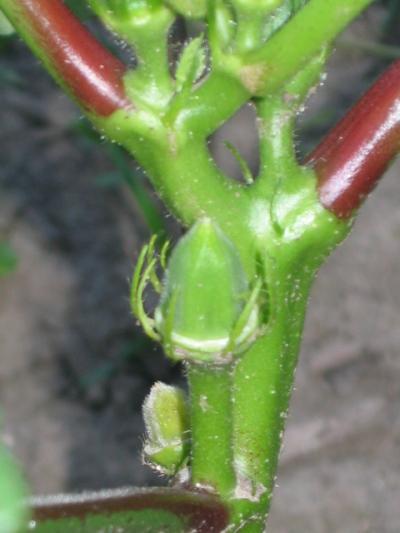 First hint of okra...really excited, never grown it before. Can't wait to fry it in cornmeal batter.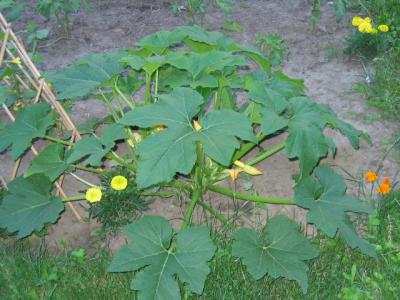 The sturdy squash plant rapidly taking over the garden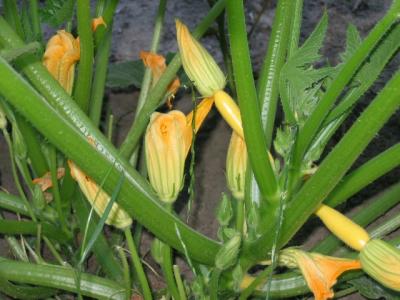 Plenty of squash to come.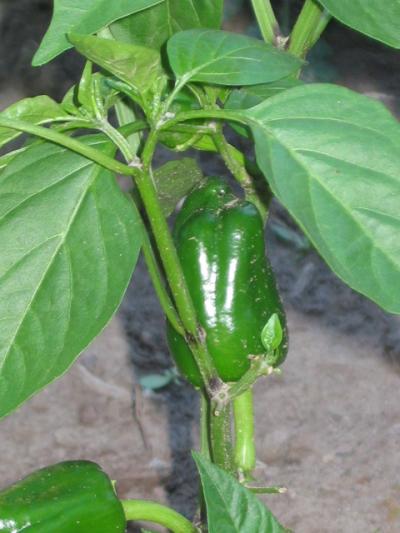 I finally have peppers growing rather successfully. In my first attempt two years ago, my peppers were consumed by some sort of blight. Last year when I tried to grow pepper plants from seed and puzzled over why they weren't growing, I discovered the cat peeing in the pot!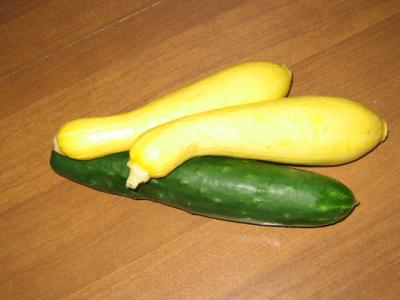 The fruits of my labor...two yellow squash and one cucumber which I promptly cut up, salted and peppered, sprinkled with balsamic vinegar and consumed. Sweet, juicy, seedy cucumber.


Permalink: The_fruits_of_my_labor.html
Words: 144
Category: food
01/10/08 08:14 - ID#42825
Vietnamese dinner
Pictures courtesy of James who brought his camera:
Started with tomato egg drop soup garnished with cilantro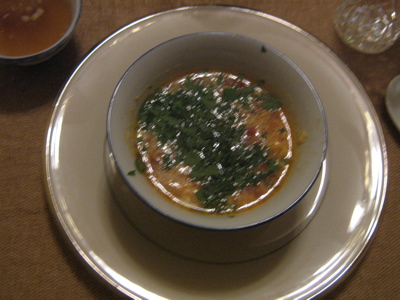 Chicken with Ginger in Caramel Sauce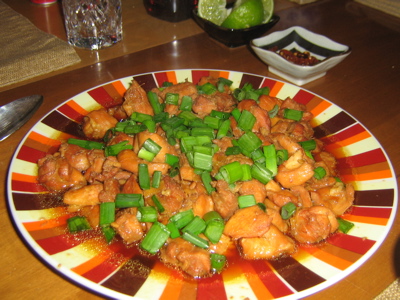 Here's an assembled plate of food with the chicken, blanched vegetables and a dipping sauce in the upper left hand corner.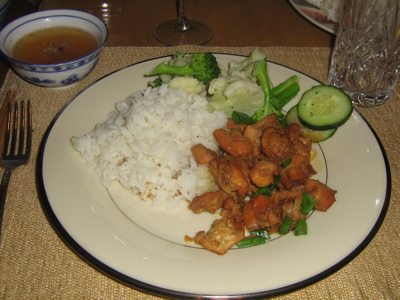 I tried to take a picture of us, but I'm not always so smart with the digital cameras so it doesn't always turn out well. So, James is on the right hand side and my other friends are at center and to the left. I'm trying to get them to be estrippers.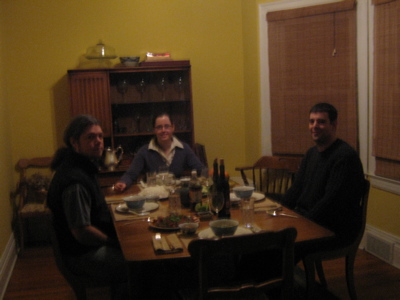 Permalink: Vietnamese_dinner.html
Words: 104
Category: food
01/10/08 12:56 - ID#42818
Anyone good at making custards?
I want to learn how to make custards. There are a lot of Vietnamese deserts that are basically custards. And I want to learn to make them all!

What equipment do you need to make custards?
What's the basic principle of making them?



Permalink: Anyone_good_at_making_custards_.html
Words: 43
Category: food
11/04/07 03:35 - ID#41978
A spiced up life
(e:drew)
and I decided it was time to be healthy. For him to lose weight, he goes almost all vegetables with a little bit of beans and whole grains thrown in on occasion. I'm a nice wife and I have a few lbs I'd like to shed so I'm happy to do the diet that works for him. The main difference is that he can eat plain veggies day in and day out, but I need a little something to flavor the veggies up without resorting to butter. So thus...I made these spice mixtures...
Going clockwise from the top left hand corner: Trinidadian spice mixture of coriander seeds, cumin seeds, fennel seeds, peppercorns and mustard seeeds; Roasted sichuan pepper and salt; Sesame Salt; and Sesame seed seasoning which is sesame seeds, salt peppercorns and a whole dried red chile.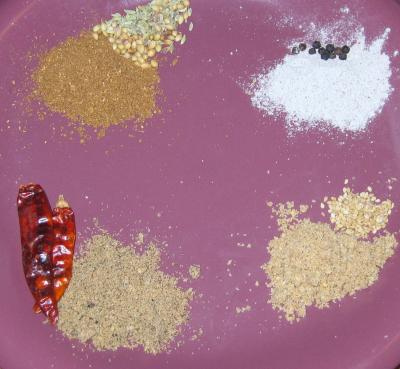 I spent maybe an hour roasting the spices in a pan (see below) and then grinding them in our coffee grinder. The coffee grinder is the best thing I've ever sneaked out of my parent's house!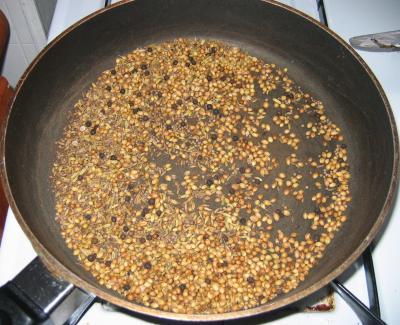 I also made clarified butter flavored with shallots, garlic, cardamom pods, cumin seeds and oregano. I use in small quantities on vegetables. I would have taken a picture of that but
(e:Drew)
left and took the camera with him. See
(e:tinyplinyID)
#41670 for a description of clarified butter in the coments section.


Permalink: A_spiced_up_life.html
Words: 234
Category: food
08/17/07 08:41 - ID#40589
Blueberry bonanza
I just finished off another slice of rich, crumbly, satisfying blueberry banana bread with a cup of strong coffee and I am feeling very pleased with myself.
Three weekends ago,
(e:Drew)
and I went blueberry picking. I got to down to business and was a blueberry picking machine filling my pail almost to the brim.
(e:Drew)
protested, demanding that I stop. But I ran up and down the aisles of blueberry bushes picking blueberries and throwing them into my bucket as fast as I could before
(e:Drew)
caught me. He forced me out of the blueberry fields while I grabbed handfuls of blueberries and shoved them into my mouth.
The results of my persistence.....11 pounds of blueberries for the price of $14.00 (and free blueberries in my tummy) from which I have made a tasty blueberry crisp and satisfying blueberry-banana bread. I still have blueberry pies and cobblers to look forward to as well as more blueberry banana bread. I think I'll make bueberry crisp for this weekend. None for
(e:Drew)
...he tried to stop me in my picking venture. He can watch from afar while I eat my blueberry crisp with my friends warm and bubbling straight out of the oven with thick, fresh whipped cream. You guys can come over and have some too!


Permalink: Blueberry_bonanza.html
Words: 219
<-- Earlier Entries
Author Info
Date Cloud
My Fav Posts
This user has zero favorite blogs selected ;(