08/14/10 11:07 - 76.ºF - ID#52447
Jammy goodness
Combining my new found love of canning with my old love for blueberries and blackberries....I spent the day making blueberry and blackberry jam ...
And I tossed in some pesto to freeze. I have a gigantic basil plant in the garden and I think all in all I can freeze 10 1/2-pint-containers of pesto-ey goodness!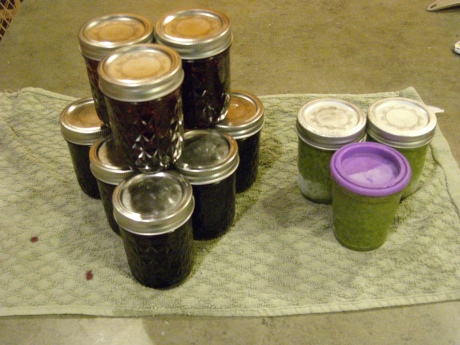 Much thanks to
(e:Matthew)
for allowing me to borrow his equipment.
(e:matthew)
wins a pint jar of dill pickles and a 1/2 pint jar of blueberry jam for his kindness!


Permalink: Jammy_goodness.html
Words: 87
Location: Buffalo , NY
Last Modified: 08/14/10 11:07
<-- Earlier Entries
Author Info
Date Cloud
More Entries
My Fav Posts
This user has zero favorite blogs selected ;(