09/02/05 07:06 - 64ºF - ID#20864
MIKE!
MIKE I hope that you had the most amazing birthday EVER! So good infact that you are still recovering. Miss you tons!!!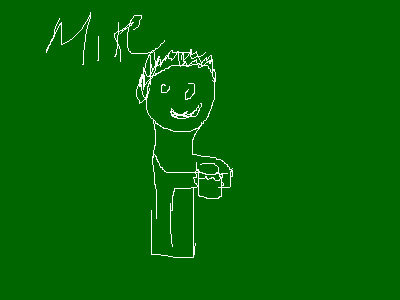 Permalink: MIKE_.html
Words: 23
Location: Buffalo, NY
09/02/05 07:04 - 64ºF - ID#20863
New Picture
I just wanted to point out that I posted a new picture. It's not actually of Edinburgh or Scotland at all-Yikes! It's of England, the Lake District to be exact. And YES those are sheep in the background (the little white dots!)



Permalink: New_Picture.html
Words: 42
Location: Buffalo, NY
09/02/05 05:36 - 65ºF - ID#20862
My Favorite City
I won't make mention of how long its been since I have posted, because that would be the cliche thing to do! I am having an amazing time in Edinburgh. I can't tell you how much I love this city and I can't imagine finding a place that I like better. It always keeps me content between the people in my flat, my handsome Scotsman, the hills to climb, the pubs to drink in, and the places you can go. My freshmen year of college used to be the best time in my life, but I have to say that being in Edinburgh exceeds Niagara University by miles!

Starting with work...work is the foundation of my being here because its giving me the money to meet my basic needs and travel. I love where I work and I don't think that I could have found a better place. It is totally stressfree, completely opposite the pharmacy atmosphere, which I am greatly appreciating. The people that work here are so nice. I only really get to greet them when they walk through the door, but its great fun anyways! I am getting paid enough that I am able to do just about all the traveling that I can handle.

Traveling...I am taking this weekend off to enjoy the pubs and basically relax. I have a hectic schedule just about from here on out.


Sept 10th-a full day journey (12 hours) to Glencoe in the highlands. It's supposed to be absolutely gorgeous.

Sept 17-19- a journey to Bristol by myself! This will be my first big trip that I do by myself, so we will see how it goes! I will also be going to Bath (about 12 mins by train) while in Bristol and getting a tour out of there to Stonehenge and Avebury (supposed to be more impressive than Stonehenge and you can actually go up to it unlike Stonehenge).

Sept 24-Oct 1st- My mom and cousin will be here. We are going to do some sort of trip, either to the highlands or Barcelona. I am just too excited to see them.

A few weeks off

Oct 22nd-29th I will be in Spain with Christina from my work. We will be going to the Island where Palma is.

Nov 5th-6th- Amsterdam with Hamish. Its going to be way too short of a visit, but I am going to try and fit in as much as I can. I guess there is a sex museum, prosititute information center, Van Gogh museum, Anne Frank's house, and of course cannabis museums.

I may also end up going to Prague and Alicante? Yes it is going to be an intense next couple of months but then I can come home and relax for a month or whatnot! Wha Hoo!


Well my little Jill has been returned to the E-Strippers and Edinburgh is not the same without her. I have been bonding with the flatmates in attempting to make up for her absence. The newest flatmates seem a bit anti social with their door always closed, but I think they might come around yet. Ilana and Carrie are cool! We do a lot of cool things together like-color. Trust me its what all the cool kids do here.

As for the pubs they are fantastic. i don't believe I have had a proper night out in about 3 weeks or something? Tonight may be the night? We'll see how I feel when 9 rolls around, it might be sleepy sleeps but it might be dancing all night long. The current plan is to pick up a 6 pack of StrongBow (so freakin good!) and begin the night early. Or take a nap and then start drinking, its hard to say. You know its really a battle between sleeping and partying. Its like I could fulfill one of my basic needs that feels really good and saves a lot of money OR i could probably have a really good time and spend a lot of money. I supposed you need both, but probably more sleep than party is better for your body and wallet. Who will win the battle this Friday??

As for my Scotsman, Hamish he is awesome! Personally I find him to be devastatingly handsome and great company. No I don't have any plans to get married and stay in Edinburgh, but I am definitely enjoying my Scottish fling. I think this kid actually wants to be American with the way he dresses and talks, BUT he is a Scotsman through and through. He has been my first relationship and its been a great one. He is great because I know he would do just about anything for me, BUT he does lie and that pisses me off! He talks about coming to Buffalo which would be fantastic but I don't think much more than that. I am just happy to have found a Scotsman to pass my time in Scotland!

In a side note I saw They Lady Boys of Bangkok yesterday. Some of the drag queens were so beautiful i couldn't believe it! "V" from Marcellas remains my all time favorite drag queen, but these women (?) were quite impressive as well. They put on a great show!

So everything is great here and I will post again when I am bored at work




Permalink: My_Favorite_City.html
Words: 889
Location: Buffalo, NY
<-- Earlier Entries
Author Info
Date Cloud
Category Cloud
User must have at least 3 blogs in one category for categories list to show.
My Fav Posts
This user has zero favorite blogs selected ;(