05/06/10 01:49 - 58ºF - ID#51515
Ch-ch-ch-ch-ch-ch-changes
I have stopped blogging. I'm not really certain as why other than being incredibly busy this semester, mostly I suppose I haven't had much I wanted to say. As of 6pm today I am finished with school, at least for now. It feels strange to have nothing due, and a "clear schedule". I have spent the past five years reinventing myself. It has been a learning experience to say the least. I am now ready to re-enter the workforce. I feel grown up, yet at the same time I feel the same uncertainty with less of the excitement I felt when I was 21. If anything I am proud of myself. I never half-assed anything I did in school this time around. I took it seriously and learned that things worth doing take some effort, and sacrifice. It was a challenging, frustrating, exciting, empowering, and rewarding experience. I am ready for whats next.





Permalink: Ch_ch_ch_ch_ch_ch_changes.html
Words: 152
Location: Buffalo, NY
Category: food
12/07/09 09:00 - 30ºF - ID#50494
Going Vegetarian
Just kidding, I could eat bacon with a side of bacon for breakfast. I did however make another vegetarian dish tonight. Mushroom and Caramelized Onion Quiche. This was my first quiche and I'm reasonably pleased with the results. I cheated a little bit with the dough and didn't let it rest before I baked it. It did shrink a tiny bit, but it still turned out flaky and delicious.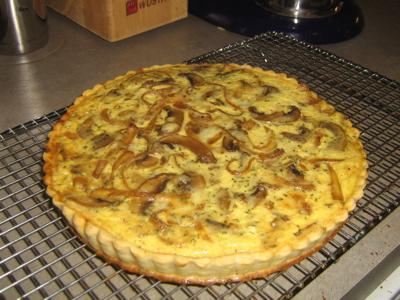 I used to hate quiche as a child, come to think of it I hated mushrooms as well. This dinner would not have been well received by me at age 8. I have a strange memory of quiche from 7th grade. In my English class there was some sort of contest. I don't recall the the contest but the prize was either a pizza party or a quiche party. I do like quiche but the pizza would probably still win out today.


Permalink: Going_Vegetarian.html
Words: 152
Location: Buffalo, NY
12/01/09 06:15 - 42ºF - ID#50426
What is vegetarian?
So every now and then I've been known to cook something vegetarian for dinner. Last night I made Shakshuka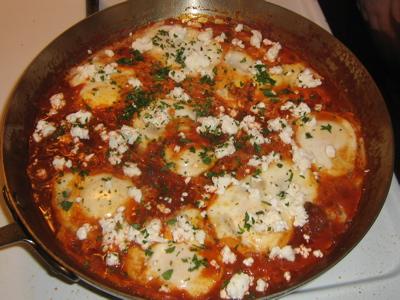 And Nan-e barbari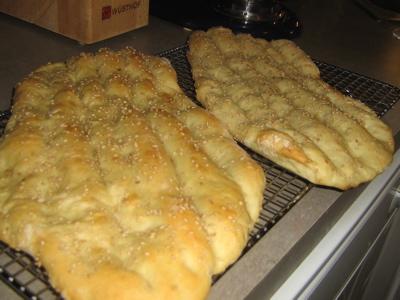 Shakshuka is an Israeli breakfast of eggs and tomatoes with some feta and few other things. According to Saveur (where I stole the recipe from) it is a Libyan dish. The Nan e-barbari is Iranian but it was originally an Afghan recipe.
Anyway as I was chopping vegetables it dawned on me that it was vegetarian but not vegan. Then I started thinking about all the different types of vegetarianism. I work with a girl that claims to be a pescetarian. Which means she won't consume flesh unless its that of a fish. And then there is the flexitarian which is such a stupid concept to me. Basically it means you are vegetarian until you are in the mood for a bacon cheeseburger. I also know someone who states emphatically when referring to his wife and his eating habits that "she will eat it if it swims, but I will eat it if it clucks". I suppose that should be another category. Is there any other types of vegetarianism out there?
Vegetarian food does not bother me, given that it doesn't suck. I wonder how many people out there are vegetarians because they like it, and how many crave a rack of ribs with a side of bacon on a daily basis. With that said Shakshuka is pretty damn delicious.


Permalink: What_is_vegetarian_.html
Words: 246
Location: Buffalo, NY
11/29/09 06:24 - ID#50407
Politcs Politics
I'm not really into talking about politics, I do however love laughing at people who are. I also enjoy when politicians and talking head pundits slip up and say crazy things.
For example: apparently Senator Buttars doesn't particularly like it when "the gays", "stuff it down his throat all the time"
Or this young lad who prefers to be the teabagger instead of the tea-baggee.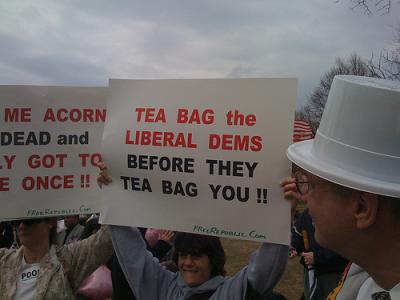 Permalink: Politcs_Politics.html
Words: 69
Location: Buffalo, NY
Category: food
08/23/09 07:07 - 69ºF - ID#49617
Food Stuffs
I'm pretty sure this is a rip off of fruit loops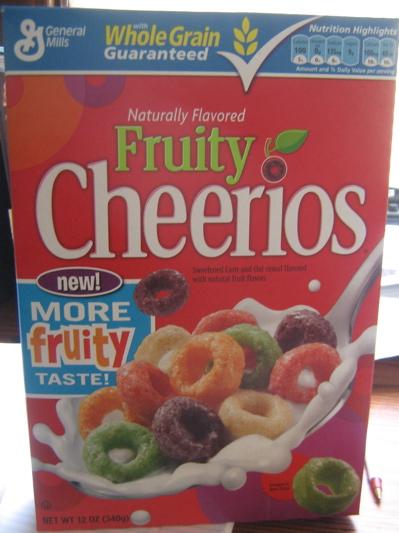 So I ended up making the stuffed french toast last Sunday. I stuffed it with this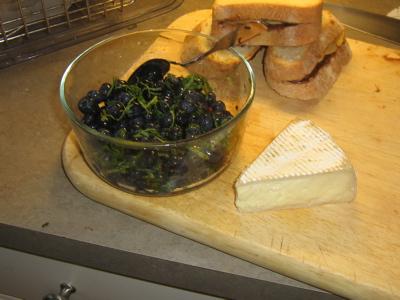 Blueberries with lime sugar and Brie.
Also I did another batch with Nutella and Red bananas. (thanks everyone for the suggestions), (
(e:jenks)
how does the hollowed out bread thing work?)
It turned out pretty decent. When it comes to breakfast food though I really like Eggs Benedict. I love syrup on my bacon, but pancakes really suck. But the masses were satisfied, I think the Lambrusco helped.
So two weeks ago Elizabeth and I went to Cleveland just for the hell of it. Neither of us had ever been there and mostly we wanted to just take a quick trip out of Buffalo.
Cleveland reminds me of Buffalo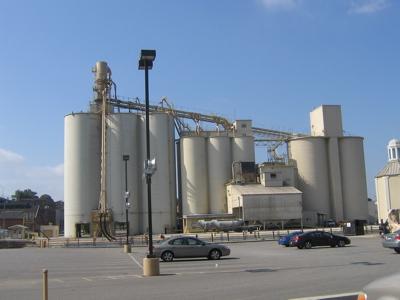 We went to two restaurants there. Plus a winery on the way. These are some of my favorite things we ate there. It's from the restaurant Greenhouse Tavern.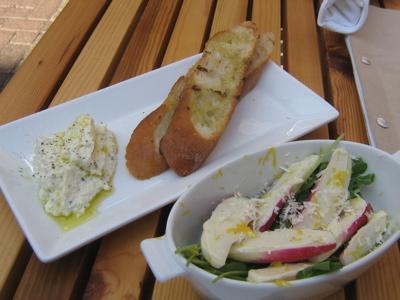 Top: House Made Fromage Blanc
Bottom: French Breakfast Radishes
We also went to this really awesome restaurant the night before ( sorry no pics) called Crop

They have such a cool Sunday night deal. 3 course prix fixe for $25. You get your choice of entree, but everything else everyone gets. We ended up talking to the owner for a while. He a was a cool guy, from NY. Anyway, if you find yourself in Cleveland these are really fun places to check out. Great food, service and atmosphere.
Today we slept in and are making Vichyssoise and a Tomato Tart for dinner. I can't wait Im starving.


Permalink: Food_Stuffs.html
Words: 285
Location: Buffalo, NY
08/16/09 07:27 - 69ºF - ID#49547
Question about french toast
So I have never made stuffed french toast. I've actually never even had it before. So I'm wondering am I supposed to cut a pocket into the bread and actually stuff it? Or is it acceptable to make a sandwich? I have seen mostly sandwich looking concoctions online which seems to be easier to spread stuff out evenly. But I'm not sure what most people here have seen or had.



Permalink: Question_about_french_toast.html
Words: 70
Location: Buffalo, NY
05/25/09 04:57 - 69ºF - ID#48752
Wieners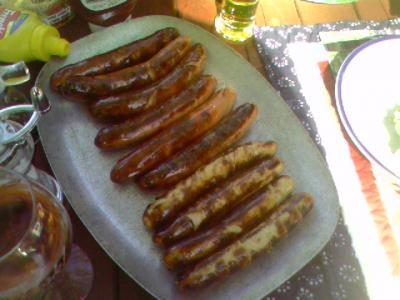 Permalink: Wieners.html
Words: 1
Location: Buffalo, NY
05/23/09 01:48 - ID#48729
Going to Market
Today was such a beautiful day to ride my bike to get some groceries. I didn't really need much It was mostly an excuse to try to fight off this cold. First stop was price rite. I do like the proximity of this store, But the size of much of what they sell is frigging enormous. I really don't have much of a need for 10lbs of anything. I went there to get some flat parsley(which they didn't have) and Goya olive oil, which I love. This stuff is so delicious and unbelievably cheap. Much better than Wegmans brand crappola.
Next stop was this place: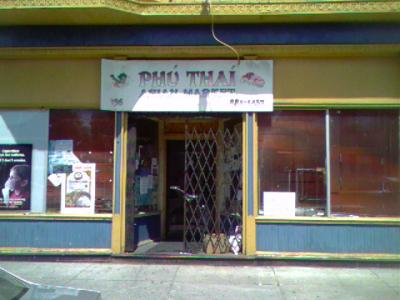 I didn't even know this existed till last week. Its located on Connecticut st. near Niagara. Most Asian markets have a certain stink to them. I was almost knocked over by the unmistakable smell of rotten produce marinating in urine. I still looked around out of curiosity. The produce mostly looked bad. I would never buy the stuff that looked decent for the simple fact that its on the floor and next to the shit that is half rotten. They meat section was something to behold. There was a box of clams, not in the cooler, dying in the warm air, also on the floor. They had five gallon buckets of chicken feet, liver of unknown origin, and some unidentifiable meat substance swimming about in a mysterious golden liquid. They did have a large selection of fish sauce, but I think I will avoid buying anything there...ever.
Last stop was the farmers market. I love farmers markets, but the one on Bidwell needs more vendors selling produce. Actually I think it just needs more vendors in general. There is some good stuff there though. I got a huge bundle of chives that looked really fresh, and some of this stuff: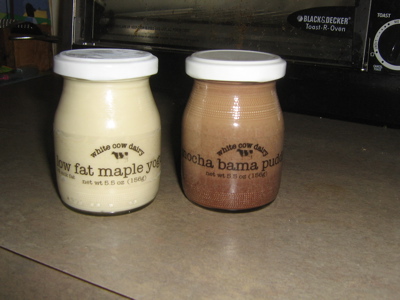 I read an article about this company, White Cow Dairy, in the latest issue of Edible Buffalo. $5.75 is more than I usually spend on yogurt/pudding but I am really curious about how this stuff tastes. I really do love buying local products. Especially ones that are good. So hopefully this stuff pans out to be awesome. They also had a couple of other things there, a mustard horseradish sauce, and a mocha creme full fat yogurt. They were both $4.00 each. So I'll come back for those next week possibly.
BTW: Does anyone know where I can get some ramps in Buffalo? They are in season but nobody seems to have them.


Permalink: Going_to_Market.html
Words: 423
Location: Buffalo, NY
05/06/09 09:03 - 60ºF - ID#48607
Three months off
Well my blog has finally hit the inactive status, so I figured it was time I graced these parts and post my latest dinner project. I finished my finals on Friday and finally have some time to goof off. It had been so long since I had cooked that on Monday I made a terrible stir fry with tofu, red pepper, and baby bok choy. I will spare you the pictures. But tonight I think I redeemed myself. I made "Crispy" Duck with Chardonnay Braised Asian Pears, Roasted Artichokes and Hoisin Butter.
It has been ages since I cooked something worth writing about. It was nice to be able to enjoy a day off finally. So I know the picture is full of brown but my plating skills and photography skills are equally in need of improvement.
So anyway for the "recipe". I marinated the duck in soy sauce, mirin, sesame oil, ginger, garlic and Chinese five spice. I pan seared it and finished it in the oven. Its a major pain in the ass to make duck crispy. I took the advice of a few chefs and scored the skin before I seared it. It was crispier this time, but it still isn't exactly how I want it. For the pears I just diced and sauteed them. Then deglazed the pan with a generous amount of chardonnay. The artichoke idea I stole from the web. I just simply cut the top and sprinkled a little bit of lemon juice, olive oil and shoved a garlic clove in the center and roasted it for an hour and a half. I made the hoisin butter by taking some of the rendered duck fat and sauteed some shallots and deglazed them with white wine and chicken stock and reduced it till it could "coat the back of a spoon". I strained it and whisked in butter under low heat. Here are the results.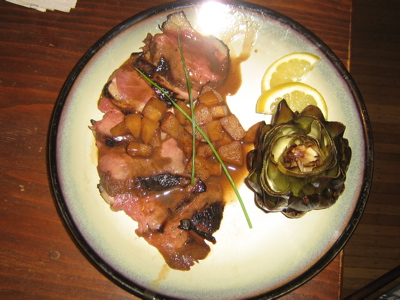 Permalink: Three_months_off.html
Words: 323
Location: Buffalo, NY
02/18/09 03:57 - 36ºF - ID#47800
Buffalo needs more cameras!!!
Today has been such a hassle. I went to move my car last night and noticed somebody punched a hole in my window. They didn't take my stereo or CD's so I figured it was just some moron vandalizing things randomly. So I called the Buffalo Police, but they told me I had to call 911? Does this really qualify as an emergency? Anyway I didn't think anything was stolen till I talked to the glass guy this morning. He told me to make sure my inspection sticker wasn't taken. Well I went and checked and sure enough the inspection sticker was half ripped off. So now I get the pleasure of going to several different places to get this remedied. After talking to all of these people today(cops, mechanics, and DMV workers) this is really common these days. I guess someone was really desperate to get a sticker. I mean it took me three tries to get the car inspected last month and cost several hundred dollars. I really wish NY State would make the inspection stickers crumble to unusable bits when they are removed and it may end up stopping this crap. Well either that or get rid of the new emissions requirements on vehicles. But I'm sure neither of these things will do much.

ps I was kidding about more cameras



Permalink: Buffalo_needs_more_cameras_.html
Words: 224
Location: Buffalo, NY
<-- Earlier Entries