Category: food
08/23/09 07:07 - 69ºF - ID#49617
Food Stuffs
I'm pretty sure this is a rip off of fruit loops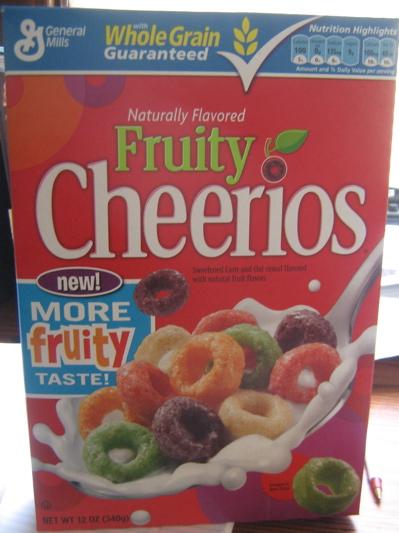 So I ended up making the stuffed french toast last Sunday. I stuffed it with this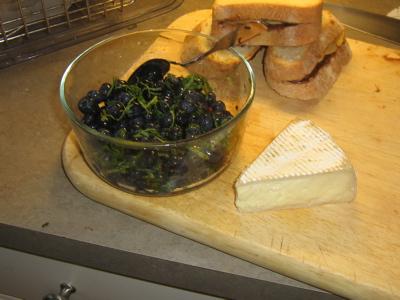 Blueberries with lime sugar and Brie.
Also I did another batch with Nutella and Red bananas. (thanks everyone for the suggestions), (
(e:jenks)
how does the hollowed out bread thing work?)
It turned out pretty decent. When it comes to breakfast food though I really like Eggs Benedict. I love syrup on my bacon, but pancakes really suck. But the masses were satisfied, I think the Lambrusco helped.
So two weeks ago Elizabeth and I went to Cleveland just for the hell of it. Neither of us had ever been there and mostly we wanted to just take a quick trip out of Buffalo.
Cleveland reminds me of Buffalo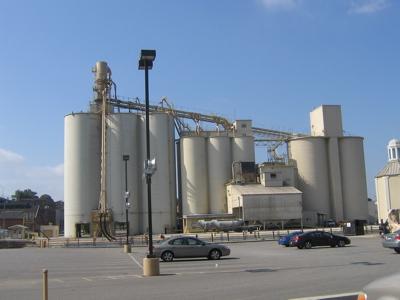 We went to two restaurants there. Plus a winery on the way. These are some of my favorite things we ate there. It's from the restaurant Greenhouse Tavern.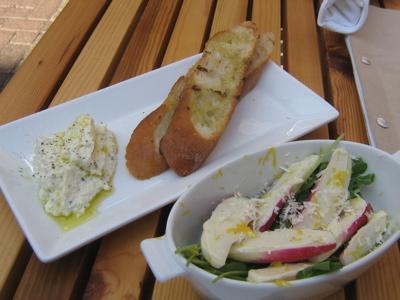 Top: House Made Fromage Blanc
Bottom: French Breakfast Radishes
We also went to this really awesome restaurant the night before ( sorry no pics) called Crop

They have such a cool Sunday night deal. 3 course prix fixe for $25. You get your choice of entree, but everything else everyone gets. We ended up talking to the owner for a while. He a was a cool guy, from NY. Anyway, if you find yourself in Cleveland these are really fun places to check out. Great food, service and atmosphere.
Today we slept in and are making Vichyssoise and a Tomato Tart for dinner. I can't wait Im starving.


Permalink: Food_Stuffs.html
Words: 285
Location: Buffalo, NY
08/16/09 07:27 - 69ºF - ID#49547
Question about french toast
So I have never made stuffed french toast. I've actually never even had it before. So I'm wondering am I supposed to cut a pocket into the bread and actually stuff it? Or is it acceptable to make a sandwich? I have seen mostly sandwich looking concoctions online which seems to be easier to spread stuff out evenly. But I'm not sure what most people here have seen or had.



Permalink: Question_about_french_toast.html
Words: 70
Location: Buffalo, NY
05/25/09 04:57 - 69ºF - ID#48752
Wieners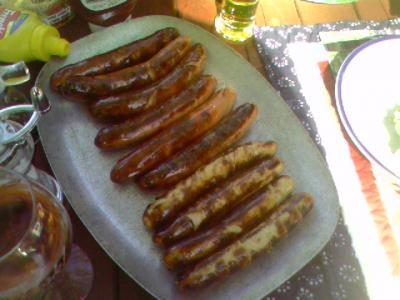 Permalink: Wieners.html
Words: 1
Location: Buffalo, NY
05/23/09 01:48 - ID#48729
Going to Market
Today was such a beautiful day to ride my bike to get some groceries. I didn't really need much It was mostly an excuse to try to fight off this cold. First stop was price rite. I do like the proximity of this store, But the size of much of what they sell is frigging enormous. I really don't have much of a need for 10lbs of anything. I went there to get some flat parsley(which they didn't have) and Goya olive oil, which I love. This stuff is so delicious and unbelievably cheap. Much better than Wegmans brand crappola.
Next stop was this place: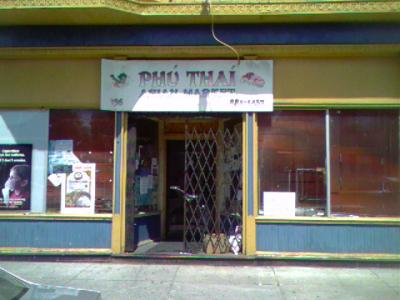 I didn't even know this existed till last week. Its located on Connecticut st. near Niagara. Most Asian markets have a certain stink to them. I was almost knocked over by the unmistakable smell of rotten produce marinating in urine. I still looked around out of curiosity. The produce mostly looked bad. I would never buy the stuff that looked decent for the simple fact that its on the floor and next to the shit that is half rotten. They meat section was something to behold. There was a box of clams, not in the cooler, dying in the warm air, also on the floor. They had five gallon buckets of chicken feet, liver of unknown origin, and some unidentifiable meat substance swimming about in a mysterious golden liquid. They did have a large selection of fish sauce, but I think I will avoid buying anything there...ever.
Last stop was the farmers market. I love farmers markets, but the one on Bidwell needs more vendors selling produce. Actually I think it just needs more vendors in general. There is some good stuff there though. I got a huge bundle of chives that looked really fresh, and some of this stuff: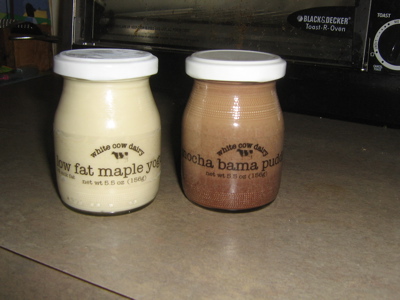 I read an article about this company, White Cow Dairy, in the latest issue of Edible Buffalo. $5.75 is more than I usually spend on yogurt/pudding but I am really curious about how this stuff tastes. I really do love buying local products. Especially ones that are good. So hopefully this stuff pans out to be awesome. They also had a couple of other things there, a mustard horseradish sauce, and a mocha creme full fat yogurt. They were both $4.00 each. So I'll come back for those next week possibly.
BTW: Does anyone know where I can get some ramps in Buffalo? They are in season but nobody seems to have them.


Permalink: Going_to_Market.html
Words: 423
Location: Buffalo, NY
05/06/09 09:03 - 60ºF - ID#48607
Three months off
Well my blog has finally hit the inactive status, so I figured it was time I graced these parts and post my latest dinner project. I finished my finals on Friday and finally have some time to goof off. It had been so long since I had cooked that on Monday I made a terrible stir fry with tofu, red pepper, and baby bok choy. I will spare you the pictures. But tonight I think I redeemed myself. I made "Crispy" Duck with Chardonnay Braised Asian Pears, Roasted Artichokes and Hoisin Butter.
It has been ages since I cooked something worth writing about. It was nice to be able to enjoy a day off finally. So I know the picture is full of brown but my plating skills and photography skills are equally in need of improvement.
So anyway for the "recipe". I marinated the duck in soy sauce, mirin, sesame oil, ginger, garlic and Chinese five spice. I pan seared it and finished it in the oven. Its a major pain in the ass to make duck crispy. I took the advice of a few chefs and scored the skin before I seared it. It was crispier this time, but it still isn't exactly how I want it. For the pears I just diced and sauteed them. Then deglazed the pan with a generous amount of chardonnay. The artichoke idea I stole from the web. I just simply cut the top and sprinkled a little bit of lemon juice, olive oil and shoved a garlic clove in the center and roasted it for an hour and a half. I made the hoisin butter by taking some of the rendered duck fat and sauteed some shallots and deglazed them with white wine and chicken stock and reduced it till it could "coat the back of a spoon". I strained it and whisked in butter under low heat. Here are the results.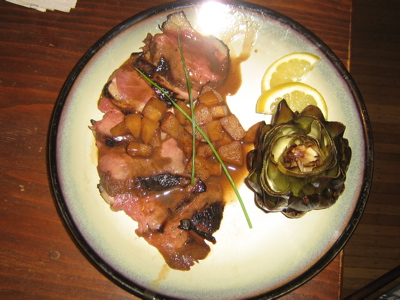 Permalink: Three_months_off.html
Words: 323
Location: Buffalo, NY
02/18/09 03:57 - 36ºF - ID#47800
Buffalo needs more cameras!!!
Today has been such a hassle. I went to move my car last night and noticed somebody punched a hole in my window. They didn't take my stereo or CD's so I figured it was just some moron vandalizing things randomly. So I called the Buffalo Police, but they told me I had to call 911? Does this really qualify as an emergency? Anyway I didn't think anything was stolen till I talked to the glass guy this morning. He told me to make sure my inspection sticker wasn't taken. Well I went and checked and sure enough the inspection sticker was half ripped off. So now I get the pleasure of going to several different places to get this remedied. After talking to all of these people today(cops, mechanics, and DMV workers) this is really common these days. I guess someone was really desperate to get a sticker. I mean it took me three tries to get the car inspected last month and cost several hundred dollars. I really wish NY State would make the inspection stickers crumble to unusable bits when they are removed and it may end up stopping this crap. Well either that or get rid of the new emissions requirements on vehicles. But I'm sure neither of these things will do much.

ps I was kidding about more cameras



Permalink: Buffalo_needs_more_cameras_.html
Words: 224
Location: Buffalo, NY
01/12/09 06:36 - 25ºF - ID#47382
I guess this makes me a groupie?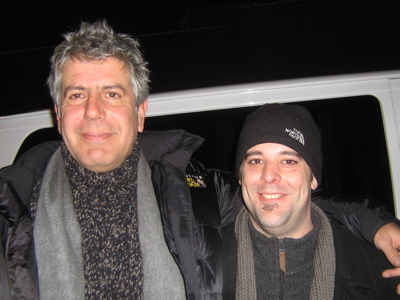 Permalink: I_guess_this_makes_me_a_groupie_.html
Words: 2
Location: Buffalo, NY
01/10/09 02:32 - 21ºF - ID#47350
Buffalo Rising Strikes Again
Instead of comparing buffalonians plight to that of the jews, Buffalo Rising has managed to capture a photo of our black mayor chomping down on some chicken.

Now this may be an appropriate picture had it been a story about the chicken wing festival or who Byron Brown's favorite wing joint is in town. But of course the article is about who will be appointed to the NY State Senate seat. I am having a hard time taking anything I read in this publication/website seriously anymore.


Permalink: Buffalo_Rising_Strikes_Again.html
Words: 93
Location: Buffalo, NY
12/19/08 01:41 - 22ºF - ID#47113
Merry Christmas from Star Wars!


This is really creepy.



Permalink: Merry_Christmas_from_Star_Wars_.html
Words: 5
Location: Buffalo, NY
12/04/08 10:47 - 36ºF - ID#46952
Client #9


Permalink: Client_9.html
Words: 18
Location: Buffalo, NY
<-- Earlier Entries