Category: awexome
03/11/10 09:03 - ID#51160
AXE COP
Write off the next ten months, I hereby declare AXE COP

to be the Best Thing of 2010.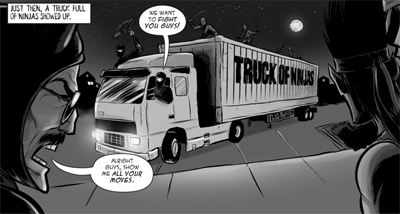 It's written by a five-year-old and illustrated by his 29-year-old brother. I'm pretty sure something this nonsensical needs a special permit from the Pope to be this awesome.
- Z
_______________
ps. Don't listen to your music library sorted ascending by track duration. Bad juju.
pps. Coffee Crisp

tastes like a doughnut, if a doughnut were a candy bar instead.


Permalink: AXE_COP.html
Words: 94
<-- Earlier Entries
Author Info
Category Cloud
My Fav Posts
This user has zero favorite blogs selected ;(