Category: the odes
09/10/11 11:06 - ID#55134
Google Voice transcribes Paul
9/7/11 7:51 PM 3 days ago
But lately, bye bye, could you transfer a investment hey cooking application you What, what's up. All the maybe we can connect spring way, it's just me. West. You are special expense. Morganson Later. Bye, the If I can drop it off the roof there's like a whole. Maybe the whole flat you can. Bye bye hey okay. Hello, bye Yeah, P to say, you can give me a call. Bye. Hey, evening, yeah dear. You will. Hello. Hey man. Later, just, Subject, I gonna close the alright. I didn't. Hey there the Victor, but no later. It's 4 What, right. Bye. Yeah, Hello Hello Bill, hey. Well, alright, or are available, okay right hello, hey.
And all this took 3 minutes to say.
What I really want to know is who are Morganson and Victor... and Bill??


Permalink: Google_Voice_transcribes_Paul.html
Words: 139
Location: Buffalo, NY
Last Modified: 09/10/11 11:07
Category: eating in
09/04/11 08:17 - ID#55094
The Pear Wars.
(e:Paul)
challenged me to a pear war with the warrior ants and the swarm of bees in
(e:PMT)
's garden. It was not a pretty sight.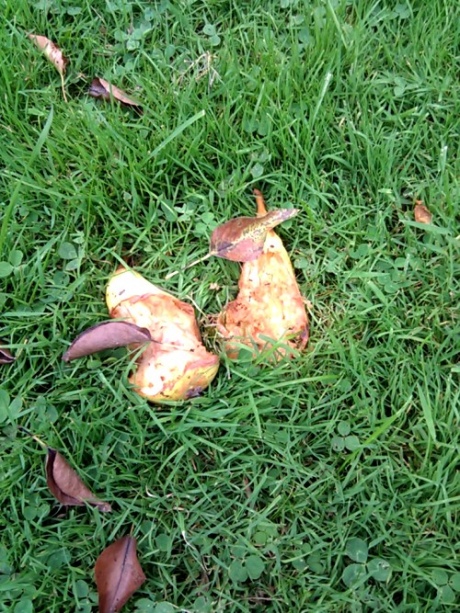 There were fallen pears all over the place being viciously attacked by HUGE crazy ants, bees that possibly had a nasty sting and quite horrendous-looking fat blackish worms that looked as if they had crept slowly out of the scarier zombie movie scene. I think I accidentally brushed my hand on one. UGH. Maybe I should consider amputating it now.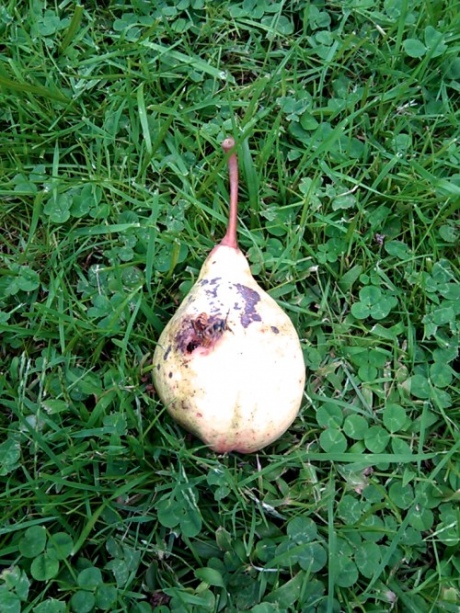 For a while I debated kicking the bee-infested pears around to dislodge and rescue the pears but I was really worried about painful repercussions. Wisdom prevailed and I left them alone. But I did blow the ants off many a fallen fruit and got quite a haul of awesome pears.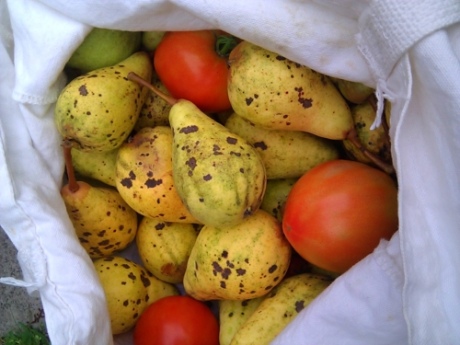 (e:matthew)
walked in on my grand-bug-war-for-pear-rescue halfway through and threw in some tomatoes into the mix. I know I am totally overdosing on tomatoes today but these mini ones were TOO delicious not to eat as soon as I got back! Thanks so much,
(e:matthew)
!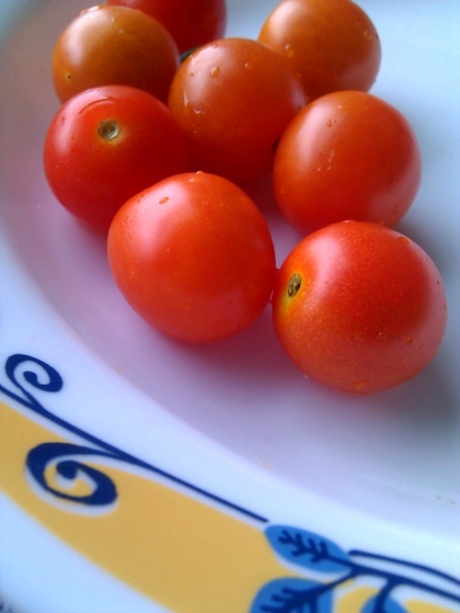 And now the quintessential dilemma. What does one do with 20kg of pears?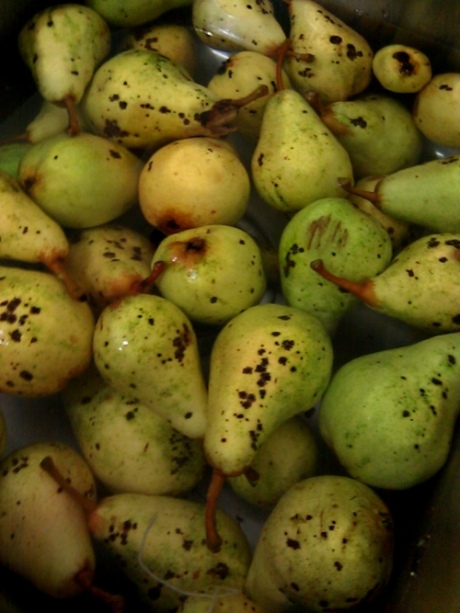 I am thinking slow roasted red pepper/tomato-pear-basil-soup spiked with red chillies and garlic...


Permalink: The_Pear_Wars_.html
Words: 221
Location: Buffalo, NY
Last Modified: 09/04/11 08:26
Category: eating in
09/04/11 07:25 - ID#55092
Tomatoes!!
I realized that I had far too many tomatoes on my table to make it fungus-free through the week and hit upon a really easy way to use them up.
Free-spirited roasting: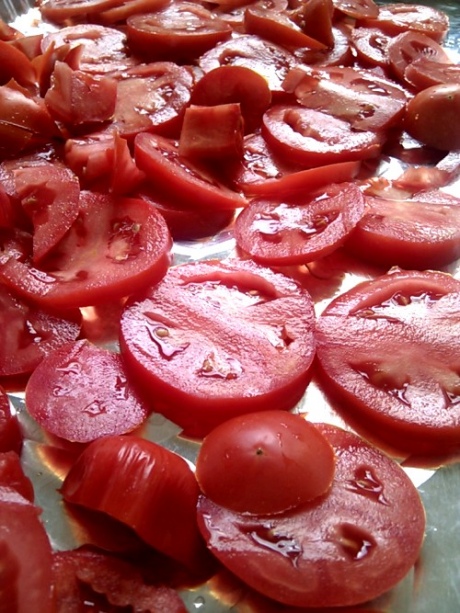 Followed by a rough chop and toss with lentils, garlic, kale, basil, red peppers and buckwheat high fibre spaghetti.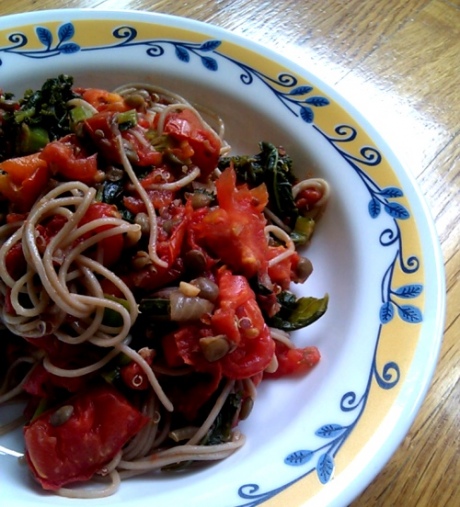 Simply delicious!


Permalink: Tomatoes_.html
Words: 61
Location: Buffalo, NY
Last Modified: 09/04/11 07:35
Category: chemicals
09/04/11 07:11 - ID#55091
Shower soap
Hmm. more chemicals that I don't know about in my shower soap:
Sodium laureth sulfate
Cocamidopropyl Betaine
Polyquarternium-7
Glycol Stearate
Decyl Glucoside
Hydroxypropyl
Methylcellulose
Sodium PCA
tetrasodium edta ( this is a chelating agent, it prevents blood from clotting. I guess it must be preventing clumping here. but what effect does it have on the skin? how potent is this?)
triethanolamine
methylchloroisothiazolinone
methylisothiazolinone
Probably okay
Water (Well of course)
Sodium Chloride (ditto for this)
Butyrospermium Parkii (Shea Butter)
Panthenol (Pro Vitamin B5)
fragrance
citric acid
The list is the scariest because I really have no idea about some of these.


Permalink: Shower_soap.html
Words: 99
Location: Buffalo, NY
Last Modified: 09/04/11 10:42
Category: chemicals
09/04/11 06:55 - ID#55090
Palmolive dish washing liquid
The label is not on the bottle of dishwashing fluid so I had to look this one up on the Colgate website

:
Water: Consistency
Ammonium C12-15 Pareth Sulfate: Cleaning and Foaming Agent
SD Alcohol 3-A: Controls Thickness and Clarity
Lauramidopropylamine Oxide: Cleaning and Foaming Agent
Sodium Chloride: Controls Thickness (okay, this is salt)
Magnesium Sulfate: Controls Thickness
Fragrance: Pleasant Scent
Poloxamer 124: Controls Thickness
Pentasodium Pentatate: Maintains Product Stability
Preservative: Maintains Product Freshness
Sodium Bisulfite: Maintains Product Stability
Dyes: Color - yeah, what exactly?
I don't know about many of these chemicals. Their descriptions seem tame enough but who knows what lies beneath. I am somewhat rushed for time to verify each thing on that list. So there it is. I am exposed on a daily basis to these and I actually like washing dishes.


Permalink: Palmolive_dish_washing_liquid.html
Words: 145
Location: Buffalo, NY
Last Modified: 09/04/11 10:42
Category: chemicals
09/04/11 01:09 - ID#55088
Italian Raisin Bread
Italian Raisin Bread baked in a brick oven. Distributed by Mastroianni Brothers Bakery Incorporated (518) 355-5310
51 Opus Blvd, Schenectady, NY 12306

Good grief. I am merrily eating this while it has been banned in Sri Lanka and China and has escaped a ban here because of a bureaucratic regulation loophole.
In the United States, it has not been banned. The FDA sanctioned the use of bromate before the Delaney clause of the Food, Drug, and Cosmetic Act—which bans potentially carcinogenic substances— went into effect in 1958, so it is more difficult for it to now be banned. Instead, since 1991 the FDA has urged bakers to voluntarily stop using it. In California a warning label is required when bromated flour is used.

I am on the last slice. It's delicious but I am placing a personal kitchen ban effective from the next minute. And I just wrote to the store to consider discontinuing this bread.


Permalink: Italian_Raisin_Bread.html
Words: 163
Location: Buffalo, NY
Last Modified: 09/04/11 10:42
Category: chemicals
09/04/11 11:34 - ID#55085
The product label project.
I have wanted to do this for the longest time. It's completely boring to anyone except me but I want to maintain a running list of every single chemical I apply on my skin or eat that I don't know about. It's fascinating how much chemicals dominate our lives.
I pretend that I am avoiding a ton of it by religiously reading labels to everything I consider buying. But I do end up getting stuff to eat or cosmetics that have unknown compounds in them. I don't know what the roles of these chemicals are or what they are capable of messing up in my body. I place my blind trust in the fact that they can't be excessively harmful because *someone out there* is definitely regulating them.
Fact is, there is very little regulation. Products that proudly proclaim that they are not been tested on animals actually scare me. I get all the arguments of PETA and animal rights activists and their gory pictures of animal suffering are shocking. But let's face it. At some point, we need to draw the line at just how much we want to compromise safety and health for humans in favour of "humane treatment of animals". Scientific research has primarily reached its current status because we could use animals to test our experiments.
We cannot emulate the living system otherwise. We cannot foresee the consequences of chemicals on living systems if we have never tested them on any. You cannot persuade me that reactions that you have seen on cell cultures come close to what happens in real life. My cynicism stems from first hand experience of the limitations of non-living systems for experimentation. It seems so paradoxical to me that we have such complicated and expensive clinical trials for drugs consumed by a minority sick population and yet NO regulation or trials for products that a vast majority of the general population uses and consumes daily and all the time. Prevention is definitely nowhere in the agenda here.
Another alternative is of course to use just edible and known natural substances in everything. While this is a logical and perfect alternative to the dilemmas of animal testing, it is also sometimes not very practical in today's world where products are global rather than local in their distribution and audience.
Anyway, I just ate some hummus:
It had "less than 0.5% of":
Sorbic Acid
Sodium Benzoate
Phosphoric Acid
Preservatives. But why can't salt and olive oil suffice? Maybe I need to just make my own Hummus from
(e:libertad)
's awesome (secret?) recipe.


Permalink: The_product_label_project_.html
Words: 428
Location: Buffalo, NY
Last Modified: 09/04/11 10:42
Category: linux
09/03/11 10:52 - ID#55079
rcconf - Debian runlevel Configuration
With a thing called rcconf, I can see these are the things running on startup of my system

│ [*] alsa-utils
│ [*] anacron
│ [*] aumix
│ [*] bluetooth
│ [*] bootlogs
│ [*] console-setup
│ [*] cron
│ [*] dbus
│ [*] fancontrol
│ [*] fuse
│ [*] hal
│ [*] hddtemp
│ [*] hdparm
│ [*] kbd
│ [*] keyboard-setup
│ [*] live-boot
│ [*] live-config
│ [*] lm-sensors
│ [*] module-init-tools
│ [*] network-manager
│ [*] openvpn
│ [*] plymouth
│ [*] pppd-dns
│ [*] procps
│ [*] rsync
│ [*] rsyslog
│ [*] sudo
│ [*] udev
│ [*] x11-common

I guess I can disable the ones in blue.. How about the others? What are these things anyway?!



Permalink: rcconf_Debian_runlevel_Configuration.html
Words: 66
Location: Buffalo, NY
Last Modified: 09/04/11 11:45
Category: linux
09/03/11 10:07 - ID#55076
All packages on my Crunchbang
Since I am estripping my Crunchbang this time, why not just post EVERYTHING on my system thus far... It's quite an interesting list. :) The ones installed on Feb 7 came with the system and the ones in the last 2 days are my doing (along with the ones that got installed with the dist-upgrade command).
Run:
ls /var/lib/dpkg/info/*.list -lh >packagelist.txt
to get this:
Vanilla Crunchbang
abiword-common
abiword-plugin-grammar
abiword-plugin-mathview
abiword
adduser
adobe-flashplugin
alsa-base
alsa-utils
anacron
apt-xapian-index
aptitude
arj
aspell-en
aspell
aumix-common
aumix
b43-fwcutter
base-passwd
bash-completion
bash
bc
binutils
bluez
bsdmainutils
bsdutils
build-essential
busybox
bzip2
cabextract
catfish
console-common
console-data
console-terminus
consolekit
coreutils
cowsay
cpio
cpp-4.4
cpp
cron
crunchbang-bin-scripts
crunchbang-extra-themes
crunchbang-wallpapers
dash
debconf-i18n
debconf
debian-archive-keyring
debianutils
defoma
desktop-file-utils
dictionaries-common
diffutils
dmidecode
dmsetup
dmz-cursor-theme
dnsmasq-base
docbook-xml
dosfstools
dwm-tools
eject
elementary-icon-theme
esound-clients
esound-common
evince-common
evince
exiv2
exo-utils
fakeroot
fancontrol
fbxkb
figlet
file-roller
file
findutils
firmware-b43-installer
firmware-b43legacy-installer
firmware-linux-nonfree
firmware-linux
fontconfig-config
fontconfig
fortune-mod
ftp
fuse-utils
g++-4.4
g++
gamin
gawk
gcalctool
gcc-4.4-base
gcc-4.4
gcc
gconf2-common
gconf2
gdebi-core
gdebi
gedit-plugins
gettext-base
ghostscript
giblib1
gimp-data
gimp-gmic
gimp-plugin-registry
gimp
gksu
gnome-bluetooth
gnome-doc-utils
gnome-icon-theme
gnome-keyring
gnome-mime-data
gnome-user-guide
gnumeric-common
gnumeric
gnupg
gparted
gpgv
grep
groff-base
gsfonts
gsimplecal
gstreamer0.10-alsa
gstreamer0.10-plugins-base
gtk2-engines-murrine
gtk2-engines-pixbuf
gtk2-engines-xfce
gtk2-engines
gtrayicon
gvfs-backends
gvfs
gzip
hal-info
hal
hddtemp
hdparm
hicolor-icon-theme
hostname
human-icon-theme
hunspell-en-us
ifupdown
imagemagick
info
initramfs-tools
initscripts
insserv
install-info
inxi
iproute
iptables
iputils-ping
iso-codes
jfsutils
kbd
lame
less
lha
liba52-0.7.4
libaa1
libabiword-2.8
libacl1
libaiksaurus-1.2-0c2a
libaiksaurus-1.2-data
libaiksaurusgtk-1.2-0c2a
libalgorithm-diff-perl
libalgorithm-diff-xs-perl
libalgorithm-merge-perl
libarchive1
libart-2.0-2
libasound2
libaspell15
libass4
libasyncns0
libatasmart4
libatk1.0-0
libatk1.0-data
libattr1
libaudio2
libaudiofile0
libaudit0
libavc1394-0
libavcodec52
libavformat52
libavutil49
libbabl-0.0-0
libblas3gf
libblkid1
libbluetooth3
libbonobo2-0
libbonobo2-common
libbonoboui2-0
libbonoboui2-common
libboost-iostreams1.42.0
libbsd0
libbz2-1.0
libc-bin
libc-dev-bin
libc6-dev
libc6
libcaca0
libcairo-perl
libcairomm-1.0-1
libcap-ng0
libcap2
libcddb2
libcdio-cdda0
libcdio-paranoia0
libcdio10
libcdparanoia0
libcdt4
libck-connector0
libcolamd2.7.1
libcroco3
libcups2
libcupsimage2
libcwidget3
libdatrie1
libdb4.7
libdb4.8
libdbus-glib-1-2
libdc1394-22
libdca0
libdevmapper1.02.1
libdirac-encoder0
libdirectfb-1.2-9
libdjvulibre-text
libdjvulibre21
libdrm-intel1
libdrm-nouveau1
libdrm-radeon1
libdrm2
libdvbpsi6
libdvdcss2
libdvdnav4
libdvdread4
libebml0
libedit2
libeggdbus-1-0
libelf1
libenca0
libenchant1c2a
libept1
libesd0
libevent-1.4-2
libevince2
libexif12
libexiv2-9
libexo-0.3-0
libexo-common
libexpat1
libfaad2
libffi5
libfftw3-3
libflac8
libfont-afm-perl
libfont-freetype-perl
libfontconfig1
libfontenc1
libfribidi0
libfs6
libfuse2
libgail18
libgamin0
libgcc1
libgconf2-4
libgcr0
libgcrypt11
libgd2-noxpm
libgdbm3
libgdome2-0
libgdome2-cpp-smart0c2a
libgdu0
libgegl-0.0-0
libgfortran3
libgif4
libgimp2.0
libgksu2-0
libgl1-mesa-dri
libgl1-mesa-glx
libglade2-0
libglew1.5
libglib-perl
libglib2.0-0
libglib2.0-data
libglibmm-2.4-1c2a
libglu1-mesa
libgmp3c2
libgnome-bluetooth7
libgnome-keyring0
libgnome2-0
libgnome2-canvas-perl
libgnome2-common
libgnome2-perl
libgnome2-vfs-perl
libgnomecanvas2-0
libgnomecanvas2-common
libgnomeui-0
libgnomeui-common
libgnomevfs2-0
libgnomevfs2-common
libgnomevfs2-extra
libgnutls26
libgoffice-0.8-8-common
libgoffice-0.8-8
libgomp1
libgp11-0
libgpg-error0
libgphoto2-2
libgphoto2-port0
libgpm2
libgraph4
libgs8
libgsf-1-114
libgsf-1-common
libgsm1
libgstreamer-plugins-base0.10-0
libgstreamer0.10-0
libgtk2-perl
libgtk2.0-0
libgtk2.0-bin
libgtk2.0-common
libgtkglext1
libgtkmathview0c2a
libgtkmm-2.4-1c2a
libgtksourceview2.0-0
libgtksourceview2.0-common
libgtop2-7
libgtop2-common
libgucharmap7
libgudev-1.0-0
libgvc5
libhal-storage1
libhal1
libhtml-format-perl
libhtml-parser-perl
libhtml-tagset-perl
libhtml-tree-perl
libhunspell-1.2-0
libice6
libicu44
libid3tag0
libidl0
libidn11
libilmbase6
libimlib2
libimobiledevice1
libiso9660-7
libisofs6
libiw30
libjasper1
libjbig2dec0
libjpeg-progs
libjpeg62
libjpeg8
libkate1
libkeybinder0
libkeyutils1
libkpathsea5
liblapack3gf
liblcms1
liblink-grammar4
liblircclient0
liblocale-gettext-perl
libloudmouth1-0
liblqr-1-0
libltdl7
liblua5.1-0
liblzma2
liblzo2-2
libmad0
libmagic1
libmagickcore3-extra
libmagickcore3
libmagickwand3
libmailtools-perl
libmatroska0
libmng1
libmpcdec6
libmpeg2-4
libmpfr4
libmtp8
libmysqlclient16
libncurses5
libncursesw5
libnetpbm10
libnewt0.52
libnfnetlink0
libnl1
libnotify1
libnspr4-0d
libntfs-3g75
libntfs10
libogg0
libopenexr6
libopenjpeg2
libopenobex1
libopenraw1
liborbit2
liborc-0.4-0
libots0
libpam-ck-connector
libpam-gnome-keyring
libpam-modules
libpam-runtime
libpam0g
libpango-perl
libpangomm-1.4-1
libpaper-utils
libpaper1
libparted0debian1
libpathplan4
libpcap0.8
libpci3
libpciaccess0
libpcre3
libpcsclite1
libpixman-1-0
libpkcs11-helper1
libplist1
libpolkit-agent-1-0
libpolkit-backend-1-0
libpolkit-gobject-1-0
libpoppler-glib4
libpoppler5
libpopt0
libpostproc51
libproxy0
libpython2.6
librarian0
libraw1394-11
libreadline5
libreadline6
librecode0
librpm1
librpmio1
librsvg2-2
librsvg2-common
libsasl2-2
libsasl2-modules
libschroedinger-1.0-0
libsdl-image1.2
libsdl1.2debian-alsa
libsdl1.2debian
libselinux1
libsensors4
libsepol1
libsexy2
libsgutils2-2
libshout3
libsigc++-2.0-0c2a
libslang2
libsm6
libsoup-gnome2.4-1
libsoup2.4-1
libspectre1
libspeex1
libsqlite3-0
libssh2-1
libstartup-notification0
libstdc++6-4.4-dev
libstdc++6
libsvga1
libswscale0
libsysfs2
libt1-5
libtag1-vanilla
libtag1c2a
libtagc0
libtalloc2
libtar
libtasn1-3
libtext-charwidth-perl
libtext-iconv-perl
libtext-wrapi18n-perl
libthai-data
libthai0
libtheora0
libthunar-vfs-1-2
libtimedate-perl
libts-0.0-0
libtwolame0
libudev0
libunique-1.0-0
libupnp3
liburi-perl
libusb-0.1-4
libusb-1.0-0
libusbmuxd1
libuuid-perl
libuuid1
libv4l-0
libvcdinfo0
libvisual-0.4-0
libvisual-0.4-plugins
libvorbis0a
libvorbisenc2
libvpx0
libvte-common
libvte9
libwmf0.2-7
libwnck-common
libwnck22
libwpd8c2a
libwpg-0.1-1
libwps-0.1-1
libwrap0
libwv-1.2-3
libwww-perl
libx11-6
libx11-data
libx11-xcb1
libx86-1
libxapian22
libxau6
libxaw7
libxcb-atom1
libxcb-aux0
libxcb-dri2-0
libxcb-event1
libxcb-keysyms1
libxcb-randr0
libxcb-render-util0
libxcb-render0
libxcb-shm0
libxcb-xv0
libxcb1
libxcomposite1
libxcursor1
libxdamage1
libxdmcp6
libxdot4
libxext6
libxfce4menu-0.1-0
libxfce4util-bin
libxfce4util-common
libxfce4util4
libxfcegui4-4
libxfconf-0-2
libxfixes3
libxft2
libxi6
libxinerama1
libxkbfile1
libxklavier16
libxml-parser-perl
libxmu6
libxmuu1
libxpm4
libxrandr2
libxrender1
libxres1
libxslt1.1
libxss1
libxt6
libxtst6
libxv1
libxvmc1
libxxf86dga1
libxxf86vm1
link-grammar-dictionaries-en
linux-image-2.6-amd64
linux-sound-base
liquorix-archive-keyring
liquorix-keyring
liquorix-keyrings
lm-sensors
locales
logrotate
lp-solve
lsb-base
lsb-release
lsof
lzop
make
man-db
manpages-dev
manpages
mawk
menu
mesa-utils
mime-support
miscfiles
mobile-broadband-provider-info
modemmanager
module-init-tools
mount
mtools
mysql-common
nano
ncurses-base
ncurses-bin
net-tools
netbase
netcat-traditional
netpbm
network-manager-gnome
network-manager-openvpn-gnome
network-manager-openvpn
network-manager-pptp-gnome
network-manager-pptp
network-manager-vpnc-gnome
network-manager-vpnc
notify-osd
ntfs-3g
ntfsprogs
obex-data-server
obexd-client
openssh-blacklist-extra
openssh-blacklist
openssh-client
openssl-blacklist
openvpn-blacklist
openvpn
orage
os-prober
oss-compat
p7zip-full
patch
pciutils
plymouth-themes-all
plymouth-themes-fade-in
plymouth-themes-glow
plymouth-themes-script
plymouth-themes-solar
plymouth-themes-spinfinity
plymouth
pm-utils
policykit-1-gnome
policykit-1
poppler-utils
powermgmt-base
ppp
pptp-linux
procps
psmisc
python-cairo
python-central
python-chardet
python-dbus
python-debian
python-gconf
python-glade2
python-gnome2
python-gnupginterface
python-gobject
python-gtk2
python-gtksourceview2
python-keybinder
python-notify
python-numpy
python-pyorbit
python-software-properties
python-support
python-vte
python-xapian
python-xdg
python2.6-minimal
python2.6
radeontool
rarian-compat
readline-common
reiser4progs
reiserfsprogs
rpl
rpm-common
rpm2cpio
rsync
rsyslog
rzip
screen
scrot
sed
sensible-utils
sgml-base
sgml-data
shared-mime-info
software-properties-gtk
sshfs
statler-theme
suckless-tools
synaptic
sysv-rc
sysvinit-utils
sysvinit
tangerine-icon-theme
tango-icon-theme
tar
tasksel-data
tasksel
tcl8.4
tcpd
terminator
thunar-archive-plugin
thunar-data
thunar-dropbox
thunar-media-tags-plugin
thunar-thumbnailers
thunar-volman
thunar
tint2
tint2conf
traceroute
transmission-common
transmission-gtk
tsconf
ttf-dejavu-core
ttf-dejavu-extra
ttf-dejavu
ttf-freefont
ttf-lyx
ttf-mscorefonts-installer
ucf
udev
udisks
ufraw-batch
unace
unalz
unattended-upgrades
unrar
unzip
usb-modeswitch
usbmuxd
usbutils
user-setup
util-linux
uuid-runtime
vbetool
viewnior
vim-common
vim-tiny
volumeicon
vpnc
w64codecs
wget
whiptail
whois
wireless-tools
wpasupplicant
x-ttcidfont-conf
x11-apps
x11-common
x11-session-utils
x11-utils
x11-xfs-utils
x11-xkb-utils
xauth
xbase-clients
xchat-common
xchat
xdg-user-dirs
xdg-utils
xfburn
xfce-keyboard-shortcuts
xfce4-appfinder
xfce4-mixer
xfce4-panel
xfce4-power-manager-data
xfce4-power-manager
xfce4-screenshooter
xfce4-session
xfce4-settings
xfce4-terminal
xfce4-utils
xfce4-volumed
xfce4
xfconf
xfdesktop4-data
xfdesktop4
xfonts-100dpi
xfonts-75dpi
xfonts-base
xfonts-encodings
xfonts-scalable
xfonts-utils
xfsprogs
xfwm4-themes
xfwm4
xinit
xinput
xkb-data
xli
xml-core
xorg-docs-core
xorg
xscreensaver-data
xscreensaver
xserver-xorg-input-all
xserver-xorg-input-evdev
xserver-xorg-input-synaptics
xserver-xorg-input-wacom
xserver-xorg-video-all
xserver-xorg-video-apm
xserver-xorg-video-ark
xserver-xorg-video-ati
xserver-xorg-video-chips
xserver-xorg-video-cirrus
xserver-xorg-video-fbdev
xserver-xorg-video-i128
xserver-xorg-video-mach64
xserver-xorg-video-mga
xserver-xorg-video-neomagic
xserver-xorg-video-nouveau
xserver-xorg-video-nv
xserver-xorg-video-openchrome
xserver-xorg-video-r128
xserver-xorg-video-radeon
xserver-xorg-video-rendition
xserver-xorg-video-s3
xserver-xorg-video-s3virge
xserver-xorg-video-savage
xserver-xorg-video-siliconmotion
xserver-xorg-video-sis
xserver-xorg-video-sisusb
xserver-xorg-video-tdfx
xserver-xorg-video-trident
xserver-xorg-video-vesa
xserver-xorg-video-vmware
xserver-xorg-video-voodoo
xserver-xorg
xsltproc
xz-utils
yelp
zenity
zip
zlib1g
zoo
My additions
google-chrome-beta
base-files
dpkg
e2fslibs
e2fsprogs
grub-common
grub-pc
libfreetype6
libperl5.10
login
perl-modules
perl
apt-utils
apt
ca-certificates
console-setup
dbus-x11
dbus
isc-dhcp-client
isc-dhcp-common
keyboard-configuration
libcomerr2
libdbus-1-3
libgssapi-krb5-2
libk5crypto3
libkrb5-3
libkrb5support0
libldap-2.4-2
libss2
libssl0.9.8
libxml2
linux-base
linux-image-2.6.32-5-amd64
openssl
passwd
perl-base
python-apt-common
python-apt
python-minimal
python
tzdata
desktop-base
dpkg-dev
firmware-linux-free
gedit-common
gedit
klibc-utils
libavahi-client3
libavahi-common-data
libavahi-common3
libavahi-glib1
libburn4
libcairo2
libcurl3-gnutls
libcurl3
libdpkg-perl
libklibc
libmodplug1
libnautilus-extension1
libnm-glib-vpn1
libnm-glib2
libnm-util1
libnss3-1d
libpango1.0-0
libpango1.0-common
libpng12-0
libpulse0
libqt4-dbus
libqt4-designer
libqt4-network
libqt4-qt3support
libqt4-script
libqt4-sql-mysql
libqt4-sql
libqt4-xml
libqtcore4
libqtgui4
libsmbclient
libsndfile1
libtiff-tools
libtiff4
libvlc5
libvlccore4
libwbclient0
libwebkit-1.0-2
libwebkit-1.0-common
libxfont1
libxml2-utils
linux-libc-dev
live-boot-initramfs-tools
live-boot
live-config-sysvinit
live-config
qt4-qtconfig
vlc-data
live-initramfs
network-manager
python-libxml2
sudo
ttf-liberation
usb-modeswitch-data
vlc-nox
vlc-plugin-notify
vlc-plugin-pulse
vlc
x11-xserver-utils
xserver-common
xserver-xorg-core
xserver-xorg-video-intel
xserver-xorg-video-tseng
cl-asdf
clisp
common-lisp-controller
ed
feynmf
lacheck
latex-beamer
latex-xcolor
libffcall1
libmagick++3
libplot2c2
libpstoedit0c2a
libsigsegv0
lmodern
luatex
pgf
prosper
ps2eps
pstoedit
purifyeps
realpath
tex-common
texlive-base
texlive-binaries
texlive-common
texlive-doc-base
texlive-extra-utils
texlive-font-utils
texlive-fonts-recommended-doc
texlive-fonts-recommended
texlive-generic-recommended
texlive-latex-base-doc
texlive-latex-base
texlive-latex-recommended-doc
texlive-latex-recommended
texlive-luatex
texlive-metapost-doc
texlive-metapost
texlive-pstricks-doc
texlive-pstricks
texlive
tipa
xindy-rules
xindy
autopoint
autotools-dev
cdbs
debhelper
dpatch
gettext
gfortran-4.4
gfortran
git
html2text
intltool-debian
libblas-dev
libbz2-dev
liberror-perl
libjpeg62-dev
liblapack-dev
libmail-sendmail-perl
libncurses5-dev
libpcre3-dev
libpcrecpp0
libpng12-dev
libreadline-dev
libreadline6-dev
libsys-hostname-long-perl
libunistring0
patchutils
po-debconf
r-base-core
r-base-dev
r-base-html
r-base
r-cran-boot
r-cran-class
r-cran-cluster
r-cran-codetools
r-cran-foreign
r-cran-kernsmooth
r-cran-lattice
r-cran-mass
r-cran-matrix
r-cran-mgcv
r-cran-nlme
r-cran-nnet
r-cran-rpart
r-cran-spatial
r-cran-survival
r-doc-html
r-recommended
tcl8.5
tk8.5
zlib1g-dev
rstudio
libapr1
libaprutil1
libneon27-gnutls
libserf-0-0
libsvn1
subversion
mendeleydesktop
network-manager-openconnect
openconnect
cpp-4.3
gcc-4.3-base
gcc-4.3
linux-headers-2.6.32-5-amd64
linux-headers-2.6.32-5-common
linux-kbuild-2.6.32
e4rat
libc6-i386
ia32-libs
lib32asound2
lib32bz2-1.0
lib32gcc1
lib32ncurses5
lib32stdc++6
lib32v4l-0
lib32z1
libwine-unstable
libwine-bin-unstable
wine-bin-unstable
libwine-gl-unstable
libwine-oss-unstable
libwine-print-unstable
libwine-sane-unstable
libwine-cms-unstable
libwine-gphoto2-unstable
libwine-ldap-unstable
libwine-openal-unstable
wine-unstable


Permalink: All_packages_on_my_Crunchbang.html
Words: 1403
Location: Buffalo, NY
Last Modified: 09/03/11 10:19
Category: linux
09/03/11 09:48 - ID#55075
Wine + PDFXchange on Crunchbang
I tried some alternatives but they all appallingly bad
(e:tinypliny,55072)
. So I am back to Wine + PDFXchange in my new crunchbang install. Running notes from the install:
The Wine for amd64 machines come from the dev.carbon-project.org repository as recommended by WineHQ for 64 bit systems:

The libraries that are essential to the wine install are:
lib32asound2
lib32bz2-1.0
lib32gcc1
lib32ncurses5
lib32stdc++6
lib32v4l-0
lib32z1
libc6-i386
libwine-bin-unstable
libwine-cms-unstable
libwine-gl-unstable
libwine-gphoto2-unstable
libwine-ldap-unstable
libwine-openal-unstable
libwine-oss-unstable
libwine-print-unstable
libwine-sane-unstable
libwine-unstable
wine-bin-unstable
wine-unstable
In that particular order. I discovered this nifty command that can tell you the exact date and time of the all the packages installed on your system.
ls /var/lib/dpkg/info/*.list -lh
Pipe it to a list on your home directory
ls /var/lib/dpkg/info/*.list -lh >packagelist.txt
Using gnumeric, I sorted the list by date and time and et voila, I have a neat list of what was installed as a part of what and in what order.
The next step is of course installing PDF Xchange Reader from the PDF Xchange website


Permalink: Wine_PDFXchange_on_Crunchbang.html
Words: 194
Location: Buffalo, NY
Last Modified: 09/03/11 09:54
<-- Earlier Entries
Author Info
Category Cloud
More Entries
My Fav Posts
This user has zero favorite blogs selected ;(