06/14/10 12:21 - 69.ºF - ID#51885
I love dinners in the summer
So Friday I finally got out the porch furniture and we decided to have dinner outside since the weather was so nice.
Steak, corn, left over cornbread and chop salad with a blue cheese dressing made from a Greek yogurt base.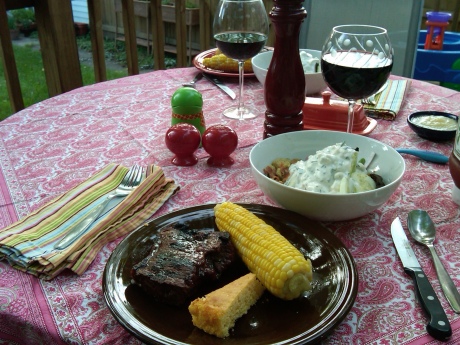 Last night we made a dish I found in a Men's Health magazine. I can post the recipe if anyone wants it. Off the top of my head it was seared scallops over white beans, spinach, onion and bacon. I think the dish had something like 300 calories per serving (2 servings in the pic) but with super low fat and a ton of protein.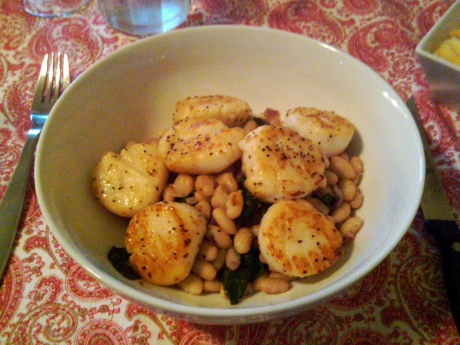 I was always so scared to cook scallops at home but they are very easy and tastes great.


Permalink: I_love_dinners_in_the_summer.html
Words: 126
Location: Amherst, NY
Last Modified: 06/14/10 12:21
01/10/10 12:13 - 5ºF - ID#50786
Everything old is new again
Yesterday I dropped my work MacBook Pro off at the Apple store. My Apple Care is up in the beginning of February and I wanted to get 2 things looked at. It's hard to believe I will have had this thing for 3 years!

First, my battery said service soon. This is my second battery and the first one was not covered under warranty. I felt like they owed me a free one.

Second, my screen was getting some black blotches on it from what I thought was dirt and grime from the keyboard. Others have posted on the Apple forums that they were replaced under warranty. They not only replaced the screen but installed a glossy one.

I ordered the mate finish last time because I thought the florescent lights at work would cause a glare. I have found that to be false as more of my coworkers have glossy. Things look a bit washed out to me at the moment. Perhaps my other screen began to grow dim over time.



Permalink: Everything_old_is_new_again.html
Words: 170
Location: Amherst, NY
11/30/09 05:01 - 37ºF - ID#50417

work funk
I have been in a work funk lately. I have been on a committee that has been consuming most of my time working with topics I am not even interested in. The past few months have not been all that great and I feel like it is starting to affect my personal life. I have not had a lot of motivation and I dread coming into work sometimes. Maybe it's time to shake things up a little.



Permalink: work_funk.html
Words: 77
Location: Amherst, NY
11/12/09 10:47 - 36ºF - ID#50290
Google really is great
I know some think that Google is evil. However, I would be more then happy to run whatever Google has to offer. I have nothing to hide. Google Voice is a good product that I am slowing easing into. Mail has been default since I was able to get an invite etc. etc. I also love Picasa very much for managing my pictures. I even prefer it over iPhoto. This year I purchased the extra online storage $20 for 10 GB which would allow me to post more pictures online for friends and family to see. Today I got this in my inbox:
[box]
We wanted to let you know about some exciting changes to your Google paid storage plan. While storage costs have dropped naturally in the past few years, we've also been working hard to improve our infrastructure to reduce your costs even further. On Tuesday, November 10th, we increased the size of each of our tiers to make storage even more affordable and accessible. For the same $20.00 per year, you'll now get 80 GB, 8 times as much storage as before. Your current plan will be automatically upgraded and your new quota will automatically show up in your account in the next 24 hours.

We hope you'll like the extra space, but if it's more than you need you can always change your storage plan or renewal preferences for next year in your Google account settings: www.google.com/accounts/purchasestorage. Feel free to visit our Help Center for more information.[/box]


Who does this???? Google!



Permalink: Google_really_is_great.html
Words: 254
Location: Amherst, NY
09/27/09 08:54 - 57ºF - ID#49864
Sad scene on the 90 Eastbound
Last night my wife and I were driving to Batavia for a birthday party when we ran into stopped traffic. There was not a concert at Darien Lake so I knew it had to be an accident. Sure enough we were about to pass the scene and we saw it was a motorcycle. The cycle was underneath the guard rail and my first reaction was this is not good. About 20 feet from the cycle was what looked to be a body wrapped up in whatever they had available. I did not get a great look at it but it was the right shape and size. It was a little horrifying to say the least. I was a little concerned that they did not pull a car up next to it or they do not carry those privacy tents. I saw them on a UK site one time. The police on the scene would just pop up the tent and that way rubber necking would be minimal. I am not sure of protocol in a situation like that. Perhaps they could not move the body before the coroner arrived. Maybe they needed to do further investigation at the scene.

I felt a rush of sadness from when I was younger having gone through something similar with my brother. He died in a car accident on a normal night without any warning. Just knowing that someone was going to get a phone call. Someone was going through their normal day to day and boom it changed in an instant. I feel sorry for them.



Permalink: Sad_scene_on_the_90_Eastbound.html
Words: 262
Location: Amherst, NY
09/07/09 09:08 - 64ºF - ID#49712
Wedding Season '09 in the bag
We went to our last wedding of the summer. They are fun however we usually have so many each year. This year I think we only had four totaly but that is enough for me.

Now I can focus on doing some things around the house on the weekend. I have come to the realization I need to keep the house in shape enough to sell. If I keep to that mind set then I think I will get more done.



Permalink: Wedding_Season_09_in_the_bag.html
Words: 81
Location: Amherst, NY
06/29/09 04:31 - 76ºF - ID#49124
The Walkman was the iPod of its day
I guess I never thought about it but it's true. I found this article posted to Engadget today.

The article has some advanced viewpoints for a 14 year old. Here are some of the highlights:
--When I wore it walking down the street or going into shops, I got strange looks, a mixture of surprise and curiosity, that made me a little embarrassed.
--It took me three days to figure out that there was another side to the tape. That was not the only naive mistake that I made; I mistook the metal/normal switch on the Walkman for a genre-specific equaliser, but later I discovered that it was in fact used to switch between two different types of cassette.
--I managed to create an impromptu shuffle feature simply by holding down "rewind" and releasing it randomly - effective, if a little laboured.
--When playing, it is clearly evident that the music sounds significantly different than when played on an MP3 player, mainly because of the hissy backtrack and odd warbly noises on the Walkman.


Permalink: The_Walkman_was_the_iPod_of_its_day.html
Words: 184
Location: Amherst, NY
04/26/09 09:43 - 58ºF - ID#48514
I love Fios
I know not everyone can get this and I am not trying to make you jealous. This really is the best thing since....well probably high speed internet :)



Permalink: I_love_Fios.html
Words: 30
Location: Amherst, NY
03/04/09 11:06 - 21ºF - ID#47951

My good deed for today
Last night we had a minor fire on our street. It was interesting to watch but a little scary as well.

So today I tell you all to check your dryer vents. It just might prevent a fire.



Permalink: My_good_deed_for_today.html
Words: 38
Location: Amherst, NY
01/06/09 12:04 - 24ºF - ID#47305
Today is a good day...
I know this is very geeky but today my hopes have been answered. I have been a huge Picasa fan for years now. What is Picasa you ask? It is a picture management application developed by Google. It does everything I want it to and more. Since switching to OS X I was very disappointed in iPhoto. Not because of features but because of the folder structure. iPhoto makes many copies and thumbnails of the same image where Picasa leaves the folder structure in place. That means you can have a folder called NewYears 2009 and it does not touch it. It makes backing up and organizing so much easier. So today Google announced in Beta....Picasa for OS X.

Get it!!


Permalink: Today_is_a_good_day_.html
Words: 126
Location: Amherst, NY
<-- Earlier Entries
Author Info
Date Cloud
Category Cloud
User must have at least 3 blogs in one category for categories list to show.
My Fav Posts
This user has zero favorite blogs selected ;(