05/14/10 12:16 - 59ºF - ID#51554
answering tinypliny's food survey
Interesting to think about. I'm sort of unhappy with my diet right now-- not the foods in it, per se, but my eating situation as a whole, really. I have coworkers who really like to eat together, and I like eating with them, but that often means waiting until well after I want to eat (I get very stupid when not fed-- I don't deal well with missing a meal, which has always made me feel like a wuss and like I deserve to be fat, but I'm working on not letting my body's mechanisms be such an issue, you know? I gotta eat, so what?) and it also means eating what they get, which is Mighty Taco or pizza or something, usually. I actually started Cold Cut Fridays, where I go to Tops and buy a loaf of bread and sandwich fixins for everyone, because it's cheaper and less gross than tacos again, or burgers again, or pizza the third time this week, or takeout Chinese. I like junk food, it's just my whole life it's been a special once-in-a-great-while treat. And it's still like that to
(e:zobar)
, so he gets all excited and says "Ooooh we could get Chinese we haven't had that in like six months!" and I hate to ruin it by saying "Uh I had it today already." Oh.
The other complicating factor is roller derby practice. I've learned the hard way (throwing up in the rink bathroom sucks) that I can't eat much right before. I try not to eat after 5pm on practice nights. Which is three nights a week. That's kind of a lot of my life. But that means I either eat gross junk food at 4:45 and it's my first meal of the day, or I eat leftovers of whatever Z made at 11:30pm and then can't fall asleep.
Anyway, my food consumption is just all fucked-up and I'm not particularly happy but not really sure how to fix it. It's OK, mostly, but my digestion has been unhappy for like a month and I know it's that I'm not getting enough vegetables.
Dairy:
1. How many gallons of milk do you drink per week? What kind?
Ummm... We always buy a gallon, and in weeks where we eat at home normally we go through it in two weeks or so, but, lately, well... The last two cups or so go bad, because we shop so infrequently and eat home so infrequently.
But I was raised on drinking lots and lots and lots of milk-- osteoporosis runs in the family on both sides and my mother has always been afraid of it, so we drank tons of milk. And I love the taste of it. i'll come home and just drink a whole big glass of it instead of eating a snack if I'm hungry.
And oh, whole. Always whole. My whole life whole. Even on a diet, whole. Because if I'm going to drink milk I'm going to drink fucking actual milk, not gross watery shit. I drink plenty of water and that's fine in its place. I have a general horror of low-fat anything-- if you can't have that much fat in your diet (and low-fat diets, like diets as we know them of almost any kind, are pretty much bullshit anyway) then don't fucking eat/drink it, don't have a shitty alternative to it and have twice as much of it and oh you just had the same amount of fat as if you'd just eaten the fucking thing you really wanted in the first place! I am sorry, this makes me say the F-word a lot.
2. How frequently do you eat any kind of cheese in a week?
A damn lot. Probably five to twelve times a week. The thing is, cheese is a relatively inexpensive way to achieve caloric density, so a lot of my inherited recipes call for it. Also it is really tasty. You can't fuck with that.
Mostly cheddar, lots of feta if I can afford it, fancy cheeses to just eat straight up if I am very rich. I love cheese and it loves me. I know it gives some people gas, but not me.
3. How much half/half or creamer do you drink in a week?
A half of a half of a pint? Not sure. We used to go through a quart of it every two weeks or so, in coffee and recipes, but not anymore, so i'm not sure.
Staples:
4. How much rice do you consume in a week?
Uh.... probably a cup, cup and a half, depending.
5. How many loaves of bread do you eat in a week?
Half of one? If I bring lunch a lot. Z mostly eats up all the bread because he loves sandwiches more than I do. back when I worked part-time I made bread all the time and ate a lot of it, but I don't have time for yeast bread anymore-- you need a day off for that, and I don't have days off.
6. How many times do you eat any pasta in a week?
A million. OK, really probably four or five. It's our go-to staple. If a meal requires additional bulk it will come in the form of pasta, if it is not rice or potatoes.
Um, potatoes are not on this survey. Lose!!! They are the default staple in parts of the world. Such as poor rural upstate New York. My mother was a fantastic meal planner, and we were quite poor; she bought everything in bulk, and every dinner consisted of four major components: meat, starch, and two vegetables. The starch was invariably pasta, rice, or potatoes, very occasionally something wheat-based like bread, pie crust, or something exotic (couscous, tortillas, pita), each prepared in about seven billion different ways. The meat was almost always ground beef or chicken, because those are the cheapest available in a poorly-stocked grocery store. (Sometimes pork, when it was on sale, and occasionally roast beef or ham when we had a budget surplus or a major holiday.) The vegetables were often home-grown and home-preserved, because Mom kept a production garden to feed us. And potatoes were definitely about 1/3 to 1/2 of the starch we ate.
We ate really really well. And Mom prided herself on usually spending about $100 a week on six people. She was an amazing planner. (Is, still, but with much different constraints now.)
Meat:
7. How many times a week do you eat meat of any kind (including fish)?
Every day. Usually twice a day. I wish I ate less meat, but if I don't feed Z meat in every meal, he gets hungry again quickly. He's right, if you're used to eating it, a meal without it is fairly insubstantial. Some of my entree recipes require only a small proportional amount of meat, though, and that still seems to satisfy him, so I do that when I can-- because meat is kind of a budget-buster, and also we don't get to shop that often and run out of meat first. I'd rather treat meat as more of a condiment than a staple, but it's hard, and Z doesn't feel the same way.
8. How many times a week do you eat eggs?
On their own, once or twice. As ingredients, three or four times. They're in a lot of my recipes-- quickbreads and cakes and the such. I don't bake nearly as much as I am accustomed to, however. So now a dozen will last a month, depending on what we make.
Eating all this junk food has astonishingly not hurt me all that much though. I'm down under 200 pounds for the first time in a couple of years, and am back down into size 14 pants, which is the small end of my range. I also haven't, knock wood, been sick all year, really. I'm fighting something now, I thought, except it's been the same for a month, so I'm pretty sure it's allergies. Boo.


Permalink: answering_tinypliny_s_food_survey.html
Words: 1334
Location: Buffalo, NY
05/04/10 11:53 - 53ºF - ID#51504
graduated!
I graduated from Physical Therapy!! My shoulder is all better. It hurt a lot more during this last session, but he was kind of kicking my butt a bit, I think to make sure I was really healed. I can do pull-downs of 30+ pounds with no problem, in front of or behind my head. And I can do all kinds of other resist stuff. So it's all right.
He told me my shoulders are "hypermobile". It's unusual that I seem not to be double-jointed anywhere else, though my hips are actually unusually flexible as well, so there's that. A lot of people will have extra flexibility in all their joints-- I actually have a friend who's really messed-up because of this, with problems all over the place. But for me, no, it just means my shoulders slide out of their sockets pretty easily. It's fine as long as they slide out in a direction where my muscles can support them and pull them back in-- there's no pain, because the ligaments and soft tissues and complicated interrelated shit that makes up a shoulder (what a complicated joint, btw) are all perfectly happy to do this. However, if I have it at an angle where they can't, that's where I have the problem.
So I'm going to keep doing the exercises he gave me, to make the muscles and ligaments and what-have-you stronger and tighter, to reduce the angles my arm can be at while it's out of the socket. But anyway. There I am. I'm buff and tough and totally ready for action.
Which is good, because on Saturday I was doing things like this: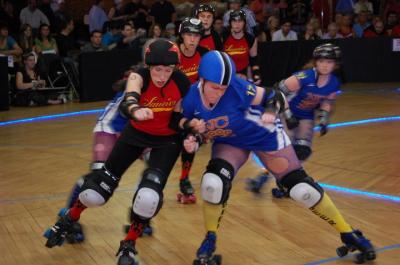 yeah, that's the bad shoulder. Didn't hurt! The only thing that hurt was intro high-fives. Which, the PT pointed out, is my angle of greatest risk. So... I guess that's a training goal, to keep doing those exercises until high-fives don't hurt.


Permalink: graduated_.html
Words: 319
Location: Buffalo, NY
05/04/10 11:16 - 55ºF - ID#51501

Helper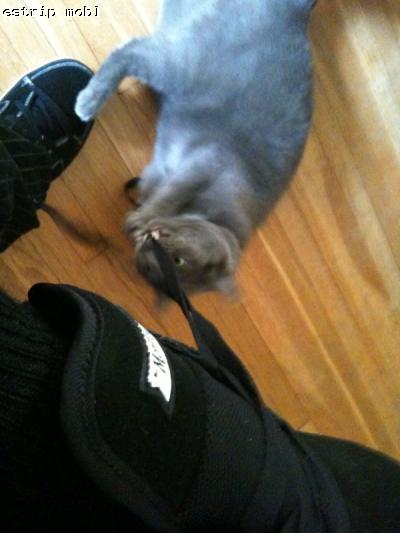 Permalink: Helper.html
Words: 6
Location: Buffalo, NY
<-- Earlier Entries
Author Info
Date Cloud
Category Cloud
More Entries
My Fav Posts
This user has zero favorite blogs selected ;(