Category: dating
09/08/07 06:14 - ID#41011
what?
So I'm 22. I was hit on by a 19 year old guy last night. That, in and of itself, is not weird.
When its put in the context that he's just starting his freshman year of college and I've just graduated...to me, is a little weird. Well weird for me, probably not for him. haha.
I also felt bad because my friend I was there with likes him. Therefore, she was trying to talk to him a lot and I was trying to keep it cool and not dominate the conversation. A move that seems to have backfired. crap.
Why is it that the people you don't want to see never seem to really leave your life. I just learned yesterday that this kid I went to college with, a gentleman I am not too fond of, just moved onto my street. Granted, I live on Richmond which is a fairly long street. But knowing my luck with this kid always being in my life, he probably moved in directly across the street. It's a good thing
(e:MK)
's friend Lindsay already got the studio in our house, otherwise who knows with my luck, he probably wouldve moved in. Good times. He's not like a terrible guy, he just makes me nervous and he's kind of a D.
My kitty had surgery the other day and the techs at the vet wanted to keep him...basically because he's the cutest and most dog-like cat I've ever met. KITTY!!!
Perching on his balcony harness, leash and all.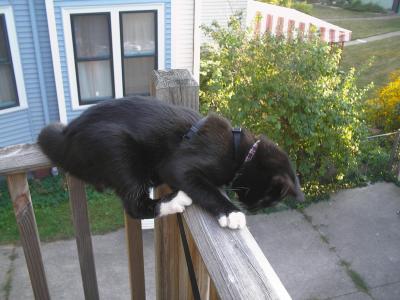 he likes to climb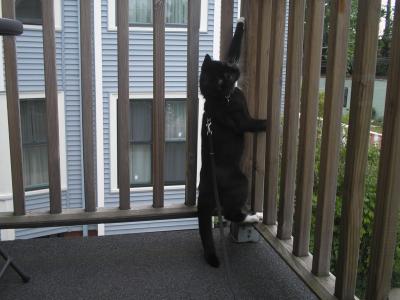 "his"laundry basket that sits next to mommy's computer
Missing Image ;(


Permalink: what_.html
Words: 275
<-- Earlier Entries
Author Info
Date Cloud
Category Cloud
User must have at least 3 blogs in one category for categories list to show.
My Fav Posts
This user has zero favorite blogs selected ;(