01/17/11 10:54 - 24.ºF - ID#53452
Happy Birthday Grandpa
Well - it's that time of year again -

Dear Grandpa,

It's your birthday! If you were here with us I'd have you go with me to Blue Monk, the place where I hang out when I'm home from work trips. I'd joke about sharing a beer with you then have one of my friends behind the bar give you a soda. I might even have shared a dessert with you, knowing grandma would go ape over the thought. (It would have been our secret). You'd probably tell me I'm spending too much money on beer and you'd be right! The girls would think you're a darling. I'd introduce you to friends who didn't meet you and I'd do it with pride, knowing inside that anything good about me came from you and grandma. I wish my friends could press flesh with you - the friends who did know you tell me all the time how much they adored you and still adore grandma now.

I'd ask you advice about my typical work and life problems, but I probably wouldn't tell you everything because when you were around you internalized my problems. I remember when I graduated and had a hard time finding a job - I sat at your kitchen table with tears in my eyes and only later did I find out that you didn't get to sleep that night... it was hard for you to watch me be so upset.

This past year was incredibly hard on me. If you were here you'd have seen me suffer, so in that sense I'm happy that you are only around in spirit. I have dealt with it by reminding myself that you worked harder than I will ever have to in my life and as long as I look at things from a cosmic perspective I'll understand that few problems can't be overcome with determination and belief in myself... and that only the fundamental things really matter.

I wonder what you'd think of me now. You gave us a chance in life, you sacrificed your retirement to help our dad raise Jason and I. You were a gift from God. I'll live the rest of my life in amazement and disbelief over what you did for us. I will not ever live up to the sacrifice you and grandma made to make Jason and I into respectable human beings, but on the other hand I'm now old enough to understand that I'm a far worse critic of myself than you ever were. You would have never judged me as harshly as I judge myself; that is because I put immense pressure on myself to live up to your example and walk the earth in the same way that you did. I put pressure on myself to succeed because in my mind if I don't make something of myself I will have wasted what you did for us... I can't live with that. I try and I fail, and then I succeed spectacularly, then fail again, but I keep trying. I'll go on forever being motivated by the spectre of failure because in my mind the sense of failure would be deeper than most would understand. I can't allow myself to fail, I just can't.

I'll never be the man that you were but I promise you that I'll live the rest of my life trying; I don't know any other way to go on. You were a decent man, the most decent man I've ever known. I could have been born into a more affluent family but I wouldn't have traded my upbringing for anything in the world, because the fundamental person I am came from you and no amount of money on earth could buy that. The day will come when I turn 70, God willing, and on your birthday I'll still have a hard time holding back tears. I can't wait to see you again someday but until then, would you mind looking out for me?

Love,
Josh



Permalink: Happy_Birthday_Grandpa.html
Words: 670
Last Modified: 01/17/11 10:54
07/07/10 02:06 - 72.ºF - ID#52117
Hello y'all.
I hope everybody has been doing well - sorry for not saying much. I've been busy and have been keeping to myself. Here's a couple recent pictures, for those of you who may not keep track of my silly ass on Facebook -
This year's birthday picture, outside of Sweetness 7 -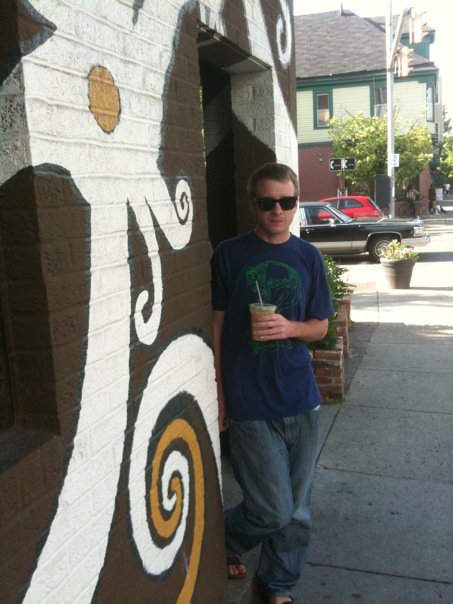 Me, this evening, at Bidwell Park -
I hope you haven't forgotten what I look like! Hahaha.
Anyway, I've had at times an annoying past few months, with many thoughts coursing through my brain that I'm not going to bore you with. Suffice it to say that life sometimes sucks and sometimes regardless of how you act or what you say, someone is going to be unfair to you. I have a hard time dealing with that. The thing I like the least about myself is at times I'm too sensitive for my own good. I wish I had it in me to change that, but on the balance things are cool and I've got countless more people looking out for me than not... and that is a damn good feeling.
Let's talk about love for a minute - lacking it, maybe having it but never knowing it... via getting gawked at. Really for the first time in my life I've been noticing people noticing... and I don't know how to handle it or react. I do not think I am an object of attraction and never really have... when it happens I tend to think, "wow, someone is checking ME out?" I guess you can say that it is the opposite mentality to your stereotypical alpha male standard operating procedure. So yeah, when I walk into a coffee shop and see that the girls at a table right next to me are checking me out, I tend to be skeptical of what I'm seeing and do not look back.
I had a barista in front of me once who I knew for absolute sure wanted to know my name and have a little introduction. I did nothing - a couple months later she was standing in line with me at another place, very out of the blue and very random. It was like the hand of fate was trying to teach me a lesson about taking a leap of faith - and now I've met her.
One of my bosses is like a mother to me. God knows she's looked out for me and she says things to me like, "what's wrong with you Josh, why don't you have a girlfriend? You're a good looking guy, this is your prime years, you're freaking crazy not to step forward and take what's yours." Anyway, parts of the answer lie in this entry.
I like the freedom that bachelorhood provides but you cannot hide from the fact that it's an ultimately lonely existence. I really only think of it at night, when it is actually quiet enough for this stuff to bubble up to the surface. Freedom is NOT free, is it? Getting smiles here and there has added both joy and confusion to my life. Yeah, you are damn right that I love my freedom, but I love the thought of giving up some freedom if it means that I don't die alone. I don't want to be everybody's cup of tea, I just want to be one girl's cup of tea. Eventually...
It is strange how these thoughts can all come swirling about just as a reaction to being checked out more often. I push and pull my own thoughts on this stuff all the time. In the end I have an irrational belief in myself that things will be fine.


Permalink: Hello_y_all_.html
Words: 617
Last Modified: 07/07/10 02:06
06/23/10 04:12 - 82.ºF - ID#52017
Coleen in NC - please read
Hi everybody -

This will make no sense to anybody except for a lady that had sent me a note regarding my genealogy, so don't mind me too much :)

Coleen - send me your email address. I don't have any of those details you are asking about, but my uncle happens to be a genealogy freak. I'd be happy to put you in touch with him and maybe you can compare notes. Just leave me an email addy please! I'm sure my uncle can at least provide you with some answers in the affirmative/negative.

Josh



Permalink: Coleen_in_NC_please_read.html
Words: 96
Last Modified: 06/23/10 04:12
05/07/10 07:54 - 51ºF - ID#51521
Obama's Visit
I sent this to the White House today - I really hope that something happens for Zilly Rosen.
Hello White House -

President Barack Obama is visiting my home city of Buffalo, New York on Thursday, May 13 and many citizens here in Buffalo are excited. The purpose for my message to the White House today is twofold; first, to send a warm welcome from a city with a lot of heart, and secondly to remind the right person within the White House of a particular Buffalo citizen with a particularly big heart.

Although I'm sure these plans are made in advance and can be a pain to adjust, I think it would be appropriate to pay a visit to Zillycakes and Zilly Rosen, the creator of the Obama cupcake image, as well as the cupcake image of Presidents Obama and Lincoln that were installed at the Smithsonian American Art Museum.

For reference:






Zilly is a very humble lady and is the owner of one amazing bakery here in Buffalo. I promise that it will be a highlight in the President's short trip to the city and for people from DC that wants a taste of some fantastic sweets. Anyone who gets to tag along will love it. Please let the President come get a custom cupcake!

People have put a lot of faith into President Obama as a politician and a person, but would you deny somebody who would go so far as to create the cupcake art that you have seen?

Sincerely,
Joshua Larson
Buffalo, NY


Permalink: Obama_s_Visit.html
Words: 274
03/20/10 08:32 - 37ºF - ID#51233
Paul's Chat Roulette Adventures
First of all, hi, it's been a while -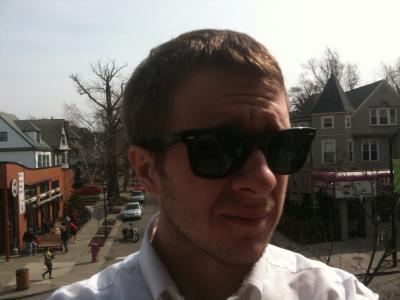 I've got a question - which is better, playing chat roulette and finding a gross dude with a huge erection in his hand, or is it better to find a dude with a huge rifle in his hand?


Permalink: Paul_s_Chat_Roulette_Adventures.html
Words: 49
02/03/10 12:37 - 22ºF - ID#50959
Whoops!
C'mon. You know me well enough to understand that if I saw this I would do exactly as follows -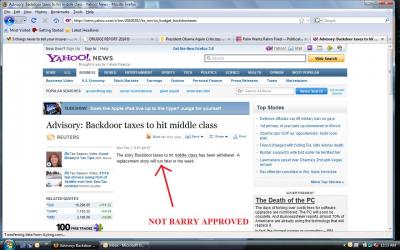 Josh
PS - loving my time out west.


Permalink: Whoops_.html
Words: 30
01/21/10 07:52 - 29ºF - ID#50876
Inspiration
Inspiration is seeing a friend, who was confined to a wheelchair, standing on his own two feet. There's no words to express how I feel right now - it's enough to make you weep. If that doesn't make the voice in your head scream "NEVER GIVE UP!" then nothing will.

What, you don't have a voice in your head?



Permalink: Inspiration.html
Words: 59
01/20/10 10:31 - 24ºF - ID#50870
My Health
For the past 6 weeks or so I've noticed chest pains whenever I get overwhelmed with stress. It's really weird - kind of like a rock the size of a softball has been planted where your heart should be.

Today my heart seemed to be throbbing quite a bit and I started to feel the pain again, so I went home from work early and laid down. It seems that once the weird stuff starts, it has a hard time letting it go... kind of like yours truly and grudges.

In other words, I'm having trouble facing up to the fact that I should see a doctor. I worry about hearing bad news, although I know that one has got to gulp down the bad news whole and face the facts. What do you suppose a doctor is going to do to me when I tell them that I'm a 31 year old guy that has a medical history of on and off treatment for hypertension (160/100) diagnosed since age 18, and that here and there I'm getting chest pain?

Bleh.



Permalink: My_Health.html
Words: 177
01/18/10 10:35 - 28ºF - ID#50845
Back to walk (fly) the earth
Hmm, this might be my first mobile entry. Long story short - I am going back to SF for work again. Three days in SF, one day in Sacramento and a redeye back home.



Permalink: Back_to_walk_fly_the_earth.html
Words: 34
01/13/10 03:32 - 27ºF - ID#50810
Why I left the GOP
It is because I cannot relate to social conservatism or the ridiculous machinations of phonies like Pat Robertson. Wanna get sick? Click the link and watch -

Pat Robertson - you are a fucking disgrace to Christianity and to humanity in general. We've got thousands dead because of an earthquake - a legitimate catastrophe - and all you can think about is your objection to voodoo? You've lost, or perhaps never understood, the concept of God's grace. You are the very embodiment of what it means to be a disservice to that which you claim to be.
When I think of Christians I think of people like Drew Ludwig, not some rich, bigoted, racist white guy who occasionally comes down from his multimillion dollar mansion to let us know exactly how shitty the world is outside of his fascist Christian mindset. Pat Robertson makes Drew's work all that much harder because when outright lunatics like Pat Robertson speak their mind, guess who is unfairly left to explain away the nonsense?
You know what - some day I might have a kid out of wedlock. Who knows? It isn't outside of the realm of possibility. If so, I would never tolerate a man like Pat Robertson telling ME that my child is somehow lesser in God's eyes. I don't even think Pat Robertson has a connection to God any longer, if he ever did.
I cannot describe in words how much I loathe people like Pat Robertson. So tell me Pat, how is this tirade advancing the Lord's work? The answer is that it does not - you're a discombobulated old fool. Yep, St. Peter is going to be happy the day he meets you. I'm sure he'll be fascinated with the message you've been spreading all these years. Pat Robertson - you aren't a Christian at all, from my perspective.


Permalink: Why_I_left_the_GOP.html
Words: 315
<-- Earlier Entries
Author Info
Category Cloud
More Entries
My Fav Posts
This user has zero favorite blogs selected ;(