Category: pets
08/27/07 07:35 - ID#40763
As promised......
Bad Cat, Fat Cat and Devious Dog.
Also known as Tatanka, Nealie and Buckley.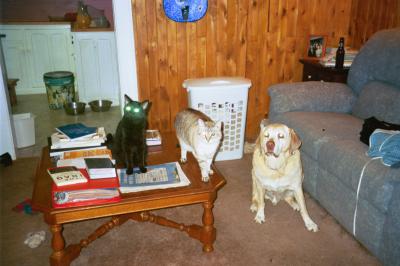 Anyone want the bad cat? No really, bad cat is just a nick name, she doesn't really terrorize the house....<shifty eyes>


Permalink: As_promised_.html
Words: 40
Category: pets
08/23/07 08:39 - ID#40691
My cats opthamologist looks like a star!
I like the opthamologist whom my fat cat visits.
I don't like the fact that my fat cat requires opthamological treatment for a condition
(e:Drew)
refers to as "MUCKY EYE".
But I do like the opthamologist.
She looks just like Kirsten Dunst when she was in Spider Man.
She even talks like Kirsten Dunst.
I think Kirsten Dunst is really cute; so I therefore find my cat's opthamologist to be really cute.
The fat cat likes the opthamologist because she provides a never ending pile of treats for the fat cat and then giggles at the greediness of the fat cat as she snoops around the office for more treats.
The treats sure enough aren't helping the fat cat's fat issue though.


Permalink: My_cats_opthamologist_looks_like_a_star_.html
Words: 123
<-- Earlier Entries
Author Info
Date Cloud
More Entries
My Fav Posts
This user has zero favorite blogs selected ;(