07/27/08 08:06 - 74ºF - ID#45168
casey anthony
omg, i am obsessed with this whole casey anthony case. listen to the 911 calls and then to the released jail calls and then read the charging affidavit. this chick is sooo guilty. i can not wait to see what develops in the investigation. i also scoured myspace and found a bunch of photos of her on people's pages. she was partying the entire time her kid was supposedly missing and didn't tell anyone until her mother confronted her a month later.
seriously you guys have to hear this and read the afidavit.



Permalink: casey_anthony.html
Words: 99
Location: Buffalo, NY
07/19/08 02:14 - 83ºF - ID#45073
drive in
we're going to the drive in tonight. we have a pick up and will line the bed with blankets and pillows and bring a picnic basket with snacks and drinks and will drench ourselves in cancer causing deet to protect ourselves from the mosquitoes. but i think it would be much more fun if we have a group of stippers come along and parked our cars next to each other and all chill together. who's game?

Come on, i don't want to hear any excuses. we still haven't done anything together as a group this summer and it's about high time we did. we still have Shakespeare to do this year and we don't have much time left for that one. is the fist show over? if so, we will definitely do the second show, but if not, we will do both.

call me or send me a post-it or an email and let me know if you're willing to go. if you don't have a car, i'm sure we can get someone to pick you up and drop you off. although i probably wont be able to do it with my pick up because there are three of us going and we're not small by any means, and it only fits 4 small people MAX, since it doesn't have an extended cab, just a tiny space in the back that can fit two children, a few grocery bags or two very skinny people, with no room to spare. but like i said, if more people go, i'm sure one of them will be able to pick you up. i mean, seriously, i don't see why someone who lives on the west side, can't pick up and drop off someone else who lives only a few blocks away. gas is NOT THAT expensive, and i'm sure most of us can afford the extra few cents required to drive the extra few blocks if they can afford the sweet car they're driving or if they can afford the suped up computer, laptop, iphone or smarphone that they're using to read this post in the first place.

ok, i know i sound bitter, but i've seen some pretty unkind behavior lately that made me sad and embarrassed.

the drive-in is on harlem road (called the buffalo dive in, i think) and the show begins at sundown, (around 9:30?) and continues though 2am or so. which is the coolest part....you get to see two show's for the price of one.

let me know!!!



Permalink: drive_in.html
Words: 419
Location: Buffalo, NY
07/12/08 05:52 - 87ºF - ID#44982

Darien -Lake
posting from darien lake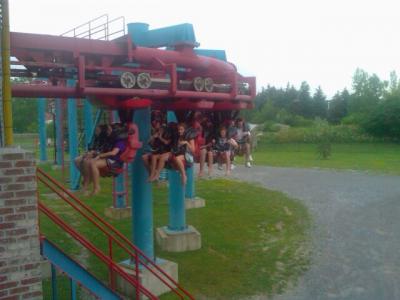 Permalink: Darien_Lake.html
Words: 6
Location: Buffalo, NY
07/06/08 12:35 - 80ºF - ID#44878
Rove and Edwards debate at UB
Has anyone else posted about this? sorry if they did.


Edwards, Rove to face off in UB debate
By Robert J. McCarthy
Updated: 07/04/08 7:51 AM



Sens. Barack Obama and John McCain might not burn up the campaign trail around Western New York this election year, but the University at Buffalo may have scheduled the next best thing.

GOP strategist Karl Rove and former Democratic vice presidential candidate John Edwards will debate the issues of the presidential campaign Sept. 26 as part of the university's Distinguished Speakers Series, The Buffalo News has learned.

As surrogates for the parties' standard bearers, the two also could square off more than once at other locations around the nation.

"We're working on something like that for our Distinguished Speakers Series," said Bill Regan, UB's director of special events. "We're not really sure of the format yet. But we do think they are scheduled to do it at least once together before they come to UB."

Though McCain, a Republican, is scheduled to visit Buffalo briefly for a major fundraiser July 21 in the Albright- Knox Art Gallery, most analysts already are ceding New York to the Democrats. Still, Joshua Dyck, assistant professor of political science at UB, calls such an event genuine "political theater" that could have an effect.

"It's actually good for the Democratic process," he said. "People vote because politics is a lot like sports. Rooting for your team probably doesn't affect the outcome much, but people can say 'I was there.' "

Dyck said such events heighten emotions and can encourage voters to become involved even if the race at the top of the ballot appears lopsided. The spin-off effect, he said, could spur interest in competitive races, such as selecting a successor to retiring Rep. Thomas M. Reynolds, R-Clarence.

Matching up such well-known political figures as Edwards and Rove will make the event all the more interesting, he added. Edwards, a former senator from North Carolina, is a household name because of his bids for the presidency in 2004 and this year's contest, as well as his role as Sen. John F. Kerry's vice presidential running mate in 2004.

Rove, often dubbed "Bush's brain" from his days as President Bush's chief political adviser, has become even more visible since leaving the White House as an analyst for Fox News and a frequent contributor to the op-ed pages of the Wall Street Journal.

Neither Rove nor Edwards was available Thursday for comment.

The 8 p. m. debate would lead off the lecture series, which has featured such major figures as former Vice President Al Gore and the late Tim Russert of NBC News.

Regan said the full schedule for the series will be announced later this month, when series subscriptions will become available. Tickets for individual programs, including the Edwards- Rove event, are expected to go on sale a short time later.

www.buffalonews.com



Permalink: Rove_and_Edwards_debate_at_UB.html
Words: 477
Location: Buffalo, NY
<-- Earlier Entries
Author Info
Date Cloud
Category Cloud
User must have at least 3 blogs in one category for categories list to show.
My Fav Posts
This user has zero favorite blogs selected ;(