04/12/05 11:46 - ID#27677
SRCD
It's been a while since i updated my journal last, but things have been mighty busy. I returned from Atlanta, GA for a psychology conference (the biennial meeting of the Society for Research in Child Development). This is the first conference that I ever presented my research at so I was really nervous. I travelled and stayed with a prof a don't know that well but we got along great. I really like her company and I hope that I will be like her some day. We talked about all sorts of personal things and I felt pretty close to her by the end. I'm really lucky to have had so many good mentors while I've been at Union.
Anyway, the conference was exciting. I was the only one taking pictures. I met a bunch of "famous" psychologists (clearly no one besides me would think they are famous) and some impressive people actually sought out my research. I was terrified that people would ask me questions and I wouldn't be able to answer them, but I was able to talk to everyone. Most of the people were so supportive and interested- except one person. She came up to me and asked "so, what's the point?" I asked what she meant and she replied "well, I mean, why??" I was stumped. That was a low point, but otherwise all went well.
On the upside, I got to meet Arnold Sameroff and Robert Plomin...so cool!!
Oh yeah, I got to wear a badge!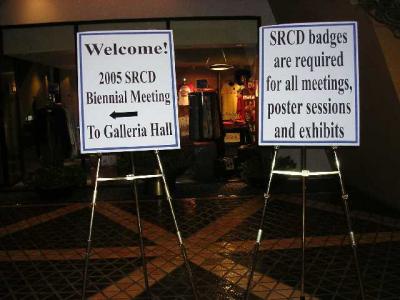 My poster: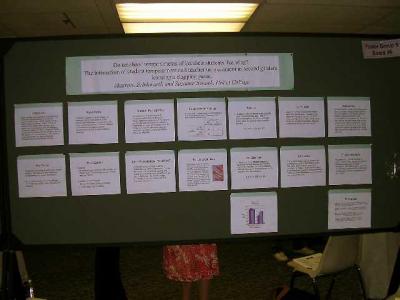 Grad school decisions must be made by this Friday. I'll keep you updated...maybe.


Permalink: SRCD.html
Words: 273
Location: Tonawanda, NY
04/03/05 01:28 - ID#27676
decisions, decisions, decisions
So I got into a couple of grad schools and I am really happy. I had my fingers crossed that I would be accepted to one school, so having a choice is really something I never expected. Now I have to decide where I want to spend the next 5 years of my life. It seems surreal to make a decision that involves so much time and so many variables that I couldn't possibly predict. But still, that is what I have to do. I know that if it really doesn't work out I can always leave or transfer to someplace else. Anyway, now it's time make a choice...then I can start worrying myself crazy about actually going to grad school.



Permalink: decisions_decisions_decisions.html
Words: 121
Location: Tonawanda, NY
<-- Earlier Entries
Author Info
Date Cloud
Category Cloud
My Fav Posts
This user has zero favorite blogs selected ;(