09/05/07 07:23 - 84ºF - ID#40957
Mike's Birthday Pics
I have more pictures of
(e:mike)
than most people have of their favorite celebrity stalkee. I mean I know he's never shy around a camera but I really don't know how I have accumulated so many pictures of him (looking strange or nauseous in at least half). I guess I'm just lucky. Anyway here's a sample of my vast collection. These were taken on
(e:mike)
's birthday. You will notice five other
(e:peeps)
stole a little camera time from mike somehow. It was nice to be home for a little bit. I wish I was there now.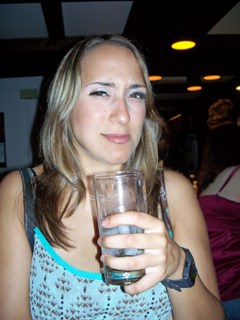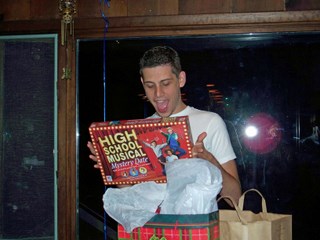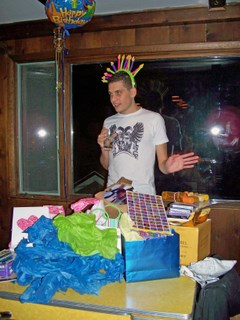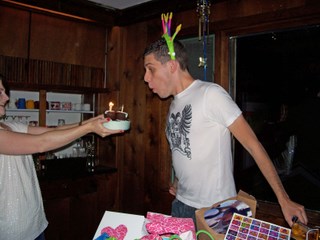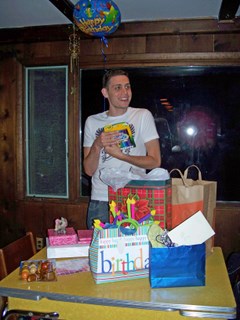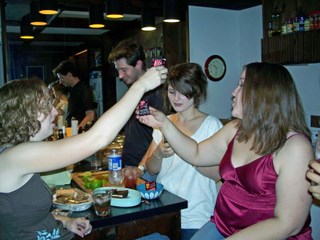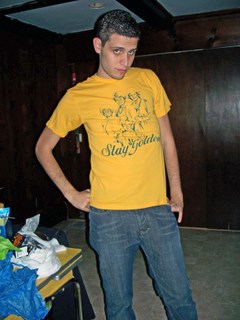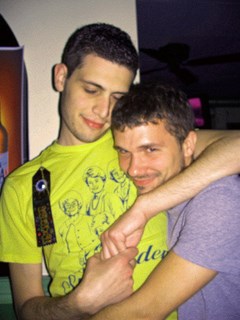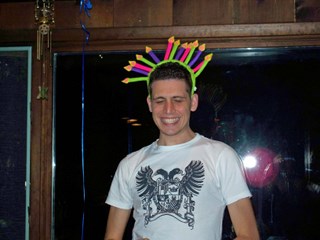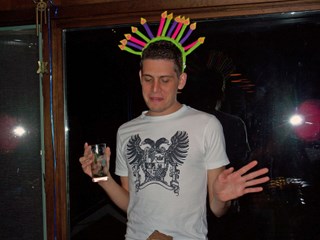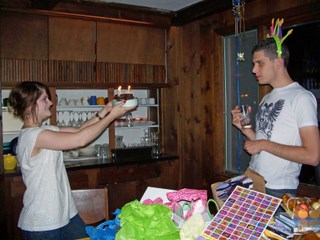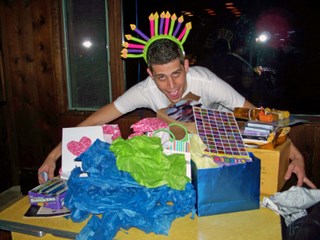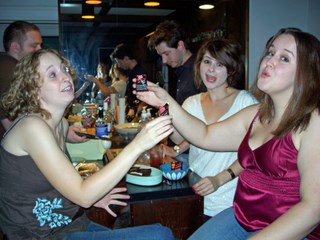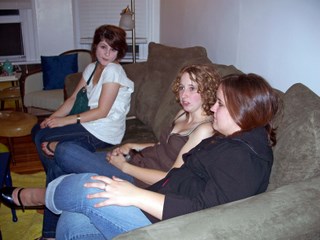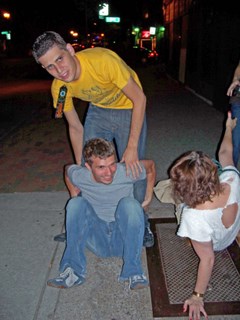 Permalink: Mike_s_Birthday_Pics.html
Words: 114
Location: Tonawanda, NY
Category: grandpa
11/22/06 07:33 - ID#27735
5 years ago today
my grandfather died. I can't believe it has been that long. It seems like it just happened and my pain is still so fresh.

My grandfather was the best man I have ever known. He is probably the only male reason I am not (at least in my opinion) completely screwed up. He was much more of a father to me than my real father could ever be. He made me believe in myself and taught me the lessons that I carry with me everyday.

My grandfather was honorable. I still think about the way he treated my great-grandmother (his mother-in-law) when she was in a nursing home. My great-grandmother never liked my grandpa. She did not think he was good enough for her daughter and to insult him she called him "Dagwood" instead of his real name. Even after 50 years of being treated like he wasn't good enough, my grandfather went to visit his mother-in-law alone EVERY SINGLE DAY in the nursing home until she died. He made these visits for years, even after she didn't even know that he was there anymore. Once, when I was younger, my cousin and I mimicked some of the things that my great-grandmother said and my grandfather reprimanded us. He said we needed to respect her because she was a wonderful, intelligent woman. I couldn't believe that he could see her as that when she had treated him so poorly.

Although my grandpa cared for my great-grandmother, he really visited her because it was important to my grandma (who couldn't leave their house). His love for my grandmother is what I will search for my whole life. He adored her completely but still saw her for who she was, a flawed person. My grandparents did not have the perfect life together. My grandmother was anorexic for much of their marriage and ended up in the hospital over and over for years. My grandfather tried every type of treatment he could for her. Once when I asked if it made him mad that she wouldn't just eat (I was little), he said he didn't know why she was sick but that even if she stayed sick forever, it was worth being with her because of everything she gave him. It sounds simple but I don't know how many people could say something like that and really mean it. My grandfather always meant what he said.

To people who didn't know him, these stories may make my grandpa sound like a pushover but he was far from it. He served in the air force and refused to accept a purple heart for saving the lives of his crew because he didn't feel that what happened was something that should be celebrated. He never told that story, my grandmother did.

My grandfather had fierce integrity and I loved him so much. I used to talk to him every day and now all I can do is think of him instead. I try to consider what he would do when I have big decisions to make and I always think about whether or not my actions would make him proud. I still can't believe he is gone. I am so lucky to have him in my heart still but I wish I could have had him just a little longer. Most of all I wish that he could know that I am okay. He was so worried about me for the months before he died and I hate that he never saw that I was okay. I wish he knew that the strength I used to get better in those times came from him. I wish there was some way he could have known that he was more than everything to me.




Permalink: 5_years_ago_today.html
Words: 626
Location: Tonawanda, NY
08/31/06 12:43 - 56ºF - ID#27733
Happy Birthday Mike!!!!!!
Happy 23rd Birthday Mike!!!! I love you and I'm glad I got to see you turn the big two three. Sorry I can't be there for your party. Trust me, I would much rather be in Buffalo than in school. Have a great year Mikey, you totally deserve it. :)



Permalink: Happy_Birthday_Mike_.html
Words: 49
Location: Tonawanda, NY
08/06/06 11:22 - 77ºF - ID#27732
Little Miss Sunshine
So tonight I saw Little Miss Sunshine, which I have wanted to see since the trailer first came out. Anyway, I totally loved it. It reminded me a little bit of the summer vacations I used to take with my grandpa and cousin. The most random things used to happen to us and leaving me with a lot of good stories to look back on. I don't know why, but I love super-awkward characters in movies. For some reason, scenes that make me squirm with embarrassment are really enjoyable. The same thing kind of goes for me in real life. I've always found socially awkward people really endearing. I think it's because I feel like that all the time myself, so I can identify with the struggle and embarrassment. Anyway, the point of this rambling post was to recommend that when Little Miss Sunshine opens in Buffalo (
(e:Mike)
said it's not out yet?) everyone should see it. The audience I was part of applauded at the end so I feel pretty secure in suggesting it. That's all for now... enjoy!


Permalink: Little_Miss_Sunshine.html
Words: 181
Location: Tonawanda, NY
07/31/06 11:57 - 79ºF - ID#27731
Why is my job so boring now?
I'm at work and I'm bored. There's nothing to do right now and it's hard to sit here when it's so sunny out. Maybe I can make up some little projects for myself... although that would require more motivation than I expect to have today. We'll see.

So the past couple weeks have been rough, sort of. Now, however, I'm all moved in to my new condo and I really like to people in the building. I think that the hard times are passing (knock on wood for me when you read that). Yesterday we all spent hours weeding our front yard and cleaning up the back of the house. There are exciting ideas swirling around about getting a table and chairs and some tiki lights for our back and having weekly cookouts. Since we haven't gotten the table and chairs yet, we just pulled the grill to the front and ate on our porch last night. Okay, it was little white trash (especially with about 10 cans of garbage by the curb for pick-up) but it was fun. A couple of our neighbors even came over to introduce themselves and one couple brought us champagne (much nicer than a casserole!).

My apartment is also coming along pretty well. I love the colors I painted on all the walls. I really had no confidence in any of my decorating decisions before but now I realize that even if it's not stylish I can definitely say it's me. It's nice to sit on my couch and look around and take a big happy breath. I've definitely been doing some of the "I live alone" staples, too. I walk around naked, leave the bathroom door open and have 25 pairs of only my shoes by the door. It's lovely. Still I'm only partially used to all the alone time. That will come, I hope.

Anyway, I hope everyone is well. It's a nice feeling when all the growing pains that come with big changes subside for a little while. I hope this reprieve lasts long enough for me to catch my breath... and enjoy some of the nice (rain-free) weather.




Permalink: Why_is_my_job_so_boring_now_.html
Words: 356
Location: Tonawanda, NY
07/18/06 01:05 - 79ºF - ID#27730
Bad Week
This is the most miserable week and it's only Tuesday. First with what happened this weekend and now everything else. It seems like everything bad and crazy happens at once and then for weeks there is nothing going on and that makes me crazy too. I guess I'm pretty hard to please.

Work is nuts because of the feds coming to audit us. We've known about this for over a month so all of my reports have been done for a while. Of course the other people in my office are running around all day trying to throw things together for Friday. I know I shouldn't be pissed by it makes me so mad that we have this huge grant and they're putting it at risk because they can't get their shit together. We've been doing good work but you wouldn't know it from the shoddy work they're doing now. Plus, I've been spending all my time working of their stuff. What the hell.

Also I have to move this week. I hate packing and that's probably because I suck at it. I have a million boxes filled and still half my stuff left. It's a big mess and having stuff out of place makes my anal self feel totally crazy.

And it's unbelievably hot... but my office is freezing.




Permalink: Bad_Week.html
Words: 220
Location: Tonawanda, NY
07/17/06 12:31 - 78ºF - ID#27729
So disheartened
Sometimes people can be so disappointing. I can't believe I let myself trust someone that I hardly knew so much that I completely ignored all the signals that they would hurt me. Now I feel unsafe and betrayed and it's really all my fault. I'm not safe because I don't protect myself and I couldn't be betrayed if I chose the right people to trust.

I am so naïve sometimes that it scares me.

The worst part is that I don't want to confront him for fear that they might feel embarrassed or ashamed. Why can't I bear it if he feels bad after what he did? And why do I still feel obligated to help him? Why do I feel like I'd let myself down if I don't stay the course? This is insane.




Permalink: So_disheartened.html
Words: 136
Location: Tonawanda, NY
07/15/06 10:16 - 75ºF - ID#27728
A good week home
I can't believe how many pictures I took while I was home for just a week. I guess it makes it feel like longer when I look back and I have 100+ photos of my friends and fam from this summer. Here are just a couple of the ones I took.
First the 4th of July at Riverside...
Before the Fireworks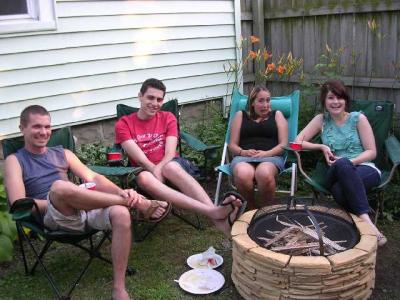 l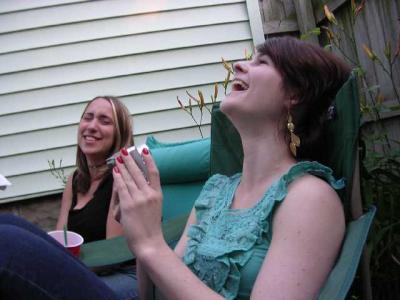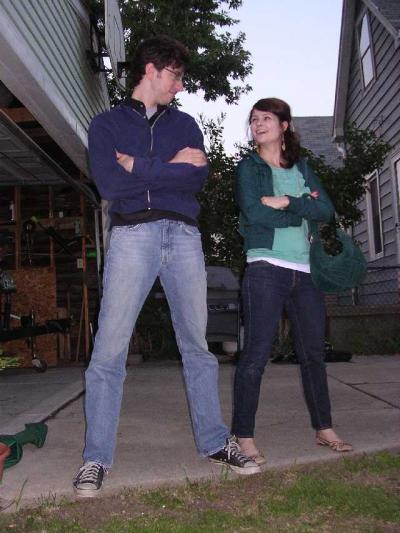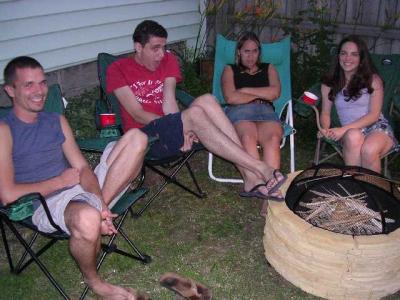 Mike and Dave during the show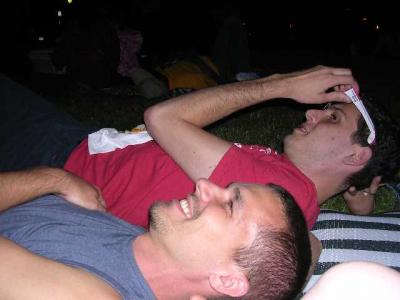 Our great fire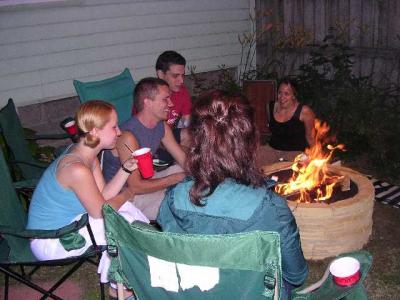 Mike and Teres at the beach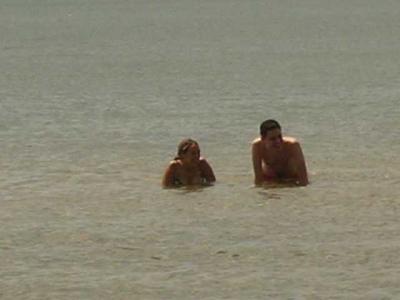 Last Saturday was the perfect summer day. Mike, Teres and I went to the Taste of BUffalo in the morning. After we came back Jill joined us at my house and we went into the hottub and then sat outside chatting. In the evening we went to Kenmore Days to see the best fireworks show ever.
Taken by Mike in my backyard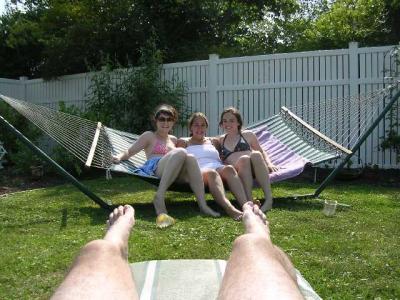 What a face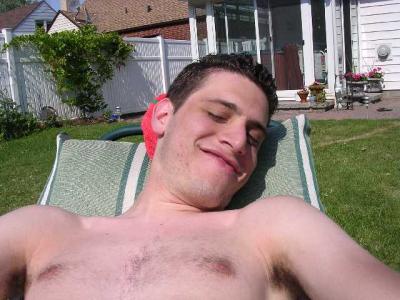 Sun-bathing beauties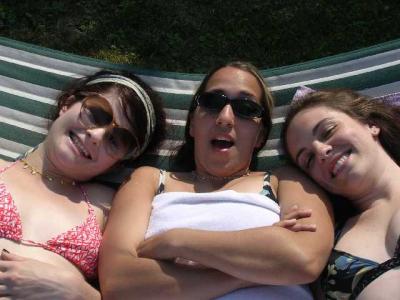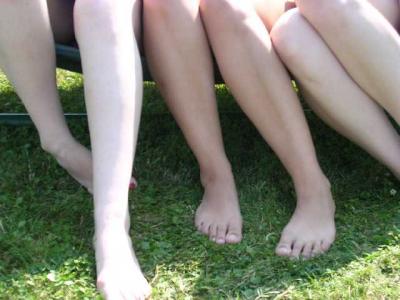 If I was going to be home for only a week this summer I'm so glad I picked that week. Mike was off of work for most of the time and Teres didn't start her job yet. Being home really isn't the same if I can't spend most of my time with my friends. Thanks everyone for making my time home so great :)


Permalink: A_good_week_home.html
Words: 240
Location: Tonawanda, NY
07/05/06 10:28 - 65ºF - ID#27727
Celebrating the 4th
Yesterday was a very enjoyable 4th of July for me. I spent the day with my mom cleaning her car. She had not be exposed to the wonders of Oxyclean before so I had a lot to teach her. Then I went to a bbq at
(e:beast)
's house. There was so much freakin food! Seriously since I've been home (which has only been 4 days) I have eaten more than all of the previous days this summer combined. Ugh... it's all so good but then again I feel so gross after. After the food we went to the Riverside carnival and got... more food.
(e:beast)
and I shared funnel cake,
(e:jill)
and jim got fried dough, and
(e:mike)
and
(e:libertad)
got a pretzel and
(e:diana)
and matt got something that I can't remember. My point: mooooore food. The fireworks were hopefully just a warm up for Kenmore Days, which was an extravaganza last year, because they were a bit uninspired. Still it was fun to watch them with lots of people. FInally to end the evening we had a fire in
(e:beast)
's back yard and made s'mores. Making the fire was much more challenging than lighting the girl (who would have thought?). We could have used
(e:jessbob)
to help us. All in all, it was a very fun 4th. Thanks
(e:beast)
for hosting! I took about a million pictures so maybe I'll post a couple choice ones later. I know I have some goodies :)


Permalink: Celebrating_the_4th.html
Words: 252
Location: Tonawanda, NY
07/03/06 10:24 - 72ºF - ID#27726
Home in the Buff
I am officially on vacation and home in Buffalo. Since I got home on Thursday night it's been pretty busy. On Friday,
(e:beast)
and I got up super early to go to
(e:Jessbob)
's graduation in Syracuse, successfully missing the tornado. How crazy that there would be a tornado! Anyway, the graduation was kind of long and boring but the whole trip was fun and it was worth it to see Jesse.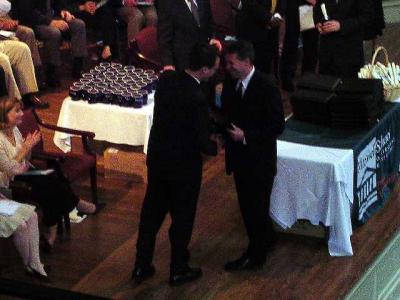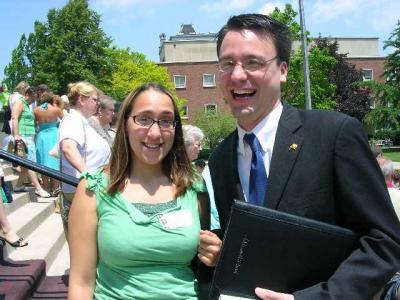 On Friday,
(e:beast)
and I went out and
(e:mike)
joined up later. I forgot what going out with
(e:beast)
can be like since she always has crazy goals for the evening and likes to be dared to do wild things. So not like me at all, so it's fun to witness. As for my goals for this week in buffalo, I need to go to the beach (pray for rain-free days!), go to Taste of Buffalo, see Mary and Nana, and of course go to fireworks on the 4th! Coming home is always so great but a week isn't long enough and things feel a little bit rushed. Hopefully I'll get to do lots of stuff so that I feel like I got my fill.
Before I left Boston I had the most brilliant idea for my neighbors. I found a person I thik will be perfect to live with them when I move but in the meantime I've been worried about them whenever I'm gone. Their set-up of living in two different apartments is risky because if one of them falls or needs help the other may night come across the hall for hours. So when I was at work one day I thought of the perfect thing for them: walkie talkies! I went to radio shack and got them a set with a 5 mile range, little belt clips and no fancy buttons. When I brought them over, it was a huge successful. I spent the night sitting in their apartment listening to them talk to each other through the walkie talkies while both sitting in their living room, haha. It was so funny to hear the things they would say to each other just because they were using walkie talkies. They recited poetry, Beatrice called Nathan "old chap," it was too cute. It reminded me of when my Grandpa got his first cell phone a long time ago and used to call my Grandma when she was in the kitchen and he was upstairs. They thought it was hysterical. Anyway, I think they might actually use the radios so I finally feel like I've had success in something.
Anyway, it's good to be home. I hope this week goes by slooooowly.


Permalink: Home_in_the_Buff.html
Words: 453
Location: Tonawanda, NY
<-- Earlier Entries
Author Info
Date Cloud
Category Cloud
More Entries
My Fav Posts
This user has zero favorite blogs selected ;(