Category: farming
07/28/09 09:32 - 74ºF - ID#49405
peas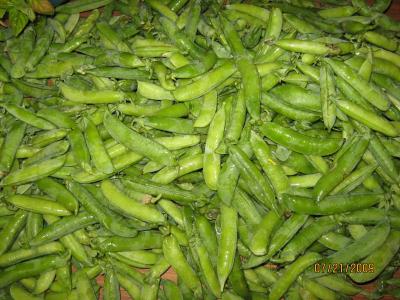 This has been an amazing growing season for peas. They love cool, wet weather in the summer and will keep producing until the weather gets above 80 for a few days.
I have frozen over 45 cups of peas. Unfortunately, I do not yet have a full-sized freezer, so I can't freeze any more. We are eating and giving away as many peas as we can! We have been eating them fresh from the garden nearly every day for over a month. I just might turn green.
Here is the story of my largest pea harvest in a day.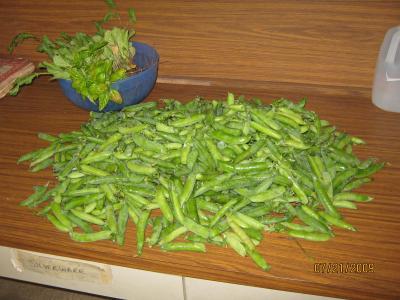 It took about an hour to harvest these peas.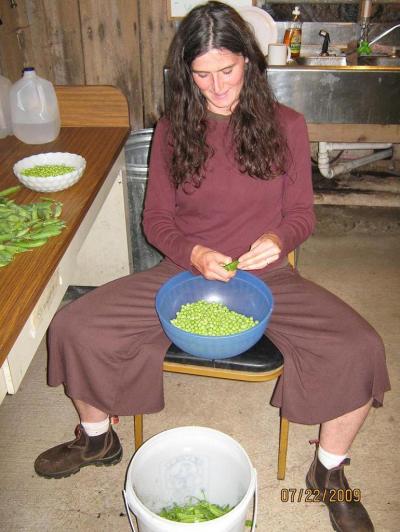 Here I am shelling the peas. This took about two hours.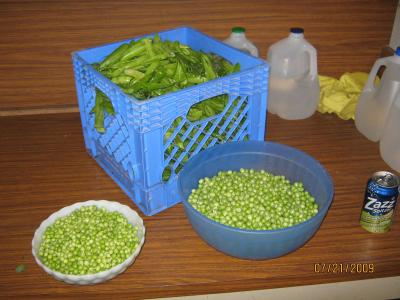 Here is the result after I shelled them. (The bin in the back is the empty pea pods.)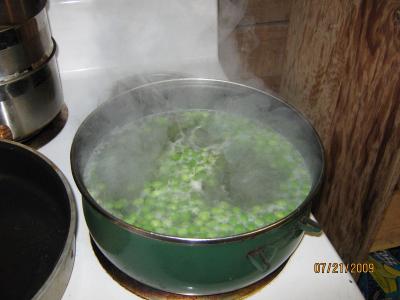 Then I boiled them for about two minutes per batch. I guess this took about 45 minutes, as I had to rinse them in cold water afterwords.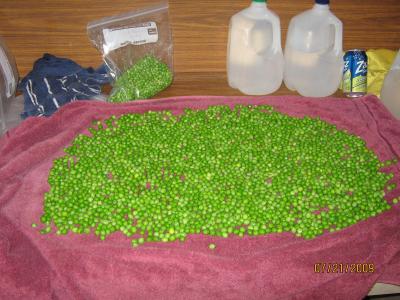 I dried the peas before bagging them. This is so they don't stick together. ( I have since bought a salad spinner for this purpose.)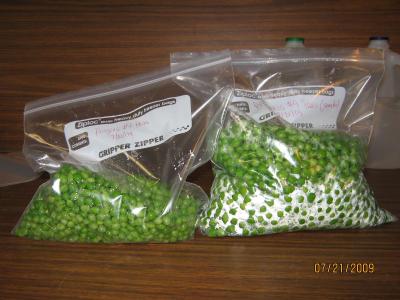 End result: around 20 cups of peas this evening!
I do not understand how Tops can charge only $1 for a pound of shelled frozen peas. This is a lot of work! Don't get me wrong, though, I am happy to have enough home-grown peas to eat all winter long.


Permalink: peas.html
Words: 247
07/01/09 10:49 - 67ºF - ID#49144
farm wife
I realize I haven't posted for a long time, but I figure now is as good a time as ever.

So many updates. The nursing school thing sucked. So I ended up quitting school, even though I had good grades and was more than halfway through. The life in the city, not for me. I found a good man, got married last October and we started an organic farm in Holland, NY this year.

I really, really like this lifestyle. I like working outside. I love watching my vegetables grow. I love Mark and I love being married. It wasn't something I dreamed about or really planned on, but it's way better than I would have thought.

We live in the barn on Mark's family's land. I like almost everything about living in a barn, except that we don't have a bathroom. I hate getting splashed when I use the outhouse, and I miss taking showers so much more than I ever thought I would; sponge baths just do not compare.

We just started to sell our produce at the Holland farmer's market, two weeks ago. So far we have sold radishes (they sell like crazy!), escarole, kale, collards, swiss chard, and arugula. This week, we've got tons of peas, so it's going to be our first big week.

I hope all my friends out there are doing great! I haven't looked at the sight for years I think. I was just inspired because Mark ordered a digital camera last night. And I thought, hey, I should get back in to blogging because then I'll at least have a use for the camera!



Permalink: farm_wife.html
Words: 273
<-- Earlier Entries
Author Info
Date Cloud
Category Cloud
More Entries
My Fav Posts
This user has zero favorite blogs selected ;(