03/25/04 02:48 - ID#36206
Oh silly michael~
HOT ROD?!

"Jackson Wanted to Play Car"
Mar 23, 10:55 AM EST
Associated Press

It's an odd idea for a movie, even for Michael Jackson. "Jersey Girl" director Kevin Smith says he once got an offer to direct the pop singer in a movie about a man who turns into a car that gets ridden around by a boy.

Smith tells Playboy magazine that Jackson wanted to play the car/man role. The proposed title of the film, and Smith says this is no lie, was "Hot Rod."

Smith calls it the "weirdest" script he was ever asked to direct...





Permalink: Oh_silly_michael_.html
Words: 98
Location: Valley Stream, NY
03/24/04 02:37 - ID#36205
GW Dog Toy
G W Dog Toy
"You can't get even but your dog can. Toy squeaks when chomped."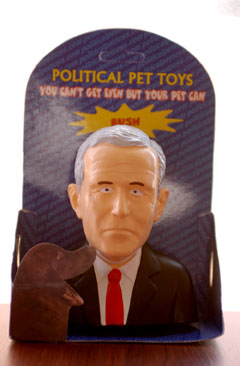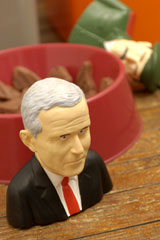 Permalink: GW_Dog_Toy.html
Words: 22
Location: Valley Stream, NY
03/22/04 01:48 - ID#36204
My first day!
Today is my first day...back in oh so pretty b-lo...





Permalink: My_first_day_.html
Words: 11
Location: Valley Stream, NY
<-- Earlier Entries
Author Info
Date Cloud
Category Cloud
User must have at least 3 blogs in one category for categories list to show.
More Entries
My Fav Posts
This user has zero favorite blogs selected ;(