Category: people
04/21/08 12:09 - 59ºF - ID#44074
Sheltered!!
So today at work a customer, a woman about 30 with a daughter about 6, asks where Military Rd is. We're in Amherst. I tell her to go down Sheridan and it will hit Military. She gets this real confused look on her face and says "is it in Amherst?" I told her no it's not and she seemed worried and asked how far it was. I explained she'd cross Delaware....then she stops me and goes "Delaware? Is that a dangerous street? I try not to leave Amherst." This wasn't a visitor folks this was someone from here. I know most suburbanites tend to stay away from the city but holy shit. I hate the suburbs.





Permalink: Sheltered_.html
Words: 115
Location: Buffalo, NY
Category: volunteerism
04/12/08 11:36 - 44ºF - ID#43989
Brush Up Buffalo
I know it's two months away, but I'd like to take part this year. It's Saturday, June 14. Time and place TBD. I thought maybe we could get several volunteers from
(e:strip)
? Check out
their website
for more info and let me know if you're interested.


Permalink: Brush_Up_Buffalo.html
Words: 46
Location: Buffalo, NY
Category: house
04/03/08 08:29 - 53ºF - ID#43888
becoming domesticated
So I finally closed on my house Thursday. The family came and helped me move on Saturday and helped me get things setup in the house. I absolutely LOVE IT!! I love living in N Buffalo....not far from anything really, and my neighborhood is very nice. The inside of the house really needs no work, all updated very recently. I do have some work cut out for me outside though...need a new roof, privacy fence along the back, and now the insurance company wants me to replace the driveway/walkway?! Screw them, that's 3rd on the list! :) Also have some work I can do myself...scraping and painting the sides of the garage, replacing gutter downspouts, repainting the trim (I don't like the color), etc. My parents bought me a washer/dryer which was a HUGE boost and picked myself up a lawnmower yesterday.

I'm finally at that point where I get just as much if not more out of spending money on something for my home as I do the latest video game :) It's weird to be grown-up!



Permalink: becoming_domesticated.html
Words: 181
Location: Buffalo, NY
03/18/08 09:16 - 40ºF - ID#43725
what happened!
So this morning I'm at work, probably about 8:30 and I notice a Buffalo Police car sitting in the closest parking spot to the store. I guess I noticed because it's Amherst and not Buffalo. He was sitting there for a bit....fast forward about 10 minutes and he was joined by what had to be 20 cop cars, mostly K-9 units...Amherst Police, Buffalo Police, Lockport Police, NFTA Police, Border Patrol, Lewiston Police, you name it. The secretary said they threw a guy into the back of a car behind the building so I figured...something like this will be on the news for sure. Alas, I can't find a thing on it!! But we get news about how well the super draft dodger works on your door. Anyone know what was up?



Permalink: what_happened_.html
Words: 131
Location: Buffalo, NY
03/16/08 12:29 - 33ºF - ID#43691
St Patty's Day
So I'm really happy to see that a big deal is made here out of St Patrick's Day. It seems Buffalonians love every holiday! In Florida you wouldn't even know the day happened...no mentions of it anywhere. We'd get in a little bit of st Pats merchandise at my store down there and barely anything would sell but up here it flew off the shelf!! I guess there aren't many Irish folks down there, but it's not just Irish people celebrating it! Again evidence of the culture and history present in this area. Wish I could check out the parade today from what I hear it's great, but now that I've broken it off with the g/f I have nobody to go with...plus I told my crazy aunt & uncle I'd meet them at some dive on grand island at 2.



Permalink: St_Patty_s_Day.html
Words: 143
Location: Buffalo, NY
Category: work
03/16/08 12:23 - 33ºF - ID#43690
No Change for Now!
So I had the Bed Bath interview and the guy was very straightforward about what they were looking for. Basically I'd start 2 levels below store mgr and maybe within 3 years work my way back up. The only new store opening in the area is in Batavia later in the year but that's the reason for the job posting. When he asked me how much $$ I'd need I jacked it up an additional $5k over what I was originally thinking because honestly I wasn't too thrilled about the job at that point...BUT if they'd have offered me that salary it would have made me consider it. I wasn't too sure about having someone else write my schedule and reporting so directly to someone else after a few years of being in charge of my own store. Then the very next day I get a rejection letter. My interview was at 1pm so that means as soon as I walked out he printed it out and dropped it in the mail!! At least make it look like it took some thought :( oh well I really didn't want it anyway :)



Permalink: No_Change_for_Now_.html
Words: 188
Location: Buffalo, NY
Category: house
03/15/08 04:26 - 36ºF - ID#43679
Buying a House Sucks!
So in much of the country you can close on a house within 2 weeks. Here it takes 45-60 days on average. There are so many people involved...the attorney, paralegal, both realtors, buyer & seller, processor, adjuster, and many more I'm sure I'm leaving out....so a simple thing takes dayyysss.....my parents said in Florida there are no attorneys involved so that explains that.

My target close date was Fri 3/14...yesterday. On Wednesday I get a message.."oh, we need proof of homeowners insurance" so I send that in. Then later Wednesday PM I get another.."oh we need a receipt proving you've paid the insurance for a full yr" so I send them that...

Thursday.,..."we're ready to close, HOWEVER....."
Great, however. Turns out the FHA inspector wants a little touch-up painting done and 2 downspouts repaired. arghhhh. So we end up getting the ok to setup an escrow so those repairs can be done later...i.e. in better weather. So we're ready to close then!!! Oh, wait...the realtor still needs another document from the seller, who's out of town. He has dropped it in the mail. Regular mail. Not overnight, regular. So now I have to wait probably until the end of NEXT week. I just want to move :(

So I know National Grid is the one to contact for power and I think it's National Fuel for gas, but who do I contact for water service in the city? And didn't I hear people in the city have to pay for trash pickup? Is that something I have to setup or will it just get picked up when I put it out and I later get a bill?

On the other hand, my plasma TV was delivered today and is MIND BLOWING!!!! :)



Permalink: Buying_a_House_Sucks_.html
Words: 297
Location: Buffalo, NY
Category: work
03/10/08 11:53 - 24ºF - ID#43613
Time for (Another) Change?
So Friday I have an interview for store mgmt at Bed Bath & Beyond...I submitted my resume one night when I was especially burnt out from a hard couple days at work and actually got a prompt call. Not completely sure about it yet, but really that's what an interview is for...for both sides to evaluate their fit. I'd say if I can get an additional $10k/yr out of it, I'll jump ship, provided I don't find anything I object to and get a good feeling in the interview.

I do like my job don't get me wrong, and I know there will be hard frustrating times everywhere, but I don't like when my labor budget has been cut so dramatically I have to be the only one in the store for hours a day with a huge laundry list of tasks that need to be done and hordes of miserable, overly needy customers who think their shit doesn't stink because they live in Williamsville/Amherst.

Plus today I got my review..3.4% raise and $9300 bonus. Hello new roof for the new house! 3.4% is good for my cheap company, and that bonus is very atypical. In fact, next year if I stay I'll probably get no bonus. Anyone ever heard anything from current or former BB&B employees?



Permalink: Time_for_Another_Change_.html
Words: 221
Location: Buffalo, NY
03/09/08 10:14 - 20ºF - ID#43598
New TV!
I finally bit the bullet and bought an HDTV. Decided on the new
Panasonic 42" Plasma with 3 HDMI inputs. Of course it's not available in local stores so I have to wait for it to be delivered!! Very exciting. With this I will sell my old 32" Sony Wega Trinitron SDTV. It has served me well for about 10 years and has been a great TV!! Anyone looking? :)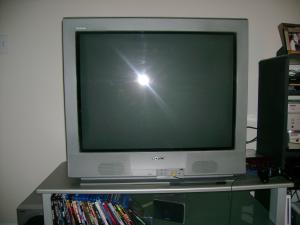 The old guy.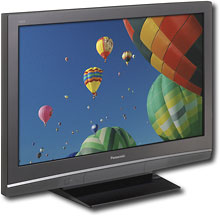 The new one!


Permalink: New_TV_.html
Words: 75
Location: Buffalo, NY
Category: weather
02/26/08 06:26 - 30ºF - ID#43474
Wusses!!
I really can't believe this. There's a ticker on the bottom of the local channels showing all these places closed. CLOSED. For a little snow...in BUFFALO. I always heard how even with a ton of snow and bad weather everything in buffalo kept on going as usual but we get a dusting of snow and it's A) hyped up beyond belief even though it's BUFFALO and B) results in near shutdown of the entire county. WTF!!! Hell my drug store in Orlando stayed open during hurricanes....and we close businesses due to snow in the snow capital? Very disappointed.



Permalink: Wusses_.html
Words: 100
Location: Buffalo, NY
<-- Earlier Entries
Author Info
Date Cloud
More Entries
My Fav Posts
This user has zero favorite blogs selected ;(