10/24/08 09:48 - 51ºF - ID#46312
Halloween
Hey
(e:peeps)
! It's been way too long. Hoping to stop by on Friday. Miss you all!


Permalink: Halloween.html
Words: 17
Location: Buffalo, NY
08/29/07 10:28 - 77ºF - ID#40800
Dating/Relationships
I wish I could be as indifferent as
(e:anne,40784)
.
Maybe she does some serious yoga routine. Maybe I'm just hearing my biological clock tick. I doubt it though, as I have no interest in procreation.
Think zen thoughts..


Permalink: Dating_Relationships.html
Words: 39
Location: Buffalo, NY
08/21/07 04:03 - 67ºF - ID#40659
Is it the weekend yet??
Or at least Thursday? I don't know if I can wait that long for a drink!

At least there are events to look forward to. Going to the Square on Thursday and then to Mohawk afterwards. Friday is the Floozie cd release party and Saturday is Brewfest!

Two more days...



Permalink: Is_it_the_weekend_yet_.html
Words: 50
Location: Buffalo, NY
08/20/07 04:41 - 61ºF - ID#40639
Me & Julio
This weekend someone mentioned they heard Lori and I went to see Black Rebel Motorcycle Club with Greg. Neither Lori or I went to the show, but everyone's so used to seeing the three of us together, we weren't surprised. We figured Greg was with a couple of his other girl buddies. Turns out the buddy was Julio. Just as one might guess, Julio is Mexican with a big mustache.

I'd better start shaving more often.



Permalink: Me_amp_Julio.html
Words: 76
Location: Buffalo, NY
01/26/07 03:47 - 17ºF - ID#37881
Slugs Vs Kisses Roller Derby Bout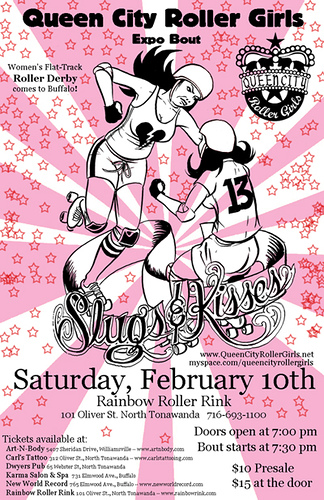 Permalink: Slugs_Vs_Kisses_Roller_Derby_Bout.html
Words: 2
Location: Buffalo, NY
01/14/07 12:46 - 29ºF - ID#37677
...I swear
I know, I know. I'm a decade behind on my blog.

But the important thing is that I'm typing next to my 6-month nephew, who is the cutest boy in the world, tied only by my 4 year-old nephew.

Anyone who knows me knows that I'm brief.

"I'll be back"





Permalink: _I_swear.html
Words: 49
Location: Buffalo, NY
12/05/06 04:45 - 28ºF - ID#33091
Countdown
7 hrs and 20 minutes left in my twenties....
Happily, I've just discovered that I can access
(e:strip)
again from work.
So it looks like I'm back after a very long break.
Guess it's time to update some of this stuff.


Permalink: Countdown.html
Words: 40
Location: Buffalo, NY
06/21/06 12:44 - 70ºF - ID#33090
Questionnaire
People:
1. How did you find out about/why did you become of estrip?
Paul
2. How "out" are you about having a publicly accessible online journal. Do your friends know? Does your family know? Do your co-workers know? Does your boss know? Do you use your real name? Do you use your real photo?
Anyone who would be interested knows.
3. How many epeeps have you met real life?
Several - although I knew several before estrip.
4. How has estrip changed the way that you meet people, on and/or off line?
When you meet someone face to face for the first time, it's interesting because you've read their journals and know some things about them already. Since a journal may be a small representation of oneself, you can be surprised when the person is nothing like you pictured.
5. How has estrip affected you love life?
Not at all.
6. How many of your friends have joined estrip because of your influence?
2
7. Are you from Buffalo/do you live in Buffalo?
From Buffalo
Equipment:
1. What type of hardware or software purchases have you made as a result of using estrip?
None
2. Have you used the mobile version of estrip? Why or why not?
No. No equipment.
Lifestyle:
1. In what way has estrip changed your Internet surfings habits? Describe the amount of time you spend on estrip, when you use it and about how long?
None.
1a. How many journals do you usually read per day?
I used to read 10/day.
2. In what ways has estrip changed the way you perceive your local community?
Not at all.
3. How has journaling about your life affected the way you spend your free time?
It did previously. I spent more time online.
4. Has estrip changed your living situation in any way?
No.
5. Do you find that you mediate/document more of your experiences now that you share them with others?
No.
6. Has publishing on estrip affected the way that write?
No.
7. Do you have other online journals? If so, with what service and has estrip affected your usage of that journal?
No.
8. Have you ever gotten in trouble for using estrip at work?
No.
9. If you have stopped using estrip, why?
No time!
Good luck Paul!
permalink:



Permalink: Questionnaire.html
Words: 377
Location: Buffalo, NY
04/07/05 05:19 - ID#33089
Spring Forward
For all intents and purposes, yesterday was the first day of Buffalo spring. To me, this is signified by walking two blocks and running into ten people. Yeah. It sure feels good to get out of the house.

And speaking of getting out, it seems that concert season has also begun. Matt Pond played two good shows last weekend at New World and Nietzche's. Next week brings Bob Dylan and THE SHINS!!! Then there's Hot Hot Heat, The Futureheads, and Oasis. And I get to go to Coachella - that's hitting the motherload.

Now if boy season would just begin, I'd be all set...







Permalink: Spring_Forward.html
Words: 104
Location: Buffalo, NY
02/18/05 05:17 - ID#33088
E:Peep Night Out
What do you have to do on a cold Tuesday night other than hang out with your fellow cybergeeks? Absolutely nothing? That's what I thought. So get off the couch and party!
When: Tuesday, February 22 - 9 PM
Where: Allen Street Hardware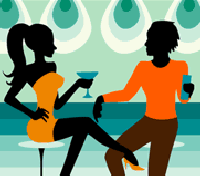 Permalink: E_Peep_Night_Out.html
Words: 44
Location: Buffalo, NY
<-- Earlier Entries
Author Info
Date Cloud
Category Cloud
User must have at least 3 blogs in one category for categories list to show.
More Entries
My Fav Posts
This user has zero favorite blogs selected ;(