01/26/07 03:47 - 17ºF - ID#37881
Slugs Vs Kisses Roller Derby Bout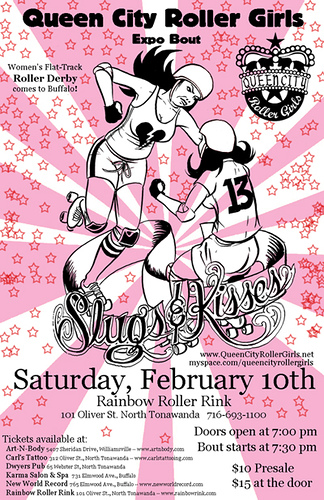 Permalink: Slugs_Vs_Kisses_Roller_Derby_Bout.html
Words: 2
Location: Buffalo, NY
01/14/07 12:46 - 29ºF - ID#37677
...I swear
I know, I know. I'm a decade behind on my blog.

But the important thing is that I'm typing next to my 6-month nephew, who is the cutest boy in the world, tied only by my 4 year-old nephew.

Anyone who knows me knows that I'm brief.

"I'll be back"





Permalink: _I_swear.html
Words: 49
Location: Buffalo, NY
<-- Earlier Entries
Author Info
Date Cloud
Category Cloud
User must have at least 3 blogs in one category for categories list to show.
More Entries
My Fav Posts
This user has zero favorite blogs selected ;(