09/18/08 09:37 - 59ºF - ID#45720
Fondue!!!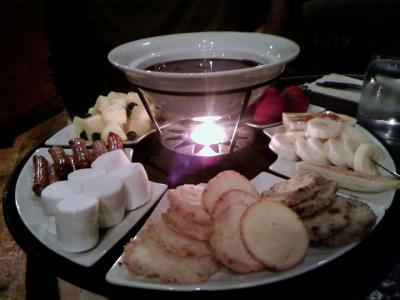 Never had Fondue before and always wanted to. What a treat! Just posting this to go along with
(e:mike)
s entry so everyone can see how good this plate was presented. Great night and sooo good to see
(e:mike)
again!!! Next time its super veggies!...and SOON!


Permalink: Fondue_.html
Words: 50
02/28/08 02:19 - 12ºF - ID#43498
I think I want the ipod touch
Okay, so I was thinking about getting the ipod touch. It's kind of an after though as originally I wanted to get a laptop. Now thinking about it more though, I have a desktop and really don't want to carry a laptop around all over the place. I would like something more portable to take with me and use places when I get bored. It's an ipod but has wifi and other applications. It came out in September. Apple is coming out with sdk (software development kit) hopefully on March 6th. This means that other individuals can write applications and games to hopefully be loaded on the device.

Well I don't really have a ton of music or video that I would want to already load onto it, but I would like to use it for the wifi and other downloadable applications. It originally came in 8GB ($299) and 16GB ($399), but they have also since released a 32GB ($499). I can't decide how much memory to get (either 8 or 16). Since I am not really into putting tons of music on it the 8 would initially seem okay, but what if the applications or stuff you can download as a result of sdk being released has programs that require more memory. Then, I will be kicking myself for only going with the 8. So, even though I don't really like the price of the 16GB one, I am leaning more towards that. Still not 100% sure I am going to buy either one though. Still kinda upset it does not have a flash player on it for all those websites that need it though... Also, I have this fear that as soon as I buy it they will come out with something way better or cooler and I will want that and have wasted all that money.

Anyone know about this?



Permalink: I_think_I_want_the_ipod_touch.html
Words: 305
10/01/07 01:13 - 74ºF - ID#41432
Introducing.....Leo!
Well, my adopted greyhound finally arrived......and he's perfect!!!
His name is Leo, and is such a sweetheart and very cute. The first day he took to us very well. He is cautious at first of new things, but his curiosity always gets the best of him! He loves investigating everything around the house, as it is all new to him. But, he always wants you close. If you leave a room and he is laying down or standing he will always follow. Basically he is always about five inches from you at all times. They say his clingy-ness may go away as he gets more comfortable with us and the house, but I wouldn't mind if he was always like that ;-)
He is a very pretty color and has the hugest nose I have seen on a greyhound. He loves going outside, but we will have to watch him very closely once we get a fence and can leave him off leash, as he does show a lot of interest in chasing bunnies and squirrels. He also has been enjoying going for walks, but believe it or not, you have to build greyhounds stamina up very slowly, as he is just used to short bursts of running. He was actually exhausted from just walking up and down the street
Leo also has a goofy side too. He is definitely warming up to life in a house, and loves to pick up his toys and throw them around. It will be fun to see how his personality changes as he gets more comfortable.
Ok enough talking, take a look for yourself at the newest and definitely the cutest new member of my family....
Missing Image ;(
Missing Image ;(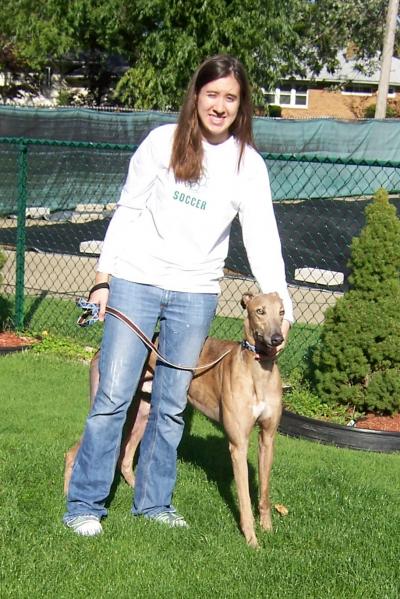 Missing Image ;(
Missing Image ;(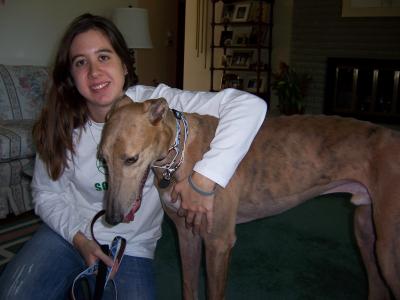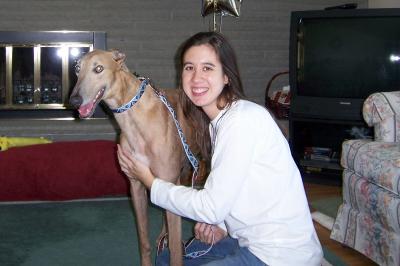 Missing Image ;(
hmm...some pictures would not load. they must be too big. well, you can see some of them....


Permalink: Introducing_Leo_.html
Words: 312
09/27/07 03:18 - 65ºF - ID#41362
I finally did it....
I defended my masters today!!!!
And passed!
woohoo!!!!!!!!!!!!!!!!!!!!!!!!!!!!!!!
I have been working on my masters in biology and immunology at Roswell Park Cancer Institute for two years. My thesis defense was today at 10:30am and it went really well. I was nervous but once I started talking I got more comfortable. The doctors were very impressed and the Roswell Park Education Dean kept saying what I great job I did and how it was so much work! So I am happy it went so well. It's been a long time working on this!
PLUS....they just called to tell me that the greyhound I have been trying to adopt is ready to go home on Saturday! I am sooo nervous about getting it because I have never seen him and all I know is he is a male, his color is blue brindle (the blue colors are very rare from what i have read) his birthday is February 14th and he is 3 and half years old..oh yeah and he weighs 76 pounds. When the lady called I asked for his ear number. Each greyhound is tagged with an ear number at the tracks and you can keep track of his races. WOW. Let me tell you, he is like a champion. I thought I was going to get some puppy racing dropout, not a real racer. Either way, I am fine with both but when I looked him up it says he raced in the highest category of racing and did very well. He is from the Melbourne Florida racing track and they were getting rid of their dogs because the track went from being a year round track to being seasonal.
Here is the link for his page:

So yeah thats him. What a crazy name too! They don't really use the name though so you can call them any name you want when you adopt them. We'll see how it goes with getting him on Sat!


Permalink: I_finally_did_it_.html
Words: 334
09/03/07 02:23 - 75ºF - ID#40911
French Cuffs?
Who would think french cuff shirts would be so hard to find! You know the ones that guys wear with cufflinks. Yeah so I have a wedding to go to this weekend with my boyfriend Nick (and
(e:mike)
and
(e:jill)
) and so I bought him cufflinks for our two year anniversary last week. He has been wanting them for awhile now so I thought it was a good gift. Well we bought a new suit and all I need now is a shirt. We tried, Macys, jc penny, sears, steinmart, s and k, mens warehouse... and just about every store you can think of. They all sell toooons of cufflinks. BUT, no shirts for them. very strange. Now I know they aren't super popular right now but you would think if a store had that big of a selection of cufflinks that there would be a shirt to match! Well the only luck we have had is Joseph A. Banks. there is only two shirts there and they are each $70 (might be on sale for 20% off though now). I was hoping to find a less expensive store but I don't think thats going to be an option. If only the wedding wasn't so soon I could of tried ordering online but don't want to risk it with there just being a week. I guess I just didn't anticipate cuff shirts being so rare!


Permalink: French_Cuffs_.html
Words: 235
<-- Earlier Entries
Author Info
Date Cloud
Category Cloud
User must have at least 3 blogs in one category for categories list to show.
More Entries
My Fav Posts
This user has zero favorite blogs selected ;(