12/15/03 01:57 - ID#32961
Mainstream Media (Lack of) Coverage
I've heard quite a bit about the capture of Saddam. You can barely get away from it. It's certainly a positive development, but while we hear so much about fighting the war on terror, I've heard little on the UN nuclear disarmament vote that took place last week. The US voted against a comprehensive test ban treaty, the elimination of nuclear weapons, and an obligation of nuclear disarmament. Perhaps I'm missing something, but if we can go into other countries on the pretense that they have weapons of mass destruction, even if it hasn't been proven, why are we one of the few countries of the world opposed to disarmament?



Permalink: Mainstream_Media_Lack_of_Coverage.html
Words: 110
Location: Buffalo, NY
12/11/03 11:42 - ID#32960
Buffalo Vamp Won't You Come Out Tonight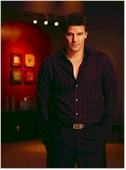 For anyone interested (and I know someone who is), Angel was born in Buffalo. My aunt says his father lived on Summer St.
David Boreanaz Bio
Angel/Angelus
Birthday: May 16, 1971
Birthplace: Buffalo, New York, USA
Marital Status: Married to Jaime Bergman One child, son named Jaden Rayne
Trivia Fact #1: Afraid of chickens
Trivia Fact #2: Graduated from Ithaca College
Trivia Fact #3: Father is a weatherman in Philadelphia



Permalink: Buffalo_Vamp_Won_t_You_Come_Out_Tonight.html
Words: 78
Location: Buffalo, NY
12/10/03 02:33 - ID#32959
I'M DONE WITH MY MASTER'S DEGREE!!!!
Here's the proof. My advisor Ling gave me the go-ahead to get my master's project bound!! This has been plaguing me for 1 1/2 years. I can actually wake up in the morning and not feel guilty that I'm not working on it. Time to celebrate.
---
Forwarded message from Ling Bian <lbian@geog.buffalo.edu>
---
From: Ling Bian <lbian@geog.buffalo.edu>
To: Elizabeth A Abraham <babraham@buffalo.edu>
Cc:
brancato@buffalo.edu
,icasas@buffalo.edu
Subject: Re: graduation procedures
Date: Wed, 10 Dec 2003 10:55:48 -0500 (EST)
Betsy,
Thanks for the reminder. Rachel is done and done nicely. Her
second rader is Irene Casas. Irene has given thumbs up. -Ling
On Wed, 10 Dec 2003, Elizabeth A Abraham wrote:
> Hi Rachel
> Please send me your title and the name of your second reader.
> When I have this info, I will prepare your M form and get the
> signatures. If Ling has given you the go-ahead to get it bound, then
> you're all set.
> Betsy
>
> On Wed, 10 Dec 2003
brancato@buffalo.edu
wrote:
>
> > Betsy,
> > My portfolio is finished. What do I need to do to graduate by Feb
1?
> > Do the readers sign the M-form before or after it is bound? Does
the
> > department receive a copy?
> >
> > Thanks,
> > Rachel


Permalink: I_M_DONE_WITH_MY_MASTER_S_DEGREE_.html
Words: 202
Location: Buffalo, NY
<-- Earlier Entries
Author Info
Date Cloud
Category Cloud
User must have at least 3 blogs in one category for categories list to show.
More Entries
My Fav Posts
This user has zero favorite blogs selected ;(