12/11/03 11:42 - ID#32960
Buffalo Vamp Won't You Come Out Tonight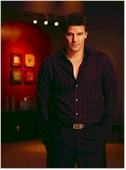 For anyone interested (and I know someone who is), Angel was born in Buffalo. My aunt says his father lived on Summer St.
David Boreanaz Bio
Angel/Angelus
Birthday: May 16, 1971
Birthplace: Buffalo, New York, USA
Marital Status: Married to Jaime Bergman One child, son named Jaden Rayne
Trivia Fact #1: Afraid of chickens
Trivia Fact #2: Graduated from Ithaca College
Trivia Fact #3: Father is a weatherman in Philadelphia



Permalink: Buffalo_Vamp_Won_t_You_Come_Out_Tonight.html
Words: 78
Location: Buffalo, NY
12/10/03 02:33 - ID#32959
I'M DONE WITH MY MASTER'S DEGREE!!!!
Here's the proof. My advisor Ling gave me the go-ahead to get my master's project bound!! This has been plaguing me for 1 1/2 years. I can actually wake up in the morning and not feel guilty that I'm not working on it. Time to celebrate.
---
Forwarded message from Ling Bian <lbian@geog.buffalo.edu>
---
From: Ling Bian <lbian@geog.buffalo.edu>
To: Elizabeth A Abraham <babraham@buffalo.edu>
Cc:
brancato@buffalo.edu
,icasas@buffalo.edu
Subject: Re: graduation procedures
Date: Wed, 10 Dec 2003 10:55:48 -0500 (EST)
Betsy,
Thanks for the reminder. Rachel is done and done nicely. Her
second rader is Irene Casas. Irene has given thumbs up. -Ling
On Wed, 10 Dec 2003, Elizabeth A Abraham wrote:
> Hi Rachel
> Please send me your title and the name of your second reader.
> When I have this info, I will prepare your M form and get the
> signatures. If Ling has given you the go-ahead to get it bound, then
> you're all set.
> Betsy
>
> On Wed, 10 Dec 2003
brancato@buffalo.edu
wrote:
>
> > Betsy,
> > My portfolio is finished. What do I need to do to graduate by Feb
1?
> > Do the readers sign the M-form before or after it is bound? Does
the
> > department receive a copy?
> >
> > Thanks,
> > Rachel


Permalink: I_M_DONE_WITH_MY_MASTER_S_DEGREE_.html
Words: 202
Location: Buffalo, NY
<-- Earlier Entries
Author Info
Date Cloud
Category Cloud
User must have at least 3 blogs in one category for categories list to show.
More Entries
My Fav Posts
This user has zero favorite blogs selected ;(