Category: love
04/30/06 11:51 - ID#26532
::sigh::
Why do I always manage to hurt the people I love?

It's not that I'm a bad girlfriend.
I happen to think that I'm a good girlfriend. I'm funny, pretty.. I'd do anything for him. Literally, anything.

Maybe tonight that's up for discussion...
I don't want him to think I'm a mistake.
That we shouldn't happen.
Because if anyone knows how perfect we are for each other, it's him :P

It's just that my life is disgustingly dramatic. It's a lot like high school but the drama is so much more grown up.
Instead of the boy in your AP US class, it's the boy from the sketchy fraternity that you *just* realized is the the most disgusting person alive.
Instead of your parents preventing you from having sex in your house, it's your roomate, your dog, your cats...

I'm sorry.
I love you.
This summer I am nothing but yours :*



Permalink: _sigh_.html
Words: 151
<-- Earlier Entries
Author Info
littlecupcake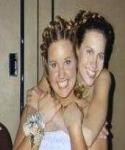 Category Cloud
User must have at least 3 blogs in one category for categories list to show.
More Entries
My Fav Posts
This user has zero favorite blogs selected ;(