Category: finger food
01/20/07 02:01 - ID#37791
Secret Society
It's afternoon on an arctic, though sunny Saturday. I finally got to catch up on a sleep deficit from the previous night's all-nighter, although I'm not quite there yet. I got up this morning only to return to bed for more sleep until about 8:30, but I was still groggy. Even now I can feel my body seeking more rest. Fortunately, the weather is looking to cooperate as the snow off the lakes has dissipated with the remainder mainly well south in ski country. I could really use another full night's sleep to recover. It's amazing how much one disrupted night affects my rhythm. Thank God we didn't have to go out again last night.
The weather on the ride to Rochester last night made for moderately hazardous driving conditions. Tara and I enjoyed some wonderful conversation on the way to meet up with friends for dinner, as well as on the return trip home. It wasn't until about halfway there that we discovered neither one of us had directions to our destination. She had set up a massage with Christopher to precede dinner, but assumed I knew how to get to he and Julie's home. I had never been there before and since we we're meeting up there rather than at the restaurant I didn't even bother to bring directions. It was funny. It might have been a nuisance back in the days before cell phones had become as common as, if not moreso, than a wristwatch. We got our directions and after some difficulty following them we required further guidance from a local gas station attendant who provided us the final steps on the route.
Christopher and Julie have created quite a lovely mulit-purpose living space, including running a holistic center out of it, The Balance Point, where they offer massage, energy work, tai chi and group functions pertaining to spirituality and wellness. Julie's father was in the midst of receiving a massage as we visited over tea. I was feeling the exhaustion creep up on me and considered migrating to the spare bedroom for a nap. However, I hung around and felt invigorated after the mint tea. We made merry with laughter and innuendo, par for the course when I'm in the mix, and set the foundation for a truly delightful evening. I even went so far as to make a perverted comment when her father came out from the massage asking Kate, the massage therapist, if she found a handkerchief among the sheets following the session. I said, "I didn't know you guys offer happy endings here?" Her father didn't appear to catch the joke and it also went over Kate's head until Julie reiterated later after her father exited. So she slapped twice, once for her and once for Kate. You just never know what might come out of my mouth, or appear in my blog.
Christopher had excused himself for a bath before his massage and once ready he and Tara relocated to the back room. Julie took a shower while I checked my email on her iMac. Upon emerging zestfully clean she and I enjoyed intimate conversation while Christopher was getting his massage. I shared with her details of what's been going on for me in recent months, the profound transformation and shift into higher energy states and consciousness. She seemed attentive taking sufficient interest to google my astrological chart on-line and provide for me a brief report. I had sent her a friend request earlier from myspace and noticed on her profile that she's a Leo. I remarked to her that Leos are my favorite and that I nearly married one many years ago. Had it been a different period in my life where I was in a space to do so I would have most certainly closed the deal. Megan was a great woman and we enjoyed a deep connection, including communication and sexuality. But alas, that was then and this now. I haven't so much as heard a word from her in years, and while I think nothing but fondly of her, I've no lingering regret. It went the way it was supposed to and now that I am coming into my own I'm in a much better space to enter into a long-term union with my Queen of Queens. In the meantime, I've never more enjoyed the bachelor life than I am now.
Everything proceeded in a timely fashion and we we're on our way to dinner on schedule. Our friend Michele called as were en route inquiring of our whereabouts and wondering if dinner had been cancelled. Julie reassured her directing her to a clock noting that it was not yet 7 PM, the agreed upon time to meet. Setting appointments and being on time is one of my strongest points. I am rarely late and when I am it is typically a situation where there was a loosely agreed upon time frame between me and another party. I much prefer establishing set times for all my engagments and honoring my word by being on time. In such a way I enable the Universe to conspire even more in my favor, which was palpable for the duration of the evening's flow.
Upon arrival it was obvious that Michele was a bit wound up. Once we were seated in the rear corner of the restaurant she proceeded to ramble on with enthusiasm about her adventures in Spain with a physical therapist. She noted the striking beauty of Barcelona going on at length about her new found love, the pros and cons. I was admiring the mural scene spread out over an entire wall depicting perhaps a native Ethiopian village with thatched roof abodes set in the jungle habitat. Michele asked how I'd been doing and to make a long story short I explained that I'm in a really great relationship with myself. I went on to assert that things are coming together as I set intention without any doubt of it manifesting. I mentioned that it's imminent and she asked, "What's that?" I responded with the dictionary definition, "About to happen," which was met with laughter and a high five from Julie as Michele looked perplexed. She wanted to know what specifically, "it" was and I explained that I'm staying open to whatever "it" will be within the stated intention of living effortlessly. The tone of the conversation had been set for the remainder of the evening with many tales shared amongst the five beautiful mirrors in attendance.
If you're ever in Rochester do yourself a favor and pay a visit to Abyssinia. It was my first experience with authentic Ethiopian cuisine- and it won't be my last I might add- so I've nothing to compare it to. Rest assured, we were absolutely treated to a five star meal and hospitality with two platters the size of a large pizza covered in an array of tangy delights. Our mouths burst with flavor as we each made it plenty known the degree of ectasy with giggles and moans. It didn't take long for us to scarf down the contents scooping it up with our hands in tightly rolled thin slices of pastry-like bread resulting in satisfied palettes and appetites. Christopher and I each enjoyed a strong cup of fresh brewed Ethiopian coffee flavored with cinammon and cloves. It was a potent and peculiar flavor, though splendid indeed. We made sure to inform our server of our gratitude and intention to return once again. He seemed pleased and honored as we departed.
Tara had suggested that we go somewhere for dessert, which was more a gesture expressing interest to continue enjoying one another's company than it was an interest in further sustenance. Julie directed us to Java's, a hip, eclectic coffee house in the city proper, replete with funky artwork on the walls, dimly lit ambiance and a crowd of upstate New Yorkers heartily gathered on a winter's eve. We ordered drinks and confections before taking up space in another corner location adjacent a piano and picture window. The conversation revolved around consciousness as we took turns sharing what it is we are intending for our lives as we ponder the possibilities for bright futures. We also shared some of our struggles and misgivings, in so doing offering a space of support and compassion with feedback. I joked how I felt like we we're a secret society meeting to commiserate and pontificate, noting how we had created a sphere with no other patrons immediately seated nearby despite a full house. I was in such a sense of gratitude in the moment realizing how blessed I am to have attracted such amazing people into my life. Michele offered me her services with a "reiki attunement" and so we made plans to meet again in a couple weeks with perhaps another trip to Abyssinia. I was grateful that the wintry weather had dissipated for the drive home as Tara and I continued the insightful nature of the evening's interaction in tandem. Upon arriving home I hugged her good night and went straight to bed out like a Christmas light.
I could actually go for a power nap right about now. I really don't sleep during the day, but I do manage to sit in my soul chair, close my eyes and rejuvenate periodically during this introspective season of setting intention we know as winter. I made plans to meet up with
(e:theecarey)
at Spot to reconvene for our vision board project. She's without a car at the present moment pleasantly stranded in Buffalo. My brother is due in later this afternoon and we'll be dining together with my parents. I also have tentative plans to meet up with Andrea later in the evening for a "date." I'm not sure where we shall meet or what we shall do, but I'm mainly curious to see if there's any chemistry. It would be nice to have a "girlfriend" but I'm not attached to an outcome. At this point it really doesn't matter. I'm so in love with Sean that everything else is a bonus. So long as I stay out of my own way and resist the urge to micro-manage the Universe my life is effortless. And I've got a hunch that many "bonuses" are on the way to be received.
One Love
Sean
January 20, 2007
New Realms of Thought
Libra Daily Horoscope
Feelings of youthful abandon can lift your spirits today, inspiring you to seek out opportunities to enjoy yourself. As your day's agenda may not allow you to toss aside your obligations, you may find yourself facing a unique situation in which you are desperate for fun yet anchored to a long list of mature responsibilities. Thus, this can be the perfect time to integrate play into your daily life through creative thought. If you cannot play games, you can turn your work into a game by challenging yourself to outdo your previous performance or engage in showdowns with amiable colleagues. You may discover today that your focus on play allows you to explore new ideas without feeling restricted by notions of correctness.
Play can be a wonderfully potent antidote to the hardening of the heart that often accompanies maturity because it gives us a means of exploring new ideas in a safe and non-threatening fashion. When we engage in playful behaviors, our imaginations are pressed into service as a matter of course and we can fully investigate concepts that initially strike us as unrealistic or bizarre. Because we are not subject to our usual limitations during games and imaginative play, our minds are free to wander into realms where notions both beautiful and fanciful dwell. Oftentimes, these creative and strange ideas become the seeds of refined, workable plans that enable us to approach our personal and professional objectives with flair. As you play today, you will find that your musings transport you to new worlds of creativity and focused thoughtfulness.
What do you think?
Discuss astrology and share your opinion
Want more DailyOM?
Register for your free email, or browse previous horoscopes


Permalink: Secret_Society.html
Words: 2018
<-- Earlier Entries
Author Info
inspiraysean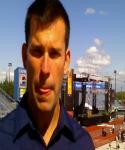 Category Cloud
User must have at least 3 blogs in one category for categories list to show.
My Fav Posts
Click the heart at the bottom of anyone's blog entry to add it here ;(